DP Scouting Team's Final Rankings for the 2023 NHL Draft
Sebastian High
2023-06-10
The 2023 NHL Draft Class is a special one for a number of reasons. First, it contains an undoubtedly generational talent. Second, its depth is remarkable, our Top 50 prospects are, in our estimation, first-round talents. Third, it was the first draft class to regain the privilege of a "normal" draft year, free from the effects of Covid-19 health and safety policies.
The class' strength made scouting it more exciting than last year's class, for instance, but it also gave us a fair few headaches. A class with 50 clear top-32 candidates made finalizing our Top 32 board an arduous task, with players deserving of first-round recognition getting pushed down past 45 on our board. Our entire 30 to 50 range is really tight, but we had to rank them in some order, so we split hairs on most of the names in that range. Beyond 50, however, we fall to the tiers of players who are all exciting for various reasons but we remain skeptical of their upside or certainty for one reason or another, which is more indicative of B-grade prospects.
Our ranking meetings always featured contentious debates ranging from an individual player's projectability to ideological debates on what we do/should value in players. The scouting team put in a ton of work and the result should hopefully demonstrate that. We're excited to continue to diversify our analytical processes and to expand into more forms of scouting content next season!
Before we get to our Final Rankings, let's meet the DP Scouting Team!
Sebastian High | Head of Scouting (@high_sebastian)
Hadi Kalakeche | Director of North American Scouting (@HadiK_Scouting)
Alexa Potack | Swedish Regional Scout (@alexa_potack)
Sasha Lagarde | Central European Regional Scout (@sashalaGarde)
Colin Hunter | Goaltending Scout (@colinhunter0)
Jordan Harris | Russian Regional/European Crossover Scout (@Jordan_NHLDraft)
Luke Sweeney | Crossover Scout (@SweeneyLuke17)
Graham Montgomery | Crossover Scout (@GrahamSlamYT)
Eetu Siltanen | Finnish Regional Scout (@siltaneneetu)
Evan Pace | USA Regional Scout (@evanpace17)
Alexander Annun | North American Crossover Scout (@Annun_Scouting)
Peter Harling | Managing Editor (@pharling)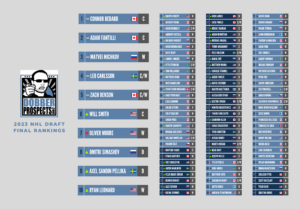 Without further ado, the Dobber Prospects Final Ranking for the 2023 NHL Draft starts off with a name that most hockey fans will be familiar with by now:
C | Regina (WHL) | 5-10 | 185 lbs | Shoots: R
Hadi Kalakeche: Is there anything original left to say about Connor Bedard this year? Probably not. But we can certainly try. There used to be somewhat of a debate at first overall at the start of the year between Bedard and Fantilli, especially given that Bedard wasn't exactly a positive impact player off the puck. A few months later, however, that debate was a mere dot in the rearview mirror. Bedard dug a trench between him and Fantilli as the season went on to solidify his spot at the top of everyone's rankings.
We all know by now how otherworldly Bedard's offensive skill is, and how his shot might be the best in the entire NHL by the time his prime comes around, but two things that have stood out in his game to make him the undisputed first-overall pick are his adaptability and his defensive progression. Where Bedard was initially able to rely on his shot and transition pace to create, he was soon being double or triple-teamed by opposing structures. This required him to play more give-and-go hockey, to delay and manipulate and deceive his way out of sticky situations. And he adapted flawlessly. On top of that, especially near the final stretch of the year, Bedard started upping his defensive involvement, and we saw how well his offensive mind translated to the defensive zone. Timely stick checks, quick stops in dangerous ice to cut off passes, and hard-nosed backchecks became more and more frequent. There is no doubt at this point that Bedard is not only the first-overall pick in the 2023 crop but also the only prospect with the upside to challenge Connor McDavid as the best player in hockey.
C | Michigan (NCAA) | 6-2 | 195 lbs | Shoots: L
Luke Sweeney: Rarely is the second-overall pick in the NHL as nice of a consolation prize as it projects to be this year with Canadian centre Adam Fantilli still available. Fantilli has been on this track for some time after a dominant D-1 year in the USHL, which then translated into one of the best-ever NCAA seasons for a draft-eligible player. A late 2004 birthday, Fantilli is on the older side, however, his game features the requisite maturity. What will immediately stand out to many NHL scouts is the tantalizing combination of size (6'2, ~190lbs), power, drive and defensive acumen that define high-end, two-way centres. Fantilli works hard, wins puck battles, does a good job of staying with his checks, and isn't afraid to play with an edge. Just as enticing though is the skill set.
Fantilli's small-area puckhandling is fantastic, and he can transition that into high-end puckhandling at top speeds. His playmaking and ability to get the puck into the middle of the ice is an asset. His shot jumps off his blade and projects to be a scoring threat from middle to long distance in the NHL. The only real knocks against Fantilli are his international play (where he has been mediocre) and his transition game. Though Fantilli plays with the pace the NHL game requires, his footspeed is above-average at best and he does not offer a lot in terms of zone entries or exits, even at the lower NCAA level. Overall, Fantilli projects to be a high-end two-way centre at the NHL level with a high offensive ceiling.
W | SKA St. Petersburg (KHL) | 5-10 | 172 lbs | Shoots: L
Jordan Harris: While Connor Bedard and Adam Fantilli torched the WHL and NCAA respectively, Matvei Michkov also impressed while posting a record-setting season for a draft-eligible player in the KHL, one of the top professional leagues in the world. Michkov notched 9 goals and 11 assists in 30 KHL games following a midseason loan from powerhouse SKA St. Petersburg to basement dweller HK Sochi. Michkov has an elite set of tools that includes a high-end shot, which he uses to score from nearly everywhere. He has an incredible set of hands, which he uses to turn defenders inside out, gain separation, or deke a goalie. Finally, he has the passing ability to set up teammates for easy tap-in goals or to spring them loose for a rush chance. This set of tools is combined with hockey sense that's almost unrivaled in this draft, which makes Michkov a premier offensive player.
That said, Michkov is not a perfect prospect. While his skating is solid, it doesn't project to be anything more than average to slightly above average. He's also a small player at 5'10" and 172 lbs, but what concerns scouts is his defensive indifference and inconsistent work rate. Watching the tape, you see instances of good backchecks, physicality around the boards to gain an advantage, and good use of his motor, however, these are just instances and are too inconsistent for a player worthy of being a top-five pick. Due to Michkov's elite offensive mind and unrivaled tool kit, he will surely be a power play specialist and top-six scorer in the NHL. If he can clean up the warts in his game and become a consistent competitor, then scoring 50+ goals and exceeding 100 points is within reach for Michkov.
C/W | Örebro (SHL) | 6-3 | 194 lbs | Shoots: L
Alexa Potack: Carlsson's season is one of the most dominant from a Swedish junior player in several years. Some doubted his ability to continue improving following his highly successful D-1 year, but Carlsson proved any critics wrong. He's a perfect storm of size, finesse, and pace that makes him a gem for the team that drafts him. He thinks quickly and has the physical tools to finish plays. As a player with relatively little experience compared to his teammates and competitors, he makes it look easy. From one end of the ice to the other, his plays are fluid and technically sound. His awareness is the foundation of his talent, which is most often visible through his playmaking ability. He is a strong evaluator of risk and is adept at balancing his creativity with safety. Carlsson doesn't shy away from the gritty areas of the ice and often finds success in them – a large number of his goals scored for Örebro were net-front. Of those goals, he also demonstrated another tactic, creeping towards the far post to knock in a deflection or receive a pass. While more of a playmaker than a goal-scorer, Carlsson really can do it all.
C/W | Winnipeg (WHL) | 5-10 | 160 lbs | Shoots: L
Hadi Kalakeche: Zach Benson is the two-way forward of this draft class. The motor is relentless, the intelligence and awareness are the best of his crop after Bedard, and everything from his checking technique to his positioning leads to a high-end defensive game. On top of that, Benson's skill is otherworldly. He has a myriad of moves in his handling arsenal, can both pass and shoot at a high level, and his intelligence is just as obvious on the puck as it is away from it. Whenever you lose sight of him on the ice, look for the best possible spot a player could be, and he's there. Benson was often the spoon that stirred his line in Winnipeg, despite playing with a rotating cast of linemates on a team that is among the most stacked offensively in the WHL.
Relegated to the wing as a result of a deep center core in Winnipeg, Benson still has the skillset of a center, and projects as such at the next level. The combination of size and lack of high-end skating might very well scare off some teams and see him drop, perhaps even outside of the top 10, but Benson's skating isn't a concern to us given how relentless he is off the puck, and how he has tailored his game perfectly to the pace at which he plays. There is legitimate upside with Benson as a top-line two-way center who will shut down opposing stars while racking up North of a point per game.
C | NTDP U18 (USNTDP) | 6-0 | 178 lbs | Shoots: R
Hadi Kalaeche: Although Smith has shown up as high as third overall on some rankings, we believe that the gap between Benson and him is wider than the gap between Smith and the three or four players listed below him. Smith remains one of the most electrifying offensive facilitators in this draft, with handling skill that will get you out of your seat. He plays a solid delay game as well, using his shooting threat to get defenders in front of him before zipping passes to open teammates. He reads defenders' feet exceptionally well when stickhandling to maximize his odds of pulling off a deke, and makes himself an option off the puck with great consistency.
The concern with Smith is how translatable his game is at his current level — he plays a Trevor Zegras, Logan Cooley brand of hockey without having the foot speed or the elusiveness of those two players. As a result, although his skating is better than Benson's, Smith's skating is more concerning given his playing style. He also relies on spacing a ton, and struggles to be as impactful when carrying the puck into pressure, on top of being an average defensive player. If these issues are rectified, however, Smith could be a 90+ point producer with 30-35 goal upside at the NHL level given his toolkit.
C | NTDP U18 (USNTDP) | 5-11 | 188 lbs | Shoots: L
Graham Montgomery: Moore is easily the best straight-line skater in the draft but he's also incredibly agile in terms of his four-way mobility. His skating makes him a lethal force in transition as he has the very rare ability to simply skate around defenders with ease. This alone makes him an intriguing prospect, but when you add on his tenacious competitive level, above-average puck skills and playmaking ability you get a player who could go top three in most drafts. His shot is perhaps only a bit above average and I would put his raw passing grade in the same ballpark. Because his skating is so good though, he is more effective in scoring and setting up chances than one might guess just by looking at his pass and shot attempts in a vacuum. His shot remains a relative weakness in his game, but the playmaking is a lot stronger than many give him credit for. He's also very responsible defensively giving NHL GMs and fans alike everything they might want in a center except size and physicality.
D | Lokomotiv Yaroslavl (KHL) | 6-4 | 201 lbs | Shoots: L
Jordan Harris: In the 2023 NHL playoffs we saw the value of big, physical, puck-moving defenders who skate well by observing the Carolina Hurricanes shut down the New York Islanders and New Jersey Devils quite easily in the first two rounds. Dmitri Simashev fits the mould of some of those players on the Hurricanes, namely Jaccob Slavin and Brett Pesce. The first thing that sticks out to viewers is the way Simashev moves. He has speed, 4-way mobility, and fluidity to his stride that he makes look easy. Simashev is not just an excellent skater for his size, he's an excellent skater across all players. The next thing scouts will notice is how he utilizes his size, speed, and physicality as a defender. Simashev defends in-zone and against the rush at a very advanced level. This defensive efficiency was evident not only at the MHL junior hockey level but at the KHL level where he more than held his own as a defender.
Simashev makes a good first pass and can start the breakout or make a stretch pass to transition his team from defense to offense. Still, Simashev isn't a perfect prospect as he's not the most natural playmaker, but made strides during the season. He's not the most skilled either, still, he improved as the season wore on. Simashev didn't produce many points this season but has more offense than the scoresheet would suggest. The team that selects Simashev will ultimately get a massive (6'4" 201lb) defenseman with incredible mobility and defensive prowess, who's capable of playing against the opponent's best players. If the offense comes, even at a moderate rate (eg. 30-40 points), he could be a top-pairing defenseman for an NHL team in time.
D | Skellefteå AIK (SHL) | 5-11 | 181 lbs | Shoots: R
Alexa Potack: After a less-inspiring J20 Nationell finish, Sandin Pellika's strong performance at the U18 World Championships reasserted his abilities. He's a mobile skater, which he uses to his advantage heavily in transition. He's great at weaving and while not the most deceptive, he has above-average hands and puck skills. One of his most notable and translatable strengths is his ability to dictate the pace. He consistently demonstrates awareness of when to slow down and be patient or, conversely, generate speed into the offensive zone. The neutral zone and offensive zones are his best areas on the ice, while his defensive zone decisions are lacking at times.
Defensively, he's great at forcing the rush to the outside and managing the gap, but if a player gets by him, he can appear flatfooted and slow to recover. His smaller size and play style hinder his aggression, which may be necessary for taking the next step to the professional level. Adding more grit to his game would make him very hard to play against in any zone. He shouldn't be expected to play a highly physical game, but it would double down on his silky hands and smooth skating, adding a new level to his playmaking toolbox.
W | NTDP U18 (USNTDP) | 5-11 | 190 lbs | Shoots: R
Graham Montgomery: Outside the biggest names of this draft, Leonard probably has the highest floor of anyone else. His combination of strong off-puck positioning and lethal shot make him a consistent goal scorer that should translate to higher levels of hockey rather seamlessly. He has very good awareness of space in the offensive zone, always finding open space in areas he can reasonably expect to score from, and score he did this season. Fifty-one goals with the USNTDP and another eight in seven games at the U18s. On the rush, he plays more of a power-forward style game, likely in an effort to compensate for sub-par skating, but his lack of size means he often gets shouldered away by bigger defenders. This could limit his upside in terms of rush scoring, but that isn't really why you'd want to draft him anyways. Set him up on the left faceoff circle on the power play Alex Ovechkin style and you've got yourself a regular thirty-goal scorer.
W | Sudbury (OHL) | 6-2 | 200 lbs | Shoots: L
Sebastian High: Musty's development over the course of the season was very impressive. While he started the year as a very toolsy but equally inconsistent player who was prone to skating into pressure, rarely planned his attacks, made little use of his teammates in transition, and was rarely very engaged off-puck at both ends of the ice, he finished the year strong enough to sit just outside our top 10. Musty worked significantly on his prescanning habits on retrievals and receptions, which in turn has led him to a more planned offensive style; it's a subtle tweak but it altered the course of his season. He became one of the premier playmakers in the entire draft class in the second half of the season, consistently deceiving opponents, creating passing lanes, and using his diverse and high-end set of tools to create a whole lot of offense. While his defensive game has progressed, it does not project as an NHL strength at this point in time.
He plays a game of pure power and finesse, which is a rare and valuable combination. His hands and playmaking abilities are top 10 if not top 5 in the class, and his wrist shot is likely top 10 as well, Musty's tools should make NHL teams salivate. His July 6 birthday also gives him a significantly longer developmental runway than most other players in our Top 32. While it took some time, Musty won our team over with his elite-level tools, pure upside, and steadily progressing habits on and off-puck.
W | Chicago (USHL) | 5-9 | 163 lbs | Shoots: R
Hadi Kalakeche: Perron is perhaps the most Chicago Steel player ever. Undersized and shifty, Perron's motor and skill are high-end. He has some of the best hands in the draft, a severely undervalued shot, and regularly makes smart passes through pressure. In typical Chicago Steel fashion, although Perron is small, his defensive game is solid, and he has perfectly adapted his physical game to his lack of size. He plays between checks, separates from opponents at the exact right time to find small spaces to work in, and uses leverage very well in board battles. There are 6-foot-4, 200-pound forwards in this crop whose physical game we're more concerned about than Perron's.
It is difficult to find flaws in Perron's game. Perhaps his acceleration and agility need some work, but his top speed is impressive. He flies across all three zones with impressive pace. Cutting inside more often rather than flying down the flanks could be another small adjustment that would unlock even more offensive potential. As he stands, Perron has top-six upside and a relatively safe floor given his defensive game and forechecking, and hasn't given us much reason to slip him outside of the top-15.
C/W | Michigan (NCAA) | 5-9 | 170 lbs | Shoots: R
Hadi Kalakeche: Another undersized forward with a high-end defensive game, Brindley took some time to grow into his role with the stacked Michigan Wolverines at the NCAA level. At the start of the year, his defensive involvement was just as evident, but his production levels were unimpressive. After he returned from the World Juniors, however, Brindley took advantage of a few injuries to climb up to the top six, and left a lasting impression on our scouting team. His playmaking and smarts are remarkable, and he is an opportunistic scorer, hopping on rebounds and crashing the net with impressive intensity and timing.
On top of that, there isn't a better backwards skater in this draft among forwards. He defends the rush better than many high-end blue-liners, and was a great complement to Luke Hughes' daring offensive incursions throughout the year as a result. Smarts, skill, defensive involvement and intensity. These elements are the backbone of any solid NHLer, and Brindley has them in spades. Similarly to Perron, a top-six role isn't out of the question and a safe floor as a bottom-six checking forward makes him a great top-15 option.
W | Kelowna (WHL) | 5-10 | 167 lbs | Shoots: L
Graham Montgomery: Andrew Cristall is one of the most skilled and creative offensive play drivers in the draft. While the upside is huge, the risk is just as prevalent. For starters, his is not exactly an NHL-ready frame, and that listed height may even be a bit generous. Furthermore, his skating is contentious; while he is very agile and escapable, he lacks the explosiveness and top speed that skilled undersized NHLers often rely on. He doesn't have the physical attributes to resist pressure and he doesn't have the speed to avoid it altogether and these are problems that are already prevalent against major-junior level competition.
As such, he has to be careful in choosing when and where to attack open space as it is relatively easy to defend him when players simply get in his way, and he doesn't always make the right choice. These are significant hurdles for him to get over on his way to the NHL, but if he can do it, he very well may make his general manager look like a genius, as his creativity, processing speed, playmaking, and goalscoring are all at a very, very high level.
C | AIK (HockeyAllsvenskan) | 6-1 | 201 lbs | Shoots: L
Alexa Potack: Dvorský's first professional season was full of growth. While it was rocky at times, the overall picture was successful. For the first half of the season in HockeyAllsvenskan, Dvorský was streaky but met the expectations with his heightened aggression and offensive talent. By mid-season though, he looked lost, and his production practically halted. However, Dvorský was able to get in tune with his game again towards the end, especially at U18s. The biggest takeaway from the tournament was his ability to drive, lead, and set the tone, which was impressive after a quieter season while adjusting to professional hockey.
He's certainly strongest in the offensive zone, with smart reads and a solid shot. He does not shy away from shooting and boasts a quick and powerful release. No matter if it's a clean pass or a bouncing loose puck, Dvorský is capable of putting it in the back of the net. His passing game is evident but not noteworthy, but he has good vision and positions himself well to pass or retrieve the puck.
D | EHC Kloten (NL) | 6-2 | 187 lbs | Shoots: R
Sasha Lagarde: David Reinbacher has flown up the charts since the beginning of the season accumulating 22 points in 46 games with EHC Kloten. He is an intriguing right-handed defenseman in a class lacking defensive star power and provides a very projectable toolbox as a middle-pairing defenseman with powerplay ability. Over the span of a year, Reinbacher has gone from a relatively unknown prospect to the top of the list in this year's draft class for a defenseman. Reinbacher doesn't possess elite skating, elite passing ability or elite offensive output but he is super efficient in his defensive responsibilities. He processes the game well and uses his edgework in tight spaces to shift into better positions at or can find lanes quickly with his good play-making ability.
Reinbacher is not exactly an offensive defenseman but, rather, a very good defensive defenseman with offensive capabilities. His best offensive tool is a shot and more importantly his shot selection which can lead to a second unit power play quarterback potentially due to his ability to get shots through and create scoring chances of rebounds for his teammates. The most interesting part about Reinbacher is his defensive capabilities including great awareness and solid off-puck reads. Reinbacher has already learned how to leverage his body against opponents whether it is in front of the net in the corners or in transition. He moves quite well to adjust to certain pressures in the defensive zone and has the potential to be a very solid NHL defenseman with the highest floor of any defenseman in the class. The big question is whether he can translate his offensive skills once he hits the NHL. What Reinbacher lacks in dynamism he makes up for an intelligence and great defensive IQ both in neutral zone play and defensive zone play. He's a solid top-four projectile defenseman but is missing those elite offensive qualities to be considered a top-10 selection in the 2023 Entry Draft. With that being said, he has the potential to be a staple for any team in the top four and has the aptitude to improve tremendously in all parts of his game.
C | Prince George (WHL) | 5-11 | 182 lbs | Shoots: L
Hadi Kalakeche: Heidt is a catalyst. Any puck he receives usually ends up in a better spot than it was when he got it. His ability to attack defenders' feet, get them on their heels, and benefit from that uncertainty to time a pass to perfection is what makes his game tick. He can play give-and-go very well, but can also zip cross-ice passes and play long bombs to his wingers off the rush with consistency. He also uses cutbacks effectively to separate from defenders down the flanks in the offensive zone and knows when to force a pass to the slot, and when to play it low-to-high to his defenders.
An impressive skater with one of the best motors in this draft, Heidt's forechecking game makes him a headache for defenders when attempting to break out of their zone. He also knows when to take his foot off the gas and clog up the high slot, cutting the ice in half and forcing passes into channels he knows are occupied by his wingers and defenders. Although he does get his fair share of takeaways, his defensive numbers don't account for the fact that he drastically raises the number of broken plays and takeaways his teammates generate as a result of how good he is at forcing his opponents to pass into trouble. At the very least, Heidt projects as a solid defensive third-line playmaker, with room to grow into a second-line role.
W | Vancouver (WHL) | 6-4 | 185 lbs | Shoots: L
Sasha Lagarde: Samuel Honzek had a very productive season this year with the Vancouver Giants posting 23 goals and 56 points in 43 regular season games while adding 4 points in 4 playoff games. The 6-4, 185-pound centerman rose up the draft boards due to his ability to use his size and strength to beat opponents while utilizing his net presence to grab a bunch of rebounds. His versatility and raw skill are extremely tantalizing and project Honzek to be a sure-fire 1st rounder this draft season. Honzek shines offensively due to his ability to use his frame in all areas of the ice. He protects the puck better than almost any player in this draft and compliments his physical domination with a smooth set of hands and a potent shot. He is the type of player who will win board battles and carry the puck directly to the middle of the ice, creating opportunities for himself in the blue paint. Honzek handles the puck quite well for a guy his size and has a projectable style of play as a power forward. His reach allows him to create space which was evident in the WHL this year.
His skating is a notch above average but he is skilled enough to use his edges properly which is why his in-tight game is at a high level already. His defensive game is solid but still needs to be rounded out at the pro level. Due to his range, he can cover a lot of ground and block passing lanes rather easily. However, the speed and shiftiness of NHL players will be the biggest hurdle for Honzek defensively speaking and will have to make quicker adjustments. The one big knock on Honzek is that he can be somewhat inconsistent in his pacing and intensity at times. All in all, Honzek is a very intriguing player with high upside who can be seen as an exciting project. If a team is looking for a player who can insulate smaller, more skilled players, this is your guy.
C/W | Frölunda (SHL) | 5-11 | 181 lbs | Shoots: L
Alexa Potack: For one last time this season, Stenberg stepped up on the international stage. He finished the U18 World Championships with a team-leading 16 points, a feat last accomplished nine years ago by William Nylander. Stenberg scored at least a point in all but the last game of the tournament. Though his consistency waned while playing in the Swedish junior leagues, Stenberg continues to impress with his dual-threat offensive capabilities. All considered, his greatest assets to the team that drafts him will likely be his opportunistic vision and physical skills that put those plays in motion. He is mobile with a high level of agility and has the combination of puck and skating skills that keeps him out of trouble. He doesn't show his move too early and makes sneaky plays to set up a teammate or score by himself.
In addition, his quick and nifty footwork, as well as his use of crossovers, results in a number of odd-man or breakaway opportunities. He occasionally needs to slow the game down a bit more, but when he does this, he becomes deceptive and a nightmare to oppose. Once in the zone, Stenberg is an active scanner and adjusts well to the play. Stenberg's best hockey has come with the national team and during his limited SHL stint. Stenberg is clearly ready for professional hockey and can hopefully earn more opportunities next season.
D | Rögle BK J20 (J20 Nationell) | 6-1 | 179 lbs | Shoots: R
Jordan Harris: The rise of Tom Willander over the course of the draft season has been meteoric. In the first part of the season, Willander was viewed as a 3rd round pick by most outlets. By mid-season, he had climbed up to the early to mid-2nd round. Finally, Willander finds himself firmly in the 1st round by nearly every scouting outlet around. The rise really wasn't a result of one big moment, but more a testament to his consistent play and steady improvement. Willander doesn't go out and put up the point total that Lukas Dragicevic does or make the breathtaking plays that Axel Sandin Pellikka does either. In fact, he doesn't wow you at all, but he makes the difficult tasks look routine.
Willander makes plays under pressure as well as anybody in this draft. He retrieves pucks when opponents are breathing down his neck. He can turn back or use a head fake to lose an opponent and create space for himself to make an outlet pass and exit the zone – he's the best in the draft at this. Willander defends the rush well by using his size (6-1) and his incredible skating. He makes simple, yet effective, plays on offense to get the job done. He's not an offensive defenseman in the traditional sense, but he can make sure his team isn't spending too much time in their own zone. To me, Willander projects as a number 3 defenseman who can play in the most critical situations, defend at an advanced level, and offer some value in transition. If his offensive game can develop a bit more at Boston University over the next couple of years, that will go a long way.
W | UConn (NCAA) | 6-3 | 193 lbs | Shoots: R
Luke Sweeney: Matthew Wood joins a crop of highly productive NCAA freshmen in this year's draft. He is also the youngest player in college hockey this year, making his 34 points in 35 games that much more impressive. Wood also played well in a top-line role in the World U-18's next to likely top 2024 draft-eligible Macklin Cellebrini. The very first thing you notice about Wood is his size, standing at nearly 6'4, 200lbs. The second thing you notice, almost immediately after, is how slow Wood is.
Wood is, however, strong in most other aspects of the game. His puck skills are strong, as is his shot, which he can beat college goalies clean with, using either his wrist shot or one-timer. Wood's IQ looks strong in the offensive zone, but there are a number of questions about his defensive zone play. He doesn't compete as hard or win as many battles as you would like for a guy his size. The size/skill/production combination make Wood seem a fairly safe pick in the early-to-mid first round, but his skating and defence, unless improved, will hold him back from being highly effective in an NHL top-six.
C | Brandon (WHL) | 6-1 | 185 lbs | Shoots: R
Graham Montgomery: A well-rounded and toolsy center, Danielson is a safe bet to be a good NHLer for a very long time. He may lack some dynamism but he is very adaptable, allowing him to maintain positive strings of possession even when he gets caught a bit off guard or skates into pressure. He relies on his hands a little too much to get himself out of tough situations, but all of the pieces of a reliable middle-six forward are there. His patience with the puck and his overall playmaking ability are particular strengths that we've liked a lot over the course of the season. He also built out a pretty impressive goalscoring game this season by simply using his plus-level release more frequently. Pair these tools with reliable defensive effort and reads, and we can understand why NHL teams would look his way inside the top 15, we just don't see the game-breaking upside to justify ranking him inside our top 20.
W | HV71 (SHL) | 6-0 | 163 lbs | Shoots: L
Alexa Potack: Mølgaard has earned this place on our list through his adaptability and compete level. Coming into a weaker team as a rookie is a daunting task but the Dane faced it head-on, working his way up to the second line and becoming an integral asset to HV71. Mølgaard has no issue getting to the inside and scrapping for a puck. While not undersized, he doesn't always have the advantage in these battles, but regardless he comes out victorious more times than not. His passing skills are better than his shot, but nothing is above average at a consistent level. His rise in the class has been rapid and is a testament to his learning ability and work ethic. He won't be the most skilled player to hear their name called in this year's draft, but he will be up there for the hardest working. During our team's discussion of Mølgaard, the main point was that no matter what line a team slots him into, he has the grit and ambition to thrive. 
W | NTDP U18 (USNTDP) | 5-11 | 165 lbs | Shoots: L
Graham Montgomery: Perreault is the epitome of a boom or bust kind of prospect. He's got great vision and tremendous skill. He's always in the right spot to finish a play, which he's more than capable of doing thanks to his plus shot. While he was often used as the finisher on his line, he also demonstrated strong, projectable playmaking habits by regularly choosing to make passes to and through the front of the net. He recorded the most points in a single season in USNTDP history, besting Auston Matthews' draft minus one season by fifteen points. That being said, he did play with two very good teammates this year in Ryan Leonard and Will Smith, which should be taken into consideration when evaluating him. His skating and defensive zone play are major flaws in his game. Both are serious enough that if he doesn't fix at least one of them, he could struggle to crack an NHL lineup. He doesn't have the profile of a bottom-six player at all, so he's the kind of player that needs to be in the top six to succeed.
D | Portland (WHL) | 5-10 | 172 lbs | Shoots: L
Hadi Kalakeche: One of the most intelligent defenders in this crop, Cagnoni's awareness shines when in possession of the puck. He looks off his passes, draws forecheckers in before passing through them, and has an uncanny ability to select the right play almost every time when faced with multiple options. In transition, he hops into rushes as the fourth man, doesn't overcommit, and paces himself well to arrive in pockets of space at the right time, with the right speed differentials. In the offensive zone, he dominates play, shooting often yet without going over the line between volume and efficiency.
On the defensive end, he understands play extremely well, but falls short at times due to subpar physical tools and issues with straight-line speed. He uses his stick well to clog up lanes and break up plays, and he breaks up opposing transition attempts regularly. His mobility is an overall positive element of his game, but he does lose the occasional foot race. The knock on Cagnoni, and why he is more likely to hear his name in the second round than in the first, is the lack of physical tools and small stature. However, his understanding of the game and his situational awareness, for us, more than make up for it. If he is developed correctly, Cagnoni could be a high-end top-four defenseman at the next level.
C | Oshawa (OHL) | 6-2 | 187 lbs | Shoots: R
Jordan Harris: Ritchie didn't have the statistical season he or many others expected he'd have, but he was a very effective player for Oshawa. Ritchie is a big centre (6-2, 187lbs) who plays a very mature and projectable game. He's at his best as a play driver and playmaker setting teammates up for scoring chances. He didn't play with the most talented players in Oshawa this season, so that's part of the reason why his production wasn't as high as he would have hoped. He's a tough competitor who played through injury in the final part of the season and into the playoffs, but played effectively despite it. Ritchie isn't the best skater, but there is potential for him to become an average skater by NHL standards even if he isn't there yet. At this stage in the rankings, it's tough to find players who could turn out to be 2nd line centres, and Ritchie has that potential.
W | Owen Sound (OHL) | 6-0 | 193 lbs | Shoots: L
Graham Montgomery: Barlow's game is simple, he's a linear North-south, volume-shooting goal scorer. What you see is what you get. His projectability is more or less equally simple. While his upside reaches as high as a second-line finisher, we envision him slotting in more seamlessly in a third-line role. All year our debates about Barlow were centered not on what he is – which is a powerful goalscorer who lit the OHL alight and could probably already play NHL minutes – but on what he could become, which was far less clear to us. He's better than a lot of the players we have ranked ahead of him right now, but we have real doubts about how much better he can still become; we believe his runway is a lot shorter than most if not all of the players we have ranked inside our top 32.
D | Kelowna (WHL) | 6-1 | 181 lbs | Shoots: L
Hadi Kalakeche: Price is a bit of a tough one. At his best, the defenseman is a transition monster on both ends of the puck, he can string together plays formidably, and has the reach and mobility to make any defensive play at any moment. He reads plays well, sticks with them with resilience, and sees them through to the end, both offensively and defensively. The issue? He had maybe a dozen of those kinds of games. The rest… well, he was tough to watch. Aggressive, mistimed reads, straight-up lapses in coverage, lack of scanning, and turnovers galore in some games made him very difficult to project, and the rest of the time, he seemed like just another guy. The inconsistency is a major factor in our up-and-down rankings of Price throughout the year. 
Our ranking of Price at this spot in our final rankings is a bet on him improving his consistency as he eventually leaves Kelowna for a team with better structure and more surrounding skill. He has it all, but it'll be a tall task to get his consistency up five or six levels. To the "have dinner with him once a month" brand of development team staff: steer clear. He needs a hands-on approach to permanently set free the number 3 defenseman in him that comes out every once in a while.
C | Seattle (WHL) | 5-11 | 165 lbs | Shoots: R
Luke Sweeney: Unfortunately for his draft stock, Sawchyn has spent the past season on the Seattle Thunderbirds of the WHL, an outfit absolutely stuffed to the gills with blue-chip talents like Brad Lambert, Dylan Guenther and Kevin Korchinski. Nevertheless, playing in a limited role, it is perhaps more impressive that Sawchyn was able to put up 58 points in as many games. While his shot is not a huge strength, most other areas of Sawchyn's game are highly projectable. His stride has power and he has good agility. His puck skills make him elusive, both in that he can beat WHL defenders one-on-one and that he is excellent at moving the puck into the middle of the ice. He is also solid at finding his teammates with passes in scoring areas. As well, despite being 5'11, Sawchyn plays with an element of feisty-ness. He was third on his team in penalty minutes (obviously a negative) but it does show a more intense mentality which can be promising in smaller players. His size and role could see Sawchyn slide on draft day, but he has the potential to be a middle-six playmaker at the NHL level.
D | Omskie Yastreby (MHL) | 5-10 | 170 lbs | Shoots: L
Jordan Harris: I suspect Mikhail Gulyayev will be a polarizing player in this year's draft. Those who believe in him see a player who can quarterback a top power-play unit in the NHL, create offense at even strength, be effective in transition, and defend well enough to get by. Those who aren't as high on Gulyayev probably see a player who tops out as a 2nd power play specialist and bottom pair defender at even strength who makes you wince at times defending. Regardless of whether somebody falls in either category, the obvious strength of Gulyayev's game is his skating, he can flat-out fly. If he sees a crease, he will hit and will burn defenders who dare to take a bad angle on him. Outside of his skating Gulyayev has had success as an offensive contributor. He put up over a point per game in the MHL this season, the highest scoring rate among all defenders in the league, and he even scored points in the VHL and KHL. He boasts a good enough shot and can set up plays well both on the PP and while cycling at even strength. Gulyayev's defending needs considerable work and his processing speed when trying to exit the zone needs improvement. There are too many times where he wins a race to a loose puck, but can't locate a player to pass the puck to and is caught from behind and stripped of the puck. I think whether you're somebody who higher or lower opinion of Gulyayev, you know that his defending will likely never be a strength, but how well his offensive game transitions to the NHL will determine how successful a player he becomes.
C/W | Youngstown (USHL) | 5-9 | 173 lbs | Shoots: R
Sebastian High: Whitelaw was a tough player for us to rank in our final board. On the one hand, he has one of the best toolkits outside our top 15 alongside Otto Stenberg, Riley Heidt, and maybe Caden Price. On the other, he remains extremely raw and inconsistent. Few players flashed higher highs and lower lows than Whitelaw this season. His combination of mobility, speed, goalscoring tools, and handling is elite. When he doesn't default to shooting the puck he can flash impressive playmaking and dynamism as well. That said, he was routinely forced to the perimeter in the USHL – a league not exactly known for physicality or compact defensive structures – and had long spurts of low engagement. If his decision-making, on-puck scanning, and inside game can progress a fair amount over the next few years, Whitelaw could become a dynamic and dangerous top-six piece on a contending team, but if they don't, he may not be an NHLer at all as he lacks a strong fallback game. He's most certainly a boom-or-bust prospect, but the upside is too high for us to justify dropping him outside of our first round.
W | HC Kometa Brno (Tipsport Extraliga) | 6-2 | 168 lbs | Shoots: L
Sasha Lagarde: Eduard Šalé struggled to end the season with HC Kometa Brno finishing with 7 goals and 7 assists in 43 regular season games, failing to produce a point in his 6 playoff games in the postseason. His best moments of the season came in his international competitions with 10 points in 11 games in all U20 games. Šalé is cementing himself as a wild card pick in the upcoming draft, as he hasn't progressed in significant parts of his game but still stands out as one of the most offensively creative players in this year's crop of prospects, which clinched his spot inside our Top 32, just barely. He was one of the most contentious players in the class and is getting a bit more of a deep dive here as a result.
Šalé is a relatively good skater who is elite in terms of carrying the puck with speed and breaking down the defensive players in the offensive zone. He is most successful when he is creating space for himself which allows him to tap into his incredible stickhandling skill and finding open teammates. There's no question that Šalé is a great offensive talent and most of his offensive skills are projectable to the NHL, including his threat on the man advantage and his above-average scanning habits in the offensive zone. Šalé equally excels in transition which makes him a threat on counterattacks. If given the proper amount of time and space, Šalé is one of the best creators in the entire draft class. His shot is not to be slept on either, as he's able to pick corners with his backhand, wrist shot or snapshot depending on the situation. All in all, offensively speaking, Šalé is a mixed bag of high-end skill and playmaking ability with above-average intelligence to boot. He needs to improve his defensive awareness and spatial awareness while playing defense and needs to find a way to improve his motor. His brain functions a lot faster than his feet, which is an imbalance that has caused him many difficulties at the professional level.
Šalé will also need to come a long way in terms of his physicality which means he'll need some time in training to put on some weight. The biggest issue with Šalé, in my viewings, has been that he is often outmuscled along the boards and towards the latter end of the year, defenders were taking away the middle of the ice and forcing him to take hits along the board. Lastly, Šalé's pace in all three zones is a little bit inconsistent and he has had a hard time fore-checking with efficiency Šalé is a high-end talent who will thrive on the power play in the NHL. It'll be up to teams to decide whether they want to take a risk on the clear flaws in his game in order to tap into his obvious offensive potential. If you can find a way to keep pace while improving his defensive zone game, he'll for sure be an NHLer with upside. Once the weight is put on and he's grown into his body, he could become a dominant force in the offensive zone during sustained pressure situations and can find teammates through traffic with ease. Eduard Šalé one of the more fun players to watch but it comes with baggage.
C | Moose Jaw (WHL) | 6-0 | 166 lbs | Shoots: R
Graham Montgomery: When Yager finds himself with plenty of time and space he becomes one of the most dangerous players in the draft. Excellent shooting mechanics and a lazerbeam of a wrist shot lit up WHL goal lamps all year. Beyond his shot though, his game left us with more questions than answers. Yager improved his playmaking game a fair amount this season and he did well to create by shooting for rebounds more frequently. He has a decent motor and contributes in his defensive zone but he's not a particularly creative player. One big question mark we have with his game is his lack of physicality. He spends a lot of his time in the offensive zone searching for space around the slot but really struggles to withstand physical pressure. While it is great to see him diversifying his offensive toolkit, there is still a lot of work to be done if he wants to be a legit threat as a playmaker at higher levels of hockey. If he remains a single-threat offensive piece with limited physicality and creativity, we have a tough time seeing him entrench a top-six NHL role, especially down the middle.
W | Sherbrooke (QMJHL) | 5-11 | 176 lbs | Shoots: R
Hadi Kalakeche: The ultimate complementary player, Gauthier's game revolves around high-end smarts and awareness, as well as the will, relentlessness and physical proclivity of his father, long-time NHL defenseman Denis Gauthier. He strings plays together at a high level, makes smart one-touch passes to open teammates, and is in perpetual motion in the offensive zone. Pop up in one spot, circle back, pop up in another, jump on a rebound, win a board battle, rinse and repeat. Gauthier seems to have no end to the energy he provides in a given shift. His handling skill is solid, with an unlocked top arm and dynamic posture. He rolls his wrists through dekes very well and incorporates the occasional bit of deception into his moves.
His passes aren't necessarily accurate but are always well thought-out to the point that he rarely needs to pass accurately. The same applies to his shot; in a vacuum, it isn't all that impressive, but his positioning, intensity and awareness make him a more than capable garbage goal collector. A goal is a goal, and Gauthier understands it more than most in this class. As he stands, Gauthier could add some more separation speed and improve upon his physical tools some more to become the best complement to a skilled center or winger you could ask for in your middle six.
 G | NTDP U18 (USNTDP) | 6-1 | 179 lbs | Catches: L
Colin Hunter: It would have been hard to have asked for a better draft year from Augustine. Behind the sparkling stats stands a goaltender who is incredibly technically proficient for his development stage. His edges, lateral quickness, scanning, tracking and positional decision-making result in a goalie that is almost always in the right place at the right time. Even when he isn't, his hands, recovery ability, and underrated athleticism give him a chance on every shot. Don't let the fact that he's "only" 6-1 fool you, Augustine is the best goalie in this draft class.
C/W | Malmö (SHL) | 6-3 | 185 lbs | Shoots: L
Alexa Potack: Wahlberg's jump to the SHL has been so beneficial to his rise in this year's draft class. The J20 appeared to be too easy for him at times. With his large frame and aggressive style, it was hard to contain him. With Malmö's SHL club, Wahlberg has had to utilize his defensive tactics and improve on his playmaking ability, which is lacking compared to his shot and scoring talent. He plays a well-rounded game with high intensity but needs to become more consistent. If a team has the patience to take his game up a notch, they will reap the benefits that the strong two-way center brings to the table. When the draft comes around, I'm very interested to see how teams value a center with this size and scoring ability, but also with the noted inconsistencies. 
W | Leksands IF J20 (J20 Nationell) | 5-10 | 179 lbs | Shoots: R
Sebastian High: Unger Sörum has flown under the radar all season and even a strong performance at the Men's U18s on Sweden's top line did not earn him much top 64 attention but we as a team – and I myself especially – believe he is deserving of consideration in the early to mid-second round. Unger Sörum is the youngest player in the draft class, missing the cutoff for 2024 by a single day and played strong hockey in both the SHL and the J20 as a 17-year-old. In the SHL, he played a conservative defence-first style that quickly gained the trust of his coaches, limiting the length of his puck touches and playing a mature give-and-go game with flashes of pace. 
In the J20, Unger Sörum shone brightly as a playmaker, consistently sending pucks to the slot and creating passing lanes through coverage. At his best, he is a top 15 playmaker in this draft class in my own estimation. He gains separation from his opponents with frequent delays in his rushes, quick turns, and – increasingly – with give-and-go's. While his style needs to evolve a bit to project to the North American pro game (eg. grow a goalscoring threat, up the pace consistently, and double down on the playmaking skill), Unger Sörum has a very long runway both in his age and his frame, and possesses a strong fallback game as a defensive energy winger in a bottom-six if his playmaking doesn't progress as we think it can, which, in the end, emboldened us to take such a bullish stance on him.
C/W | London (OHL) | 5-8 | 174 lbs | Shoots: L
Hadi Kalakeche: Look at the size on paper without watching him play, and Barkey seems like another undersized skill guy. This couldn't be further from the truth. Among all the undersized forwards we as a scouting team have watched, none play less like their size than Barkey does. Surprisingly stocky and solid on his feet, Barkey loves nothing more than to get under checks, absorb hits to make plays and pester defenders on the forecheck. There are very, very few forwards who boast the intensity and stamina that he displays on a shift-by-shift basis. He has a waterbug element to him as well, with solid stickhandling to boot.
Defensively, he is an absolute nightmare to face. The number of times he's snuck behind carriers to steal the puck off of them or cut off a pass in the neutral zone, you'd think he has a stick twice his size. We've checked — it's not. If he adds some more pop to his stride to complement his high-end motor, resilience and inside-driven mindset, watch out. His stickhandling, playmaking and shot are above-average, and he could combine all of those tools to make a tremendous middle-six energy forward.
W | Södertälje SK (HockeyAllsvenskan) | 5-10 | 179 lbs | Shoots: L
Alexa Potack: Between his time in HockeyAllsvenskan with Södertälje and on his loan to Västervik and another 18 games in the J20 Nationell, Čiernik was all over the place this year. Though he racked up points in the junior league, his loan was some of the best hockey we saw him play this year. His skating mechanics and shifty offensive style are enough to let him glide through the J20 Nationell often, so HockeyAllsvenskan was the right step up, but playing for a bottom team afforded him more ice time. With Västervik, Čiernik faced some of his more pressing issues, mostly his invisibility without the puck and defensive engagement. Čiernik has the offensive tools and quick skating to be an impactful player but to get the NHL in his sights, he needs to develop a deeper, more complex level to his game beyond on-puck offense.
W | Prince George (WHL) | 6-0 | 204 lbs | Shoots: R
Sebastian High: Ziemmer has been a tough player to pin down for our group this season. Some of his tools and habits scream "first-round talent" such as his hands, shot, and ability to find soft ice around the slot, but his overall profile is one we've hesitated to rank in such a range. His defensive engagement is low, his offensive game is typically lacking in tenacity despite his strong physical frame, and his skating clearly projects as sub-NHL average. Adding a few gears to his motor, learning to collect more information in his scans, and improving his explosiveness could unlock the top-six upside his tools give him, but we're a bit skeptical of the likelihood of that happening. That said, Ziemmer's physicality, goalscoring, and decent distribution (which could be the foundation to becoming more of a play connector) give him a fall-back game that could do quite well in a bottom-six, which we value a fair amount.
W | Hamilton (OHL) | 5-11 | 165 lbs | Shoots: L
Luke Sweeney: Lardis is a very interesting case for this draft. After a slow, anonymous start in Peterborough, Lardis roared to life after a second-half trade to Hamilton, where, for a time, he scored at a goal-per-game pace, landing him third among draft-eligible scorers in the OHL. Lardis is not an overly complicated player. He plays a pace-driven north-south style that suits him well in the OHL. He's quite fast, but equally uses strong off-puck routes to land him in open space in the neutral zone, making him a solid transition player. Lardis frequently created high-quality chances for himself making his greatest weapons, his shot and finishing ability, highly effective at his current level. If he can learn to leverage his pace into being a more disruptive forechecker, Lardis has the potential to be an effective bottom-six scorer.
C/W | Ottawa (OHL) | 5-9 | 165 lbs | Shoots: L
Sebastian High: Pinelli is a player I planted my flag in at the very beginning of the season, and this ranking represents a pretty big fall from where he's previously been on our boards, which is more representative of my own cooling on his NHL upside rather than a drop in his level of play. I have a ton of respect for Pinelli's high-intensity and high-intelligence game, and I am still a lot higher on his playmaking ability than most other scouts, but the more I've watched him play – and the more I've talked with other public scouts about him – the more questions I've raised on his level of pace and the role his development with the 67's could impact his career trajectory. Pinelli has a tendency to slow down before executing his plays, which he will need to unlearn pretty quickly to continue to project as a valuable NHL prospect.
More important in my mind, however, is the necessity to get him on a team that values him as a playmaker and a power-play distributor, which the 67's do not. As a D-1, I found Pinelli's playmaking and one-touch distribution to be core components of what made him a special player. This season, he was used exclusively as a finisher both at even strength and on the power-play, which I still believe is more of a systemic issue rather than a limitation of his actual game. I also think that playing at center would aid this progression. More needs to go right for Pinelli to project as an impactful NHLer than with most of the prospects in our Top 50, which is why we've cooled on him, but if such development does occur, Pinelli could unlock middle-six upside as a Swiss Army knife style player.
C | Penticton (BCHL) | 5-10 | 163 lbs | Shoots: R
Hadi Kalakeche: A borderline elite shooter who carried the Penticton Vees to the BCHL championship and Fred Page Cup, Nadeau was near unstoppable this season, scoring 45 goals and adding 68 assists in only 54 games, as well as going a goal and an assist per game in 17 playoff matches. The release is both extremely powerful and lethally accurate, with a near-perfect form to boot. He can curl it, wrist it, snap it or one-time it, and all of them hit the postage stamp on their way in.
He's added some deceptive elements to his release as well, looking off his shots or threatening the pass before rolling his wrists into a shot. The flashes of hockey sense in his game hint at something special, as Nadeau could use the same smarts he employs to delay and hide his release in order to do the same for his passes. As usual, an undersized forward with high skill playing in a tertiary junior league like the BCHL will almost certainly see his name fall drastically, but Nadeau could become one of this draft's top goal-scorers in his prime.
D | NTDP U18 (USNTDP) | 6-0 | 170 lbs | Shoots: R
Sebastian High: Minnetian is the most electrifying – and best – defenseman in the 2023 USNTDP crop and reminds us a bit of Seamus Casey last year but with less offensive control and refinement. His skating projects as well-above the NHL average, and he weaponizes this mobility to great effect in the offensive zone, evading defenders with ease and quickly changing his body position to switch his angle of attack. Pairing that mobility with top 3 playmaking among defensemen in the class and decent hands, awareness, and processing, Minnetian has a diverse offensive toolkit and flashes high-end dynamism.
He will need at least four years before making the NHL is a possibility, but the investment could reap huge benefits with a little patience and an encouragement to lean into the offense. His defensive game is still quite weak and he will likely need to be insulated by a strong defensive partner in the NHL, but the creativity and offensive generation are very impressive and give him clear second-pairing upside alongside the risk that he never becomes an impact piece.
G | Omaha (USHL) | 6-6 | 209 lbs | Catches: L
Colin Hunter: It was a real up-and-down season for Hrabal. After starting the season on fire, he lost his game briefly before finishing the season relatively well in both USHL and WJC-18 competition. The intrigue is obvious when it comes to Hrabal. Standing at 6'6, he can fill the net and make extension saves that his smaller counterparts simply aren't capable of. Beyond that, however, he is also a strong skater for his size and boasts above-average recovery abilities (which were often called upon playing behind a poor Omaha team). On the flip side, there are some holes in his game. He can be beaten cleanly more often than preferable due to positioning decisions and relatively average hands. Further, he could use some work with tracking and pre-scanning. Overall, a very interesting goalie with perhaps the highest upside in the class.
C | Omskie Krylia (VHL) | 5-8 | 170 lbs | Shoots: R
Graham Montgomery: Mukahanov is an undersized but mature Russian winger who has shown flashes of playmaking ability to go along with a decent shot and flashes of good goal-scoring habits. His season is a bit of an odd one to assess as his deployment was unique. In fifteen games at the Junior level in Russia, he scored seventeen points despite getting mostly third and fourth-line deployment. In the VHL (Russia's second-tier pro league) where he spent most of the season, he recorded eight points in thirty-one games while mostly getting second to third-line minutes, even crossing the twenty-minute mark a few times. He thinks the game quickly, capable of anticipating and reacting to new situations very quickly. He may have a hard time transitioning to North American ice given his physical profile, but his anticipation along with above-average mobility and an elite motor enables him to avoid pressure most of the time.
C/W | Rögle BK (SHL) | 6-0 | 179 lbs | Shoots: L
Luke Sweeney: Felix Nilsson is part of a large crop of draft eligibles this season who got looks in Sweden's top hockey league, though he failed to record a point at that level. However, he was one of the top scorers in Sweden's J-20 league (41 points in 36 games) and also performed well in international competitions when healthy. There is not one particular element of Nilsson's game that jumps off the page, rather, he is a very well-rounded player who can slide into any forward position, though he is perhaps better suited to centre. He is fairly selective with his shots, only looking to shoot from high-quality areas. Nilsson does play an interior-driven game, so he does often find himself in strong shooting positions.
He is much more liberal as a passer, though is still highly accurate, converting frequently on slot passes. Nilsson's skating is good and uses it effectively to exit the zone, though I do not think he has much upside as a transition driver. Though not much of a forechecker, Nilsson is a responsible centre in his own zone and can break up plays effectively. Overall, there is nothing about Nilsson's game that will make your jaw hit the floor, but he does have the potential to be a solid bottom-six, playmaking pivot.
W | Loko Yaroslavl (MHL) | 6-4 | 198 lbs | Shoots: R
Jordan Harris: Daniil But is a very curious case study for draft evaluators. He is a towering player at 6'5" and 203 lbs, but he almost goes out of his way to not utilize his size to the fullest extent. He's a big player who plays like a small player. He has surprising dexterity and can pull the puck on a string at times with some nasty dangles, something atypical of a player this young at that size. Conversely, he isn't very effective in battles along the boards because he eliminates most of his size advantage due to his inability to play with leverage. The two areas where But does play like a big man are is his shot and his skating. His shot is lethal and can beat MHL goalies with ease. In fact, he even managed to score a few goals in his limited KHL action this season.
But's skating is a question mark, although when he reaches top speed, he can really move. Still, his acceleration to top speed is too slow. Despite being a player who plays the exact opposite as you'd expect by looking at him, he does have some considerable upside. If But is able to improve his skating and start using his frame to his advantage and start playing like the huge player he is, there's a very intriguing offensive player there, especially with his hands and shot. It might be unlikely But puts everything together, but if he does, he could be a star. If not, I still see But as a player who could potentially play on the 3rd line in a depth scoring role.
D | Sudbury (OHL) | 6-0 | 187 lbs | Shoots: R
Luke Sweeney: What can I say about Matthew Mania that his name doesn't already tell you; the kid is a crazy person on the ice. In a good way though. Its difficult to think of any player in the CHL, let alone a defenseman, that, when they're on, can do as much with the puck as Mania can in such a short amount of time. Based on his 38 points in 67 games with the Sudbury Wolves, it might be tough to envision, but from a tools perspective, there are maybe two or three players in this draft that check more boxes as a modern offensive defenseman. The first thing about Mania that stands out is his skating. Opening up a Mania highlight package, you'll instantly notice how many of them are end-to-end rushes, where Mania uses lateral crossovers to build tons of speed, often leaving forecheckers straggling in his wake. In the neutral zone, his edgework, upper body separation and puck routes allow him enter and exit zones with apparent ease.
He also uses these traits to make himself available as a trailer option when he is not rushing the puck himself. Mania shot is solid, and good enough to make defenders respect it, something that opens up the ice for his puckhandling and playmaking. Mania is a strong puckhandler and deceptive with his actions, marrying these with his edgework to create high-end chances for his teammates, off the rush or cycle. In-zone his defence is not great, but he does a good job of limiting entries and making controlled puck recoveries. Mania is a big boom-or-bust player, but if he hits his absolute ceiling, he could offer borderline top-pair upside.
C | Wisconsin (NCAA) | 6-3 | 216 lbs | Shoots: R
Graham Montgomery: Stramel is a bit tough to grade as he played for a rather poor, and poorly coached, University of Wisconsin team this year. Stramel is headed back to the University of Wisconsin next year which could worry some NHL development teams as the school doesn't have a great record of developing players as of late. Stramel's puck skills don't jump off the page but he handles the puck well in tight spaces and he is very strong off the puck, particularly in the offensive zone. He's at his best making short passes under pressure along the boards or near the goal line, setting up more skilled players for scoring chances. His aggressive off-puck play combined with his large frame makes him well-suited for a bottom-six role.
G | Youngstown (USHL) | 6-2 | 201 lbs | Catches: L
Colin Hunter: Fowler followed up a promising D-1 year with Youngstown by stepping up as arguably the best USHL goaltender this season (1st Team All-Star & Playoff MVP). Strictly from a technical standpoint, Fowler can be underwhelming to watch due to his occasionally choppy movement/style of play. However, his instincts are clearly elite – making consistently solid positioning decisions, effectively scanning and reading play, and simply getting himself in front of the puck with his hands and/or body. He's expected to join Boston College next year, a program that has had plenty of recent success in developing goaltenders.
C | Frölunda J20 (J20 Nationell) | 6-2 | 181 lbs | Shoots: L
Alexa Potack: Edström would be a high-floor pick, not a high-ceiling one. The two-way center supports well and was responsible at U18s for many high-quality offensive plays. Though he may lack offensive dynamism, he sets up plays well and has developed a thoughtful two-way game. He needs to dig deeper into his role and develop a few more playmaking tools, such as better scanning habits or added speed to get ready for a professional career. During his time with Frölunda's SHL team, most of his points resulted from him working in the dirty areas of the ice or generating turnovers in transition. 
W | HIFK (Liiga) | 6-3 | 207 lbs | Shoots: R
Jordan Harris: It was a difficult season for Halttunen starting with the first event of the draft season, the Hlinka Gretzky Cup where he underwhelmed to the point where he was demoted to lower lines. From there, Halttunen failed to grasp a meaningful role with his team in Liiga and ended up his first professional season with one assist in 27 games. Typically, players who have had first-round aspirations have produced in Liiga to some degree. Halttunen's known for his shot, which is very powerful and accurate. He used this shot to score 18 goals in 18 games in junior hockey today. Halttunen has great size and he can use his frame well along the boards.
There are a few areas where Halttunen is lacking including his skating, compete level, and overall transition game. He's not a player you really want transporting the puck up the ice as he's exclusively a finisher at this stage in his career. He also has poor acceleration which makes it difficult to gain separation. Despite his flaws, he is a big and powerful scorer who has upside. If he can improve on some of his weaknesses over the next few years, he could develop into a middle-6 scoring winge.
W | Chelmet Chelyabinsk (VHL) | 5-11 | 170 lbs | Shoots: L
Jordan Harris: Aside from three MHL games, Rykov played exclusively at the VHL, the second-tier professional league in Russia, where he played on the third line. It was a slow start in the VHL for Rykov as he played with a bit of tunnel vision and the game seemed a bit too fast for him. As the season went on into December, it looked like Rykov had adjusted to the pace of the VHL and made strides as a play connector while getting some time on the power play. Through 20 games in the VHL Rykov produced 11 points, and it was looking like he was going to take the next step as an offensive threat. Unfortunately, an injury cut Rykov's draft season short and missed the remainder of the regular season.
Rykov is a good skater who competes hard and has a good frame that he could easily add needed muscle to. He connects plays and finishes well enough, but there's not a ton of creativity to his game. Still, he plays a very intentional game where he usually accomplishes what he sets out to do, even if it doesn't involve a ton of skill. Rykov is a very young player for this draft having a mid-July 2005 birthday, which lends the possibility that he could still grow and fill out physically. Strong development over the next few seasons in Russia could give Rykov an honest shot at a third-line role as a competitive energy player who can contribute as a depth scorer.
C/W | London (OHL) | 5-10 | 170 lbs | Shoots: L
Sebastian High: Cowan makes for a fairly straightforward NHL projection if he can refine his stride mechanics and on-puck scanning habits, and adds a minimal amount of variety into his rush patterns as a carrier. He is highly tenacious and attacks the middle incessantly, and is at his most valuable offensively as a distributor and play-connector, flashing impressive playmaking at times. He will likely add weight and play an inside-driven and violent game once he hits the pros, and he put up an impressive amount of primary assists/60 with the right linemates as finishers, but they would need to bring the dynamism to the line as well. There's even a chance that he could make for a strong complimentary piece in a top-6 with elite linemates, not unlike the Bunting role in Toronto, but the smart money would be on a valuable high-energy role in a bottom-six.
D | Kitchener (OHL) | 6-0 | 187 lbs | Shoots: R
Hadi Kalakeche: A mobile defenseman with refined transition skills, Brzustewicz has all the makings of a solid puck-mover. He can pivot out of checks, open up his hips and wire a bomb up the ice, or can get his feet moving to carry the puck in transition with ease. He angles his pivot foot outwards to rely on his outside edges and drops his frame as low as possible to dig into the ice and create as much torque as possible in his spins, helping him retain both possession and momentum. His straight-line speed is lacking due to improper form, but otherwise, there is much to love about his skating.
Brzustewicz's defensive game has some alluring flashes to it, as well. He keeps up well with rotating cycles, intervenes at the right times to interrupt them, and is especially good at regaining possession and passing to his outlet quickly. However, there is a lot of inconsistency in his effort level, and he can get quite passive at times. If the skillset was off the charts, it would better compensate for his inconsistency, but as he stands, Brzustewicz's value as a puck-mover lands him in our late second round.
D | Saskatoon (WHL) | 5-11 | 176 lbs | Shoots: L
Luke Sweeney: Tanner Molendyk, as a sub-6', relatively low-scoring defenseman, is one of the more puzzling cases in this year's class. Despite his unusual profile, some scouts have Molendyk going in the first round this year, the reasons for which mostly start and end with his skating. While he is not a burner, Molendyk has solid speed, but it's his mobility that stands out. The agility he possesses allows Molendyk to walk the offensive blue line, close gaps in the neutral and defensive zones, and evade forechecking pressure, all while making it look effortless. He works hard away from the puck and will throw hits despite his size. Molendyk's defensive acumen and transition ability should get him some NHL looks in the future, but the more he can add to his offensive game, the higher he can climb in an NHL D-corps.
D | Guelph (OHL) | 5-11 | 190 lbs | Shoots: R
Sebastian High: Allen had a rather difficult draft-year season, but his draft stock may have been overcorrected as a result, as he remains a worthy 2nd round swing on mobility, quick passing game in transition, physical engagement defensively, and strong gap control. His offensive game is limited more by his habits than his tools, which makes his upside more difficult to assess. He is a high-volume shooter from the blueline, routinely gifting away possession, but strong shot and pass mechanics – if not a high degree of dynamism or creativity – could unlock offense that was not visible this season in which he was given far too much responsibility in a system which didn't benefit him. As of now, we are comfortable projecting his upside as that of a #4 or #5 defenseman.
D | Tri-City (WHL) | 6-2 | 181 lbs | Shoots: R
Graham Montgomery: Dragicevic is one of the most controversial defensemen in this draft class. While some credit him as the best offensive defenseman available, most can agree that his flaws in skating and passive defensive play could hold him back. While his offense in terms of production is certainly impressive, I'm not convinced the process matches the results. Dragicevic benefited from a system in Tri-Cities that was built around him as he was the most skilled offensive player on the team. He led the team in points by eleven and in shots on goal with 211. Twenty-four more than his closest teammate. This highlights how Dragicevic scored a lot of his points with his shot.
While his shot is good, and projects as above average for an NHL calibre defenseman, his overall offensive play didn't impress me as much as it has others. He didn't show a consistently high level of manipulation or playmaking. In fact, his play in the offensive zone was somewhat predictable. Most of the time when he got the puck at the blueline he would do one of two things; fire a shot towards the net, or make a pass around the perimeter. This is fine for keeping possession in the offensive zone, but for a player whose main selling point is supposed to be offense, I'm not convinced.
D | Brynäs IF (SHL) | 6-0 | 181 lbs | Shoots: L
Alexa Potack: Lindstein excels on defensive reads but doesn't hesitate to bring some offensive and puck skills to the table. His shot is average, though he occasionally scores from the point, but he is unlikely to produce at the NHL level. It's his gap control, skating, and patience that have made him sound in the pros. Diving deeper into his best traits, he defends the rush well and will generally take advantage of turnovers in his defensive end. Moving forward, Lindstein will lean on his reads and awareness but needs to improve his physical tools that get these plays completed correctly.
W | Penticton (BCHL) | 6-2 | 205 lbs | Shoots: L
Sebastian High: Suniev has a unique but intriguing profile. He is likely the worst skater ranked on our final board, sporting an awkwardly wide stride which is also very choppy and shallow. That said, he is also tenacious, driven, physical, and very aware, which is facilitated by refined scanning habits. His power game, intensity, goalscoring prowess, and intelligence form a strong foundation for a future complimentary middle-six NHLer with goalscoring upside but he will need to be glued to a really good skating coach for the next few years so as to not lag behind the play too much against pro competition.
C | Youngstown (USHL) | 6-2 | 198 lbs | Shoots: L
Sasha Lagarde: Martin Misiak has an interesting season splitting time between Nove Zamky HC (SVK) and Youngstown (USHL). His skating is strong; he's very quick from a standstill and his strong crossovers and polished edgework round out a strong skating grade. He also has a relentless motor which allows him to be a menace on the forecheck. His defensive side of the game is excellent and he tends to make his teammates better by doing the little things right on every shift. Misiak has great spacing and timing and understands really well how to speed up or slow down his skating so that he can be a support to a puck carrier instead of being too close to them.
Offensively, Misiak doesn't have the most potent toolbox to be a force on both sides of the puck. He lacks a truly threatening shot and possesses slightly above-average hands. He shines during sustained pressure situations in the offensive zone when he can cycle pucks and drive toward the net. He is the type of player that every coach will love but will frustrate fans at the same time due to his lack of offensive output. With that being said, he is an intelligent player with and without the puck and really relies on his off-puck reads to react. Martin Misiak projects as a bottom to middle 6 centerman who excels defensively while being able to chip in offensively from time to time. His skating will be his best tool and will be the reason he is relied on to kill penalties and energize his team physically.
D | Barrie (OHL) | 6-0 | 170 lbs | Shoots: R
Hadi Kalakeche: Akey is a weird case of simplistic effectiveness. In transition, he barely moves his feet, doesn't show much aggression, and isn't the flashiest on the puck either, but it all works exceptionally well. He is a tremendous disrupter of plays, and that is mainly carried by his great mobility. One push, one pivot, and he gets stick on puck. His defensive game in-zone needs some work, especially in scenarios which require a bit of muscle, but any stick-on-stick battle is his. His puck skills are a bit of a concern, as he often makes the first play in front of him. His shot lacks pop, and some of his passes just simply didn't hit their target. He did show flashes of stickhandling which got us interested in his profile as a puck-mover, but mainly, his game revolves around high-level defending and simple but valuable plays. There's room to grow beyond that, but the question is how much, and that uncertainty lands him just inside of our second round.
C | Saginaw (OHL) | 5-10 | 165 lbs | Shoots: L
Sebastian High: Willis is a smart, high-motor, smooth-skating forward who drives impressive transition results, excelling as a carrier between the dotted lines. His physicality has some catching up to do but he has a lot of strong foundational physical habits that will thrive with added lower body strength. He is consistently engaged and is among the CHL's better 2023-eligible fore and backcheckers, applying calculated and suffocating pressure. He has middle-six upside as a skilled play-driver with real defensive upside who can score from in tight and flashes good playmaking around the slot, weaponizing his and his teammates' movement. Improving on his shot and thus diversifying his offensive toolkit would help unlock solid middle-six upside.
C/W | Drummondville (QMHL) | 6-1 | 190 lbs | Shoots: L
Hadi Kalakeche: Peddle's value lies in his goal-scoring prowess. A stocky forward with great off-puck habits, Peddle's shot itself has some torque to it, but the positioning and opportunism he boasts are what make him a good scorer. He also has a lot of intensity to his game, as he can hunt defenders down and apply calculated pressure to force them into bad areas and plays. He positions himself so well in the offensive zone and often saw situations in which he was wide open in the slot and was overlooked by subpar teammates.
Of course, at this point in our rankings, no prospect comes without glaring weaknesses. His game lacks dynamism, as he often stops moving his feet to receive pucks and takes a while to get them in his hip pocket. He also very rarely looks to pass, which can get quite frustrating at times when his teammates are wide open and he clearly has the tools to connect with them. Some work on his handling and playmaking would go a long way in bringing out the best in Peddle and making him a complementary scoring winger on a third line.
W | Brynäs J20 (J20 Nationell) | 6-3 | 187 lbs | Shoots: L
Alexa Potack: Nordh isn't generally the key offensive threat on a line, but he plays the supporting role quite well. His lack of independent scoring ability takes away value, but he makes up for it with his knack for reading plays. He demonstrates high situational awareness and is constantly scanning the ice. His game is equally as strong on and off the puck, and he doesn't lack defensive instincts either. His biggest downside is his skating. He doesn't have dynamic play-driving ability, which would greatly improve his impact when paired with his large frame. He is coming into his own as a middle-six player, and while he doesn't have any elite talents, he brings a reliable two-way skillset to the table.
W | Kingston (OHL) | 5-11 | 168 lbs | Shoots: R
Sebastian High: Soto is a creative playmaking winger who consistently focuses on creating chances in and around the slot. While Kingston was a fairly weak team this season, Soto was its most consistent creator, sporting a high motor and good off-puck movement to find space in the offensive zone, which his teammates failed to regularly leverage by getting him the puck. He's very aware on the ice and scans consistently, but he does not project as a high-end defensive piece. That said, he could become a complimentary middle-six playmaker who elevates and creates for his linemates while being spared the burden of driving play. His intensity also facilitates a bottom-six projection as a depth scorer.
W | Kitchener (OHL) | 6-3 | 185 lbs | Shoots: L
Hadi Kalakeche: Rehkopf is a shooter, first and foremost. His shot has more than a fair bit of weight and accuracy to it, and his movements in the offensive zone are intelligent and calculated. He sneaks off, then flows back into soft ice, disengages before re-engaging in net-front battles, and loves to use the back of the net to get lost in coverage before popping up unmarked at the far post for a tap-in. Scoring is what Rehkopf does best and most consistently. Outside of that, it's lackluster. A flash of stickhandling brilliance here, a savvy pass to an open man there, but otherwise, Rehkopf sits below average in some key elements.
He doesn't have that separating gear and has limited mobility, he is pretty passive off the puck, and he doesn't string plays together at a consistent enough level to warrant much praise. Save for positioning and scoring, every other area in Rehkopf's game is still raw. Scorers will score, however, and he has room to grow his game, which could very well see him land a middle-six role at one point in his career.
D | Tappara (U20 SM-sarja) | 6-2 | 176 lbs | Shoots: L
Graham Montgomery: Karki managed just over a point per game at the U20 level in Finland this season despite being third on his team in scoring among defensemen. His offensive toolkit is reasonably strong, headlined by his plus-level shot. Defensively, however, he can be quite passive, particularly in transition, giving up easy controlled zone entries against that he otherwise could have and should have at least challenged. The tools of an NHL defenseman are there but the consistency and ability to play within a compact defensive structure represent significant question marks.
D | Youngstown (USHL) | 5-11 | 174 lbs | Shoots: L
Sebastian High: Strathmann is a smooth skater and fluid handler who constantly activates offensively. His risk assessment gauge needs calibration as he takes a lot of unnecessary risks, and his cowboy-style game is not overly likely to translate well to the NHL with his good but not exceptional toolkit. If he refines his decision-making and becomes significantly more reliable in his own end, he could project as an offensive-minded second-pairing piece, but the road to that upside is a long one. Learning to play better within a defensive system should be the main priority in his development, but the upside and confidence he has are quite enticing and are worth the risk of swinging on him for.
D | London (OHL) | 6-1 | 177 lbs | Shoots: R
Hadi Kalakeche: You want a shutdown defenseman? Bonk is your guy. He hits, he battles hard, he pushes opponents around, and he gives you the same thing every night. First one back, last one forward, reliable, persistent, punishing… there are lots of words that fit what Bonk brings to the table. Mobility, however, is not one of them. He struggles to shift his weight, can take a lifetime to pivot, and doesn't have as much leg strength as other prospects his size. This harms his skill level which, in a vacuum, isn't half-bad. His heavy shot struggles to hit the net due to his lack of lateral mobility, his hands get too quick for his feet, and he often relies on dump-ins rather than trusting his frame and holding onto the puck to find an outlet. Shutdown defensemen have value, and in terms of that type of prospect, Bonk is up there. But there is a lot of work needed to make him a net-positive player in the NHL one day.
D | London (OHL) | 6-1 | 177 lbs | Shoots: R
Sasha Lagarde: Ondrej Molnar has had an interesting season to say the least, splitting time with NK Nitra (5 points in 22 games) and the Eerie Otters (19 points in 34 games). Molnar is a defensively responsible winger with top-64 potential and can be seen as a potentially valuable depth piece for any organization. Molnar doesn't have many elite tools but uses his high defensive IQ to create turnovers and apply pressure on the forecheck in an extremely efficient way. He is often the first on the forecheck, has excellent scanning habits all over the ice and can be relied on to kill penalties. His effort level and intensity stick out as his most important tools in forging a successful professional career.
Offensively, Molnar has the talent to work his way up and down the lineup while not being a liability. He is strong on the cycle and anticipates plays at a high rate, often finding teammates who have been lost in coverage. Molnar is a pass-first player as his shot is often used strategically more than to beat goaltenders outright. With that being said, his offensive output is based on his complimentary game and his motor. His skating stride needs work and I would like to see him take more initiative in transition as rarely decisively carries the puck up the ice in the OHL as he did with Nitra.
D | London (OHL) | 6-1 | 177 lbs | Shoots: R
Sasha Lagarde: Maxim Štrbák, a defenseman for the Sioux Falls Stampede, is a prospect with the potential to become a bottom pair or potentially even a No. 4 defenseman in the NHL. He excels as a shutdown player, effectively neutralizing the opposing team's second line and preventing them from scoring. However, there is a noticeable gap between his current performance and his envisioned career trajectory. Štrbák has displayed a highly creative style of play, particularly in international tournaments. He consistently attempts to make plays with the puck, employing spin moves, dangles, and slick passes to bolster Slovakia's offense and secure victories against formidable opponents. While he has exceeded expectations at times, it is unlikely that he will be able to replicate these maneuvers against professional competition without further development in terms of explosiveness, agility, and puck-handling skills. He possesses strong defensive tools and demonstrates a commendable work ethic both on and off the ice. However, he needs to improve his decision-making and risk management to minimize turnovers. While he has shown improvement in his scanning abilities and offensive contributions, there are areas that need further development.
W | Ässät (Liiga) | 6-0 | 174 lbs | Shoots: R
Graham Montgomery: Hameenaho is one of the most interesting prospects to come out of Finland this year. He thinks the game very well and is a good problem solver. Average puck skills are nothing to write home about but one thing that is worth talking about is his skating. Without significant improvements to his skating, it is hard to envision him playing many NHL games. His brain is a lot faster than his feet but that only goes so far. Lack of first-step acceleration and top speed make his projection very difficult even with the rest of his game being reasonably strong. Luckily skating coaches exist and with a good one, he could be an effective middle six complimentary piece.
G | Brandon (WHL) | 6-3 | 176 lbs | Catches: L
Colin Hunter: Bjarnason, similar to Hrabal, started the season hot. Combined with his size and mobility, he earned intrigue from scouts. Bjarnason does a lot quite well – he's quick and efficient in his movement, he's athletic, he anticipates play relatively well, and he's one of the more athletic goaltenders in the class. However, I wouldn't say that he is "elite" in any aspect as of yet. Further, he could stand to improve his tracking and rebound control. He seems to be in line to be one of the Hockey Canada goaltenders for the foreseeable future, so development opportunities will not be limited.  
W | Brooks (AJHL) | 5-9 | 152 lbs | Shoots: R
Hadi Kalakeche: The main cog in a well-oiled Brooks Bandits machine, Fink has been making quick bites out of the AJHL this season, displaying his high-end motor and intelligent playmaking game on a regular basis. Scoring comes easy for him in that league, but his playmaking is much more translatable than his shot, given how often he incorporates deception and delays into his passes. He very rarely makes the wrong play, almost always scanning the ice for a second or third option and hitting the first one when he's unsatisfied with what's unfolding. His lack of size does limit what he can do with the puck. He gets muscled off pucks easily, can get pinned off the cycle, and doesn't have the mechanical proficiencies of similar-sized skill guys like Jayden Perron or Denver Barkey. He also lacks true speed or agility, with a wonky stride that really rears its head in transition. As a result, Fink is more likely to be a late-round grab for a team that's done its homework. There is upside as a driving force on a third line, but the skating needs to come a long way.
W | Fargo (USHL) | 5-10 | 183 lbs | Shoots: R
Hadi Kalakeche: As we enter re-entry territory, we'd be remiss to omit Knuble's name. A great net-front presence with sound puck skills, Knuble's intelligence has come a long way. He's added some delay elements to his game, started using his teammates more often, and has become a great competitor off the puck. His scoring touch in-tight has improved a whole lot as well, as he has become better at lifting pucks in-tight and battling for rebounds.  He's still got ways to go, especially skating-wise, but Knuble's progression in key areas has made him a more complete prospect, and he is likely to hear his name called this time around.
D | Färjestad BK J20 (J20 Nationell) | 6-1 | 194 lbs | Shoots: L
Alexa Potack: Wikman relies a lot on his strong skating ability and is a reliable, stable defenseman. From a bird's eye view, Wikman has much to work on and refine, but the foundation is there. When he's at the top of his game, Wikman has no issue shutting down on defense and deters the creation of offensive space. There also have been instances where Wikman is disengaged from an aggression standpoint. Standing at 6'1" and with his notable skating, he should be expected to bring that level of intensity more often. Wikman isn't entirely ready for the SHL at this point, so there are definite concerns about his upside and projectability.
D | Shawinigan (QMJHL) | 5-11 | 168 lbs | Shoots: R
Hadi Kalakeche: A tremendous skater with great value off the rush, Tourigny's edgework and mobility stand out every game. He evades forecheckers with a drop of the shoulder or a quick pivot, accessing his outside edges effortlessly to fly out of crossovers. Unfortunately, that's just about the extent of Tourigny's skillset. We kept circling back to him to see if there was more to give, and it seemed like it at the very start of the season, but as the campaign went on, it was clear that Tourigny lets the game unfold and then responds to what he sees, rather than using his speed to dictate the pace of play and be a step ahead of it. Still, you'd be hard-pressed to find a quicker, more elusive defender in this draft class outside of the first round, and that holds value at this stage in the draft.
W | Halifax (QMJHL) | 5-11 | 187 lbs | Shoots: R
Hadi Kalakeche: A true Jack-of-all-trades winger, Cataford's intelligence shows in how well he reads the play off of a takeaway. He wins pucks back for his team and already knows what his next play will be before he retrieves them. His skating needs some work, as he tends to lag behind plays and use spacing to get puck touches, but he does that very well. The main issue with Cataford is that the entirety of his puck skills are average at best. He lacks dynamism with the puck, can't stickhandle all that well, his shot is inconsistent, and his passing game is fairly simplistic. He will likely struggle to stand out among pros, who tend to have a standout offensive skill or two. His forechecking and smarts are his ticket to the NHL, and if he makes it, it's likely in a bottom-six role of some kind.
W | NTDP U18 (USNTDP) | 5-7 | 177 lbs | Shoots: R
Sebastian High: Fine is an undersized playmaker with plus-level skating, agility, passing, handling, processing, and awareness. While he was stuck down the lineup on a very strong USNTDP team, his skill gives him a higher upside than some of his teammates who played bigger minutes, such as Danny Nelson. He will really need to work on his physical game and up his intensity, but Harvard has experience developing undersized playmakers, as recently as Sean Farrell. He plays a dynamic game in transition with a lot of lateral movement and delays, and he constantly aims his passes toward the highest-danger areas. A lot would have to go right in his development, but middle-six upside is a possibility.
W | Waterloo (USHL) | 5-8 | 183 lbs | Shoots: L
Sebastian High: Thoreson went under the radar this year due to his profile as an undersized forward who played most of the season in Minnesota's high school circuit. He played 26 regular season and playoff games with Waterloo, however, and was an absolute buzzsaw. He's in constant movement offensively and has high-end timing, escapability, and the ability to find soft ice in and around the slot. He's a very slot-oriented playmaker and constantly shifts his angles of release to access various passing lanes. He's also a sneakily good defensive piece with a decent work rate and good timing on stick lifts. He is, however, diminutive and will need to add quite a bit of lower body strength to even project to the NCAA, so he represents a long-term project with a low floor but second-line upside.
W | Skellefteå J20 (J20 Nationell) | 5-9 | 168 lbs | Shoots: L
Alexa Potack: Forsfjäll still has a long way to go in his development, but there are flashes of offensive skills. U18s was very helpful to his case and while he largely reaped the benefits of his linemates, it was his ability to mold to the line that earned him more ice time, including power-play minutes. In addition, he has shown defensive capabilities, sometimes overshadowing his offense. Forsfjäll is a long-term project and for this to be possible, he's going to need to put on some more weight. As he gets up to par physically, his game may also get a boost.
D | Bili Tygri Liberec (Tipsport Extraliga) | 6-5 | 203 lbs | Shoots: L
Sasha Lagarde: Jakub Dvorak has had a very inconsistent and somewhat underwhelming start to his season with Bílí Tygři Liberec of the Czechia Extraliga but ended the year on a strong note. He is a monstrous 6-5 defenseman who can skate but has some serious limitations in his offensive potential. He has been labeled as an offensive defenseman but I have yet to see any offensive talent that is worth noting. For such a large human being, he is also quite soft in front of the net and has lost multiple board battles against guys that are much. Even with his strong straight-line skating ability, Dvorak loses balance a lot in his pivots and was outworked by smaller players than him, being out-leveraged and out-positioned. Dvorak isn't totally inept in his passing ability, his willingness to join the rush or his instinct per se, but I don't see a lot of translated tools to where he can be a true option offensively. I believe his true talents lie in the shutdown role on a bottom-pairing where he can eat up big minutes on the penalty kill while shutting down opponents' transition games due to his reach and size. Dvorak will have to make adjustments to his game in order to be a relevant, everyday defenseman but he has tools that not a lot of other defensemen possess in this draft class.
C/W | Niagara (OHL) | 5-8 | 168 lbs | Shoots: L
Sebastian High: Assadourian hit an impressive offensive gear following his trade to league-worst Niagara in a bigger role. He is a buzzsaw with suffocating intensity and pace, offensively and defensively, on and off-puck. He is a decent skater with good lateral mobility who employs consistent lane switches in his puck rushes and ably changes his angles of attack, which bodes well for the projectability of his transition game. He is young for the draft class and his development curve this season was steep, which makes for a calculated investment in his continued development. His floor is higher than many projected mid-round picks as his fallback game of intensity and defense would fit nicely in a bottom-six.
C | Frölunda J20 (J20 Nationell) | 6-2 | 181 lbs | Shoots: R
Alexa Potack: Similar to our last ranking, Dower Nilsson is a below-average skater which hinders his playmaking skills. Despite a high generation of points in the J20 Nationell, there were flaws at a deeper level that will slow his development into a high-caliber men's player. While his creativity and shot made him a standout this year, he struggles without the puck and needs to up the intensity. He can certainly be categorized as a "boom-or-bust" prospect, and his departure from that classification is largely reliant on his work ethic and desire to become more involved off-puck. The team that drafts him will look to improve his skating while refining his raw but notable offensive IQ and shot. He will most likely be a longer-term project on the path to the NHL.
W | KooKoo (Liiga) | 5-11 | 165 lbs | Shoots: L
Graham Montgomery: Nurmi is a strong forechecker and his game features some flashes of playmaking. He came in sixth in scoring at the U20 level in Finland while also earning a cup of coffee in the Liiga, recording a single assist in nine games, which is good but does not quite scream "NHL upside" especially in a weaker Finnish draft class. His intensity helps him project reasonably well as a role player in the NHL, but his game would need to evolve a fair amount to project as an impactful producer in the world's best league.
D | St. Andrew's College (CAHS) | 6-0 | 157 lbs | Shoots: L
Sebastian High: Dell'Elce is a very raw but toolsy defenseman who will need a full four years in college following next season in Penticton but could develop into a goalscoring puck-mover on a second pairing if everything breaks his way. He is a smooth skater, but his stride mechanics and explosiveness need a ton of work. His shot is among the hardest among defensemen in the 2023 class and he pairs this with strong offensive awareness. He shoots overwhelmingly from the high slot rather than from the perimeter and, in flashes, has used his shooting threat as a playmaking tool. He consistently joins the rush as a fourth attacker and is patient in possession under pressure. His defensive game isn't a weakness, but it lacks the upside of his offensive game.
C/W | Spokane (WHL) | 6-0 | 172 lbs | Shoots: L
Luke Sweeney: De Luca is a strong all-round skater, with excellent form, stride, power, agility, and edgework. He is also highly competitive, and he shows both of these strengths in his forechecking. De Luca shows an innate drive to be the first player on every puck (and often is with his speed) and can hold his own in puck battles, leading to many offensive zone retrievals. De Luca's speed is also an asset offensively, where he has shown the ability to break the puck out of his zone, and beat defenders wide with speed, or with intelligent carrying routes. De Luca is also a strong puckhandler from a standstill and in small areas, making him a weapon off the cycle, however, his skills seem to break down frequently at higher speeds. The biggest qualms we have with De Luca's NHL projection are, one, his ability to play his skill game at a high pace, and two, the execution of his passes, which while targeted to the right players, can often miss their mark. Especially if he can iron out those two aspects of his game, De Luca has attractive potential as a top-nine complimentary winger.
W | Seattle (WHL) | 6-2 | 181 lbs | Shoots: L
Graham Montgomery: Myatovic led draft-eligible skaters in scoring on a stacked Seattle Thunderbirds team with 60 points in 68 games. His best quality is his shot, easily capable of picking his spot on the rush and executing. He's not really a play driver at the WHL level which makes his projectability as an offensive player questionable, but he's a strong competitor who is good defensively so he should be able to settle into a bottom-six role if he needs to.
C | NTDP U18 (USNTDP) | 6-3 | 203 lbs | Shoots: L
Graham Montgomery: Nelson is excellent in transition which drove a lot of his results this season. He finished up with 47 points including 21 goals in 62 games with the USNTDP. As the year went on, he seemed to gain confidence, capping the season off with an impressive, point-per-game showing at the U18s. He is also a physical presence, listed at 6 foot three inches, 203 pounds and he's not afraid to lay the body. He's a late riser but with his size and transition ability, combined with the strong showing at the U18s, expect him to be a hot commodity on draft day.
C | Sudbury (OHL) | 5-10 | 183 lbs | Shoots: L
Sebastian High: Delic, a second-time draft-eligible, is a projectable, intelligent, and intense centerman who makes for a straightforward NHL projection in a bottom-six role with his foundation of high-end work rate, varied off-puck routes, strong distribution, and overall offensive and transition efficiency. His combination of decent tools, high-end intensity, pressure application, and offensive awareness and processing forms a cohesive identity which could realistically elevate him into a third-line role given a few years of development. His development curve over the past year has also been extremely promising, and he should not be passed over a second time around at the draft.
D | Rimouski (QMJHL) | 5-9 | 165 lbs | Shoots: L
Hadi Kalakeche: A smooth-skating, undersized puck-mover, Coughlin's abilities lie in transition. He can move laterally with surprising ease, which helps him a lot in walking the offensive blue line to find passing lanes. He blends in fakes and dekes as well when needed, and can pivot his way out of pressure. The lack of size is definitely an issue, as he struggles to win battles in his own zone at times. It doesn't help that his defensive anticipation took some time to hit an average level, and it still remains an inconsistent part of his game. If his play-reading off the puck improves and he continues to add more elusiveness and speed to his profile, Coughlin could top out as a low-end second-pair specialist.
D | Portland (WHL) | 6-3 | 185 lbs | Shoots: R
Sebastian High: Sotheran is a mobile defender with good handling and deception who's at his best in offensive transition and when activating in the offensive zone. His defensive game is a bigger work in progress, but his tools give him solid upside as a #5, and possibly even as the transition-heavy partner on a second pairing if his development progresses really well. If he is developed as primarily a defensive piece, his upside would be more limited, but he could still entrench a spot on a bottom pairing.
D | Halifax (QMJHL) | 6-2 | 185 lbs | Shoots: R
Hadi Kalakeche: A raw, but defensively sound blue-liner with solid in-zone scanning habits, MacKinnon took some time to figure out. There were games in which he single-handedly prevented opponents from ever getting comfortable in the offensive zone, and when he got the puck, he would quickly find an outlet and make use of it. Most of the time, however, his decision-making was a headache. On the puck, he would panic and dump pucks up the boards, giving opponents another opportunity to set up. He would miss obvious passing options or opportunities for a screened shot in favor of cycling the puck around the boards to force a 50/50 battle, delegating problems rather than solving them. The brain needs to come a long way, but the physical and technical tools are interesting enough to warrant a mid-round pick.
W | Magnitogorsk (MHL) | 5-9 | 176 lbs | Shoots: L
Jordan Harris: As one of the oldest first-time draft-eligible players in this draft class, nobody was more poised to torch the MHL than Kantserov. Unfortunately, due to Magnitogorsk not having a VHL affiliate, Kantserov could not try his hand at professional hockey. Due to his size, the KHL wasn't a reasonable option this season. Kantserov is an offensive contributor who's adept as both a scorer and a playmaker. His game is a bit "junior hockey" themed as he relies heavily on his speed to go around players more than he does driving to the net or using deception to manipulate opponents, so it would have been nice if Kantserov was able to test his playing style against men at the VHL. Still, due to his combination of speed, scoring and playmaking, he's worth a bet around pick 100 in the draft. If he hits, he offers an NHL team a depth scorer who can produce on the 2nd power play unit, but it's not certain whether he'll end up being an NHLer in the end.
C | Flint (OHL) | 6-0 | 165 lbs | Shoots: R
Luke Sweeney: This was Pitre's second full season in the OHL, and did so on the Flint Firebirds along side two of the OHL's highest scorers, Red Wings' draftee Amadeus Lombardi (102 points) and Gavin Hayes (81 points) of the Blackhawks. More than just hold his own, Pitre was often able to stand out on Flint's top line, finishing fourth on the team in scoring with 25 goals and 60 points in 59 games. Pitre is solid, if unspectacular in most aspects of the game. His stride, footspeed and agility are all assets, but not superlative. His puckhandling, play along the boards, and small area game are also strong. He's a decent enough playmaker and a solid finisher, though neither will shine at higher levels. He has good habits for getting to high-quality scoring areas, and though he is not a stand-out defensive player right now, he plays with enough edge and intensity to warrant feeling like this area of his game could be an asset at higher levels. It is not difficult to envision Pitre carving out a bottom-six role in the NHL in the future.
G | Seattle (WHL) | 6-2 | 171 lbs | Catches: L
Colin Hunter: Don't let the fact that Ratzlaff spent most of the season as a backup to (arguably) the CHL's best goaltender fool you – he is a very legitimate prospect. He possesses the skills that make a smaller goalie a worthwhile bet: excellent technical ability, great hands, strong scanning and play-reading abilities, and a background of success (both at the WHL level and for team Canada). While his upside may be limited, he has a very high floor with his currently excellent and projectable skillset.
D | Ohio State (NCAA) | 5-9 | 179 lbs | Shoots: L
Sebastian High: Duke should have been drafted last year, and his progression in a second-pairing role at Ohio State and the tool refinement his transfer to the University of Michigan will entail really should get him picked this time around. He is a smart defenseman who keeps a tight gap against the rush and snuffs out most attempts to attack the slot on his side of the ice. While his skating remains a limiting factor, he retains some offensive upside as a distributor and a shooter if he's given the freedom and encouraged to activate more regularly in the offensive zone. He plays a practical physical game that shouldn't be exploited even by pro-competition if it stays on its current trajectory. While top-four upside is unlikely, Duke could be a reliable #5 with possible upside on both second special teams units.
D | Kingston (OHL) | 6-1 | 179 lbs | Shoots: L
Sebastian High: Burns is a mobile and intelligent defenceman who closes his gaps very quickly and relies heavily on stickwork defensively. His transition upside is mainly as a passer and his offensive ceiling is limited, though his deceptive short passing game gives him an outside shot at becoming a decent PP2 quarterback. He played far too many minutes on a weak Kingston Frontenacs team this year and would benefit from an environment in which he is not the go-to defensive piece. He projects best as a versatile bottom-pairing contributor who spends significant time in the penalty box.
Honorable Mentions
Brady Stonehouse, Jeremy Wilmer, Jan Šprynar, Yegor Klimovich, Anton Ohlsson, Jesse Kiiskinen, Hoyt Stanley, Emil Kuusla, Spencer Sova, Tanner Ludtke, and Kalan Lind.
LATEST RADIO & DRAFTCASTS