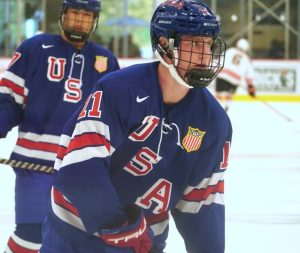 therinklive.com
Fantasy Summary
Two-way forward with a quick release and elite skating ability. Versatile and energetic game gives him potential as a high-end middle-six forward at the NHL level.
Observations
Click to Expand

June 2023 – Moore has been selected 19th overall by the Chicago Blackhawks in the 2023 NHL Draft. Curtis Rines

April 2023 – We probably spent more time debating Moore vs. Will Smith than we spent on the entire second round in our latest scouts' roundtable, and ended up opting for the alluring profile of the NTDP's second-line center on a 4-3 vote. Moore is speed incarnate. Tremendous edgework, power and agility make him fly across the ice at a blinding pace. If that was his only asset, however, he would be much lower on our list; for a while, we saw a lot of moments that made us doubt whether Moore's brain could keep up with his feet and intensity. But as the season went on, the center became much more adept at using changes of pace to both keep his head in the game and throw opponents off. While he does a lot of great things with the puck, Moore's off-puck intensity combined with that high-end speed is what makes him so unique. He is constantly flooring the pedal, making sure that opposing defenders feel suffocated and have very little time to make a decision. There aren't many prospects like Moore who don't claw their way to the NHL, and with the defensive responsibility and finishing ability that he displays, a top-six role seems realistic. Hadi Kalakeche

October 2022 – Moore spent most of last season playing for the NTDP's U17 squad but also earned an audition with the U18 team before an injury cut his season short. In 43 games with the U17s, he scored 24 goals and 15 assists, and he added seven points in 11 contests with the U18s. He is off to a hot start with the U18 club in his draft year, notching four goals and four assists through the team's first six games.

Moore is an effortless skater who generates speed and power through crossovers, with and without possession of the puck. His upper body and lower body work in conjunction to facilitate an incredibly fluid stride, and he is very elusive in tight spaces. Moore's strong edge work and quick first step allow him to navigate through congested areas and win more than his fair share of races to contested pucks. With the puck on his stick, he uses his speed to push defenders back on their heels, and he is usually looking to make a play rather than deferring to a teammate or chipping the puck in. Utilizing his strong skating ability, he is more than capable of being the primary handler in transition, often breezing through the neutral zone with his head up and creating controlled entries for his team. Moore's speed and elusiveness also show up in his off-puck movements and rush patterns as he identifies gaps in coverage and open lanes in transition. He is a skilled puck handler who can coral difficult passes and quickly transition into a slick deke or return feed, and he shows creativity in the way he solves problems under pressure. I wouldn't call Moore a pure goalscorer, but he has a quick and accurate release that, along with his shiftiness, can regularly catch goaltenders off guard, and he has a heavy one-timer from his off wing. He is also slippery in coverage and does well to hunt open space around the opposing net. Moore has lined up almost exclusively on the wing so far this season, but he is a versatile player who can fill a number of roles for his team. He can carry the puck up ice and man the half wall on the powerplay, he can take faceoffs and kill penalties effectively, and he brings a high level of energy to just about every shift. There is a lot to like about Moore's overall toolkit, especially his high-end speed, and he projects as an energetic two-way forward who can handle middle-six minutes and chip in with some offense at the NHL level. Nick Richard
Stats
Nothing Found. Error.
Highlights