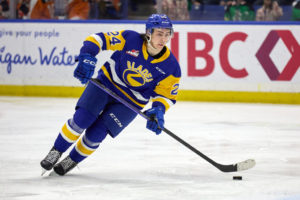 Brent Just
Fantasy Summary
Molendyk is a tremendous skater, a tool he may be overly reliant on, flashes very bright playmaking skill, and is a strong rush defender.
Observations
Click to Expand

June 2023 – Molendyk has been selected 24th overall by the Nashville Predators in the 2023 NHL Draft. Curtis Rines

March 2023 – Molendyk is among the most fluid and comfortable skaters in the entire 2023 draft class. He effortlessly covers a tremendous amount of ice, easily gets around forecheckers, and he closes his gaps with great speed, which helps make him a very effective defender against the rush. His skating is a standout skill that Molendyk may be over-reliant on, which works fine in the WHL but could be rendered ineffective in pro hockey. One of the red flags is that he lacks a truly elite top gear, he's not the fastest player on the ice, and as more and more of his competition can match his speed, he will possibly need to reinvent the way he plays the game.

Molendyk is a very effective puck carrier, he frequently layers lateral movement into his puck rushes, switches lanes, and changes his angles of attack to open up passing lanes. He even has shown a consistent willingness to cut to the middle on the rush, and while he lacks the strength to pull this off, the desire to do so is promising. He's also flashed some very fun playmaking skill, often including pace shifts, eye deception, and changing angles. The execution hasn't been consistent and the production hasn't quite popped, but the process is there for Molendyk, and the results will come. As a whole, Molendyk will go as far as his creativity, deception, and brain take him; if he can improve his deception, become more decisive, and convert his passing into point production, he could project as a tremendously mobile 200-foot #3 D with upside on both special teams units.
Highlights