July 31-in-31: Dallas Stars
admin
2019-07-10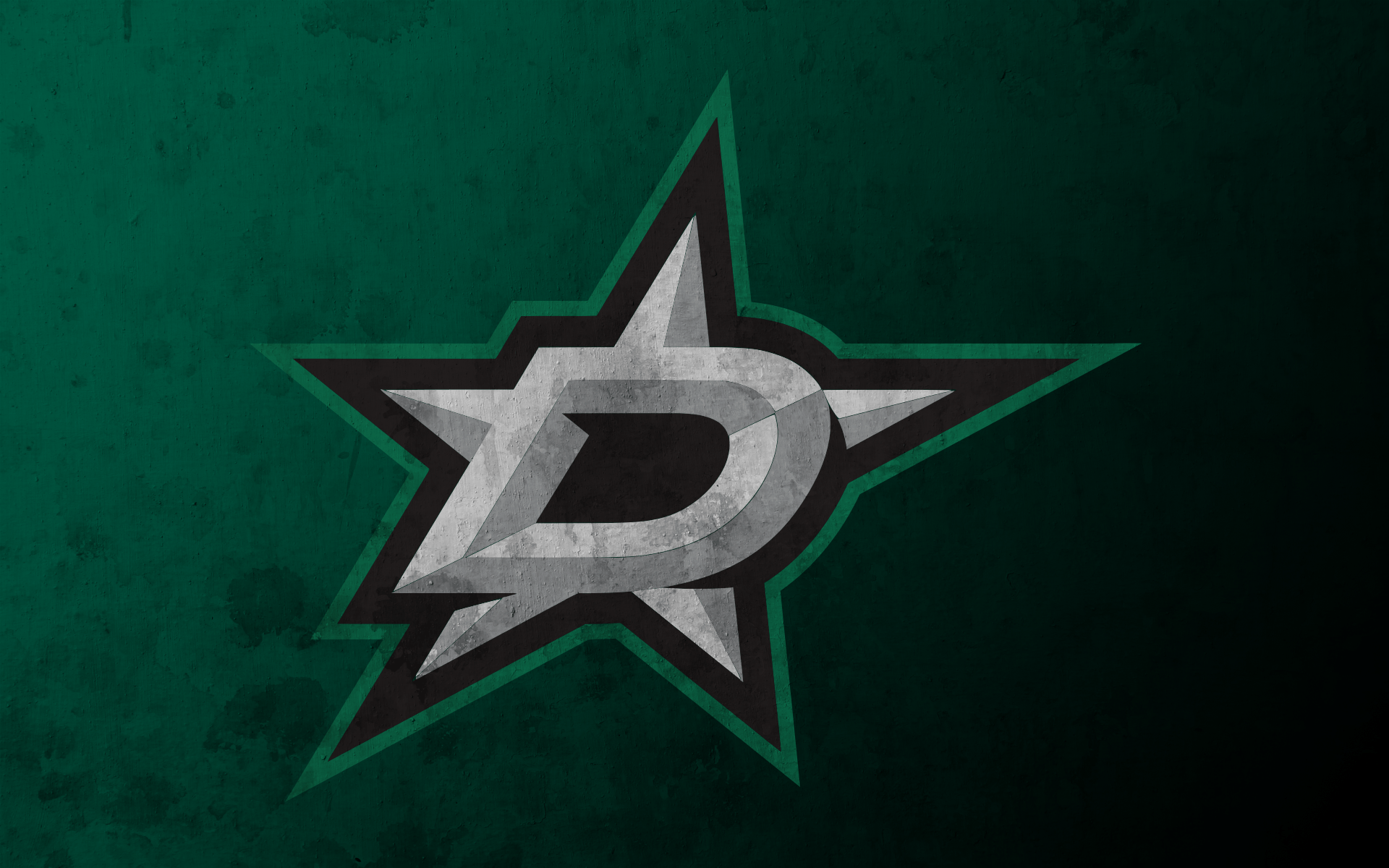 ***
Welcome to our annual 31-in-31 Summer Series here at DobberProspects! Every day in July we will be bringing you a complete breakdown of a team's draft, notes from their development camp, and insights into their off-season moves so far. Following this up, the August 31-in-31 Series will dive into every team's prospect depth charts with fantasy insights and implications for the upcoming seasons. Check in often, because we plan on filling your hockey withdrawal needs all summer long!
***
DRAFT RECAP
Going into the draft, the Stars only had four picks throughout all seven rounds. Their second-round pick was traded to the Rangers in the Zuccarello deal and their third rounder was traded to New Jersey in the Connor Carrick trade. They also lost their seventh-round pick as a result of a condition in the original Connor Carrick trade with the Leafs. After a strong playoff run, the Stars were looking to strengthen their prospect pool. 
Round 1, 18th overall: Thomas Harley, LD
With the 18th pick in the 2019 NHL Draft, the Stars took big Mississauga Steelheads defenseman Thomas Harley. Harley is listed at 6'3", 192 lbs and with his dynamic offensive capabilities, he has one of the highest ceilings of all defensemen in the draft. His draft stock rose drastically throughout the season, from not being invited to the U18 selection camp to eventually logging some of the most minutes for the U18's. He is a large defender who moves really well and has the instincts to match his play. His skating is extremely smooth and excellent in transition. As a result, his production was one of the best among draft eligible defenders with 58 points in 68 games. He doesn't hesitate to get involved in the rush and has the skating to get back into position. From a fantasy perspective, with production such as his, he should be on your radar for an excellent defensive producer. 
In an interview for Dallasstars.com, general manager Jim Nill had this to say about the Stars new defender. "[He has] great size, very good skater, very mobile. He was playing 25-30 minutes every night in Mississauga – so were excited about his development and where his game is trending."  He expressed a great deal of excitement about getting Harley as he says that he was "ranked pretty high on our list." Although he says that many teams were calling them about potentially moving up, he felt that Harley was too good to pass up. 
Harley immediately becomes one of, if not the best, prospect in the Stars system. He rises to the top among a relatively thin defensive system. Something that Nill recognized was the need to add more defensive depth. Aside from the elite defenders in Miro Heiskanen and John Klingberg, the Stars are very thin on defense, especially in the system. Although he may need a few seasons to develop, he will be a very intriguing prospect to watch with his sky-high ceiling. He will need to work on the physical side of his game in order to be effective at the NHL level. That being said, he has extremely strong offensive awareness and excellent skating. This alone will make him a force at the next level. 
Its hard not to look at Miro Heiskanen when looking at comparables for Harley. Their offensive creativity is extremely similar. If he can develop into a player similar to Miro, the Stars will be thrilled – and fantasy owners shouldn't hesitate to pick up Harley as he has the potential to be one of, if not the best, defender in this draft class. Read more on Harley here.
Round 4, 111th overall: Samuel Sjölund, LD
For their second pick in the draft, the Stars took Swedish defender Samuel Sjölund. After going with a defender in the first round, the Stars didn't hesitate to go back for another in round 4. Like Harley, Sjölund has a path to move through the Stars system as they are fairly weak on the defensive side. Although they may have organizational depth, they lack top-end talent. That being said, he is more of a boom-bust pick than Harley. Unlike many defenders in the Stars system, he does have a fairly high ceiling. He plays a strong two-way game and is able to contribute offensively – something potential fantasy owners should watch out for. He produced well for AIK's J20 team, registering 15 points in 31 games. Next season he should make the jump to the SuperElit where it will be a true test of his skills. Read more on Sjölund here.
Round 5, 142nd overall: Nicholas Porco, LW
On an excellent Saginaw team, Porco boasted relatively unimpressive numbers in his draft year with 36 points in 67 games. But don't let the numbers fool you, Porco is an excellent forward who was woefully underutilized on a strong team. The former fourth overall pick in the OHL Draft has been limited to the bottom-six for most of his junior career. However, when he got the opportunity to make an impact, you can really see why the Stars took a chance on him. He has great offensive creativity and can finish off chances around the net with ease. He can also be very difficult to get off of the puck when he gains momentum, making him a nightmare for defenders while on the rush. Porco's ice-time should improve this season, and if his production follows suit, potential fantasy owners should take note as he has the tools to be an effective NHL scorer. Read more on Porco here.
Round 6, 173rd overall: Ben Brinkman, LD
Brinkman was one of the biggest fallers throughout the course of the season. At this time last year, it looked like he could be a top-60 pick in this year's draft. He was a standout in the Minnesota High School league and was heavily recruited to play NCAA hockey. As a matter of fact, he went to play for the Minnesota Golden Gophers a year early. Unfortunately for him, his production in Minnesota at almost 2 points-per-game as a defender didn't translate to the NCAA as a freshman. He registered one goal and seven points in 38 games for the Gophers. Although his production didn't continue in his first season, he still displayed the raw tools that led him there. He skates well, has a strong shot, and is more than capable defending with his 6'0" 216 lbs frame. Although he is a long-term project, it seems to be a worthwhile gamble for the Stars, if he ends up signing with them. At this time, he doesn't look like he will make a substantial impact fantasy wise, but you should keep an eye on him as he continues to develop with the Golden Gophers. 
DEVELOPMENT CAMP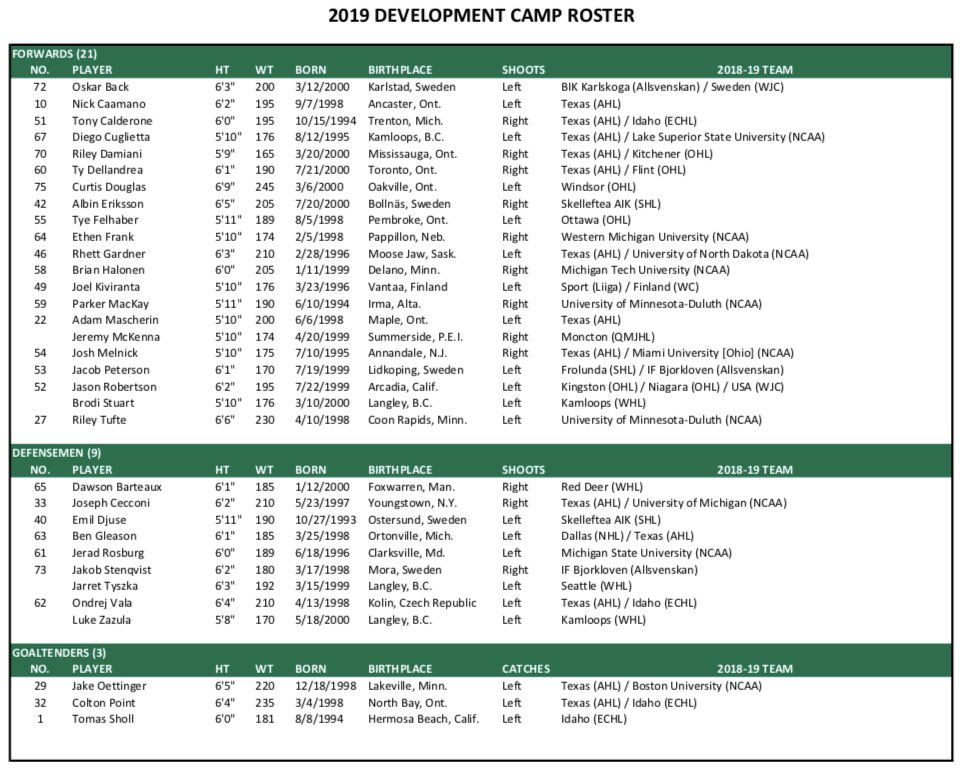 The Stars had a few undrafted invites to development camp this season, for me some of the noticeable ones were:
Jeremy McKenna: McKenna had a very good season with the Moncton Wildcats registering 97 points in 68 games. Despite tearing up the league, he went undrafted again. He has taken a very different path to get to this point after being born in Alberta, going to Austria and then to Moncton. He will look to gain a contract, and with his offensive abilities looks to be a good bet to get one. 
Jarret Tyszka: Originally drafted by Montreal but did not sign, Tyszka had a very good season with the Seattle Thunderbirds. Although it was shortened due to injury, the defender was on pace to break his previous scoring totals in previous seasons. He is a large defender at 6'3" and if he can put it all together than he could be very effective for the Stars and for potential fantasy owners. 
Luke Zazula: In my viewings of Zazula, I thought a team may take a gamble on him in the later rounds as a project pick. He is a very offensive defenseman and sometimes this can hurt him. At times he would get caught up in the play and this would lead to an odd man rush. If he can smooth out those mishaps then he could turn out to be an effective player, especially for fantasy owners. 
Throughout the camp, a few players stood out for various reasons, albeit they are all at different stages of development. 
Nicholas Porco

showed flashes of why the Stars took a gamble on him in the fifth round. He has blazing speed and always appears to create chances. He is very good around the net and stood out due to his offensive abilities. Look for him to have a breakout year in Saginaw. 

Thomas Harley

certainly lived up to the hype surrounding the first round selection. He appears to be wise beyond his years and is a stable force on the defensive side of the puck. Also, he doesn't hesitate to jump into the rush and make offensive contributions. It seems that he could benefit from a couple more seasons to develop; however, once he does, he could be a real force on the Stars blueline. 

Tye Felhaber

was able to demonstrate his offensive abilities after putting up 109 points last season with the Ottawa 67's. He appears to have really good offensive abilities and can finish off plays. He can create many chances and is lethal when given the opportunity. He should start the season in Texas which may be a challenge for him, that being said if he can continue to develop, he could be a real good package for the Stars. 

Read more on Felhaber

here.

Curtis Douglas

was noticeable, as is usually the case with players who are 6'9". He appeared to shy away from using his body at camp, probably his biggest asset. Im not sure if it was because the Stars didn't want him to kill his teammates or if that is a trend with him. He's going to need to use that big frame more if he wants to make an impact as he is without a doubt the largest player on the ice at all times. 
OFF-SEASON MOVES
The Stars were fairly active on July 1st, bringing in 3 main players to help them push for a deep playoff run next year. All three signings are veteran players who will look to drive the Stars deeper into the playoffs with their expertise.  That being said, they did lose important players in free agency, but all in all, it appears that they have improved their team.
Joe Pavelski signed a three-year $21 Million deal ($7 million AAV). Pavelski is a great add for the Stars. After coming off another excellent season for the Sharks where he posted 64 points in 75 regular season games, Pavelski looks to be an excellent second line forward for the Stars. It should alleviate some pressure from some of the Stars younger players as this will push them down the line-up. He will play in all situations and is a big add for the Stars with his playoff experience and he also adds much needed depth. 
Corey Perry is also headed to Dallas after signing a one-year $1.5 million deal. After a difficult season with the Ducks which eventually led to his buyout, he will look to rebound to his previous form. For Dallas, a one-year deal represents a great bargain which comes at zero cost. They will hope that Perry can return to his previous form however if he doesn't, a one-year deal won't hurt them long-term. He will also add to the depth of the Stars and will get opportunities to score lots for them.
Andrej Sekera also signed a one-year $1.5 million deal after yet another injury shortened season. He will look to return to previous form amongst a defensive core that lacks depth. Although may take the spot of younger defensemen, if he can play the way he did a few seasons ago in Edmonton he will be welcomed on the Stars backend.
Amongst all of the additions, the Stars lost one key piece, Mats Zuccarello. With him going to Minnesota, the Stars will look to new additions in Corey Perry, Joe Pavelski and the development of younger players such as Roope Hintz to fill the void left by Zuccarello. 
Thanks for reading my 31-in-31 coverage of the Dallas Stars. Follow along with me on Twitter @BrandonFloyd92
LATEST RADIO & DRAFTCASTS