December 31-in-31: Vegas Golden Knights
Jack Manning
2020-12-29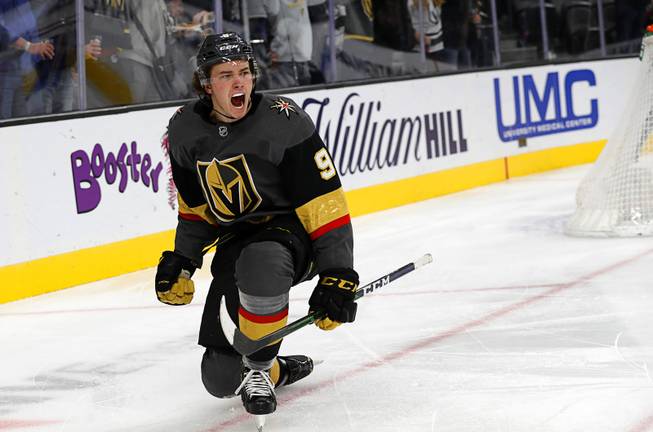 Welcome to the December 2020 edition of the DobberProspects 31-in-31 Series. This month, we are diving into the depth of each organization, looking at their recent graduates, risers, fallers and top-20 prospects. 
**
As they have since they came into the league three seasons ago, the Vegas Golden Knights continue to pursue the Stanley Cup at all reasonable costs.  Despite trading away top prospects Nick Suzuki and Erik Brannstrom, the Knights continue to enjoy a healthy prospect pipeline, even if it lacks an elite gamebreaker.  Those prospects hoping to claim a job at training camp for the first time will have to force an established player out of the lineup, which won't be easy on a very deep Vegas roster. 
Graduates to the NHL
As Cody Glass heads into his sophomore campaign with the Vegas Golden Knights, he looks to rebound from a disappointing rookie season that saw him post only 12 points (5 goals+ 7 assists) in 39 games.   Management has set lofty expectations for the 21-year-old center, as he is expected to assume a critical role as the second or third-line center with an organization that believes that it should win the Stanley Cup this season. 
Under prior head coach, Gerard Gallant, Glass spent most of those 39 games playing as the third-line right wing despite being a natural centerman.  On the wing, Glass often looked lost and lacking confidence.  However, when given an opportunity to play center for Max Pacioretty and Mark Stone, he understandably looked much better—playing with superstars tends to have that effect.  At his best, Glass is a smooth-skating pass-first center who makes great plays on both ends of the ice.  While no one would accuse him of having elite speed, Glass plays with good pace.  However, Glass lacked the physical strength to take full advantage of the rest of his skillset.  That lack of strength ultimately led to a season cut short by two separate injuries, the latter of which required knee surgery that caused him to miss the last weeks of the 19-20 regular season and the entirety of the return-to-playoff.  
In a year that has been dreadfully short on silver linings, Glass has been able to use the extended gap in play to recover from his injuries and add nearly twenty pounds of muscle to a 6'2" frame.  Under new coach, Pete DeBoer, Vegas' first-ever draft pick will be given every opportunity to succeed, if only because much of the Golden Knights' season depends on it.
Although undrafted defenseman, Zach Whitecloud, is still technically eligible for the Calder this year with only 17 regular-season games on his resume, this 24-year-old has established himself as a regular on the Golden Knights' blueline after playing all 20 return-to-playoff games for the Golden Knights, contributing two goals and an assist. While an injury kept Whitecloud off of the Knights roster to start the 2019-20 season, Whitecloud was called up to the NHL last season shortly after Pete DeBoer wa