December 31-in-31: Vegas Golden Knights
Jack Manning
2020-12-29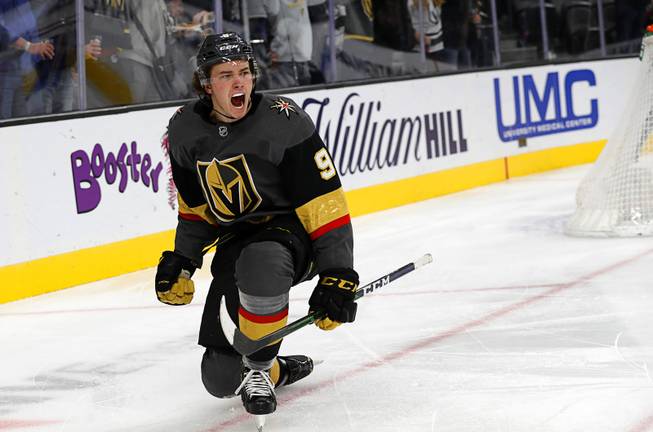 Welcome to the December 2020 edition of the DobberProspects 31-in-31 Series. This month, we are diving into the depth of each organization, looking at their recent graduates, risers, fallers and top-20 prospects. 
**
As they have since they came into the league three seasons ago, the Vegas Golden Knights continue to pursue the Stanley Cup at all reasonable costs.  Despite trading away top prospects Nick Suzuki and Erik Brannstrom, the Knights continue to enjoy a healthy prospect pipeline, even if it lacks an elite gamebreaker.  Those prospects hoping to claim a job at training camp for the first time will have to force an established player out of the lineup, which won't be easy on a very deep Vegas roster. 
Graduates to the NHL
As Cody Glass heads into his sophomore campaign with the Vegas Golden Knights, he looks to rebound from a disappointing rookie season that saw him post only 12 points (5 goals+ 7 assists) in 39 games.   Management has set lofty expectations for the 21-year-old center, as he is expected to assume a critical role as the second or third-line center with an organization that believes that it should win the Stanley Cup this season. 
Under prior head coach, Gerard Gallant, Glass spent most of those 39 games playing as the third-line right wing despite being a natural centerman.  On the wing, Glass often looked lost and lacking confidence.  However, when given an opportunity to play center for Max Pacioretty and Mark Stone, he understandably looked much better—playing with superstars tends to have that effect.  At his best, Glass is a smooth-skating pass-first center who makes great plays on both ends of the ice.  While no one would accuse him of having elite speed, Glass plays with good pace.  However, Glass lacked the physical strength to take full advantage of the rest of his skillset.  That lack of strength ultimately led to a season cut short by two separate injuries, the latter of which required knee surgery that caused him to miss the last weeks of the 19-20 regular season and the entirety of the return-to-playoff.  
In a year that has been dreadfully short on silver linings, Glass has been able to use the extended gap in play to recover from his injuries and add nearly twenty pounds of muscle to a 6'2" frame.  Under new coach, Pete DeBoer, Vegas' first-ever draft pick will be given every opportunity to succeed, if only because much of the Golden Knights' season depends on it.
Although undrafted defenseman, Zach Whitecloud, is still technically eligible for the Calder this year with only 17 regular-season games on his resume, this 24-year-old has established himself as a regular on the Golden Knights' blueline after playing all 20 return-to-playoff games for the Golden Knights, contributing two goals and an assist. While an injury kept Whitecloud off of the Knights roster to start the 2019-20 season, Whitecloud was called up to the NHL last season shortly after Pete DeBoer was installed as head coach.  Once he got his foot in the door, he did everything in his power to lock it behind him.  He'll likely never be an offensive dynamo, but he plays a steady defensive game with good instincts to jump into offensive plays when the situation demands.  Whitecloud uses his 6'2" frame effectively to win most of his 50/50 battles and to absorb blocked shots. On a team that boasts a blueline packed with Alex Pietrangelo, Shea Theodore, Alex Martinez, and Brayden McNabb, it will be difficult for Whitecloud to claim a job in Vegas' top-4, but he shouldn't have much difficulty staying in the lineup all season.  
At 6'6' and 220 pounds, Nic Hague is more than a hulking defenseman.  He has a high hockey IQ, good offensive instincts, a cannon of a shot, and the wingspan to disrupt plays all over the ice.  Although his relatively meager point total (1g, 10a) in his 38 games doesn't show it, he has the ability to provide offense from the blue line.  In less than half a season with limited minutes, Hague hit the post no less than nine times.  While Hague would have very little difficulty carving out a full-time role with most organizations in the league, he'll be in a tough fight for his spot in a crowded Vegas lineup.  At only 21, Hague still has plenty of runway to develop.  If he used the extended offseason to improve his acceleration and agility and can rediscover some of the physicality that he used to terrorize the OHL, Hague will be a valuable contributor to the Knights.
The summer 2019 trade that sent Erik Haula on a short stint to the Caroline Hurricanes brought Nicolas Roy to the Vegas Golden Knights to help fill the organizational age gap between Vegas' expansion roster and the prospects selected in their entry drafts.  To hear George McPhee or Kelly McCrimmon tell the story, Roy's performance in the 18-19 AHL Calder Cup final made him an irresistible trade target.  Standing at 6'4" and 210 pounds, Roy is a power forward that will likely remain in a bottom-6 role throughout the '20-21 season.    
Knocking on the Door
While there are several young forwards that will make a push for a job at the Golden Knights' camp, there are few (if any) jobs ripe for the taking (that haven't already been earmarked for Cody Glass).  Although trade rumors have swirled around Vegas since the return-to-playoffs concluded, Vegas has been unable (or unwilling) to move any forwards other than Paul Stastny and allowed only Nick Cousins to walk in free agency.
Although Peyton Krebs didn't crack the lineup in the return-to-playoffs, the 17th overall pick of the 2019 draft joined the Golden Knights in the bubble and was as close to game action as taking a warmup when another injured player was a game-time decision. As of the time of this writing, Krebs is in the thick of the hunt for gold at the World Junior Championship playing as Canada's first line right-wing and will look to claim a roster spot with the Vegas Golden Knights when the tournament concludes.  In a normal year, 19-year-old Krebs would be destined to head back to the WHL if he can't carve out a roster job, but this year is far from normal.  With the 2020-21 WHL season in doubt, it's possible that Krebs could find himself in the AHL or the VGK taxi squad if he doesn't make the team outright.  Less than two years following a gruesome Achilles injury, Krebs remains a high-end skater with elite hockey IQ and a motor that only has two settings: turbo and overdrive.  Although he's added a fair amount of muscle to his not-quite-six-foot frame since his WHL season came to a halt in March, he'll continue to see benefits as he builds more strength.  Krebs continues to be an elite playmaker and owns an accurate and powerful shot, even if it's underutilized.
As versatile as they come, Krebs is effective at all three forward positions. Reasonable minds can disagree as to whether he will be a winger or a center at the next level, but most would expect him to spend his rookie season on the wing if he forces his way into the lineup.  Although Krebs is excellent when his team has the puck, his effectiveness on the forecheck and his responsibility in the defensive zone may be the distinguishing factor that allows him to steal a job.  
Lucas Elvenes was among the AHL's top rookies last year, using his deceptive passing and hockey smarts to play above a point-per-game pace for most of the season.   However, as the grind of the AHL campaign wore on, Elvenes began to wear down.  Because the Swedish Hockey League season is significantly shorter than the North American schedule, Elvenes had never played more than 42 games in a season.  Playing against tougher, more physical competition on smaller ice on a more compact ice surface left Elvenes struggling to make a regular impact in the final quarter of the 59-game AHL campaign.  Recent interviews with the playmaking winger suggest that he's used the off-season to significantly improve his conditioning, particularly his quick-burst lower body strength to improve his speed and acceleration, which were not NHL-ready at the close of last season.  If Elvenes reaches camp as advertised, one would expect him to be a lock for the taxi squad if he doesn't make the roster out of camp.
Jack Dugan made it a point to take the scenic route to his first professional contract.  Dugan was passed over in his first year of draft eligibility and would spend three years dominating the USHL and NCAA before agreeing to join the Knights.  Dugan has dubbed himself a "power-playmaker," known for high-end puck control that allows him to force his way past defenders to create dangerous passing opportunities.  While this allowed him to amass a massive point total in the NCAA, it remains an open question as to whether he'll have the same success against tougher, faster competition at the NHL level.   Dugan is an underrated shooter who can leave points on the table when looking for the extra pass that isn't there. 
Dugan was an adequate defender in the NCAA, but will likely need some time to develop his game away from the puck if he plans to be a Golden Knight this year.
Risers
Ivan Morozov- The only thing keeping Ivan Morozov from contending for a job with the Golden Knights this year is his contract with SKA-St. Petersburg.  After a depressingly slow start to his KHL season (5 points in 19 games), a promotion to SKA's top-6 has allowed him to amass 11 points in his last 17 games.  Morozov is as defensively responsible as a 20-year-old can get in the world's second-best league. Used on the penalty kill, powerplay, and as a top-6 center at 5v5, he plays a gritty, tenacious game.  Whether battling in corners or in front of the net, he uses a mix of strength and elusiveness to find open ice or a rebound for dangerous scoring opportunities.  
Morozov shouldn't have much difficulty adapting to North America, as he's scored 13 of his 16 points on NHL-sized ice.
Size, mobility, and a booming shot.  Kaedan Korczak does everything well, which is why it's no surprise that the 2019 2nd round pick finds himself patrolling the blue line for a stacked Canadian World Junior team.  Billed as a defensive defenseman at the time of his draft, Korczak has steadily improved all aspects of his game, especially in the offensive end. As Korczak's confidence grows, so does his proclivity to take calculated risks.  At just 19, Korczak will need at least a season or two in the AHL before he's an NHL option to work on the finer details of his game
As under the radar, as they come, Peter Diliberatore has continued to develop as a play-driving two-way forward for Quinnipiac University of the NCAA since he was taken in the sixth round of the 2018 draft.  Diliberatore is the engine that drives the Quinnipiac team, quarterbacking the powerplay, often generating rebound chances with shots that have a knack for reaching the net. Diliberatore reportedly declined a contract offer from the Golden Knights so that he can chase a Frozen Four title that went unclaimed last season.  DIliberatore is good at virtually everything but doesn't have any elite attributes.  However, with some additional time to develop, it's not hard to picture Dilberatore in a depth NHL role.
Fallers
The internet was ablaze when Pavel Dorofeyev fell to the third round of the 2019 draft.  Amateur scouts and draft aficionados were aghast that this highly skilled winger would fall so far.  However, nearly two years later, Dorofeyev continues to struggle to score consistently in Russia's second-tier pro league, collecting only 12 points in 30 games in the VHL.  This is particularly troubling since he spent most of the 19-20 season playing consistent (albeit limited) minutes in the KHL.   While Dorofeyev has the ability to make high-end plays, he lacks consistency and pace.  Dorofeyev is most successful when he slows the game down to find the perfect play, but that's a luxury that few can afford in the KHL, let alone the NHL.  There is no denying the potential game-breaking skill that he can sometimes show off but without improving his pace and his strength on the puck, that potential will go untapped.
When Jimmy Schuldt signed with the Vegas Golden Knights as an undrafted NCAA free agent, he reportedly had 29 other offers on the table.  Expected to be an immediate NHL contributor, Schuldt had an aggressively average rookie AHL campaign.  Despite playing top-4 minutes, Schuldt would collect 21 points through 52 games, never looking dominant in any zone.  At 25, his runway has all but run out and hopes that Schuldt can be an impact player in the NHL are all but dashed.
**
Prospect Depth Chart (Combination of NHL Readiness and Upside)
| | | |
| --- | --- | --- |
| Left Wing | Center | Right Wing |
| Lucas Elvenes | Peyton Krebs | Jack Dugan |
| Gage Quinney | Ivan Morozov | Keegan Kolesar |
| Brandon Kruse | Brendan Brisson | Pavel Dorofeyev |
| Marcus Kallionkielli | Jackson Hallum | Jonas Rondbjerg |
| Paul Cotter | Maxim Marushev | Ryder Donovan |
| | Jake Leschyshyn | |
| | Ben Jones | |
| | Mason Primeau | |
| | |
| --- | --- |
| LHD | RHD |
| Lukas Cormier | Kaedan Korczak |
| Peter Diliberatore | Dylan Coghlan |
| Layton Ahac | Connor Corcoran |
| | Noah Ellis |
Goalie
Isaiah Saville
Jiri Patera
Dylan Ferguson
Logan Thompson
Jesper Vikman
Top-20 Fantasy Prospects
Peyton Krebs
Brendan Brisson
Ivan Morozov
Lucas Elvenes
Jack Dugan
Lucas Cormier
Kaedan Korczak
Dylan Coghlan
Peter Diliberatore
Pavel Dorofeyev
Jackson Hallum
Jonas Rondbjerg
Isaiah Saville
Jiri Patera
Keegan Kolesar
Brandon Kruse
Jimmy Schuldt
Ryder Donovan
Noah Ellis
Jake Leschyshyn
**
LATEST RADIO & DRAFTCASTS