December 31-in-31: Vancouver Canucks
Cam Robinson
2020-12-28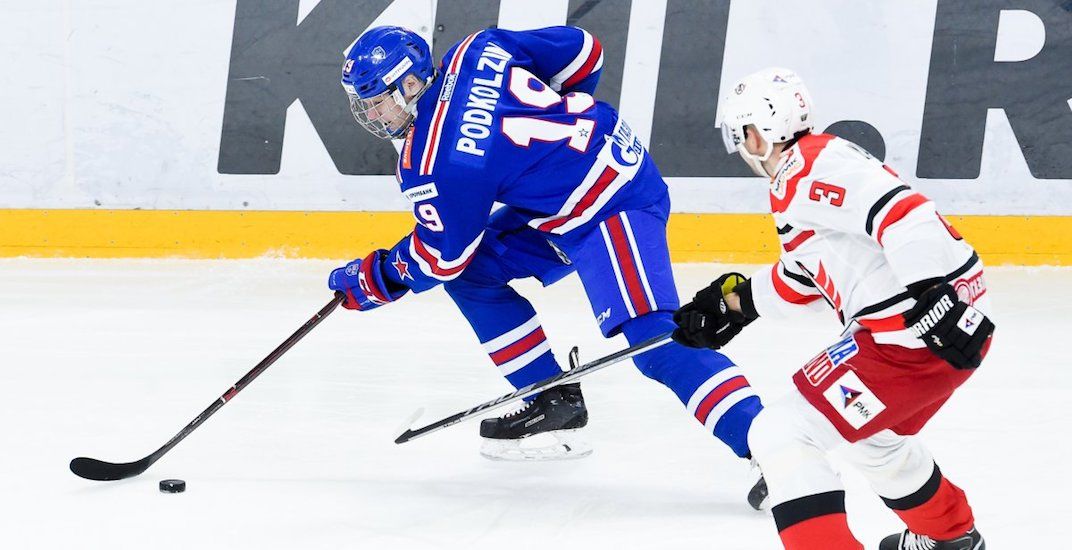 Welcome to the December 2020 edition of the DobberProspects 31-in-31 Series. This month, we are diving into the depth of each organization, looking at their recent graduates, risers, fallers and top-20 prospects. 
**
As we discussed in last month's edition, the Canucks are a team in flux thanks to a bevy of players departing via free agency (almost exclusively to the Calgary Flames to boot). Despite one final season of entry-level value attached to Elias Pettersson and Quinn Hughes, the team still finds itself in a difficult cap situation. That means there are opportunities for young players.

Graduates
Olli Juolevi, LD
We'll try not to put the cart before the horse here, but it sure appears that the 2016 fifth-overall selection will finally step into an NHL job this season. No, he wasn't the top defender for Utica last season. And no he isn't up against much competition, but the 22-year-old will be there. The Canucks have four defenders that they'll feel comfortable playing next season. Jordie Benn and Olli Juolevi will do mop-up work the rest of the time. The Finnish rearguard has shown strong offensive awareness and can be a subtle stopper in-zone. The work in transition on the back peddle has continued to haunt him. It's an area that will need to improve quickly before NHL wingers figure it out. 
The 2019 seventh-round pick posted one of the top U19 seasons in SuperElit history in 2019-20. His 26 goals and 50 points in 29 contests led the league on a per-game basis and sits eighth all-time in that regard. He was clearly playing below his talent level. However, his time in the SHL and on loan in the Allsvenskan proved to be too much at the time. 
This season, he's transitioned (almost) fully to the top tier. He's witnessed his deployment hold fairly steady around the 11-minute range. He has just one goal to show for his efforts through 16 contests. The opportunity to showcase his skill against his peers at the WJC will be a tremendous opportunity for the 19-year-old. Sweden is lacking in pivots and he'll have a genuine role. 
Not bad for the third-final pick in the draft. 
Jack Rathbone, LD

The left-shot defender has been making a name for himself in a large way at Harvard University the last two seasons. In 2019-20, the 21-year-olds' 1.13 points-per-game sat third in the nation for defenders trailing only Scott Perunovich and David Farrance. He owned that same spot for power-play-points-per-game. Meanwhile, his 3.36 shots-per-game were second in the country.
These are impressive numbers for a sophomore. 
The smooth-skater is a consummate transitional player. He can outlet the puck quickly and effectively with his feet or his pass. And that pass is certainly a weapon. He has strong instincts when to jump into the play, and as the shot metrics indicate, is unafraid to let go of a one-timer or a quick wrister. 
Defensively, he will need to continue to make strides. Quick decisions down low, handling bigger, stronger opponents, and mastering his gap control are all still work-in-progresses. He will do well polishing those skills in the American League for a season. 
There were some questions and concerns about whether the 21-year-old depart his Ivy League team and turn pro or return for a third season and be afforded a chance for a UFA destination decision. However, with the uncertainty surrounding this season – which inevitably ended with Harvard cancelling their hockey campaign for 2020-21, the decision became clear. He signed his entry-level contract and will begin his season in Utica – if the AHL can manage to get rolling. If not, look for a loan to a European club if he can find a spot amongst the sea of North Americans packing 787s with their gear as everyone attempts to find ice anywhere they can. 
**
Risers
Kole Lind, RW
Coming out of junior, it often takes players a season to adjust to the pace and tighter checking of the American League. That was the case for the 21-year-old power winger. After finding his base as a rookie in the bottom six in 2018-19, Lind found himself a consistent member of the team's top nine in 2019-20 and made good. He was involved physically, drove play and became a go-to weapon offensively. 
His 14 goals and 44 points in 61 contests sat ninth for U22 skaters in the AHL. His 64 penalty minutes sat fifth. This is indicative of his abrasive, yet skillful approach to the game. Not a blazing skater, Lind uses his anticipation to get jumps on pucks and then is effective in positioning his body to maintain control.

The shot that enabled him to score 39 goals in 58 games as a fourth-year player for the Kelowna Rockets has yet to fully blossom in the professional ranks. As a junior, he was often able to beat netminders clean from out high. If he can add that element back into his regular repertoire it will go a long way in his carving out a top-nine role for the Canucks in the near future. 
Kole Lind showing off that outside scoring ability that we saw so often in junior.

1+2 for the 2nd year pro tonight. He's up to 35 points in 41 games.

That mark sits 3rd most by U22 skaters and T-14th overall in the AHL. #Canucks

— /Cam Robinson/ (@Hockey_Robinson) January 18, 2020

Watch out for the Seattle expansion draft with Lind. He may be a very interesting target for the Kraken. 
Brogan Rafferty, RD 
Rafferty is the definition of a late-bloomer. His draft-eligible season was not played in the CHL or USHL. He wasn't traversing the Junior A leagues. No, Rafferty was in the U18 minor hockey elite circuit as a bit part. That season, he was vastly outplayed by a 15-year-old Zach Werenski. 
But he kept at it. 
After two seasons in the North American Hockey League and another in the USHL, the now-25-year-old spent three quality seasons at Quinnipiac University. That earned himself a pro contract with the Canucks.  Last season, the right-shot defender transitioned seamlessly to the American League as a 24-year-old rookie. He ranked third in scoring for blueliners with 45 points in 57 contests. 
Brogan Rafferty with a short handed goal and 3 primary assists tonight.

That gives him 37 points in 40 AHL games – good to lead all blue liners, all rookies, and sit 7th most in the AHL. #Canucks

— /Cam Robinson/ (@Hockey_Robinson) January 16, 2020

The right-shot defender looks to create offense at every opportunity. He thrives in transition and loves to jump into the play as a fourth forward. His puck skills can dazzle and his shot is a weapon. On the defensive side of things, he won't wow you, but he's more advanced than most second-year pros. It's yet to be seen if he can handle that side of things against NHL forwards though.

It is expected that Rafferty will break camp with the club as apart of the expanding roster. In an ideal world, a season in transit between the AHL and NHL would be the expectation to keep him getting reps. But at his age, the development isn't as important. He's a near-finished product. No one will be supplementing Quinn Hughes on the Canucks top PP, but long term, the club would love to find an exciting second unit quarterback. That could very well be Rafferty. 
Fallers
Jett Woo, RD
The 2018 second-round selection was expected to do big things in 2019-20. He was a final cut from the junior national team a year earlier and should have had an inside track to making that team for the 2020 event. Not only did he not, but he failed to even earn an invite to camp. Part of this was a trade to the Calgary Hitmen that reduced his offensive role. However, his overall play appeared to plateau. The monstrous hits were fewer and further between. The rushes were lacking. The shutdown defense wasn't as demonstrative. 

Reports indicate that the 20-year-old should be landing in Utica of the AHL to begin his professional career this season. But with the league's plans still up in the air, a fifth WHL season could be in the cards. I'll guess he tries to find a secondary Euro league to skate in if the AHL doesn't go. 
Artyom Manukyan, RW
This one doesn't impact the future too much as seventh-round picks seldom break right. However, Manukyan showed some offensive promise. The owner of the most electric MHL season in league history was drafted as an overage earning a full-time KHL gig in 2017-18. 2018-19 displayed some improved deployment and some added production.

However, 2019-20 was marred by injury and so far in 2020 he's been completely iced out of the top Russian league, instead, he's been skating in the VHL. Even there he hasn't been very good. The 22-year-old has just four points in 16 games.

Chalk him up as officially irrelevant now. 
**
Prospect Depth Chart
   Left Wing                            Centre                        Right Wing
Nils Hoglander                 Marc Michaelis                Vasily Podkolzin
Aidan McDonough           Carson Focht                    Kole Lind
Jonah Gadjovich               Arvid Costmar                  Lukas Jasek        
Jackson Kunz                    Linus Karlsson                 Will Lockwood
Ethan Keppen                    Dmitri Zlodeyev               Karel Plasek Jr
Petrus Palmus                    Jack Malone                   
  Left Defense                                                Right Defense
Jack Rathbone                                                      Brogan Rafferty
Olli Juolevi                                                            Jalen Chatfield
Guillaume Brisebois                                            Jett Woo
Joni Jurmo                                                           Viktor Persson
Nikita Tryamkin                                                 Mitch Eliot
Toni Utunen    
Jacob Truscott 
Goaltenders
Mikey DiPietro
Arturs Silovs
Jake Kielly
Matthew Thiessen
*Recent Graduates: Adam Gaudette, Thatcher Demko, Zack MacEwen, Jayce Hawryluk
**
Vasily Podkolzin

Nils Hoglander

Jack Rathbone

Mikey DiPietro

Kole Lind

Brogan Rafferty

Olli Juolevi

Joni Jurmo

Arturs Silovs

Aidan McDonough

Arvid Costmar

Nikita Tryamkin

Linus Karlsson

Viktor Persson

Jett Woo

Carson Focht

Lukas Jasek

Jackson Kunz

Dmitri Zlodeyev

Karel Plasek Jr
**
LATEST RADIO & DRAFTCASTS