Fantasy Ranking the 2021 NHL Draft
Peter Harling
2021-03-01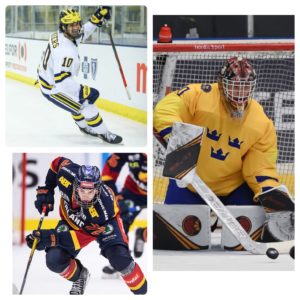 The team at DobberProspects has brought back a popular post we do each year where we rank the top prospects for the upcoming NHL Entry Draft for fantasy hockey purposes.
There are plenty of draft rankings available but this is the only place where you will find a ranking geared towards your fantasy hockey draft. This ranking is a collaboration of rankings submitted by DobberProspects writers:
Tony Ferrari – Managing Editor – @theTonyFerrari
Brayden Olafson – Senior Writer – @olaf1393
Peter Harling – Editor – @pharling
We also reach out to other prospect experts are pleased to have received contributions from the following:
Steven Ellis – The Hockey News – @StevenEllisTHN
Scott Wheeler – The Athletic – @scottcwheeler
Russ Cohen – Hockey Prospect Radio, Sportsology – @sportsology
Ryan Wagman – Mckeens – @RAWagman
Steve Kournianos – Draft Analyst – @TheDraftAnalyst
The following is a consensus ranking by all eight contributing writers and some comments on each player. The criteria for the rankings is for points only keeper leagues but some multi-category comments are found throughout as well
1. William Eklund, C/LW – Djurgardens (SHL)
Eklund has quickly become a top prospect in the eyes of many NHL scouts and his chemistry with Alexander Holtz can't be ignored. Speedy forward that can do damage as a playmaker and a goal-scorer. – Steve Ellis
An intelligent forward who reads the play and utilizes his teammates efficiently. His offensive production at the SHL level should help lead to more immediate success at the NHL level. – Tony Ferrari 
Eklund personifies clutch play, timeliness, and excitability. He's an inside player who isn't intimidated by bigger defenders and is more than willing to take the puck right into the teeth of neutral or grey-zone coverage. Fifteen of his 18 points are primary, and 72 percent of his production are from goals that either tied the score or gave Djugardens the lead – Steve Kournianos
Check out the Game Tape with William Eklund as he joins the DraftCast to break down some of his game tape from this season and talk about the draft! 
2.Kent Johnson, C – U. Of Michigan (NCAA)
Johnson's the most talented, purely forward in this draft class, and even if players like Eklund and Beniers project a little more safely than he does to their ceilings, I'll take the gamble on his skill set 10/10 times. His wiry frame should keep him in college for at least one more season, but his dynamic on-puck skill and effortless skating stride will force the envelope sooner rather than later. Even if he doesn't become the best overall hockey player in the draft, he's got a chance to become the most productive, with legitimate first-line/PP1 upside. – Scott Wheeler
The offensive tools are special, but Johnson is not as likely to jump right to the NHL as are his current teammates Beniers and Power. Some risk, but great reward. – Ryan Wagman
I wouldn't go as far as to call Johnson a prodigious offensive talent, but the kid continues to pile up points everywhere he goes. His season's been beyond impressive and there's nothing major to nitpick. But for added context, just keep an eye on how and when he records his points, as a good chunk have come in garbage time and most of his assists were secondary. – Steve Kournianos
Fast hands. Did the Svech in a BCHL game. Can make his own space with nice deke – Russ Cohen
3. Matthew Beniers, C – U. Of Michigan (NCAA)
Matty Beniers vaulted up the draft rankings after a brilliant performance at the WJC with USA. That play was not surprising to those who watch him in his impressive freshman season with the big three from the big ten in Michigan. He is a sure-fire NHL player with more value in leagues that count more stats than just points. – Peter Harling
He switched from Harvard to Michigan. His cuts as a skater allow him to get past multiple defenders. His stick and puck control is terrific. – Russ Cohen
He is an extremely good two-way center who can put some points up. He may not be a true number one but he gets added value in any league that counts peripheral stats. – Tony Ferrari
It's pretty lazy to pigeonhole a premier center prospect as a checker simply because he works hard and kill penalties. But that seems to be the tag being applied to Beniers, even after his impressive performance at the under-20 world junior hockey championship where he played himself into the top six on a gold-medal-winning American squad. The truth is that Beniers has all the makings of a productive top-line center in the NHL in the mold of a Jonathan Toews or a Mark Scheifele. – Steve Kournianos
4. Brandt Clarke, D – HC Nove Zamky (Slovakia)
Clarke's production in Slovakia looks nondescript (zero points in 14 of 17 games), but he did fire off 52 shots and was used on the top power-play unit with regularity. What the lack of scoring probably tells us is the adjustment period is ongoing and that Clarke probably wasn't going to NHL job anytime soon. But his overseas expedition has certainly exposed him to a more physical forecheck than he saw in the OHL, and more times than not he's stood up to those challenges with smarts, resilience, and a deft touch. Make no mistake – Clarke has the potential to be a big point producer and high-volume shooter regardless of what he did or didn't do on a losing club in Slovakia. – Steve Kournianos
Give Clarke a goal-scorer to pass to and he'll unlock the offensive potential we saw from him in Don Mills back in minor midget. Clarke is still the prospect I think has the most potential out of the 2021 class and could be a 50-60 point defensemen in the NHL. His power-play abilities will play a nice role on your fantasy team. – Steve Ellis
5. Jesper Wallstedt, G – Lulea HF (SHL)
The requirements that drive dynasty owners to draft a goalie in the first round probably sound similar to those used by actual NHL front offices during roster reviews, and for good reason – No. 1 goalies provide stability and peace of mind for the organization (plus gaudy point totals from wins and shots against. Wallstedt is the cream of this year's goalie crop, and for good reason – he ranks eighth in the SHL in save percentage (.913) and has already posted two shutouts. And although he plays for one of the league's top defenses that helps limit his workload to 24 shots faced a game, Wallstedt has been groomed for several years to one day replace Henrik Lundqvist as the face of Swedish goaltending. – Steve Kournianos
He could beat Askarov and Knight to the NHL. High likelihood NHL starter with ideal frame and franchise goalie game. – Ryan Wagman
After Spencer Knight and Jaroslav Askarov, Jesper Wallstedt is the next sure-fire NHL starting goalie worth a first-round pick. As a draft-eligible prospect in the WJC, he outperformed Askarov and outplayed incumbent Hugo Alnefelt. He has franchise goalie potential. – Peter Harling
6. Owen Power, D – U. Of Michigan
Skates well. Exceptional passer. Gets the puck up the ice well, a lot of times with good passes – Russ Cohen
For his size, Owen Power already has incredible mobility both with and without the puck on his stick. With so much time to continue improving his decision-making, the raw package of size and puck skill gives this defenseman an outstanding offensive ceiling that will hinge almost exclusively on how much individual determination he can muster throughout his career. – Brayden Olafson
A big, mobile defenseman who likes to take risks. He is very efficient on the powerplay and has the speed and puck skills to create a mismatch for opponents. – Tony Ferrari
No, he isn't just a big man. He's a legit offensive force and someone who can take control of the offensive flow of any given shift. Power projects to be someone that will receive heavy usage at the NHL level, and with his speed and skill level, that's enticing. If you need a defenseman who can rack up points, Power is a good bet. – Steve Ellis
Every tool is there in abundance. He is not like Brent Burns, but Burns is the closest thing to a comp you can find for Power. – Ryan Wagman
7. Dylan Guenther, LW – Edmonton Oil Kings (WHL)
A read and react forward who drove the play with two older players as a 16-year-old with the Oil Kings. The point totals may not look as flashy but they'll be solid. – Tony Ferrari
One of the best wingers in the draft, scoring has never been an issue in his game and he should have no problem transitioning to the pro game before long. He still has a ton of time to climb up these rankings – and some NHL teams have looked at him as a top-two pick for the draft. – Steve Ellis
One of the most unique characteristics of Edmonton's Dylan Guenther is his analytical decision making at almost every level of the game. Shift by shift, he reinforces the notion that nothing he does is without intention and premeditation, whether it be shot placement or a path through the neutral zone. This maturity paired with his size, strength and ability to carry or distribute the puck with precision should make him a coveted selection in any fantasy draft. – Brayden Olafson
8. Fabian Lysell, RW – Lulla HF (SHL)
Fabian Lysell (#2021NHLDraft) pushing the pace, attacking the defense and scoring his second of the game!

This kid is loaded with talent and his motor and pace are among the best in the class. Lysell still doesn't get the type in most circles that he deserves. pic.twitter.com/IK5gOM40ru

— Tony Ferrari (@theTonyFerrari) February 12, 2021
A highly skilled winger who attacks each play as if it were OT in the playoffs, Lysell has the skill and mobility to be a high-end point producer and the nonstop engine to make it happen. – Tony Ferrari
Electrifying agility and tactical puck distribution are hallmarks of Fabian Lysell. Although some nights he presents himself as flying by the seat of his pants, this Swedish sniper is consistently capable of reigning in and manipulating his explosiveness in order to increase his deceptiveness and decrease his predictability – Brayden Olafson
Like all Swedes playing pro, don't let the low numbers deter you – young guns don't typically get a lot of opportunities at this stage in their development. But he's always been viewed as one of the better scorers from the 2023 age group and he's been moving the puck better than ever in the U-20 league – Steve Ellis
9. Luke Hughes, D – USNTDP (USDP)
He does have great vision and a high hockey I.Q. and that runs in the family. – Russ Cohen
Bigger than his brothers (Quinn and Jack), but nearly as good a skater. Easily the top draw on this year's USNTDP class. Don't expect the offensive impact of Quinn, but he will be a two-way contributor. – Ryan Wagman
His older brother Jack and Quinn say he is the best of the three, high praise to be sure. Didn't P.K. once say that about his youngest brother Jordan? Jack and Quinn may be sugar-coating their praise, but he is a top ten NHL Draft prospect and a legit fantasy prospect if you can wait a few years. – Peter Harling
His speed is an obvious help, and Hughes also makes critical snap decisions during bang-bang scenarios that allow him to stay involved in any play. One thing to consider is Hughes' consistent production against different leagues – he's averaging 1.07 points per game (16 points in 15 games) against the NCAA and 1.08 (13 in 12) versus USHL competition. – Steve Kournianos
10. Aatu Raty, C – Karpat (Liiga)
He has a sliding wrist shot that allows him to change the area he's shooting at last minute. Pro slap shot. Can make plays at speed. No panic. Solid on the power play. – Russ Cohen
Raty was the early favorite for first overall in this draft class. His slow start and failure to return to the WJ with Finland has him further down on many lists. There is an opportunity here to get great value in your fantasy drafts on a player that as a 17-year-old is struggling with consistency. – Peter Harling
Once thought to be a possible first overall pick, Räty has come on as of late with some excellent play at the Liiga level. He still likely tops out as a 1B center but his shot is very good and he should put up some decent point totals with some peripherals as well. – Tony Ferrari
While the allure of Aatu Räty has faded quite a bit in his draft season, the fact remains that the Finnish prospect bears a foundational skill set that gives him the potential to pop at any time. Räty's combination of core strength and ability to make intricate movements with the puck inside of movement make him a player who can be dangerous from anywhere in the offensive zone. – Brayden Olafson
11. Simon Edvinsson, D – Frolunda HC (SHL)
Gets in the flow of the game well. His wrist shot is very accurate. Elusive up the ice – Russ Cohen
A package that includes an upper-end shot and some really nice mobility, Robertsson has a toolset that has some scout salivating. – Tony Ferrari
If we've learned anything from his development, Edvinsson's numbers in the SHL don't do him justice. He has been an assist-muncher against his own age group and while he doesn't get a lot of pucks on net, he knows how to set guys up. – Steve Ellis
Few defensemen in the top of the 2021 draft will be as likely to activate into the offensive zone quite as frequently as Frölunda's Simon Edvinsson. The quick-footed blueliner offers strength in the tools required for a high rate of success to cleanly exit the zone and enable offensive pressure whether it be bypass or carry and is consistently keen to follow up on the plays that he initiates. – Brayden Olafson
12. Cole Sillinger, C – Sioux Falls Stampede (USHL)
Don't let the fact that he's playing in the USHL deter you – Sillinger was projected to be a force in the WHL and I fully expect that to be the case once the season kicks off. Incredible goal-scorer that has no shortage of scoring strengths. – Steve Ellis
With uncertainty in the WHL, Sillinger went to the USHL to play for Sioux Falls and has nine goals in his first 12 games. As pure a sniper as there is in this draft class. – Ryan Wagman
He may have one of the best shots in the draft and his creativity as a playmaker at times can be valuable. His motor needs work at times but he should put up some numbers. – Tony Ferrari
13. Chaz Lucius, C – USNTDP (USDP)
Need goals? He's got 'em. Lucius has seen limited action this year with the USNTDP but he scored twice in his debut and looked up for the challenge. His transition to the NCAA next year will be a good indicator of what he's going to do moving forward. – Steve Ellis
Lucius is a goal-scorer with soft hands. His skating needs work, but it is not an inherent flaw that is correctable. No matter what scoring format your fantasy league uses, goal scoring is always a premium and Lucius scores goals. – Peter Harling
An offensive dynamo who hasn't played this season. His offensive tools are legit, with the ability to fill the net when he is at his best. The injury is a concern though – Tony Ferrari
Has enough speed to get behind the defense and he has great hands around the net – Russ Cohen
14. Carson Lambos, D – JYP U20 (U20 SM-sarja)
I think a lot of people see Lambos as a guy who's a safe bet to be an NHL defenseman but maybe lacks some of the dynamic skill that produces fantasy results. And while I think that's true to a certain degree, I still see power-play upside, a hard shot, good movement across the offensive zone blueline, and an attack mentality. – Scott Wheeler
If he's the player he was in the WHL last year, he might be top-10. He has been a bit conservative with his decision-making but flashes some of the offensive skill. He can walk the blue line and has a big shot, let's see how he looks back in the WHL. – Tony Ferrari
From a brass-tacks fantasy standpoint, Lambos at his NHL peak likely produces more along the line of a Ryan McDonagh or Ivan Provorov. There are stylistic similarities to both Duncan Keith and Shea Weber, but Lambos is such an eraser on defense that he'll probably stay programmed well into his career to make the protection of his own end a priority. – Steve Kournianos
15. Simon Robertsson, RW – Skelleftea AIK J20 (J20 Nationell)
Robertsson can impact a game in a variety of ways offensively, whether that's slowing things down on the puck, changing tempos with it, beating goalies from mid-range, or using his sense off of the puck to get open. He's already a better junior player and a more comfortable pro player than Rosen is, too, which makes him the more comfortable bet if you're having that debate (as so many are) about the two Swedes. – Scott Wheeler
Robertsson is a multi-use winger with good size and impressive speed who can blister the puck from just about anywhere. He was the leading scorer (9 goals, 11 assists in 15 games) and fifth in shots (52) in the J20 Nationell's North Division, which is the more defense-oriented bracket in Sweden's top junior league. Robertsson also plays a physical, in-your-face game but his discipline has been far better in the SHL than it was in junior. – Steve Kournianos
The tactical and patient nature of Simon Robertson makes him a player who, with the right attitude could develop into a coach's dream at the NHL level. Although his skill level isn't likely to blow you away, his ability to guard his possession and stealthily seek opportunity in the offensive zone could be leveraged more in the NHL circuit than the superior technical ability of other prospects. – Brayden Olafson
16. Brennan Othmann, LW – Olten (SL)
Shane Wright's wingman back in Don Mills, Othmann had a successful transition to the pro game in Switzerland and that could be a benefit once he returns back home to the OHL. He isn't going to be a line-driver in the NHL, but he's a solid complementary piece. – Steve Ellis
His best weapon is his shot, but his toolbox is full of tricks. He has speed, a motor, plays defensively and his hockey sense is excellent. If the OHL were playing he would be dominating as a draft-eligible player. Othmann has top six NHL and fantasy upside – Peter Harling
He's added some strength and looks comfortable against men in Switzerland. He has become more of a dual-threat this year and could have added value outside of points-only leagues. – Tony Ferrari
17. Oskar Olausson, LW/RW – HV71 (SHL)
Olausson is a silky smooth transition player who pushes the play up ice and has some nice playmaking skills – Tony Ferrari
Olausson's got a ton of pro qualities to his game, with a long, fluid skating stride, dynamic individual puck skill for a player his size, a threatening wrist shot, and a confidence about his game that is pretty rare among teenagers (especially ones ranked outside the top 10). He's got a real opportunity to become an impact second-line winger. – Scott Wheeler
18. Xavier Bourgault C – Shawinigan Cataractes (QMJHL)
A player who doesn't drive play on his own but he gets into a position to score and could be one of the better complimentary players in the 2021 class. – Tony Ferrari
Late birthday means he won't be eligible to play for Canada at this year's WU18, but putting up 1st round numbers on a strong QMJHL team. – Ryan Wagman
19. Mason McTavish, C – Peterborough Petes (OHL)
Hard worker, good around the net. Good one-timer. Gets a lot of goals down low. – Russ Cohen
A sturdy player with a big shot. He needs to round out his game but the shot should play at the NHL level and he could be a 30-goal scorer if things break right. – Tony Ferrari
There may not be another player whose draft stock was hit harder the McTavish. His 42 point rookie season on a stacked Pete's team seems to be getting overlooked. His recent small sample size in the Swiss league has helped (Five goals and seven points in 10 games) and if the OHL returns look for his stock to shoot up. His shot and release are NHL quality as a 16-year-old, his skating and first step could be better. If he continues to develop he has first-line center upside. – Peter Harling
He's got a lot of muscle and loves to get physical. Add in an impressive shot and an equally impressive eye for finding teammates and there's a lot to like. – Steve Ellis
20.  Sasha Pastujov, LW – USNTDP (USDP)
There's much to like about this kid's approach from start to finish. There are a lot of kids who can put up points as top-liners, but those numbers shrink when you separate the timid from the physical. Pastujov is far too skilled and opportunistic a scoring winger to look to throw his weight around every shift, but he definitely has that switch.  If it stands, Pastujov's 1.76 points-per-game average (37 points in first 21 games) is second only to Jack Hughes (2.24) since 2015, and higher than recent NTDP alumni Alex Turcotte (1.68) and Clayton Keller (1.73).  – Steve Kournianos
Bloodline is very good. Good in the crease. Solid one-timer on the power play. – Russ Cohen
The hype kind of died down on Pastujov once he began in junior hockey, but he's had a fantastic season with the U-18 USNTDP and deserves more attention for the work he does with the puck. – Steve Ellis
21. Zachary L'Heureux, C – Halifax Mooseheads (QMJHL)
I'm a firm believer in L'Heureux's game. He's typically a more rough-and-tumble type forward that plays above his size, but he's an underrated goal-scorer at points and his effectiveness as a playmaker has grown since his AAA days in Quebec. If your league counts hits, L'Heureux is a good value option. – Steve Ellis
Zach L'Heureux offers a variety of raw and refined skills that could make him a highly effective powerplay presence at the NHL level, as well as a player who could be featured on highlight reels with regularity. – Brayden Olafson
His offensive game is solid and his willingness to engage physically could boost him in any league that counts peripherals. Good shooter who can add some value in the hits column. – Tony Ferrari
22. Corson Ceulemans, D – Brooks Bandits (AJHL)
Ceulemans as a fantasy asset is intriguing. He has all of the tools you'd like offensively and he loves to shoot. He creates lots of rebounds and piles up assists. Good PP QB. – Tony Ferrari
Although the AJHL is as shut down as is the WHL, Ceulemans did get two games in before they shut the doors. The Wisconsin commit is trying to follow in the AJHL footprints of Cale Makar and Ian Mitchell. – Ryan Wagman
23. Nikita Chibrikov, RW – SKA St. Petersburg (KHL)
A skilled winger who has a boatload of skill. He has been up and down a bit this year but there is an interesting offensive winger here. – Tony Ferrari
Chibrikov had an early graduation into the VHL and quickly established himself as a regular, albeit for SKA-Neva. He plays a physical style, so his 49 penalty minutes shouldn't come as a shock. But Chibrikov is far from just a physical brute, as he's displayed a soft touch and playmaking off the rush in addition to dominating battles along the boards. Chibrikov's numbers (3 goals, 5 assists, 55 shots in 20 games) are more than acceptable considering his rookie status and the fact that he plays under 16 minutes a game. – Steve Kournianos
24. Isak Rosen, LW/RW – Leksands IF (SHL)
Rosen might take a little more patience than the other plays on this board, but he's an entertaining, boom, or bust proposition who has the requisite skills needed to play with talented players at even-strength and shape shots and passes through seams on the power play. He doesn't come without some risk, though. – Scott Wheeler
Was an offensive driver at the junior level, struggling to make an impact so far with men in SHL as he is still underdeveloped physically. – Ryan Wagman
25. Logan Stankoven, C/W – Kamloops Blazers (WHL)
Held back by the WHL not playing, but also by his very small size, Stankoven nonetheless has a broad range of offensive tools and has demonstrated some dynamic offensive elements to his game in the past. – Ryan Wagman
Nearly hit 30 goals as a WHL rookie and was one of the top goal-scorers at the U-17 World Challenge. The future is bright for Stankoven, but he's definitely more effective higher in a lineup than lower. – Steve Ellis
26. Matthew Coronato, LW – Chicago Steel (USHL)
A competitive shoot-first winger who has taken the USHL by storm, Coronato leads the entire league with 27 goals, 11 power-play goals, and 117 shots in his first 30 games. He's a Long Island kid committed to Harvard, so drafting him probably will require a little more patience until he's ready for a pro gig.  – Steve Kournianos
Solid wrist shot, surprisingly good backhand. Solid passer. – Russ Cohen
Yet another product of the strong Chicago Steel program, Coronato has been so dangerous in the USHL and continues to rise up draft rankings. Not a big kid, but scouts love him. – Steve Ellis
27. Scott Morrow, D – Shattuck St. Mary's (USHS-Prep)
This is a bit spicy! Morrow is an immensely skilled skater who attacks the game in all facets. There's a risk with any USHS player and you could probably wait to draft him but keep your eye on Morrow. – Tony Ferrari
A cerebral puck rusher whose poise and delay tactics under pressure consistently fool opposing forecheckers, Morrow is a big kid who commands the blue line for one of the better prep programs in the country. He's a Connecticut native who's committed to North Dakota, and Morrow registered impressive numbers a season ago (67 points in 46 games) while serving as the No. 1 and primary power-play quarterback. He also owns a booming shot and won't hesitate to use it. Although high school stats need to be taken with a grain of salt due to the quality of competition, Morrow's point-producing upside and shot generation are both legitimate. – Steve Kournianos
The ultra-energetic blueliner has been pitted against what is probably the most inferior competition of any potential first-round selection, playing in the USHS circuit. That said, his absolute dominance against that competition in transition and in the offensive zone, as well as his intuitive awareness of when his skills are responsibly deployed make him a player that could have one of the most intriguing ceilings in the class – Brayden Olafson
28. Samu Tuomaala, RW – Karpat U20 (U20 SM-sarja)
Samu is a prolific scorer who can pile up points in bunches – he's already notched nine multi-point efforts in 25 games. Tuomaala's aggressive, physical style can lead to a fair number of penalties, and they usually come after he's been warned several times or was victimized by a missed call. – Steve Kournianos
A shooter who loves to shoot. He may bit a bit selfish at times but he finds the back of the net and plays with some decent pace. – Tony Ferrari
As a player with little to no hesitation to drive the middle of the ice with control, Samu Tuomaala presents himself as a potentially productive blunt instrument. Although his plan with the puck is never quite as evident as the top-tier forwards, his ability to dance through pressured areas of the offensive zone, and his desire to put the puck in the net using whatever means necessary give him a rangey projection and intriguing upside at the next level. – Brayden Olafson
29. Francesco Pinelli, C – Kitchener Rangers (OHL)
While I do not think he is currently underrated, I do think that he has the potential to be a steal. Pinelli has a versatile game, he makes plays, he scores, and he reads and reacts well. He seems to have the drive to improve and if his development path stays consistent he has top ten upside. This is a guy you may look back on in two years and say, "How was he not ranked in the top ten!" – Peter Harling
I am likely projecting A LOT here, but I think Pinelli is better than what he showed in Slovenia and that his past performances make him a potential steal late in the first round.  – Steve Ellis
Pinelli as an OHL rookie was a critical piece on a veteran Kitchener squad in 2019-20, recording 41 points (18 goals, 23 assists) in 59 games. Pinelli can be a stubborn competitor who doesn't appear to have any noticeable weaknesses in any area on or off the puck. His 122 shots tied him with Brandt Clarke for fourth among OHL rookies, and 34 of his 41 points came at even strength. – Steve Kournianos
30. Ryder Korczak, C – Moose Jaw Warriors (WHL)
An all-around offensive player who consistently finds his name on the scoresheet. He will look to really make his mark when the WHL returns but the offense isn't a question. – Tony Ferrari
Brother of Vegas prospect, and WJC depth defender Kaedan. Ryder wore the A last year in his draft -1 season, while leading the team in scoring by a ridiculously large margin. Playmaker first. – Ryan Wagman
Last season's leading scorer among 2021 first-year eligibles in the WHL, Korczak is in a similar situation as Guenther in that he hasn't played in league action in nearly a year but remains a top prospect helped by last year's production. He's a pass-first playmaker but not the type who consistently gives away shot opportunities if a quality chance is presented to him. – Steve Kournianos
31. Dylan Duke, C – USNTDP (USDP)
Strong in the dirty area, especially on the power play. Strong passer. – Russ Cohen
A determined and rugged scoring winger who won't back down from a challenge, Duke and his linemate Sasha Pastujov produced impressive numbers with top center Chaz Lucius out for most of this season. He currently leads the 18's with 20 goals and 82 shots in only 30 games and is used as a primary option on the power play and also kills penalties. Duke is an Ohio native who later moved to Michigan, and he is expected to play for the Wolverines in Ann Arbor next season. – Steve Kournianos
Scouts seem split on Duke and he definitely has some good teammates to work with. But his ability to finish off plays and make the most out of odd-man situations is worth noting. – Steve Ellis
32. William Stromgren, LW – MODO Hockey (HockeyAllsvenskan)
The cancellation of junior hockey in Sweden impacted his development as he has played at the second and third men's levels in Sweden since to mixed results. – Ryan Wagman
A big sniper who gets to the middle of the offensive zone. He has a good shot and has some decent playmaking ability. Size, skating, and shooting. Those are his biggest draws – Tony Ferrari
Honorable Mentions
The following players did not receive enough votes to crack the top 32 but are worth noting.
Florian Elias, C – Adler Mannheim (DEL)
Good on the power play. Fast, good passer, presents the stick well. – Russ Cohen
Stanislav Svozil, D – Kometa Brno (Czech)
In his best games at the WJC, was truly dynamic. Other times, he was pretty invisible. Was already playing men's hockey in his native Czech Republic last year.  – Ryan Wagman
Zach Dean, C – Gatineau Olympiques (QMJHL) 
Very few players who I've watched in this draft class are able to recognize a seam and exploit it quite as quickly as Zach Dean. While Dean can appear to be a bit of a reactive player, his sheer ability to respond to an opportunity with precise and efficient movements makes him a player who could complement a top-tier finisher quite well. – Brayden Olafson
Red Savage, C/LW – USNTDP (USDP)
Hops on loose pucks. Solid in the dirty areas and good directional skater. – Russ Cohen
Zach Bolduc, C – Rimouski Oceanic (QMJHL)
The inconsistent thrill of Zach Bolduc's skill and explosiveness has earned him recognition as a top-30 prospect in several real-world draft lists, however, under a purely fantasy shifted lens, his ceiling is even more challenging to ignore. The fluidity of his movement through ample traffic can be downright excellent, and his consistent ability to get pucks on net from anywhere in the offensive zone make him the type of player who could be very productive in a complementary role. – Brayden Olafson
Prokhor Poltapov, LW – Krasnaya Armiya (MHL)
A puck-swiping menace who is one of the most aggressive forwards eligible for this draft, Poltapov is the leading figure in a pretty deep Krasnaya Armiya attack. He is tops on his squad in multiple categories including assists (23) and points (45), and his 46 hits through Feb. 20 is the most among forwards. Poltapov also is an expert stickhandler who uses smarts and agility to throw zone coverages into disarray. For real, this kid can play. – Steve Kournianos
Alexander Kisakov, LW – Dinamo Moskva (MHL)
A dynamic playmaker, shot generator, and overall elite-level scorer, Kisakov is one of this draft's most dangerous 1-on-1 wingers. He ranks among the league leaders in multiple offensive categories, and his 18-game point streak between Sep. 30 and Nov. 19 was one of the MHL's longest by a first-year draft eligible. He's listed at only 5-foot-9 but his balance and strength along the boards continue to surprise bigger defenders. NHL Central Scouting bumped him up to an "A" rating in their last Watch List after originally listing him as a later-round candidate. Obviously, a riser. – Steve Kournianos
Ayrton Martino, LW – Omaha Lancers (USHL)
The former OJHL star is an offensive dynamo. He always seems to find the scoresheet and on a pure offensive basis, he should be a valuable fantasy asset. – Tony Ferrari
LATEST RADIO & DRAFTCASTS