DobberProspects' November Top 32 for the 2024 NHL Draft
Hadi Kalakeche
2023-11-18
Sebastian High: The 2024 Draft Class is a fascinating one. While it lacks the abundance of elite skill that the 2023 class offered, the cluster of players between 15 and 32 on our board was incredibly tight and left a lot of room for our individual scouts to go to bat for players they've personally been won over by, which made for a ranking meeting filled with contentious debates. As such, we spent more time focusing on getting players into specific ranges rather than obsessing over individual slots, especially since this is our first ranking of the season.
We recorded our meeting, so if you're interested in peering behind the curtain to listen to our debates between 1 and 32, go watch it on our new YouTube channel: https://www.youtube.com/watch?v=nx-vActhPhs
Our Scouting Team:
Sebastian High: Head Scout & Director of European Scouting
Hadi Kalakeche: Director of North American Scouting
Jordan Harris: OHL Regional Scout
Sasha Lagarde: QMJHL Regional Scout
Luke Sweeney: WHL Regional Scout
David Saad: USA Regional Scout
Wade Messier: North American Crossover Scout
Colin Hunter: Goaltending Scout
Anni Karvinen: Finnish Regional Scout
Graham Montgomery: Russian Regional Scout
Alexa Potack: European Crossover Scout and Graphic Designer
Rasmus Alm: Swedish Regional Scout
Charlie Maher: USA Crossover Scout and Data Scientist
Without any further ado, let's dive right into the rankings, starting off with our unanimous pick at #1: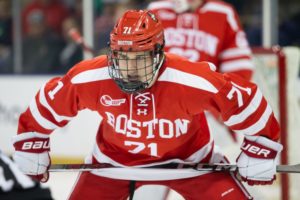 Hadi Kalakeche – The list of NCAA draft-eligibles who, since the 1990s, have exceeded Celebrini's two-points-a-game pace so far for BU (18 in nine games played) has one name on it: Paul Kariya. And that was more than 30 years ago.
If you look at some of the names right below Celebrini's, you'll find Adam Fantilli and Jack Eichel, both of whom put up in the neighborhood of 1.80 points per game in their respective draft years. Both of them were late October birthdays. Celebrini, meanwhile, was born in June. He is almost eight months younger than they were, and is still outscoring the two former top-three picks.
Celebrini is a supreme rush chance creator. He jumpstarts offensive transitions with solid defensive positioning, great intensity, and refined technique in board battles. Once the puck is secured, he has the technical abilities to either skate it out himself while evading pressure with his crossovers, or to find an outlet and outrace back-checkers to open ice in order to make himself a shooting threat. His ability to move pucks from the boards to the middle of the ice in offensive zone cycles has also grown massively since his Draft -1 season with the Chicago Steel, aided by the muscle he added in the off-season. The tools and the toolkit make Celebrini the runaway first-overall pick at this point in the season, and he has all the makings of a top-line, do-it-all center at the NHL level.
2. Ivan Demidov, RW — SKA St. Petersburg (KHL/MHL)
Sebastian High – Ivan Demidov is the most creative, dynamic, and skillful puck handler we've seen since at least Jack Hughes. His seemingly innate escapability, versatile inside edges, and great mobility combine with his handling skill to consistently create scoring chances for himself and his linemates with tremendous flair. While there was little debate for us at #1, Demidov was our unanimous pick at #2, garnering support from all those who have watched him play.
He breaks the mould (somewhat) of the typical skilled Russian winger, showing off an impressive motor, flashes of strong backchecking ability, and a ceaseless desire to create in all three zones. That said, against MHL competition he can go full pond hockey mode at times, trying anything and everything to see what works. On the one hand, this allows him to practice his creativity and forces him into spots where he needs to make a few consecutive quick decisions and movements to retain possession. But on the other, this style of play teaches bad habits, doesn't at all work at higher levels, and does not benefit his NHL projection.
While we still have unanswered questions (amplified by his injury) his offensive upside is unmatched in this draft class, and we are firm believers that his toolkit and brain will make his transition to the NHL a relatively smooth one when the time comes.
3. Sam Dickinson, LD — London Knights (OHL)
Jordan Harris – Players of Dickinson's size and athleticism profile will always grab scouts' attention. Combine that prototypical frame with excellent skating and advanced defending, and you get a player with early-first-round potential. Dickinson routinely kills plays, especially in transition. Players have a difficult time gaining the zone against him as he's got the feet to stay with almost anyone, combined with the ideal length, reach, and stick work to knock pucks away. He's tough and physical in his own end and ties up players in front of his net. His defensive game is truly spectacular. 
Dickinson transitions the puck up the ice with a nice first pass and can carry the puck through the neutral zone. Upon gaining the offensive zone is where Dickinson struggles to create as he loses his teammates and skates into defensive traps at times, resulting in missing open teammates to pass to. Still, on the cycle, he can be an effective passer and he can get hard, accurate shots on net in locations that can cause rebounds or be tipped. He's been effective putting up points even if the offensive IQ isn't there yet. Overall, even if he's just a decent offensive producer, his elite defending combined with the ideal physical profile make him a worthy top 10 pick. If he can take another step as a puck carrier and offensive creator then he could be a big-time player in the NHL.
4. Zayne Parekh, RD — Saginaw Spirit (OHL)
Jordan Harris – Zayne Parekh is the most dynamic defenseman in this year's draft class. His offensive game is so advanced as he's always got a plan when the puck is on his stick. Parekh is the king of deception and misdirection as he will line up his eyesight and hips in one direction getting opponents to chase in that direction before flipping his hips fluidly and cutting up or cutting back against the grain unevaded to the net. Parekh is an excellent passer and playmaker and works the give-and-go to a high level. To top things off, Parekh is a gifted goal scorer who can rip the puck past OHL goalies. At times he can be a bit too smooth to the point where it becomes lackadaisical with the puck. This results in throwing soft no-look passes directly to the other team or allowing the puck to fall off his stick as he wasn't careful enough with it.
Defensively, Parekh is aggressive and effectively breaking up passes through the neutral zone. He times his pinches well forcing turnovers that he can immediately convert into offensive chances. He's improved as a defender against the rush, but in his own zone, we'd like to see him play a bit harder.
Overall, the excellent skating and offensive instincts and traits are incredibly valuable that you will accept some of the warts with his game because the good is too rare to find elsewhere.
David Saad – It's no secret that Cole Eiserman has the best shot in this draft class. It's powerful, accurate and given time and space, is nearly guaranteed to be a given goal. Eiserman has found particular success on the power-play, where he can take full advantage of the extra ice to punish any PK unit that doesn't give him his due respect. This alone is likely to see him land quite high on draft day as his release is NHL-ready. Seeing Eiserman playing trigger-man on an NHL team's first PP unit is not far.
However, when you zoom away from his core strength, Eiserman carries with him a few key flaws. Particularly, he's got a lot of work to do in his skating. While effective off the rush and in odd-man opportunities, he lacks the edgework and explosiveness to create separation from defenders who focus on him. His weak stride also doesn't make him much for a forechecking threat and far too often, leaves him behind play which leads to penalties taken. His playmaking is currently underutilized as pucks tend to end up behind the net or frozen shortly after receiving the puck.  
Going forward, Eiserman will need to develop some extra layers to his game in some way. Whether by improving his passing game, skating, or defensive ability; Eiserman needs to evolve his game to match his current reputation as an  "elite prospect". Fortunately, he has plenty of time to do so.
6. Konsta Helenius, C — Jukurit Helsinki (Liiga)
Anni Karvinen – Konsta Helenius is a highly skilled playmaking center whose game is built around intelligence and a profound understanding of the game. He can create offense in multiple ways. His passing is accurate and well-timed and he's got a sneaky good shot as well. However, Helenius truly excels when he takes control in the offensive zone, skillfully dangling through opponents and uncovering unforeseen passing or shooting lanes. This allows him to not only capitalize on scoring opportunities but also to create space for his teammates, as his skillset attracts the opponent.
Helenius can dominate shifts which is remarkable for any draft-eligible player in Finnish Liiga, let alone for a  5,11'', 176 lbs  center. He can control the game because of his vision and quickness. He anticipates plays before they happen and gains an edge against the opponents with his positioning. Quickness in his game doesn't only mean his great skating but the level he can process the game and find advantage in that way as well.
Playing in Finnish Liiga, Helenius faces professional competition in every game. Impressively, he doesn't shy away when playing against players who are almost without exception physically bigger. His playing style is physically engaged and he doesn't avoid going to the net or laying hits.  Overall Helenius has good tools but it is his vision and understanding of the game that makes him such an exciting prospect.
7. Berkly Catton, LW/C — Spokane Chiefs (WHL)
Luke Sweeney – Berkly Catton has been flashing the electric skill that made him a former first-overall pick in the WHL Bantam Draft all season long. What immediately jumps off the screen is Catton's puck control. Catton has an effortless first touch, seamlessly blends puck receptions into movements without losing speed and can use his control to patiently protect the puck or to just dangle around his opponents at high speed. Catton's offensive awareness and scanning habits are also highlights, which he uses as an asset to find time and space for himself or his teammates. Coupling this awareness with an excellent passing game makes Catton an elite passer in the WHL, completing highlight-reel passes with regularity.
In fact, most of the other elements of Catton's offensive game stand out as well. Catton's snapshot is technically strong with a quick release that helps him beat goalies from short and middle distances. While not overly powerful, his strides are also quick and technically sound, which he partners with lateral crossovers to generate a ton of speed in the NZ.
While he plays with enough pace and skill offensively to be worthy of a look in this year's top ten, this pace doesn't translate to the other side of the puck. Catton has shown an active stick and an understanding of passing lanes in the NZ, but Catton can often look lackadaisical in his own end, losing his checks and net battles. This is especially apparent on backchecks where he frequently shows little-to-no effort. While his speed, smarts, mobility and active stick show potential for Catton's defensive game, his effort away from the puck is a big area of improvement for an otherwise uber-skilled forward.
8. Cayden Lindstrom, C/LW — Medicine Hat Tigers (WHL)
Hadi Kalakeche: Lindstrom has been showing up all over the place on different draft boards, and for good reason: it's quite hard to get a grasp of his true upside.
Physically gifted and willing to use it, Lindstrom is incredibly disruptive along the boards, competes hard on every puck, and does a lot of little things right. From his tendency to cut to the middle off the rush, to his hard back-checks, to his ability to take each puck in stride without needing to slow down, there are many details of his game that scream "NHL". On top of that, his skating is polished and he has no problem carrying his large frame on 200 feet, with or without the puck.
Early on, we probably would have ranked his playmaking as a below-average tool. However, we've seen incremental growth in his ability to draw pressure in and dish the puck through it, to go along with the refined goal-scoring and stickhandling mechanics. His ranking at 10th overall on our early board is a bet on that incremental growth continuing, and if it does, Lindstrom could develop into something special.
Hadi Kalakeche: If you only look at Brandsegg-Nygård's point totals so far this year in the Allsvenskan, Sweden's second division of pro hockey, you'll miss a lot of what makes him our 9th-ranked prospect in our preliminary rankings. His three points in 15 games don't really scream "top-10 pick", but his skillset absolutely does.
Above all, the Norwegian winger plays with intensity and defensive reliability. He reloads above pucks to remain engaged in offensive zone turnovers, blasts through center ice to chase down loose pucks when they pop out, and protects pucks well along the boards. Beyond his off-puck savvy, which extends into offensive scenarios, he has a hard release with an unlocked top arm which has been giving Allsvenskan netminders a look behind their backs, but the bounces haven't come yet. The same goes for his teammates; he can set them up in great areas with a combination of vision, poise and a wide arsenal of passes, but until recently, they would lack that finishing touch. As the bounces start coming, so will the production — regardless, the skillset and very mature game could lead Brandsegg-Nygård to be among the first from this class to break into the NHL.
David Saad – Coming off of an amazing D-1 in Green Bay, Levshunov has taken the NCAA by storm. As a 17-year-old, Levshunov is currently tied for 5th among scoring for defensemen across the NCAA, and his current point-a-game clip is on pace to be something that has not been emulated since the early 1980s. Watching him, it's not hard to see why. He's a natural triple-threat, able to punish opposing defences with his great mobility, playmaking and shot. The former two being particular strengths in his game, Levshunov is simply fantastic on the puck.
However, what's made him so successful at the collegiate level has to be his athletic IQ. He's very calculated in how he controls his body, always planning ahead so as to take not only the most effective but also the most efficient course of action. It's a tough balancing act and at times leads to Levshunov being less engaged defensively or making a bone-headed decision, but it does wonders for his NHL translatability. It's very hard not to foresee, at minimum, a top-4 NHL job in his future.
11. Anton Silayev, LD — Torpedo Nizhny  Novgorod (KHL)
Sebastian High – Silayev lit up KHL scoresheets for the first month of the season and garnered a fair bit of attention, but we remained skeptical. It wasn't until his production dried up that we started logging viewings sparking enthusiasm. While he remains very raw, especially for a defenseman playing in the KHL as a draft-eligible, his tools are rather unique and the ceiling is high. Silayev covers a ton of ice, needing only three or four strides to cross the neutral zone. While he's a bit wonky on his skates and rarely looks graceful, he uses his skating very effectively on both sides of the puck.
Defensively, Silayev relies on his extraordinarily long reach and powerful strides to close gaps quickly and very aggressively. Early in the season, he regularly over-committed, leading to odd-man rushes against, and while he can still be aggressive to a fault, this element of his game has improved significantly in our viewings. With the puck on his stick, Silayev flashes above-average passing mechanics and vision, which allows him to be a positive impact in the breakout, defaulting to stretch passes and give-and-go's. That said, his decision-making both with and without the puck and his composure remain real works in progress, which ended up being the deciding factor in our debate between him and Levshunov at 10.
12. Igor Chernyshov, LW — Dynamo Moscow (KHL/MHL)
Hadi Kalakeche: Chernyshov's MHL tape is just unfair. He bullies opponents along the boards, easily strips them of possession, and makes small-area passes to open teammates with an ease and accuracy that leaves his opponents scrambling to keep up. Once in open ice, especially after three of his large strides, he can't be caught.
In the KHL, much of the same remains, but he has also shown a whole lot of adaptability despite the limited ice-time. When he can't out-muscle and out-speed his opponents, he has shown some glimpses of an off-puck game that helps him support his teammates' routes. He tracks back, finds his check, and sticks to him. He's still fairly raw, with a toolkit that sees him use a lot of his individual tools in a not-yet-cohesive way, but the top-six upside is evident.
Anni Karvinen – Aron Kiviharju was one of the earliest names to pop up from this draft class, and for a good reason. He'd been playing with older age groups, producing well and showcasing some highlight-reel-worthy skill. Despite making his debut in the Liiga at just 16 years old, his development has encountered some setbacks. He's been battling some injuries and having some difficulties in translating his offensive game to the Liiga level. It's fair to point out that he hasn't gotten a lot of power play deployment that could have helped him to elevate his offensive game.
Despite these challenges, Kiviharju's strengths remain evident. He thinks the game on a level only few can. He anticipates plays exceptionally well and makes smart decisions with and without the puck. He's a great passer and has showcased strong, deceptive playmaking skills on the blueline on a junior level. His defensive game relies heavily on his stick work and the physical side of the game is something he really needs to work on. That said, it's a rare occurrence that a defenseman can play significant Liiga minutes in his draft year so it's safe to say the potential is imminent.
14. Adam Jiricek, RD — HC Plzeň (Czech Extraliga)
Sebastian High – Jiricek has struggled this season, hesitation has plagued his on-puck game in our viewings and the flashes of confidence and offensive play-driving he showed at the Hlinka over the summer have been few and far between in league play this year, both at the pro and U20 levels. That said, his tools forced our hand in keeping him inside our top 15. Few sub-160 lbs players are as vicious on a shift-to-shift basis as the younger Jiricek, his physicality is already a clear strength so once he adds 30-40 lbs to his frame, he's going to be a scary sight.
He uses his physicality intelligently too, always looking to separate player from puck. He covers a lot of ice despite his awkward stride mechanics and his strong edgework allows him to fluidly redirect his momentum, allowing him to physically adapt very quickly, but his anticipation doesn't yet allow him to fully weaponize this tool. When he's confident and making quick decisions, Jiricek has all the tools to become a capable two-way #2 or #3 defenseman, but questions remain for us. Most of those pertain to the mental side of the game. From missing secondary scoring threats to becoming a deer in the headlights under pressure while stationary, Jiricek has a few hurdles to overcome, but we have seen enough flashes to believe that there is a real chance he does so.
15. Nikita Artamonov, RW — Torpedo Nizhny  Novgorod (KHL)
Graham Montgomery – Nikita Artamanov is the definition of 'he's got that dog in him.' He is often the hardest-working player on the ice, getting stuck into battles with men twice his age playing in the KHL. His tenacious presence on the forecheck often leads to turnovers which he quickly turns into scoring chances with accurate passes. He is a legitimately dangerous playmaker thanks to his precise puck handling and ability to get passes through lanes. He also has a strong understanding of space and timing, particularly in the offensive zone. This puts him in a good position to score on a regular basis although his finishing is only about average. His strong work ethic allows him to overcome an inefficient stride that ultimately limits his top speed. That being said, improvements in his skating technique could unlock more upside in transition.
16. Luke Misa, C — Mississauga Steelheads (OHL)
Jordan Harris – It doesn't take long for your eyes to gravitate towards Luke Misa when watching the Mississauga Steelheads play. He's the small, feisty forward with speed to burn, and is relentless in pursuit. Misa is at his best as a puck transporter and distributor as he's excellent in transition and setting up teammates with passes once he gains the offensive zone. He is a very effective playmaker making passes from behind the net as well and off the half wall.
Despite his small frame, he will win puck battles by using his speed and competitiveness. Misa is supremely tenacious and will backcheck hard to try to force as many turnovers as he can. Once he forces a turnover, he scans quickly to find outlet passes and flip the ice in his team's favour. Misa's shot is just okay and probably needs more to score consistently at the next level. Combine that with poor size and just good skill and this is probably what separates him from a player like Zach Benson in 2023. Still, despite the small frame, players who skate and compete like Misa find ways to make the NHL and stick for a long time, even if it's not in a top-line role.
17. Ryder Ritchie, RW — Prince Albert Raiders (WHL)
Luke Sweeney – Ryder Ritchie looks to be the third WHL player off the board this year as another quick, skilled forward. Ritchie has very quick feet and hands with excellent puckhandling posture, making him an excellent puck carrier. Especially when given time and space to attack downhill, Ritchie is particularly adept at using those hands to find the middle of the ice for high-quality chances. Ritchie is also an effective positionally-focused player, using great puck spacing and support in all three zones and prioritizing strong body positioning before establishing puck possession.
The next steps for Ritchie will be improving his standstill explosiveness and checking lanes (which hinders his ability to win puck battles) and adding more layers of deception to his playmaking. Ritchie has a good read of where his options are but too often telegraphs his intentions, making many of his passes unnecessarily risky. If Ritchie can improve in these areas and continue to develop, he could challenge Catton and Lindstrom for a top WHL draft-eligible.
18. Tij Iginla, LW — Kelowna Rockets (WHL)
Luke Sweeney – Though the scoring has dried up somewhat from his red-hot start, Tij Iginla still looks like an interesting prospect. Besides the name pedigree, Iginla is an easy player to root for. His habits away from the puck are a definite strength, from his frequent scanning, active stick, good forechecking routes and hard-nosed backchecking. Iginla's best skills seem to be in slowing the play down to give him space or finding soft spots on the ice. He gets off the wall to the middle quickly, and can also drift into high-danger areas, and when paired with his lightning-quick snapshot, makes him a dangerous goal scorer.
Though his skating isn't elite, he's got quickness, stability and mobility which helps him be a solid transition player, though they're more useful off the cycle, where he is just as effective, solving problems and playing a possession game. Iginla might lack the high-end dynamism of some of the other WHLers in this class, but his combination of all-around skills and pro-level habits make him a good bet to be a contributing NHLer.
19. Trevor Connelly, LW — Tri-City Storm (USHL)
Hadi Kalakeche: Connelly plays with unmatched confidence. He constantly tries to take on opponents one-on-one, pushes through checks with shoulder drops and great puck placement, and always goes for the throat with his offensive zone incursions. A major difference between Connelly last year versus this year, is that he is trusting his teammates a lot more to complete his plays. As a result, his playmaking game has grown and he has adopted a distributor role that fits his skillset better than the finisher role he was trying to force last year.
Despite the absurd skill level, there are some worrying setbacks in Connelly's game. His defensive game is lacklustre; his motor is very inconsistent, and there have been major questions regarding his character that will likely have some teams very hesitant to bet on his upside, no matter how high it is. Developing a more mature game and showing whoever picks him that he can improve will be essential if he is going to reach his top-line ceiling.
20. Terik Parascak, RW/C — Prince George Cougars (WHL)
Hadi Kalakeche: Scoresheet-wise, there is so much to love with Parascak. He is clicking at a goal per game and 30 points in 18 matches played as of writing this. Beyond the point totals, however, what makes Parascak so interesting is the way he puts up those points.
A vast majority of the points he has produced so far have come from the low slot and off one-touch plays, which seems strange at first given how poor his skating is. He shouldn't be beating players to dangerous ice so consistently with that skating stride, and yet, he always is. That's a testament to how intelligent Parascak is, both on and off the puck. Perfectly-timed inside cuts, one-touch passes and net drives put him and his teammates in prime scoring real estate almost every shift, and he has also improved his long-range scoring to complement his short-range threat. Starting from scratch with a skating coach could unlock so much potential in Parascak's game as a two-way forward.
21. Zeev Buium, LD — University of Denver (NCAA)
David Saad – With all the hype in the NCAA regarding Celebrini and Levshunov, it's easy to forget Zeev Buium is playing there as well. A shame, because he's been fantastic since arriving. His trademark mobility is as present as ever and is now employing multiple layers of deception at multiple levels. Whether it's his evasiveness in transition or his speed on the rush, very little can keep Buium from where he wants to go on the ice. His passing game is remarkable, as he is able to identify soft ice regularly even at this intermediate level.
However, a lot of this was already well-documented, what isn't is how well he's evolved defensively as well. He has become much better at anticipating play, and become a rather proficient stick-checker as well. When he is being beaten, it's usually a matter of pure athleticism as he is playing exclusively against older, bigger men, a task hard enough before his relatively slim 5'11, 165lb frame is considered. He has plenty of time to get there, and he looks plenty impressive as is. If he continues on this path, he can make his placement on draft day a very difficult conversation.
22. Tanner Howe, LW/C — Regina Pats (WHL)
Hadi Kalakeche: With Connor Bedard having graduated to the NHL, Howe was expected to step up and take a bigger role with the Regina Pats this season. And boy did he ever.
The undersized winger is now the captain of his team at 18 years old, and by far their leader in production and overall on-ice impact. His 28 points in 21 games so far with the Pats place him five points clear at the top of the team's scoreboard. Often their lone forward when defending a 5 on 3 power play, often out in the last minute of the game to win a key faceoff or defend the lead, Howe is the go-to guy in Regina in defensive situations as well.
With solid skating, a high-end motor and surprisingly good board battle mechanics, Howe always outworks his opponents along the boards. His puck skills need refining, but he should easily work his way into an NHL middle six in the near future.
23. Sacha Boisvert, C — Muskegon Lumberjacks (USHL)
Hadi Kalakeche: Boisvert is an interesting profile. Most of his points early on this year came off of high-skill plays, but ones that aren't quite repeatable. As his highlight-reel plays decreased, however, his game got more nuanced and scout-friendly.
The Lumberjacks forward has some clear weaknesses —  the lack of knee bend in his skating holds him back as he struggles to cut back against pressure and get involved in offensive transitions, and his defensive game falters as a result as well — but the upside is there. He makes plays in-stride, identifies his next play early, and knows when to let on-ice scenarios develop instead of rushing his ideas. He then executes well with a solid shot, great hands and adept passing skills. If he gets drafted to a team with a track record of improving their prospects' skating strides, expect considerable growth out of Boisvert.
24. Cole Hutson, LD — USNTDP (USHL)
Sebastian High – Cole Hutson has been the most dichotomized prospect in our viewings so far this year. Offensively, he flashes brilliant skill, combined with advanced anticipation, creativity, deception, and processing speed. On the other hand, his defensive play has turned a fair few hairs on our heads gray already. His loose gap control, very inconsistent defensive scanning both against the rush and the cycle, and perception of secondary scoring threats have all plagued our early viewings and contributed to his fall outside our top 20, despite the elite skill in a class lacking just that.
Hutson loves having the puck on his stick and is upstaged only by James Hagens among USNDTP puck carriers this year. His on-puck toolkit is even more dynamic and refined than Lane's was in his draft year, featuring far more fluidity in his skating, a significantly higher top speed, and the offensive aggression that his brother only fully leaned into when he hit the NCAA. Hutson could easily rocket up our board with increased consistency in his play and a bit of polishing on his defensive game as the season progresses, but for now, he falls at 24.
25. Matvei Shuravin, LD — Krasnaya Armiya Moscow (MHL)
Graham Montgomery – Not many draft-eligible players play with the kind of poise and confidence Shuravin does when they are playing against grown men in the second-best league in the world. Physically, he is very raw. He has the height teams look for in a defenseman, but he's wiry, and many of his tools are awkward and still developing. His confidence and hockey sense allow him to make up for his below-average puck skills. He manages gaps well and positions himself correctly more often than not. This combined with his smooth skating and willingness to engage physically gives him a solid foundation as a defensive defenseman. His hands will need to catch up to his brain in order to establish a more dominant two-way game, but he's shown strong instincts offensively.
26. Beckett Sennecke, RW — Oshawa Generals (OHL)
Jordan Harris – Every season there's a prospect that looks wonky on the ice and you find out they grew about five inches in the last two years. This year that prospect is Oshawa's Beckett Sennecke. Sennecke now boasts great size at nearly 6'3" and 181 lbs and combines that big frame with excellent skill and hands. Sennecke is really creative and will try just about anything to make a play. Some of his slick dangles can be shown on a highlight reel, while others fall off his stick, but he's experimental in his approach to see what works in the current league he plays in.
Sennecke is a very competitive player on the forecheck. He'll do just about anything to try and strip the opposing defender of the puck, however, there doesn't seem to be the same urgency on the backcheck or within his own zone. Sennecke's skating is a bit below average, however, this is expected given the recent growth spurt and should improve in time. Sennecke isn't a complete prospect at this stage, but the skill, creativity, and size combination is very impressive. He could have a big finish to his season if things start to click for him.
27. E.J. Emery, RD — USNTDP (USHL)
David Saad – A surprise standout of the NTDP, Emery has made a name for himself for doing a lot with a little. A reliable and towering presence on the backend, Emery has shown great aptitude for being a shutdown defenseman; especially when it comes to defending the rush, his anticipation combined with his superior speed and size make him a tough wall to climb. But what sets him apart from the similarly styled members of his team is his play on the puck. It isn't uncommon to see Emery intercept a pass from an opponent and immediately create a breakout the other way. He also has flashes of skill that indicate there may be more offence to show, but his lack of ice time so far leaves them as flashes. If he can get time playing next to someone like Cole Hutson, don't be surprised if he skyrockets.
28. Liam Greentree, RW — Windsor Spitfires (OHL)
Hadi Kalakeche: Greentree's season has gone impressively well so far for the Spitfires, with 11 goals and 13 assists in 15 games to start off the year. A lot of his points have come off of one-touch plays off the cycle, but the occasional off-the-boards play while protecting the puck shows the potential for more, especially with his 6-foot-2, almost 200-pound frame.
A rifle of a shot and a knack for finding soft ice away from the puck allow Greentree to make the most out of his scoring chances. His playmaking shows up in flashes which follow his inconsistent scanning, and the skating holds him back from being able to jump into offensive zone transitions consistently, but the upside as a middle-six scoring winger with power-forward elements will likely see him go higher on draft day than we have him.
29. Andrew Basha, LW — Medicine Hat Tigers (WHL)
Hadi Kalakeche: Basha has been hiding in fellow Tiger Cayden Lindstrom's shadow at times this year, but he more than deserves his flowers. An exceptional skater who consistently explodes out of the defensive zone with the puck on his stick, Basha has been getting more and more comfortable jumpstarting those breakout opportunities with defensive mapping, anticipating play well and positioning himself proactively in his own zone.
On the puck, there are some limiting factors. Although his brain more or less keeps up with his feet, his hands aren't yet there. He struggles to handle the puck off reception, and doesn't have the shooting mechanics off-stride figured out yet. The upside if he can get his hands up to speed is interesting, but his versatility could see him become a bottom-six transition force with or without progression in that area.
30. Henry Mews, RD — Ottawa 67's (OHL)
Jordan Harris – My opinion of Mews has changed several times since the start of last season. I see a prospect with good tools who doesn't do nearly enough with them. He shows flashes of a strong offensive defenseman, especially with his good hands and shot. Other times he seems to play it a bit safe and doesn't activate as much as he could. Mews skates quite well, but you'd really like to see him push the pace of play more often. He has the ability to take over some shifts but hasn't all that much. Mews doesn't have many weaknesses as he's fairly solid across the board.
Time will tell what kind of prospect Mews can be. If he puts everything together, he projects as an average-sized two-way defenseman who can play on a power play. If he's more of a safe, steady player, I don't think the physical build and tools combo are enough to warrant a much higher ranking than where he is currently. Overall, I still like Mews a lot and I hope he can be the dynamic player I think he's capable of being.
31. Cole Beaudoin, LW/C — Barrie Colts (OHL)
Sebastian High – Beaudoin lacks the flash of some of the other OHL talents ahead of him on our board, but snuck into our top 32 for his composed defensive play, effective use of physicality, and strong mid-slot and bumper play. He can play a fairly linear style, rarely using lateral movement and lane switches to create off the rush, preferring to delegate the bulk of the work in transition to his linemates while he crashes the slot. His snapshot is a good tool, especially on the powerplay. He's already a leader on Barrie, too, wearing an "A" and commanding his teammates before important faceoffs. While there may not be any top 6 upside in Beaudoin, we see a projectable and valuable potential bottom six-piece in Beaudoin, with PP and PK value.
32. Emil Hemming, RW — TPS (U20 SM-sarja)
Anni Karvinen – Emil Hemming is a shoot-first winger with good tools. He skates well and has a powerful stride, he's a quite skillful puck handler and most notably, he's got a wicked shot. Hemming can be a lethal scoring threat as he excels at finding soft spots where he can utilize his shot. He's also a responsible two-way player who can read plays fairly well in the defensive zone.
What sets Hemming apart from the top forward prospects right now is the lack of variety in his game in the offensive zone. He consistently opts for a shot in every situation, allowing opponents to anticipate his moves. He could elevate his offensive game to the next level by starting to pass the puck more and making his game a bit more unpredictable. He could also develop his game by exploring deceptive plays, as his current tendency to skate predictably between the blue line and right circle makes it easier for opponents to read his intentions and optimize their defensive approach.  Another key area for Hemming's development is composure, right now he tends to make hasty plays when playing under pressure.
Honourable mentions:
Hadi Kalakeche: Will Skahan, LD — USNTDP (USHL)
A rangy monster of a defenseman with solid gap control and an aggressive mindset in his own zone, Skahan loves to punish opponents physically. The decision-making, however, keeps him out of our first round for the moment. Rushed passes, miscalculated risky pinches at both ends of the ice, and a tendency to accumulate turnovers are issues that we'll continue to monitor as the draft year rolls on.
Sasha Lagarde: Carter Yakemchuk, RD — Calgary Hitmen (WHL)
Carter Yakemchuk is a big, rangy right-handed defenseman with a combination of size, aggressiveness and offensive potential.  Yakemchuck loves to activate in transition, often carrying the puck and relying on short and efficient passes to move the puck down the ice. His above-average skating is evident in the way he can move around the offensive zone, in particular on the powerplay, where he strives. That being said, with the good comes the bad with Yakemchuk. There have been a lot of inconsistencies in his game and tends to get tunnel vision when carrying the puck. In sustained pressure situations in the offensive zone, he often will shoot from all areas regardless of the quality of shot offered by his opponents. Furthermore, his defensive game as a whole needs quite a bit of refinement. Yakemchuk has some gap control issues and gets away with his inefficient pivot mechanics by using his reach to break up plays. There is a ton to like about Yakemchuck's potential offensively, but this comes with some baggage on the back end as well as some 1 dimensional play in the offensive zone at times.
David Saad: Michael Hage, C — Chicago Steel (USHL)
Coming off of an injury that had him miss out playing with a stacked Chicago Steel team featuring Macklin Celebrini, Jayden Perron and Zam Plante among others, Hage has inherited a completely different, much less skilled and much less experienced team. Touted as a cerebral two-way forward in his D-1, Hage has been trying to take the brunt of Chicago's offence on his shoulders to … mixed results. More often than not Hage can be found cheating for offence, falling behind on plays and struggling to think on his feet. However, the moments where things click are usually spectacular. Hage is an insanely talented dual-threat who has 1v5 jaw-dropping skill, but to stay in the first-round conversation, he will need to figure out how to tap into that skill more consistently.
Luke Sweeney: Clarke Caswell, LW — Swift Current (WHL)
At a point-per-game, Clarke Caswell currently sits seventh among draft-eligible scorers in the WHL. Not possessing an explosive stride, powerful shot, or dynamic style, Caswell makes his living as a shifty playmaker. Caswell's offensive awareness is high, taking the middle of the ice with expert timing and spacing on his own net drives, while identifying and hitting his teammates with dangerous passes, making him one of the best playmakers in this year's WHL crop.
Sebastian High: Ondrej Kos, LW — Ilves (U20 SM-sarja)
What Ondrej Koš lacks in flair and dynamism, he makes up for in intelligence, anticipation, and stellar defensive play. He was among the most impressive defensive players (not just forwards) at the Hlinka-Gretzky in our viewings and has kept it up in league play in Finland. He has the makings of a future bottom-six and PK winger if his development trajectory continues at its current pace.
Sebastian High: Leo Sahlin Wallenius, LD — Vaxjö (J20 Nationell)
Sahlin Wallenius is a mobile and composed puck-moving defenseman, who at his best activates comfortably off the rush as a fourth attacker, exploiting defenders' blind spots, and using his routes to stretch defensive structures. With the puck on his stick, Sahlin Wallenius makes quick decisions under single-variable pressure and uses his mobility, handling, and anticipation to solve problems. He has real riser potential for our next rankings, but we've not quite seen enough of the dynamic skill he flashes to bump out any of our final few top 32 players.
Anni Karvinen: Veeti Väisänen, LD — KooKoo (Liiga)
Veeti Väisänen is a mobile two-way defenceman who's got all the characteristics you want to see in a reliable defenseman who manages both ends of the ice. He's got good gap control and positioning. He usually opts for the simple, well-executed pass but doesn't shy away from activating in the offensive zone if the situation calls for it. He has good situational awareness which has allowed him regular Liiga minutes as a defenseman which is always noteworthy for a draft eligible.
Sasha Lagarde: Maxim Massé, RW — Chicoutimi Saguenéens (QMJHL)
Maxim Massé is considered the top player in the QMJHL due to his ability to generate offence using pure skill and compete. Although his skating lacks explosion and high-end top speed, Massé understands pacing very well and adapts to whatever develops in front of him. His best tools are his shot and creativity in the offensive zone, especially during sustained pressure situations. However, It was obvious through our viewings that Massé has been producing despite his ability to collect information through spatial awareness habits. Talented players tend to get away with this at the junior level but we need to see a more conscious effort on Massé's part to include pre-scanning as part of his offensive repertoire. This will open up the ice for him to be even more creative while minimizing blind passes and wasteful shooting attempts. As our team has put it, Massé is a high-level junior player who needs to refine certain aspects of his game in order to really excel in the pro ranks.
Graham Montgomery: Yegor Surin, RW — Lokomotiv Yaroslavl (MHL)
Surin has been disappointing after he showed 1st round potential last season. Now it may be generous to even mention him here as an honorable mention. However, he still stands out as a persistent offensively-minded player with above-average tools to work with. However, his selfish playstyle is concerning and it significantly limits his effectiveness.
Colin Hunter: Ryerson Leenders, G — Mississauga (OHL)
Leenders has had a real breakout to start this year. His strong play in combination with the faltering of some of his peers has made him the top goaltending prospect for the 2024 draft thus far. The hallmarks of Leenders' game are his strong hands and processing abilities. These, in combination with a reasonable technical base and athletic ability, give him the ability to stay ahead of the play and make out-of-the-box saves when called upon.
LATEST RADIO & DRAFTCASTS