QMJHL Update: November 2023
Sean Crocker
2023-11-11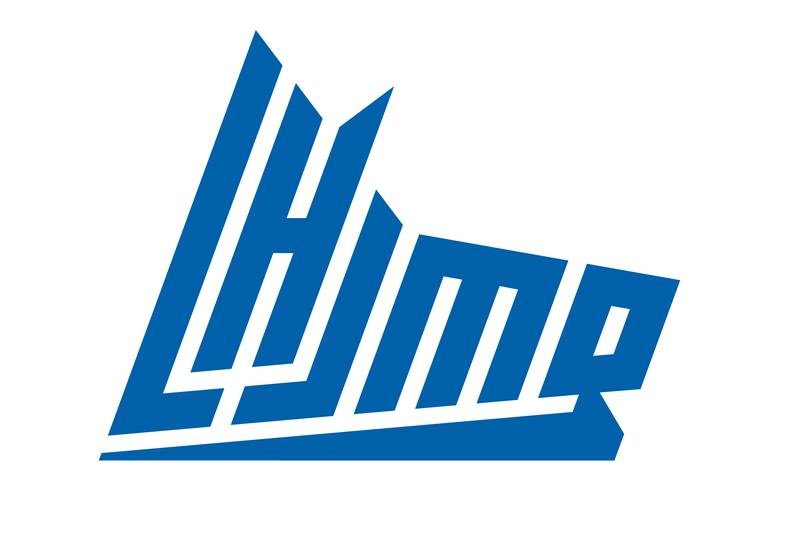 ****
Welcome to November's QMJHL Update! It has been a hectic first month of QMJHL action which has seen the balance of power shift significantly in recent weeks. 
*
On the most recent CHL top ten rankings, the Q had four representatives on the list headlined by the Halifax Mooseheads at number one, the Rouyn-Noranda Huskies in fifth, followed by the team first in the league, the Baie Comeau Drakkar, and the Moncton Wildcats holding down the tenth spot on the list. 
The Mooseheads have had a resurgence of late with the return of players from NHL training camps among the likes of Jordan Dumais, Mathieu Cataford, and Mathis Rousseau (who even scored a goal!)
The Huskies entered the season as favorites to capture the championship through the QMJHL draft acquiring players among the likes of William Rousseau, Antonin Verreault, Andrei Loshko and other pieces that will help them contend now. 
Moncton and Baie Comeau are in a different boat. The teams clashed in a nasty first round series last year and appear to be on a collision course once again to face each other down the line, as they sit one and two respectively in the Eastern Conference standings. 
After a wild first month of junior hockey, we finally have a larger sample size to reference when evaluating the players and how they figure to impact the league. Most notably, undrafted players past their initial draft year have been tearing up the league and leading the way.Today we will delve further into those players and analyze what their professional futures may look like as they are offensive contributors now and could appear on fantasy owners' radars come time for them to ink their first professional contracts. 
*
Antonin Verreault – Rouyn Noranda Huskies
Verreault's career in the QMJHL has been overshadowed by injuries and has not hit the point-per-game threshold in his career… until now. After returning from injury last season with the Gatineau Olympiques, he played a key role in the team's offence. He has carried the momentum into this season where he has 11 goals and 26 points through 17 games. 
The Huskies spent major draft capital last summer to land marquee contributors like Verreault, and the new scenery has done wonders for his production. His spatial awareness is strong and he has put an emphasis on becoming more elusive in the offensive zone. He uses this space but never needs excessive time to create a play. He received a look at Edmonton Oilers camp this past fall, but still needs to add weight to his 5-8, 163 pound frame. He could become an offensive contributor at the NHL level in a few seasons' time if an NHL team takes a chance. The tools possessed are factors that will help Verreault to become an explosive talent in the American Hockey League and will have the rest of the season to showcase this on the contending Huskies. 
*
Yoan Loshing – Moncton Wildcats
Loshing joined the Wildcats organization following a year cut short by the pandemic which the team had arguably iced their greatest roster in team history. Loshing had big shoes to fill with departing stars like Jakob Pelletier, Benoit-Olivier Groulx and co. The 12th overall pick in the 2020 QMJHL Draft took a bit to break through as the top player on the Wildcats. Last season, he posted 33 goals and 63 points leading into this season where the center is on pace to smash his career highs and eclipse the 50 goal mark. 
Loshing has plenty of tools that pass the traditional "eye test" for NHL scouts and executives. He has a strong first step with his skating and can use this to create chaos in the offensive zone. On top of this, his shot is the most impressive component to his game where he is a threat to shoot from anywhere on the ice as well as in the bumper on the powerplay. 
Loshing attended Colorado Avalanche training camp in September, which bodes well for interest in the NHL. His tool kit will allow him to be a contributor in the AHL relatively soon, if not right away if used in the proper role as a scoring forward. If given the opportunity, Loshing could find his way onto an NHL roster and one day become a depth offensive contributor if not a key piece on a power play. 
*
Charles Boutin – Gatineau Olympiques
Of all the players in this feature, Boutin intrigues me the most. He is on his third team in four seasons, and his production has never been above 0.66 points-per-game. He has never surpassed the 35 point mark, becoming a key defensive contributor. This season in Gatineau, the opportunity is there to produce. 
It is evident how the Olympiques feel about this player after acquiring him from the Cape Breton Eagles over the summer as he has been a mainstay on the team's top line center role. Set to more than double his previous highs in production, Boutin is a candidate for regression following the season in offensive categories, putting a damper on how fantasy managers view this asset. His responsible 200-foot game will be an asset for any NHL team to bring him into their organization, but his fantasy ceiling will be capped as a bottom-six contributor if he makes the show. 
*
Milo Roelens – Acadie-Bathurst Titan
Roelens is a player similar to Boutin where he has not really had the opportunity to contribute offensively until last season. With the Sherbrooke Phoenix, he put up 59 points in 68 games in 2022-23. This season, he is on a much more torrid and sustainable pace with the Titan at 23 points in 17 games. The reason this pace can be more sustainable is he has shown this year, opposed to previous seasons, his offensive toolkit and what he can do when given the opportunity. 
His style is comparable to that of Tage Thompson with his 6-6 frame, but he also has the all-around ability and awareness to utilize his size. 
He has been a consistent offensive contributor this season and could continue to tear up the Maritime Division for a Titan team looking to rebound after missing the playoffs last season. 
His frame and ability to use it could vault him to the professional ranks. NHL organizations looking for size down the middle will have an option with Roelens but it is the ability to generate offence and a strong hockey IQ to go with that which make him a strong candidate to earn a contract next fall. 
*
Tommy Cormier – Victoriaville Tigres
Cormier's rise to relevance has come as a bit of a surprise to QMJHL scouts. He was selected in round 14 of the 2019 QMJHL Draft and has steadily risen to become one of the most dangerous offensive weapons in the league. 
After a sudden jump to 40 goals and 85 points in 2022-23, Cormier helped Les Tigres rise back to relevance as they look to contend in a tough western conference this year. Cormier has played no small part with his goal scoring pace slipping to only 30, but his playmaking and vision have helped him develop another asset in his tool box. 
A positionally sound player with strong hockey sense goes a long way to making a player worthy of a professional contract. In spite of his diminutive 5-7 frame, Cormier has the potential to be a strong fantasy contributor if given the chance. While he may not be the one who stirs the drink in the NHL, he could become a great complementary player on an NHL powerplay and a middle-six forward group. 
*
Markus Vidicek – Halifax Mooseheads
Vidicek has always been an intriguing player to me, not based on his offensive ability, but how he manages to generate the opportunities he does while remaining one of the best 200-foot players in the Q. 
The native of Montreal, QC had an opportunity to make his mark while missing primary linemate Jordan Dumais, and he made the most of it, as he has compiled 22 points in 15 games thus far. His advanced IQ allows him to make strong cerebral judgments of the play in front of him, which in turn creates opportunities for his team to attack off the rush. Among the players on this list, Vidicek has been the steadiest riser in point production year over year.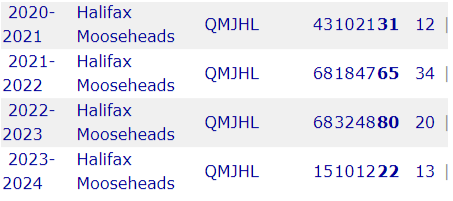 Currently on pace for a career best 44 goals and 97 points, the 5-10 forward should get some looks from NHL teams when the season wraps up. His defensive game will not hurt his case to become a full-time player one day, but he likely caps out as a bottom-six forward with upside in the right situation or on the powerplay. 
******
Thanks for reading this month's QMJHL Update on Dobber Prospects! Interact with me on Twitter @Seany_Hockey. Send me a DM or tag me directly on a tweet if you want to talk QMJHL Hockey! Plenty more to come. 
LATEST RADIO & DRAFTCASTS