2020-21 DobberProspects Organizational Rankings: 19-14
Peter Harling
2020-05-31
2020-21 DobberProspects Organizational Rankings
What NHL franchise has the best prospects? That can be a difficult and subjective question to answer.
To give it our best shot, the senior staff at DobberProspects has collaborated to give our personal rankings for each team. With that, we have established a consensus ranking.
Peter Harling (Content Manager) has put together a team consisting of Cam Robinson (Managing Editor), Jokke Nevalainen (Director of European Scouting), Tony Ferrari (Director of North American Scouting), Brayden Olafson (Jr. Associate Editor), and Pat Quinn (Associate Editor).
The process for the final rankings consisted of each writer submitting their team's prospect rankings. Every NHL team scored no less than a top ten prospects. However, to find organizations that have depth as well as quality, we allowed writers to include additional prospects  (up to a top 15) if they felt they were fantasy relevant. Another bonus we awarded teams was if they had roster players under 21-years-old that had established themselves as NHL players, such as Andrei Svechnikov. Players older than 25-year-old were excluded. For the players ranked, they would be scored between 1-10, a ten being a potential franchise player. The total of all the scores determines the overall team score.
This Series of articles will release the results in a count down of 5-6 teams per article, revealing the team's overall score, each writer's score, top prospects, and an overview or outlook of the future.
In case you missed previous rankings you can find them on our Organizational Rankings Page
In the third edition, the count down covers teams ranked 19-14
19 56.9 Columbus Blue Jackets 60.9 52 55.6 56 49 68
18 57.5 Edmonton Oilers 53.6 63 53.4 52 58 65
17 59.8 NY Islanders 47.7 58 51.3 63 68 71
16 62.2 Arizona Coyotes 69.5 53 68 58.5 58 66
15 64.7 Minnesota Wild 71.2 45 71.7 58.5 69 73
14 65.7 Philadephia Flyers 54.1 74 62.7 60.5 66 77
19. Columbus Blue Jackets – 56.9
Brayden – 60.9
Peter – 52
Tony – 55.6
Cam – 56
Jokke – 49
Pat – 68
Prospect Depth Chart
| | | |
| --- | --- | --- |
| Left Wing | Center | Right Wing |
| Jakob Lilja | Liam Foudy | Kirill Marchenko |
|   | Dmitry Voronkov | Trey Fix-Wolanski |
|   | Tyler Angle | Marcus Karlberg |
|   | Kevin Stenlund | Maxime Fortier |
|   | Calvin Thurkauf | Kole Sherwood |
| | Ryan MacInnis | |
| Defensemen | Goaltender | Defensemen |
| Gabriel Carlsson | Danil Tarasov | Eric Hjorth |
| Tim Berni | Veini Vehvilainen | Andrew Peeke |
|   |   |   |
|   |   | |
Top Ten Prospects
Other Players who Received Votes
Gabriel Carlsson, Calvin Thurkauf, Tim Berni, Kole Sherwood
Roster Players 21 and Under
Emil Bemstrom, LW – Alex Texier, RW
Overview
Having Bemstrom and Texier as bonus graduated players helped push the Blue Jackets up the rankings slightly. The top prospect was a split between Foudy and Marchenko, with the Russian slightly edging out the speedy Foudy. Columbus was forced to push some prospects through faster than they may have wanted with some off-season turnover last summer and a rash of injuries that forced some of their kids in as emergency call ups. Missing on some first-round picks (Kirby Rychel, Sonny Milano, and Gabriel Carlsson) in combination with not having first-round picks in 2017 and 2019 has left the pipeline a little dry.
18. Edmonton Oilers – 57.5 
Brayden – 53.6
Peter – 63
Tony – 53.4
Cam – 52
Jokke – 58
Pat – 65
Prospect Depth Chart
| | | |
| --- | --- | --- |
| Left Wing | Center | Right Wing |
| Tyler Benson | Ryan McLeod | Jesse Puljujarvi |
| Ostap Safin | Aapeli Rasanen | Raphael Lavoie |
| Ryan Kuffner | Maxim Denezhkin | Kirill Maksimov |
| | | Cooper Marody |
| | | |
| Defenseman | Goaltender | Defenseman |
| Philip Broberg | Stuart Skinner | Evan Bouchard |
| Dmitri Samorukov | Ilya Konovalov | Ethan Bear |
| Caleb Jones | Olivier Rodrigue | |
| | Dylan Wells | |
| | Shane Starrett | |
Top Ten Prospects
Other Players to Receive Votes:
Caleb Jones, Kirill Maximov, Aapeli Rasanen, Ostap Safin, Dylan Wells, Maxim Denezhkin, Filip Berglund, Cooper Marody, Skyler Brind'Amour, Shane Starrett.
Roster Players 21 and Under.
Overview
Bouchard was ranked number one by five of six and the big defenseman has a tremendous offensive upside. The prospect of quarterbacking the Oilers power play in the near future with Connor McDavid and Leon Draisaitl has fantasy owners drooling. The jury is still out on 2016 fourth overall pick Jesse Puljujarvi. Is he a bust, or does he just need to get out of the Oilers system? He produced in Liiga and needs a trade so he can take another shot at an NHL job. Tyler Benson has been developing slowly and surely in the AHL and looks ready to graduate as a solid third line contributor. The Oilers have a serious log jam in goal. The organization has been attempting to address a positional need and has stockpiled half a dozen goalie prospects in hopes that one sticks.
17. New York Islanders – 59.8 
Brayden – 47.7
Peter – 58
Tony – 51.3
Cam – 63
Jokke – 69
Pat – 71
Prospect Depth Chart
| | | |
| --- | --- | --- |
| Left Wing | Center | Right Wing |
| Kieffer Bellows | Otto Koivula | Olliver Wahlstrom |
| Anatoli Golyshev | Ruslan Iskhakov | Josh Ho-Sang |
| Ross Johnston | Jacob Pivonka | Simon Holmstrom |
| Colin Adams | Felix Bibeau | Cole Coskey |
| Blade Jenkins | Reece Newkirk | |
| | Johan Sundstrom | |
| Defensemen | Goaltender | Defensemen |
| Samuel Bolduc | Ilya Sorokin | Bode Wilde |
| Sebastian Aho | Jakub Skarek | |
| Robin Salo | Linus Soderstrom | |
| Mitch Vande Sompel | | |
| Parker Wotherspoon | | |
Top Ten Prospects
Other players to Receive Votes:
Robin Salo, Sebastian Aho, Linus Soderstrom, Jacob Pivonka, Mitch Vande Sompel, Parker Wotherspoon
Roster Players 21 and Under:
Noah Dobson, D.
Overview:
The Islanders had limited success under the long reign of GM Garth Snow. Last year the Lou Lamoriello era began and hopes are renewed. The Islanders have had 15 first-round picks in the past 11 drafts. There have been some hits (Mathew Barzal, Anthony Beauvillier) and some misses (Josh Ho-Sang, Griffin Reinhart) but overall they have struggled to develop their youth. Plenty of optimism surrounds the top five prospects who were all consistently ranked in the top five. Sorokin has as much hype as his countryman and cross-town rival Igor Shestorkin in Manhattan. Oliver Wahlstrom left NCAA after one so-so season to play in AHL and his point per game production fell even lower. Not as alarming as he is only 19-years-old. He also made his NHL debut and spending more time in the AHL may be best for his development. Kieffer Bellows has been an inconsistent producer for years but he ended the season with seven points in seven AHL games after being returned from a brief NHL recall. The future of Josh Ho-Sang is unclear at best. He has struggled to endear himself to management and was loaned to San Antonio for the end of the season. He needs a fresh start in a new organization and he needs to figure it out or he will be officially labeled as a bust if he hasn't already.
16. Arizona Coyotes – 62.2 
Brayden – 69.5
Peter – 58
Tony – 68
Cam – 58.5
Jokke – 58
Pat – 66
Prospect Depth Chart
| | | |
| --- | --- | --- |
| Left Wing | Center | Right Wing |
| Matias Macelli | Jan Jenik | Aku Raty |
| Brayden Burke | John Farinacci | Hudson Fasching |
| Alexander Daryin | Lane Pederson | |
| Liam Kirk | Valentin Nussbaumer | |
| Tyler Steenbergen | Ryan McGregor | |
| Nate Sucese | | |
| Defensemen | Goaltender | Defensemen |
| Kyle Capobianco | Adin Hill | Victor Soderstrom |
| Cam Dineen | Ivan Prosvetov | Ty Emberson |
| Michael Callahan | Merrick Madsen | Filip Westerlund |
| | | Jordan Gross |
| | | Cam Crotty |
| | | Vili Saarijarvi |
| | | Robbi Russo |
Top Ten Prospects
Other Players to Receive Votes:
Ivan Prosvetov, Ryan McGregor, Liam Kirk, Nate Sucese, Valentin Nussbaumer, Jordan Gross, Tyler Steenbergen, Filip Westerlund, Ty Emberson
Roster Players 21 and Under:
Overview:
Arizona has won two playoff rounds in the past decade (both in 2011-12) and has had 13 first-round picks in the past ten years. Of the 13, only four remain in the organization (Clayton Keller, Jakob Chychrun, Barrett Hayton and Victor Soderstrom), nine have been moved or are busts (Pierre-Olivier Joseph, Dylan Strome, Brendan Perlini, Max Domi, Nick Merkley, Connor Murphy, Brandon Gormley, Mark Visentin, and Henrik Samuelsson). That's not a great record! Arizona was a young team with plenty of prospects with upside, and now the average age is above league average at 27.57. For a team that has struggled to win games the way Arizona has for as long as they have, you would think they should be ranked much higher in these rankings. There are not any very recognizable names in the prospect pool to the average fan, but for prospect aficionados, the name Jan Jenik and Matias Maccelli are the names of prospects on the rise. The Coyotes may lack in quality, but they do have quantity as plenty of prospects were recognized as top ten candidates with fantasy relevance as the other players to receive votes list indicates. There are players not listed that would have made other teams list such as Axel Bergkvist, Cameron Crotty, Vili Saarijarvi, and Merrick Madsen.
15. Minnesota Wild – 64.7 
Brayden – 71.2
Peter -45
Tony – 71.7
Cam – 58.5
Jokke – 69
Pat – 73
Prospect Depth Chart
Left Wing
Center
Right Wing
Kirill Kaprizov
Alex Khovanov
Ivan Lodnia
Matt Boldy
Jack McBain
Will Bitten
Adam Beckman
Mason Shaw
Connor Dewar
Vladislav Firstov

 

Nico Sturm
Shawn Boudrias
Dmitri Sokolov
Damien Giroux
Mitchell Chaffee
Sam Hentges
Defensemen
Goaltender
Defensemen
Marshall Warren
Kaapo Kahkonen
Calen Addison
Hunter Jones
Brennan Menell
Simon Johansson
Louie Belpedio
Filip Johansson
Top Ten Prospects
Other Players to Receive Votes:
Brennan Menell, Dmitry Sokolov, Simon Johansson, Ivan Lodnia, Mason Shaw, Will Bitten, Connor Dewar, Nico Sturm, Marshall Warren, Mitchell Chaffee, Sam Hentges.
Roster Players 21 and Under:
None.
Overview:
Wild fans have been waiting for Kaprizov to come to North America for what seems like an eternity. He had announced that he intended to sign his NHL ELC contract to play as soon as the KHL season ended. Unfortunately, the COVID-19 pandemic may have set those intentions back by a year. The 2020-21 season may be quite delayed as the NHL plays out the 2019-20 playoffs. Kaprizov would not be allowed to join the Wild until the 2020-21 season begins, which could be as far away as January! Rather than wait that long he will likely begin to play in September back for one more year in the KHL. It would be a disappointing blow to the Wild and their fans who have been waiting for his arrival. Outside of Kaprizov, the Wild have a few other prospects to get excited for. Their 2019 first-round pick Matt Boldy had a tremendous conclusion to his freshman season in the NCAA and has a very promising ceiling. Adam Beckman was the WHL scoring leader in his second season with an impressive 48 goals and 107 points. Alex Khovanov raised some eyebrows with his 99 point season and dominant performance with Russia at the WJC. Khovanov will be turning pro but should see some AHL adjustment time before he joins the Wild. Boldy will return to Boston College for his sophomore season and Beckman has a year of eligibility in the WHL.
14. Philadelphia Flyers – 65.7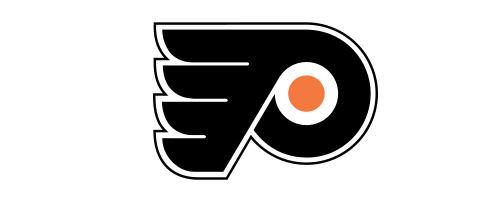 Brayden – 54.1
Peter – 74
Tony – 62.7
Cam 60.5
Jokke – 66
Pat – 77
Prospect Depth Chart
| | | |
| --- | --- | --- |
| Left Wing | Center | Right Wing |
| Isaac Ratcliffe | Morgan Frost | Bobby Brink |
| David Kase | Jay O'Brien | Wade Allison |
| Matthew Strome | Mikhail Vorobyev | Maxin Sushko |
| Noah Cates | German Rubtsov | Nicolas Aube-Kubel |
| Carsen Twarynski | Tanner Laczynski | |
| | | |
| Defensemen | Goaltender | Defensemen |
| Cam York | Samuel Ersson | Wyatte Wylie |
| Yegor Zamula | Kirill Ustimenko | Ronnie Attard |
| Adam Ginning | Felix Sandstrom | |
| Mason Millman | | |
| Linus Hogberg | | |
Top Ten Prospects
Other Players to Receive Votes:
Kirill Ustimenko, Tanner Laczynski, Felix Sandstrom, Noah Cates, David Kase, Matthew Strome, Adam Ginning, Connor Bunnaman, Bryce Brodzinski, Nicolas Aube-Kubel, Pascal Laberge, Wyatt, Wylie, Mason Millman
Roster Players 21 and Under:
Joel Farabee, LW; Carter Hart, G; Nolan Patrick, C
Overview:
Offensive forward Morgan Frost was the clear top prospect. He has dominated the OHL for two seasons and made a smooth transition to pro hockey with 29 points in 41 games in the AHL and playing in 20 NHL games. Frost will likely make the Flyers next year and be a productive offensive player, and potential Calder candidate. I said the Leafs got a first-round pick in the second round with Nick Robertson, and the Flyers have pulled off the same trick with Brink. He is in good hands at the University of Denver and had an impressive freshman season from start to finish with 24 points in 28 games. The 5-foot-8 winger will play at least one more season with the Pioneers and may need some AHL seasoning, but he looks like a future top six winger. Big defender Yegor Zamula used the WJC stage with Russia to make his presence known. Zamula actually had his breakout in the 2018-19 season after a trade from Regina to the Calgary Hitmen where he has posted 0.92 and 1.0 PPG seasons as a defenseman. The Flyers have an elite prospect in Frost, several very good prospects in Brink, York, and Zamula and a bevy of fantasy-relevant prospects. The writers listed several different players as fantasy-relevant beyond the top-ten and the bottom four of the writer's top ten varied widely. This indicates there will be some tough competition for Flyers prospects to make an already good team. 
LATEST RADIO & DRAFTCASTS