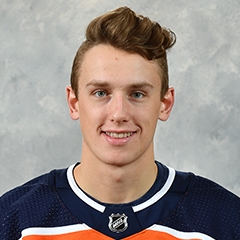 Photo courtesy of TheAHL.com
Fantasy Summary
Promising goalie prospect who struggled last season and needs to bounce back and prove that he has NHL upside.
Observations
Click to Expand

October 2020 – To be blunt, last season was a terrible one for Wells. When Shane Starrett was lost to injury for the Condors, Skinner and Wells were expected to battle it out for the starting job on the Oilers' AHL affiliate. Not only did Wells not win the job but his numbers were horrendous. In the AHL last season he recorded a 3.77 goals-against average and a .878 save percentage in seven games. In the ECHL it got worse to the tune of a 4.98 goals-against average and .871 save percentage in 10 games. This season is the last year on his contract and if he does not at least produce acceptable numbers, it is hard to imagine Edmonton resigning him. With Rodrigue turning pro, there is a good chance that Wells is already behind him on the depth chart. Jameson Ewasiuk

March 2020 – When Shane Starrett went down with an injury for the Bakersfield Condors the starting job was up for grabs to now starter Stuart Skinner and Dylan Wells. Not only did Wells not win the job but he has not made any kind of case to earn more starts. To date, he has played in seven games for the Condors this season and has recorded a 3.77 goals against, as well as a 0.878 save percentage. In nine games with the Wichita Thunder of the ECHL Well has managed an underwhelming 4.79 goals against and 0.874 save percentage. The numbers are not good but the Condors are the second-worst team in AHL and the Thunder are seventh-worst in the ECHL so he could be a product of the teams he plays on. Throughout Wells' four-year OHL career the young netminder's teams had 2 bottom-five finishes, a sixth-best finish, and an eighth-worst finish. In those four seasons the only year, Wells had a save percentage greater than .900 was when his team finished sixth-best in the league and had twice as many wins as regulation losses in the process. His past does not define his future but history tells us that he records mediocre numbers on less than ideal teams. Wells has one year left on his contract after this season and will need to start making some progression to earn a contract extension. Jameson Ewasiuk

March 2019 – Much like with fellow Oilers' goalie prospect Stuart Skinner, Wells is in his first pro season and is still making adjustments at the pro level. Wells has had slightly better success statistically than Skinner this season by recording a 3.04 goals against average and a .912 save percentage in 22 games for the Wichita Thunder (compared to Skinner's 3.20 and .906 in 30 games). In his brief time with the Bakersfield Condors of the AHL Wells has recorded a 3.01 goals against average and .902 save percentage. The young netminder is still a couple seasons away from potentially challenging for a roster spot with the Oilers and as with most goaltender prospects, patience will be key in Wells' development. Jameson Ewasiuk

June 2018 – Expectations were high for the young netminder going into the season after such an impressive 2016-2017 season and playoffs, where Wells was considered one of the best goaltenders in the entire OHL. Last season, the Peterborough Petes finished third last in the OHL and Wells won just 20 out of 56 starts. He finished the season with a mediocre 3.62 GAA and 0.896 SV%. The stats don't tell the whole story though as the Petes struggled mightily and had just one point-per-game player and not one player had a positive plus minusrating. After the Petes' season was completed, Wells signed an ATO with the Oilers' AHL team, the Bakersfield Condors. Soon after Wells signed an ATO with the Oilers' ECHL affiliate team, the Wichita Thunder, after not seeing any playing time with the Condors. He played in one game for the Thunder. At this point it's hard to predict what the future holds for the young goaltender and with the Oilers' inability to develop goaltenders, I would keep expectations low at this point. Jameson Ewasiuk

April 2017- Dylan Wells and his Peterborough Petes just got eliminated from the OHL playoffs in the Eastern conference finals. Wells had an exceptional year. John Grigg of Sportsnet referred to Wells as "the OHL's best goalie". Dylan is a calm, confident presence in the crease. One of Wells best abilities is to track the puck. His athleticism helps with second opportunities. He tends to kick rebounds to the corner but sometimes lets them out in the slot. Wells was named the Vaughn CHL goalie of the week twice this year. There is a lot of upside potential for Dylan Wells.