July 32-in-32: Arizona Coyotes
Keith Duggan
2023-07-02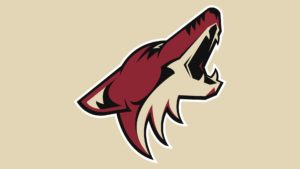 ***
The 32-in-32 Series is an annual event here at DobberProspects! Every day in August we will be bringing you a complete breakdown of a team's Draft, and insights into their off-season movements thus far. Following this up in August, we will dive into every team's prospect depth chart with fantasy insights and implications for the upcoming seasons. Check back often, because we plan on filling your hockey withdrawal needs all off-season long!
***
The NHL Draft was once again a big deal for not only Arizona management but their fans. The Coyotes are still in full rebuild mode, and Draft Day is the most exciting thing going for them. Outside of the Draft, news around the team has not been good lately.
Currently playing in a college arena, Voters rejected a Tempe arena deal, leaving the team once again in full speculation mode of where they will be playing in the future. Arizona has announced they will be playing 2023-24 at Mullett Arena again, but it's a big question mark after that.
The team's top prospect, Logan Cooley, decided not to sign with Arizona after his tremendous freshman season at Minnesota. Opting to play his sophomore campaign there. While another year at Minnesota will be good for his development, this is still a blow to an organization that could have used him in the lineup.
There have been some rumours about Arizona trying to improve the lineup on the ice to create buzz, possibly helping to get a new arena deal. As of this writing, though, that does not seem to be the case. They once again look to be a bottom dweller in the league standings for 2023-24.
So yeah, the Draft was a big deal. Fans need something to look forward to (especially considering the team could relocate), and they will get it with a bounty of picks this year and upcoming drafts. While it's easy to rip them, this is the most coherent plan we have seen from the franchise in years, if ever. Arizona went into the 2023 Draft with 12 picks. While they continue to add assets. In 2024, Arizona has 13 picks, including three second-rounders and three third-rounders.
******
Draft Recap
Round 1, 6th Overall – Dmitri Simashev, LD
Since I have been writing for Dobber Prospects, the Coyotes have surprised with their first-round pick and once again did not disappoint. From Barrett Hayton and Victor Soderstrom and even in 2022 selecting Cooley over Shane Wright, they love to surprise.
Few players in the 2023 Draft have been ranked with such a wide range as Simashev. Some draft experts had him as a top-10 selection, while others had him outside the first round completely. Add in the fact that when Arizona stepped up to the podium uber, talented Matvei Michkov was still available. Simashev seemed to Arizona's man though, and they had no problems raising eyebrows selecting the fluid skating, 6-4 defenseman over a potential generational talent. And they took not one but two Russian players whom most analysts had ranked lower on their draft boards in the first round; one of them a defenseman in what was termed a forward-heavy draft. Also, he signed with Lokomotiv Yaroslavi through 2024-25 and thus cannot compete in development camps until his KHL contract is over.
The problem for Arizona and Michkov was that after meeting with him before the draft, they came away with the distinct impression that he wanted no part of the franchise.
The debate on Simashev largely comes down to tools versus production. He's been lauded by scouts for his size, mobility and defensive prowess. Simashev also only scored one goal and 12 points in 33 games against Russian junior teams, ranking seventh in the league among draft-eligible defensemen in scoring rate. He started to change the negative perception of his offensive upside with a stellar performance in the MHL playoffs. In 10 contests, he tallied two goals and six points. He appeared in 18 KHL games, averaging only 6:55 per game, but it's rare for a 17-year-old defenseman to play in the KHL at all. Shakir Mukhamadullin, a 2020 first-rounder, is the only blueliner to have played more KHL games at the same age at that position.
"Simashev is a physically dominant defenseman," Coyotes GM Bill Armstrong said. "We call him the unicorn of the draft. They're hard to find, guys that can move and skate like that for a big man."
"He gets up in the neutral zone, and he hunts you down. His feet for a big man, I can honestly say this, I don't know that I've seen a skater of his size in the last 20-some-odd years. He can close on guys quick."
Simashev is a legit talent and has the toolkit to be a top-pair two-way defenseman. This is still a risk for Arizona, as they need to get this player on a KHL contract signed, but he's a premium talent.
During meetings before and then with the media after his selection, Simashev expressed a desire to play in the NHL and with Arizona.
***
Round 1, 12th Overall – Daniil But, LW
A teammate of Simashev with Lokomotiv, But is another big (6-5) Russian who was all over people's mock draft boards. He was one of the best forwards in Russia's junior league last season and was the leading player in the MHL playoffs before an illness sidelined him. Much like Simashev, But earned limited playing time in the KHL, seeing 15 games. Both Koko's MHL and KHL teams were top clubs in 2022-23.
But is a large, highly-skilled forward who can score. He makes crafty plays with the puck in small areas, and with his massive wingspan, he's able to make maneuvers past a lot of checkers. But is more of a goal scorer with a shot that can score from range. While But does not have blazing speed, for a 6-5 guy, he can motor up the ice quite well and is considered a strong skater.
Much like Simashev, he's under a KHL contract, and this is a risky pick. But he's a dynamic player with his size, quickness and offense, and if Arizona can get both of them signed, which is an if, they will help turn the organization around.
***
Round 2, 38th Overall – Michael Hrabel, G
Another big player, Hrabel, is 6-7, taking up a lot of the net. Many considered him to be the top goalie in this draft class. Hrabel came out of the gates flying. He was very good at the Hlinka, including a 33-save win against the USA. He played the year with Omaha in the USHL, starting the year very strong, but his play tallied off a little as the campaign went along. Hrabel rebounded toward the end of the season and was one of the better goalies at the U18 Worlds. He is committed to the University of Massachusetts but might be back in the USHL for 2023-24.
***
Round 3, 70th Overall – Jonathan Castagna, C
The first of four third-round picks, Arizona took Jonathan Castagna from Saint Andrew's College (CAHS). The 6-2 195lbs Castagna registered 29-43-72 in 50 games, leading the team in assists and ranking fourth in helpers among Canadian High School skaters. The Toronto native is committed to Cornell University for 2023-24. His skating is impressive, and his powerful stride will excite you about his pro potential.
***
Round 3, 72nd Overall – Noel Nordh, LW/RW
Nordh played most of last year in the J20 Nationell, recording 13 goals and 27 points in 38 games. He also appeared in 10 contests with Brynas' SHL team, scoring one goal. At 6-2, Nordh is another big player with offensive skills. He has a legit future as an NHL player with his hands, frame and finishing ability. His skating is so-so, but get him the puck in the offensive zone, Nordh will make things happen.
***
Round 3, 81st Overall – Tanner Ludtke, C
Ludtke played for the USHL's Lincoln Stars and scored 32 goals and 66 points in 57 games. He led the team in goals and finished sixth in the league. His 66 points were eighth in USHL scoring. He possesses good skill and has a very good shot. Ludtke competes hard with a willingness to attack the inside parts of the offensive zone. He will play for the University of Nebraska-Omaha in 2023-24. Fun fact, he's the smallest player Arizona drafted at just 6-0.
***
Round 3, 88th Overall – Vadim Moroz, RW
A third-year eligible for the draft, Moroz played bottom-six minutes with Minsk's KHL team, scoring 14 points in 39 games. He also had eight points in 10 MHL contests. Another big player (6-2), he has good puck skills and some offensive creativity. He's also not afraid of the rough stuff as Moroz racked up 43 PIMs in his one MHL playoff game.
***
Round 4, 102nd Overall – Terrell Goldsmith, LD
Goldsmith played for Prince Albert in the WHL last year, racking up three goals and nine points in 58 games. Offense is not really a big part of Goldsmith's game. He's a big (6-4), physical defenseman who plays a hard game. His 102 PIMs were one of the tops in the WHL.
***
Round 5, 134th Overall – Melker Thelin, G
The Coyotes took their second goalie of the day, selecting Thelin from Sweden's IF Bjorkloven program. On loan most of the year to Tegs SK in the HockeyEttan, Sweden's third-highest pro circuit, he posted an 8-7-0 record, .930 SV% and a 2.11 GAA with one shutout in 15 games. Thelin was also the back-up at the U18s for Sweden, winning the one game he appeared in.
***
Round 6, 160th Overall – Justin Kipkie, LD
Kipkie played 2022-23 with Victoria of the WHL, posting eight goals and 33 points in 67 games. He paced the WHL rookie defenseman in both assists and points. Kipkie also ranked fifth among Royal skaters in points. At 6-3, he has good size and can move the puck. His skating needs some work which is why he fell to the fifth round.
***
Round 6, 162nd Overall – Samu Bau, C
At 6-5, you guessed it, Bau is another big player. He played for Ilves of Finland's Liiga last year, racking up one goal and two points in 25 games. A re-entry prospect, it was impressive to see him make the top Liiga team as an 18-year-old. With the U20 team, he put up more impressive numbers, with nine points in 12 games.
***
Round 6, 166th Overall – Carsen Musser, G
The third goalie Arizona selected, Musser, possesses good size at 6-4. He played for the USDP U-18 program, posting a 14-6-1 record with a 3.07 GAA and a .890 SV%. He served as the team's backup. Musser played two games for the USA at the U18 Championship, winning both games he appeared in, boasting a 0.75 GAA and .947 SV% to help the USA capture gold. He signed his letter of intent to play for Colorado College, but it's not sure where he will play in 2023-24, probably in the USHL.
***
Whew, that was a lot of picks. Congrats on making it this far. The Coyotes finished the 2023 Draft with six forwards, three defensemen and three goalies. GM Armstrong has made no secret of his preference for bigger players. In a draft stocked with smaller, skilled players, Arizona's smallest player taken was 6-0.
Fantasy-wise, they took a few interesting players, but all look to be long-term before we see them in the NHL. Simashev and But are the biggest targets in dynasty leagues, but with both under contract in the KHL, it will be a few years before we see them in North America. Hrabal has potential, but just like the Russian duo, it will be a long development period before he possibly makes the NHL. Personally, I like Nordh and Kipkie as possible sleepers.
******
The Off-Season
Incoming
Sean Durzi, D – Acquired from the LA Kings in exchange for a 2024 2nd round pick
Nick Bjugstad, C – $2.1M x 2 years
Troy Stecher, RD – $1.1M x 1 year
Jason Zucker, LW – $5.3M x 1 year
Alex Galchenyuk, LW/C – $775k x 1 year (two-way)
Matt Villalta, G – $775k x 1 year (two-way)
Travis Barron, LW – $775k x 1 year (two-way)
Alexander Kerfoot, LW/RW – $3.5M x 2 years
***
Outgoing
Zack Kassian, RW – Bought out
Patrick Nemeth, D – Bought out
Andrew Ladd, LW – Unrestricted free-agent
Christian Fischer, RW – $1.125M x 1 year with DET
David Tendeck, G – Unrestricted free-agent
Brett Ritchie, RW – Unrestricted free-agent
Connor Mackey, D – $775k x 1 year (two-way) with NYR
Laurent Dauphin, C – Signed with HC Ambri-Piotta in the NL
***
I like the Zucker and Kerfoot signing and the trade for Durzi, and those three should help improve the lineup. As for prospects, Dylan Guenther should have a top-six role with power play time in 2023-24. Jan Jenik and Victor Soderstrom will need to clear waivers to be sent down, so I expect them to earn spots on Arizona. Some others might see a few games, including Cooley, if he signs when his college year is over, but Guenther is the only one I see making a big impact.
******
Development Camp
The Coyotes will hold their Development Camp from July 3-7 at the Ice Den in Scottsdale. While their two 2023 first-round picks will not be there due to being under KHL contract, the rest of the selections should be. Also, Cooley, Guenther, Josh Doan, Conor Geekie and many other top prospects will be there.
******
Thanks for reading! Feel free to follow me on Twitter @KDuggan92
LATEST RADIO & DRAFTCASTS