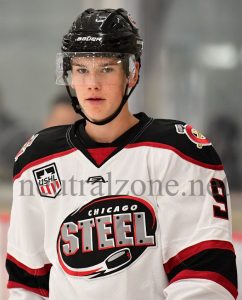 neutralzone.net
Fantasy Summary
Josh Doan plays very similar to his Dad, Coyote legend Shane. His overall game and footspeed need some work but he'll have plenty of time to develop at Arizona State University.
Observations
Click to Expand

June 2022- Doan finished 2021-22 as not only one of ASU's top players but one of NCAA's best rookies. His 37 points in 34 contests were good for second among rookie NCAA players, with his 25 assists as the best. Throw in 54 penalty minutes and you have yourself a potential future NHL power forward. Keith Duggan

March 2022- Doan has kept up his strong play all year, still contributing consistent offensive numbers. His 35 points in 33 games is good for 30th in NCAA scoring, fifth among under-20 players. For good measure throw in his 54 penalty minutes placing him 24th in the league. The Coyotes are pleased with Doan's play so far but have no plans on signing him yet, letting him develop at least one more year at Arizona State University. Keith Duggan

October 2021- Doan has started this campaign on fire, racking up four goals and 12 points in eight games. That is good for fourth in NCAA scoring. He's proving last year in the USHL was no fluke. What also looked like a maybe a few months ago seems more real now as Doan has a legit chance to play for Team USA at the 2022 World Junior Championship. Keith Duggan

September 2021- While there was some buzz going into the 2021 NHL Draft about Josh Doan, son of Coyotes legend Shane, most thought he was picked too high (second-round, 37th overall). Arizona though insisted this was no marketing ploy. "I think if it was a favor it would have been done last year" said director of amateur scouting Darryl Plandowski.