September 32-in-32: Arizona Coyotes
Keith Duggan
2022-09-03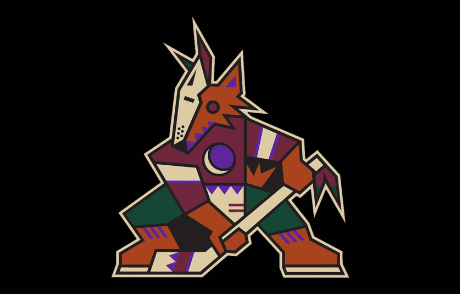 Welcome to the September 2022 edition of the DobberProspects 32-in-32 Series. This month, we are diving into the depth of each organization, looking at their recent graduates, risers, fallers and top-20 prospects. 
As discussed in last month's 32 in 32 series, Coyotes are still in full tank/rebuild mode. They finished with the second worst record in the league during 2021-22, which would have been 32nd had they not won the final three games of the season to surpass Montreal. Despite Arizona changing their roster slightly, adding to the growing prospect pool and even playing in a new home venue (hello Mullett Arena), when it comes to the NHL standings the team is expected to look a lot like the previous campaign. 
The forward group still lacks a top-six center and legit firepower. Outside of Arizona's top line of Nick Schmaltz, Travis Boyd and Clayton Keller, nobody else scored much as the team averaged a league-low 2.51 goals per game last year. Newcomers Nick Bjugstad and Zack Kassian could bolster the secondary offense but remains to be seen if either of them can contribute consistently over a full season. 
Arizona allowed the most shots against in 2021-22 and while they added some depth to their defense for this year in Troy Stecher, Josh Brown and Patrick Nemeth, none of them will radically improve the unit. Jakob Chychrun was expected to be the #1 defenseman but struggled with injuries and constant trade rumors last year. As of right now, Chychrun is still a Coyote, a return to 2020-21 form from him would be a huge difference maker. Nevertheless, this is a defense corps that will still struggle once again.
Baring another signing, Karel Vejmelka and Jon Gillies are the goaltending tandem. While Vejmelka was a revelation for Arizona, I do not think either one of them are striking fear in opposing team's forwards.
Arizona will play 20 of their first 24 games on the road. We saw how well a long road trip to start the season went for the New York Islanders last year. Vegas has Arizona with the worst odds to win the Stanley Cup at plus-30,000. 
Add all this up and get straight to the point: the Coyotes will not be good. Frankly, the Coyotes are not trying to be good. When the trade deadline comes along, GM Bill Armstrong will look to sell off more expiring contracts (Shayne Gostisbehere, Nick Ritchie, Kassian). The Coyotes are all in on "Be bad for Bedard" which would be if they are fortunate enough to win the 2023 draft lottery, drafting franchise-altering center Conor Bedard. Even if their terrible luck at the draft lottery continues, they still will be able to draft an excellent prospect at the top of a strong group that includes Adam Fantilli, Dalibor Dvorsky or Matvei Michkov. 
Graduating players
GM Bill Armstrong is big on development, probably from his time as an amateur scout and director of amateur scouting with St. Louis, so he is not rushing prospects. He is a believer in the Detroit Red Wings mantra of over ripening players before bringing them into the NHL. With that in mind that is why I do not think we see uber talented prospect Dylan Guenther make the Coyotes full-time in 2022-23. Maybe he starts the year with Arizona, barring Guenther is fully recovered from his knee injury suffered during the 2022 WHL finals. I just do not think he makes it past a nine-game trial. As noted above the Coyotes will not be good, and do not want to be good, so why subject one of your best prospects to that environment? Let him go have another dominate season in junior where he will play for a Memorial Cup again. I think 2023-24 is when we influx of Coyote prospects make their mark on the team full-time. Logan Cooley, Guenther, whoever they draft at the top of the 2023 draft and more will start the youth movement in full swing.
Graduate to NHL
Barrett Hayton, C: After starting 2021-22 in the AHL, admitting "it put a chip on his shoulder", Hayton was recalled after just four games and never looked back. The new coaching group gave him more playing time and responsibilities, killing penalties and key defensive minutes. He started slowly offensively with two goals and six points in 26 games before a hand injury took him out of the lineup. When he returned, though, he finished the year strong with eight goals and 18 points in Arizona's final 34 contests. Hayton will never be that No. 1 center they desperately needed when he was drafted fifth overall in 2018 but looks like a solid 3C with potential to move up to the 2C spot. 
JJ Moser, D: Despite being a second-round pick in 2021, Moser came into last season with little fanfare. He quickly made his mark and was one of Tucson's best players before being recalled to Arizona, where Moser had a very strong campaign. Moser's shown he can be an effective two-way defenseman who just makes smart plays with the puck. His promising development has Moser looking like a potential second pair defenseman. 
Dysin Mayo, D: After Vejmelka, Mayo was the second biggest surprise for Arizona. After 258 AHL and 25 ECHL games, with injuries hitting the Coyotes defensemen, Mayo made his NHL debut. He would go on to suit up for 67 games, playing significant minutes for Arizona. He was a mainstay on the penalty kill and led the team in blocked shots. 
Conor Timmins, D: I had Timmins on this list last year and everything was going great until a knee injury in his sixth game ended the season. After two different knee surgeries in the past year, he will most likely be brought along slowly but expect Timmins to firmly be in Arizona's top four by seasons end. 
Graduating from College to Pro
Jack McBain/Nathan Smith, C: Both were acquired around the trade deadline, signed after their college season ended and played a handful of games with Arizona to finish the campaign. Both are older prospects, Smith 23/ McBain 22 years old, play a strong two-way game and looked good in their 10 game appearances with the Coyotes. Look for them to earn bottom-six roles in Arizona with the potential for more. 
On the Cusp
Victor Söderström, D: He split 2021-22 between Arizona and Tucson, not really showing the offense expected and struggled at times. With Arizona bringing in some depth defenseman and a complement of healthy players on the NHL roster, that leaves Soderstrom the odd man out. He could force his way onto the roster, but my bet is another year of development in Tucson with some NHL games mixed in. 
Matias Maccelli, LW: He had a great 2021-22 AHL campaign, scoring over a point per game but in the NHL, Maccelli struggled after a strong start. Also, he is in a similar situation as Soderstrom, an odd man out right now. He definitely has the talent to push someone down the depth chart, but I think he splits 2022-23 between Arizona and Tucson again. Especially with Arizona expected to be a losing environment, he will not be rushed. 
Risers
Logan Cooley, C: Seems weird to have Cooley in the risers since just being drafted third overall, but he gives their prospect pool such a huge uplift. Could Arizona finally have that #1 center they have badly needed for so long now? I have no doubt he will be dynamic for University of Minnesota and finish out 2022-23 with the Coyotes. His potential is very exciting.
Dylan Guenther, LW/RW: Had an outstanding 2021-22 and Edmonton arguably would have won the Memorial Cup had Guenther not been hurt. When he gets to the NHL full-time, he will be a top-line winger. He is beginning to make his ninth overall selection in 2021 look like a steal. 
Josh Doan, RW: The Coyotes raised a few eyebrows drafting Doan in the second-round, but he backed it up with a great season last year. He was not only one of Arizona State University best players, but Doan was also a top freshman in all of NCAA. His 37 points in 34 contests was second among rookie NCAA players, just behind Luke Hughes. He plans on playing four years at ASU but looks like a future power forward. Also, as a sophomore, he was just named Captain of ASU.
Fallers
Kyle Capobianco, D: After five years with the organization, Capobianco was left unqualified and became a free agent signing with Winnipeg this summer. I knew he had some warts to his game, especially defensively but with the combination of size, skating and offensive instincts, Capobianco looked a solid bet to be a mainstay on Arizona's roster. Unfortunately, constant mistakes in his own zone and inconsistent play found him a healthy scratch or in the AHL. I think the biggest insult was last year, when Arizona, currently in last place standings wise, with their defense ravaged by injuries, called up pretty much every prospect from Tucson and played them over a healthy Capobianco. I wish him luck with the Jets but do not have a lot of confidence in his game anymore. 
Ivan Prosvetov, G: Once dubbed "goaltender of the future" for Arizona, his stats have not been good the last few years. Personally, I do not think Prosvetov has been developed well. The last two seasons he has spent a good amount of time in the NHL either on Arizona's taxi squad or a backup instead of getting quality starts for Tucson. Add in when he was playing with Arizona or Tucson, both squads were not good. Still, watching him play, Prosvetov was inconsistent last year, regularly giving up weak goals. I'm optimistic we see him receive consistent starts with a hopefully better Tucson squad this year, which in turn will result in better play and stats. 
Organizational Depth Chart 
(Combination of NHL readiness and upside).
| | | |
| --- | --- | --- |
| Left Wing | Center | Right Wing |
| Matias Maccelli | Logan Cooley | Dylan Guenther |
| Michael Carcone | Barrett Hayton | Jan Jenik |
| Ben McCartney | Nathan Smith | Milos Kelemen |
| Ilya Fedotov | Jack McBain | Josh Doan |
| Julian Lutz | Conor Geekie | Aku Raty |
| Liam Kirk | John Farinacci | Miko Matikka |
| Samuel Lipkin | Valentin Nussbaumer | Alexander Daryin |
| Carson Bantle | Manix Landry | Elliot Ekefjard |
| Bokondji Imama | Anthony Romano | Adam Zinka |
| Ryan McGregor | Filip Barklund | |
| Danil Savunov | | |
| | |
| --- | --- |
| Left Defense | Right Defense |
| Janis Jerome Moser | Victor Soderstrom |
| Vladislav Kolyachonok | Ronald Knot |
| Lukas Klok | Maveric Lamoureux |
| Cam Dineen | Dysin Mayo |
| Artyom Duda | Cameron Crotty |
| Jeremy Langlois | Vili Saarijarvi |
| Axel Bergkvist | |
| Maksymilian Szuber | |
| Cal Thomas | |
| Emil Martinsen Lilleberg | |
| Mathew Morden | |
| | |
Goalies
Ivan Prosvetov
David Tendeck
Rasmus Korhonen
Anson Thornton
Top 20 Fantasy Prospects
This section is intended to paint a picture of the Arizona Coyote prospects whose current trajectory projects them making the most positive fantasy impact at the time that they reach the NHL. Arrival date and NHL certainty have been taken into consideration; however, potential upside is the most important factor in determining this list.
Logan Cooley
Dylan Guenther
Barrett Hayton
Conor Geekie
Matias Maccelli
Victor Soderstrom
Janis Jerome Moser
Nathan Smith
Jack McBain
Jan Jenik
Conor Timmins
Josh Doan
Ilya Fedotov
Maveric Lamoureux
Artyom Duda
Julian Lutz
Vladislav Kolyachonok
John Farinacci
Liam Kirk
Ben McCartney
Coyote prospects at the Summer WJC
Even though Arizona is rebuilding and has a deep prospect pool, they had only two prospects playing in the rescheduled World Junior Tournament. It would have unquestionably three, but Guenther's knee injury kept him out. Maksymilian Szuber, a sixth-round pick from this past draft was a large part of Germany's team. He played big minutes and was a leader for them. 
As expected, Logan Cooley was excellent for Team USA, despite the squads disappointing final result. He was one of the team's top scorers and was dynamic when the puck was on his stick. 
Rookie Faceoff Tournament
The Coyotes will once again be taking part in the Rookie Faceoff Tournament, this year hosted by San Jose Sharks. This is the fourth year in which the tournament will feature the same six teams: Anaheim, Arizona, Colorado, Los Angeles, San Jose and Las Vegas. It will take place between September 16-19th.
Like usual the Coyotes have yet to release their roster, but they almost always have a few older prospects so it likely will be a competitive team. 
Thanks for reading! Feel free to follow me on Twitter @KDuggan92
LATEST RADIO & DRAFTCASTS