August 32-in-32: Columbus Blue Jackets
Clare McManus
2022-08-09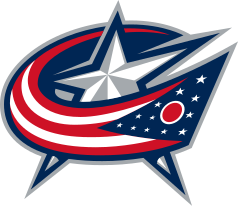 The 32-in-32 Series is an annual event here at DobberProspects! Every day in August we will bring you a complete breakdown of a team's Draft, and insights into their off-season movements thus far. Following this up in September, we will dive into every team's prospect depth charts with fantasy insights and implications for the upcoming seasons. Check back often, because we plan on filling your hockey withdrawal needs all off-season long!
The Columbus Blue Jackets had one of the best off-seasons among all NHL teams, after acquiring the NHL's top free agent in Johnny Gaudreau. Gaudreau signed a seven-year, $68.25-million contract with the Jackets after eight seasons with the Calgary Flames. He will bring an elite offensive talent to the Jackets lineup after coming off a 40 goal, 75 assists, and 115 total points season.
The Blue Jackets also added another former Calgary Flame in defenseman Erik Gudbranson. The massive defenseman is not much of a point producer but should add size, strength, leadership, and depth to the roster. Last season, he posted seven goals and 11 assists for 17 total points in 78 games. 
As of right now, the Blue Jackets are in a very good position going forward and are looking at an exciting season this year. 
The Draft
Round One, 6th overall – David Jiricek, RD
The Jackets landed one of the best defensemen in the 2022 draft class. Recently signing a three-year entry-level contract with the team, Jiricek played this past year with HC Plzeň of the Czechia league. In 29 games, he posted five goals, and six assists for 11 total points. He played five games in the World Championships games, notching a goal and an assist in five games. Jiricek will compete at the upcoming World Junior Championships with the Czech Republic, playing on the same team with three other CBJ prospects in Stanislav Svozil, Martin Rysavy, and Pavel Cajan. 
David Jiříček #45 is back in form and I think he's even better than before despite the long break. These are just a few clips from yesterday's game against Finland. His involvement in the offensive zone is getting way more aggressive…he's a huge offensive weapon. #2022NHLDraft pic.twitter.com/v2lEXtUkHj

— Marek Novotny (@MarekNovotny96) April 30, 2022
Jiricek is known to be an elite defenseman in the offensive zone. He is extremely mobile on his skates and does very well moving the puck from the blue line. His shot is one of his best assets, as he can fire a quick shot from the point. Defensively, he maintains a good gap and can break up plays with his stick. He also doesn't shy away from physicality. Overall, Jiricek is a solid two-way defenseman.
Round One, 12th overall – Denton Mateychuk, LHD
Recently signing his entry-level deal with the Blue Jackets, Mateychuk is an underrated defenseman with lots of potential. Playing this past season with the Moose Jaw Warriors of the WHL, he posted 64 points (13G + 51A) in 65 games played. Last season, he appeared in three games for Team Canada in the 2021 World Juniors. In the 2022 CHL Top Prospects Game, he was captain of Team White. 
Denton Mateychuk out there chucking darts.

Make it 13 goals and 64 points in 65 WHL games – good for a share of the lead among draft-eligible defenders pic.twitter.com/UxmhVCcTh7

— /Cam Robinson/ (@Hockey_Robinson) April 17, 2022
Mateychuk is an elite skater. He has outstanding speed and agility, as well as quick pivots on transition play. His ability to move the puck up ice and create space to make a pass is something to take note of. While he does very well making plays, Mateychuk also likes to join in on the offensive and take shots on net. Defensively, he uses his body and doesn't shy away from being aggressive. 
Round Two, 44th overall – Luca Del Bel Belluz, C
Del Bel Belluz is an offensive weapon. He suited up this past season with the Mississauga Steelheads of the OHL, scoring 30 goals, and 46 assists for 76 points in 68 games played. While he needs to refine his skating ability and physical play, Del Bel Belluz has the offensive tool kit to be a great center in the NHL. He possesses a strong, powerful shot on net and crafty stickhandling ability. 
Round Three, 96th overall – Jordan Dumais, RW
The undersized winger had a fantastic season with the Halifax Mooseheads of the QMJHL. In 68 games, he scored 39 goals, and 70 assists for 109 total points, finishing third in the league in points. Dumbais has the potential to be a steal in the draft. While underlooked because of his small stature, he has an elite offensive skill set that is exciting to watch. He is quick and fluid on his skates and makes strong passes to teammates on the ice. He works extremely hard on the forecheck which is something to love about his game. 
Round Four, 109th overall – Kirill Dolzhenkov, RW
Dolzhenkov is a massive winger standing at 6-foot-6, 234 pounds. He played this past season with Krasnaya Armiya Moskva of the MHL, scoring 14 goals, and 14 assists for 28 points in 33 games played. He's not the flashiest player on the ice, but he uses his size to his advantage, making him a perfect penalty kill option. Dolzhenkov is not a great skater by any means, but he is strong on his feet and is hard to push off the puck. On the powerplay, he works well along the blueline, utilizing his powerful shot to score. 
Round Five, 138th overall – Sergei Ivanov, G
The Russian netminder had a solid season with SKA-1946 St. Petersburg of the MHL, posting a 2.17 GAA, a .928 save percentage, with a 14-7-4 record in 26 games. Last season, Ivanov won a silver medal with Team Russia in the World Juniors. In six WJC games, he posted a 4-1-0 record. Ivanov will add goaltending depth to the Jackets' prospect system.
Round Seven, 203rd overall – James Fisher, RW/C
With their last pick in the 2022 draft, the Blue Jackets selected Northeastern University commit, James Fisher. He played this past year with the Belmont Hill School in the United States Prep league. In 27 games with the team, Fisher posted 17 goals, and 11 assists for 28 points. He was also a member of the East Coast Wizards 18U AAA organization. Next year, look for him to play for either the Wizards or the Youngstown Phantoms of the USHL, as he was drafted by the team in the 2022 USHL draft. 
The Off-Season
As mentioned above, the Blue Jackets added some solid talent to their roster this off-season. The Jackets currently have no cap space, but it shouldn't be too big of a worry for the team right now. The biggest cap hits on the team are Johnny Gaudreau, Patrik Laine, Jake Voracek, and Zach Werenski. All players exceed a contract of over eight million. 
Incoming Players
NHL Roster: Johnny Gaudreau (LW), Erik Gudbranson (D)
System: Joona Luoto (LW)
Outgoing Players
Mathieu Oliver (C), Dean Kukan (D), Gabriel Carlsson (D), Tyler Sikura (C), Kevin Stenlund (C), Nathan Gerbe (LW), Scott Harrington (D), Zach Rinaldo (LW), J-F Berube (G), Cameron Johnson (G).
Re-Signed Players
Billy Sweezey (D), Justin Danforth(RW), Kirill Marchenko (LW), Jonaas Korpisalo (G), Joona Luoto, Jack Roslovic (C), Daniil Tarasov (G), Liam Foudy (C), Brendan Gaunce(C), Josh Dunne (C), Carson Meyer (RW), Adam Boqvist(D), Emil Bemstrom (C), Trey Fix-Wolansky (RW), Patrik Laine (RW), Nick Blankenburg (D).
In next month's 32-in-32 Series we will be diving into updated organizational depth charts to identify the prospect risers, fallers, and projected roles for the 2022-23 campaign. 
Thanks for reading. Follow me @ClareHMcManus for more prospect coverage.
LATEST RADIO & DRAFTCASTS