August 32-in-32: Columbus Blue Jackets
Clare McManus
2022-08-09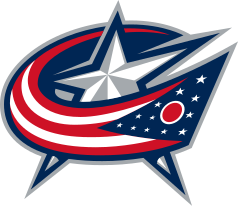 The 32-in-32 Series is an annual event here at DobberProspects! Every day in August we will bring you a complete breakdown of a team's Draft, and insights into their off-season movements thus far. Following this up in September, we will dive into every team's prospect depth charts with fantasy insights and implications for the upcoming seasons. Check back often, because we plan on filling your hockey withdrawal needs all off-season long!
The Columbus Blue Jackets had one of the best off-seasons among all NHL teams, after acquiring the NHL's top free agent in Johnny Gaudreau. Gaudreau signed a seven-year, $68.25-million contract with the Jackets after eight seasons with the Calgary Flames. He will bring an elite offensive talent to the Jackets lineup after coming off a 40 goal, 75 assists, and 115 total points season.
The Blue Jackets also added another former Calgary Flame in defenseman Erik Gudbranson. The massive defenseman is not much of a point producer but should add size, strength, leadership, and depth to the roster. Last season, he posted seven goals and 11 assists for 17 total points in 78 games. 
As of right now, the Blue Jackets are in a very good position going forward and are looking at an exciting season this year. 
The Draft
Round One, 6th overall – David Jiricek, RD
The Jackets landed one of the best defensemen in the 2022 draft class. Recently signing a three-year entry-level contract with the team, Jiricek played this past year with HC Plzeň of the Czechia league. In 29 games, he posted five goals, and six assists for 11 total points. He played five games in the World Championships games, notching a goal and an assist in five games. Jiricek will compete at the upcoming World Junior Championships with the Czech Republic, playing on the same team with three other CBJ prospects in Stanislav Svozil, Martin Rysavy, and Pavel Cajan. 
David Jiříček #45 is back in form and I think he's even better than before despite the long break. These are just a few clips from yesterday's game against Finland. His involvement in the offensive zone is getting way more aggressive…he's a huge offensive weapon. #2022NHLDraft pic.twitter.com/v2lEXtUkHj

— Marek Novotny (@MarekNovotny96) April 30, 2022
Jiricek is known to be an elite defenseman in the offensive zone. He is extremely mobile on his skates and does very well moving the puck from the blue line. His shot is one of his best assets, as he can fire a quick shot from the point. Defensively, he maintains a good gap and can break up plays with his stick. He also doesn't shy away from physicality. Overall, Jiricek is a solid two-way defenseman.
Round One, 12th overall – Denton Mateychuk, LHD
Recently signing his entry-level deal with the Blue Jackets, Mateychuk is an underrated defenseman with lots of potential. Playing this past season with the Moose Jaw Warriors of the WHL, he posted 64 points (13G + 51A) in 65 games played. Last season, he appeared in three games for Team Canada in the 2021 World Juniors. In the 2022 CHL Top Prospects Game, he was captain of Team White. 
Denton Mateychuk out there chucking darts.

Make it 13 goals an