August 32-in-32: Buffalo Sabres
Kevin Wong
2022-08-04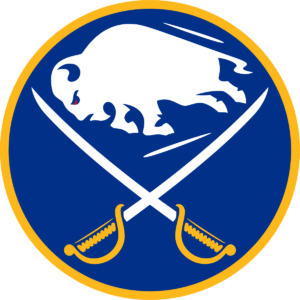 The 32-in-32 Series is an annual event here at DobberProspects! Every day in August we will be bringing you a complete breakdown of a team's Draft, and insights into their off-season movements thus far. Following this up in September, we will dive into every team's prospect depth charts with fantasy insights and implications for the upcoming seasons. Check back often, because we plan on filling your hockey withdrawal needs all off-season long!
******************
The Buffalo Sabres' 2021-2022 season started with a cloud over its head and questions about the fate of Jack Eichel. After substantially retooling in the summer, the team still seemed years away from being competitive. They had just finished last in the NHL and were without their most prolific scorer. The future of the franchise seemingly hinged on the Eichel exchange being transformative for the franchise. After over a decade of mediocrity and in the midst of a tumultuous divorce from the face of their organization, the Sabres needed a home run. Their trade with the Vegas Golden Knights in early November 2021 was everything they could have hoped for.
Upon sending Jack Eichel to the Golden Knights, the Sabres received Alex Tuch, Peyton Krebs, a 2022 first-round pick and a 2023 second-round pick in return.
Neither Tuch nor Eichel saw immediate action for their respective teams due to injury. Hence, patience was required. However, the trade paid dividends for the Sabres much earlier than they would for the Golden Knights. Upon donning his new colors, Tuch thrived in Buffalo. This was especially true once he was placed in tandem with a player few could have predicted would have blossomed so quickly, Tage Thompson. Tuch did not debut with the Sabres until December 29, 2021. Until that point in the season, Thompson had scored 10 games and 18 points in 30 games. From the date of Tuch's debut onwards, Thompson scored 28 goals and 50 points in 48 games.
"The main thing I feel is just the support, the puck support. I feel like we're always around each other…We use each other, and I think that's when we're most dangerous."

Skinner, Thompson and Tuch are building on 'natural' chemistry: https://t.co/hqouhmAr17 pic.twitter.com/PHQxXlovln

— Buffalo Sabres (@BuffaloSabres) February 13, 2022
The trade created a brand new first line for the Buffalo Sabres and reignited the organization with an identity centered around speed and power. The gritty, fleet-footed methods of Tuch and Thompson dazzled onlookers. Jeff Skinner experienced a sudden resurgence as the third piece of the top unit, scoring 33 goals and 63 points in 80 games in 2021-2022. Immediate chemistry was discovered.
Under coach Don Granato, th