August 32-in-32: Buffalo Sabres
Kevin Wong
2022-08-04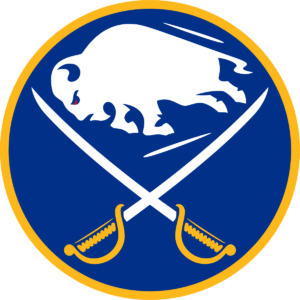 The 32-in-32 Series is an annual event here at DobberProspects! Every day in August we will be bringing you a complete breakdown of a team's Draft, and insights into their off-season movements thus far. Following this up in September, we will dive into every team's prospect depth charts with fantasy insights and implications for the upcoming seasons. Check back often, because we plan on filling your hockey withdrawal needs all off-season long!
******************
The Buffalo Sabres' 2021-2022 season started with a cloud over its head and questions about the fate of Jack Eichel. After substantially retooling in the summer, the team still seemed years away from being competitive. They had just finished last in the NHL and were without their most prolific scorer. The future of the franchise seemingly hinged on the Eichel exchange being transformative for the franchise. After over a decade of mediocrity and in the midst of a tumultuous divorce from the face of their organization, the Sabres needed a home run. Their trade with the Vegas Golden Knights in early November 2021 was everything they could have hoped for.
Upon sending Jack Eichel to the Golden Knights, the Sabres received Alex Tuch, Peyton Krebs, a 2022 first-round pick and a 2023 second-round pick in return.
Neither Tuch nor Eichel saw immediate action for their respective teams due to injury. Hence, patience was required. However, the trade paid dividends for the Sabres much earlier than they would for the Golden Knights. Upon donning his new colors, Tuch thrived in Buffalo. This was especially true once he was placed in tandem with a player few could have predicted would have blossomed so quickly, Tage Thompson. Tuch did not debut with the Sabres until December 29, 2021. Until that point in the season, Thompson had scored 10 games and 18 points in 30 games. From the date of Tuch's debut onwards, Thompson scored 28 goals and 50 points in 48 games.
The trade created a brand new first line for the Buffalo Sabres and reignited the organization with an identity centered around speed and power. The gritty, fleet-footed methods of Tuch and Thompson dazzled onlookers. Jeff Skinner experienced a sudden resurgence as the third piece of the top unit, scoring 33 goals and 63 points in 80 games in 2021-2022. Immediate chemistry was discovered.
Under coach Don Granato, the team played a fast, freewheeling style. While better work could have been done to coordinate their powerplay entries and their offensive-zone puck possession, the team trended upward with spirit and enthusiasm.
The Sabres fortified their roster with the additions of former 2017 first-rounder Peyton Krebs, 2018 second-rounder Mattias Samuelsson and, towards the end of the season, 2021 first-overall selection Owen Power. Krebs played his rookie season with the Sabres, tallying 22 points in 48 games. Likewise, the towering defenceman Samuelsson played his first full year with the Sabres in 2021-2022. Power seemed to fit in seamlessly in his limited run with the team.
At the AHL Level, the Sabres' 2020 top selections J.J. Peterka and Jack Quinn thrived with the Rochester Americans. Quinn scored 61 points in 45 games, while Peterka led the team with 68 points in 70 games. Another source of excitement during the season came from goaltending prospect Devon Levi, who the Sabres acquired in last summer's Sam Reinhart trade. Levi was designated the NCAA's top goaltender and became a Hobey Baker Award finalist in 2021-2022. He also represented Team Canada at the 2022 Winter Olympic Games.
The Sabres finished 24th in the NHL out of 32 teams, a substantial improvement over their last-place finish in 2020-2021.
A franchise that only recently seemed once again poised to be a bottom dweller has suddenly shown potential for a much more exciting short-term future. The 2021-2022 campaign was a breath of fresh air for the Buffalo Sabres. The franchise's work throughout the campaign ultimately resulted in them possessing eleven draft picks in the 2022 NHL Draft, including three first-round picks, a tremendous way to conclude an uplifting campaign in Buffalo.
NHL Draft
Just as they did the previous year, the Sabres stepped onto the draft floor with eleven selections. On Day One of the draft, they were able to make three selections: the 9th, 16th, and 28th picks. The Sabres targeted forwards with most of their choices in the draft. Eight of their eleven selections were forwards, while two were defencemen. Their lone choice of goaltender was Finnish netminder Topias Leinonen, who represented Team Finland at the U18 World Championship.
The Sabres' 2022 crop, headlined by their trio of first-round picks and their top goaltender, possess a variety of skill sets, albeit with a major emphasis on playmaking and two-way play.
Round One, 9th Overall – Matthew Savoie, C
Matthew Savoie was among the first 2022-eligible prospects to gain notoriety in the hockey world. Eyes have been on this player for a long time, consequently. Along with Shane Wright, Savoie was touted as a possible exceptional status player in the CHL. He applied for the opportunity in 2019 to join the WHL a year early but ultimately was denied. Subsequently, he was chosen first-overall by the Winnipeg Ice in the 2019 WHL Draft.
A few months later, Savoie was on the international stage at the 2020 Youth Olympic Games, where ample footage was produced of his play against such fellow top 2022-eligible players as Rutger McGroarty, Isaac Howard, and fellow Top 10 pick Cutter Gauthier.
Despite continuing to play with the WHL's Winnipeg Ice for the majority of his next three seasons, uncertainty about the 2020-2021 CHL campaign as a result of the COVID-19 pandemic led to stints in the AJHL and USHL. With 35 goals and 90 points in 65 games with the Winnipeg Ice this past season, the 5-foot-9, 179-pound Savoie has not quite met the lofty expectations that had been placed upon him. He was, additionally, omitted from the Team Canada roster at the 2022 World Juniors in December 2021.
Savoie's greatest asset is his speed. He generates a significant amount of offense through rushes from the right side, utilizing his speed to maneuver up the right wall in a very north-south manner. There is not a heavy amount of finesse in his puck-handling. In order to generate offense, he relies on his quick first step to apply pressure towards the opposition and close his distance against them both on the forecheck and backcheck. He works deep in his own zone to assist his defenders and can make outlet passes from his own, as well as carry the puck up, to initiate his team's breakout.
Despite this, Savoie needs to do more to drive possession for his team. He can be one-dimensional in transition, and his pass attempts are sometimes ill-advised. He also has a tendency to position himself poorly to provide puck support or to avail himself to his teammates for an easy pass. He is positionally active in the offensive zone, sliding up and down to find open ice. However, he can also take too many risks from a positional point of view.
While Savoie should certainly be considered a top prospect, the Buffalo Sabres are very familiar with highly-touted draftees who may not be as easily projectible into their lineup as they would have hoped. He is a project with considerable promise but also some faults that need to be addressed in these next few critical seasons before he can thrive in the National Hockey League.
Round One, 16th Overall – Noah Ostlund, C
Noah Ostlund was one-third of the dazzling top trio for Team Sweden's gold medal-winning roster at the 2022 U18 Worlds. He spent the majority of the 2021-2022 campaign in Sweden's J20 league, scoring nine goals and 42 points in 32 games. He is a nifty playmaking centerman with excellent agility, edgework, pivoting ability and a soft touch with the puck.
Ostlund is a 5-foot-11, 165-pound, pass-first player. His propensity to pass is evident in his transition tendencies. He makes quick passes and tends to distribute the puck to his teammates up-ice before often joining the rush. He supports his team deep in his own zone, hence his propensity to pass on his team's breakouts. He can transition up the ice quickly, as he possesses good straight-line speed. He is not particularly evasive with the puck on his stick in one-on-one situations, though. Passing seems to be his preferred method while in transition.
In the offensive zone, Ostlund likes to hover in the upper half of the zone as the team's third man high, and he often covers for his defenders when they pinch down low. He may also go deep into the offensive zone to assist with his team's forecheck, although he needs to engage more heavily with his opponent at the boards. He lacks an element of physicality while retrieving the puck, relying particularly on his stick work to jar the puck loose or to strip the opponent of it. There have been instances when Ostlund has been effective at shielding the puck from the opposition with his body, but more can be done on a shift-to-shift basis.
There are times when he does not contribute enough to help his team sustain pressure in the offensive zone. He can also be caught defensively at times, losing his place while covering for his defenders.
While Ostlund is an exciting talent to watch, he needs to contribute more to his team's forecheck and diversify his methods in transition as he continues to shape his game for the eventual NHL grind.
Round One, 28th Overall – Jiri Kulich, C
Jiri Kulich is a 6-foot, 179-pound sniper with numerous two-way qualities in his game. He played 49 games in Czechia's top professional league in 2021-2022. He reads and anticipates plays well, regularly positioning himself to provide his team with defensive assistance. He uses his quickness and straight-line hustle to pressure his opponent, taking time and space away from them. He does this at regular strength, as well as on the penalty kill, harassing his opposition on the backcheck when opportunities arise. He also works actively to poke the puck free in faceoff situations.
When he has the puck coming out of his own zone, Kulich prefers to maneuver with it up the left side of the rink. He played left wing at the U18s and comfortably adapted, scoring nine goals and 11 points in six games for Team Czechia.
In the offensive zone, Kulich likes to carry the puck along the perimeter, circling the outside to find open lanes. He possesses good agility to maneuver freely. Despite his confidence and speed, he is not much of a driver through the neutral zone or in the offensive end. He is capable of surprising the opponent with a quick deke in transition if there is open ice.
He also plays on the powerplay, which is when he can most frequently unleash his snappy one-timer from the right side. He often shoots low, resulting in rebounds for his team.
Along the boards, Kulich needs to engage more with his body. He too often shies away from contact. Additionally, in one instance among my viewings, he had a clear opportunity while coming from behind the opposing net with the puck to bee-line directly into the crease and attempt a jam play. He opted not to do so, instead passing the puck back to the point.
Kulich's strengths are his two-way capabilities and his prowess as a shooter. However, there are some issues regarding physicality, forechecking, and puck possession that remain unresolved for now.
Round Two, 41st Overall – Topias Leinonen, G
Topias Leinonen was the first goaltender to be selected in the 2022 NHL Draft and the only goalie to be chosen in the Top 57 of his class. The 6-foot-5, 234-pound keeper boasts size and great potential, with the expectation being that he will play in Liiga next season.
In his draft year, Leinonen played mostly with JYP U20 of Finland's junior league. He also represented Finland at the U18s, posting a GAA of 2.61 and a save percentage of .897% in five matches.
Although he matches the size expectations of modern-day NHL goaltenders, Leinonen must continue to refine his lateral motion. He can at times be caught out of position as a result of lapses in his form when he moves across to track the puck and challenge a shot. His rebound control also creates issues for his team.
Leinonen joins a Buffalo Sabres depth chart that includes University of Michigan starter Erik Portillo and Hobey Baker Award finalist, Mike Richter Award winner Devon Levi. His road to Buffalo will be competitive, but his future will be bright if he can address his concerns.
Round Three, 74th Overall – Viktor Neuchev, LW
Viktor Neuchev is a creative, individualistic scorer who seeks offensive opportunities whenever he is on the ice. He played 61 games this past season in the MHL, scoring 40 goals and 67 points for Avto Yekaterinburg. When he has possession of the puck in transition, he likes to drag it into scoring areas, shield it from his opponents, and release it on net. He possesses a degree of creativity with the puck on his stick, and he controls with assertiveness despite not being not a very precise puck-handler. He often circles back when he sees nothing in front of him in the neutral zone. He can generate some speed while winding up, but he is not quick from a standstill.
On his team's zone exits, Neuchev is always among the first to head towards the opposing end. He often awaits a headman pass, crossing over into the neutral zone during his team's movement up the ice. He spends much of his time in his own zone at the left boards and takes advantage of his left-handed shot on the right side of the offensive zone.
He possesses a large one-timer, shooting often from the right circle. He also looks to create traffic in the crease and to hunt for rebounds. Although he engages at the end boards during his team's forecheck, he needs to contribute more to his team's possession of the puck. He can also be too eager to leave his own end while the puck is in his defensive zone, and he sometimes loses track of his defensive assignment. In one of my viewings, he sought a breakaway opportunity in this fashion. He exited his zone early, received a stretch pass from his teammate, and then scored on the ensuing play.
Neuchev is an offense-first player who takes risks to generate opportunities for his team. This is a style of play that can thrive at his current level, but he needs to become more well-rounded to reach the NHL.
Round Four, 106th Overall – Mats Lindgren, D
Mats Lindgren is a 6'0", 176 lbs offensive defender with a mobile skill set but gaps in his defensive game and a penchant for being too aggressive at times. He skates well, maneuvering backwards, and from side-to-side without difficulty. He played his draft season with the Kamloops Blazers of the WHL, scoring five goals and 44 points in 68 games. He is the son of former NHLer Mats Lindgren, and was born in North Vancouver, BC after his father represented the Vancouver Canucks in 2002-2003.
In the offensive zone, Lindgren can walk the line at the point, and when he has the puck in that position, he tends to look for an open lane to wrist it on goal. Along the end boards in his own zone, he uses his body to compete for the puck, although he lacks enough strength to win some of these battles. He understands how to gain inside position, however.
He sometimes tries to do too much, both with and without the puck. There are also gaps in his defense. While defending one-on-one against attackers off the rush, he does not always put himself in the most optimal position to cut off his opponent. He is sometimes too aggressive to push the opponent off the puck, resulting in him losing his positioning and allowing the puck carrier to slip by.
He can carry the puck up the ice but is not proficient at keeping it while under pressure.
He is an average puck-handler and passer. He does not yet handle the puck well enough to retain it in difficult situations nor does he always pass the puck to where it needs to be.
He quickly chips the puck out of trouble deep in his own zone, but he is not necessarily precise when clearing the puck. He tends to move the puck over into areas rather than towards specific targets.
Lindgren's outlets can sometimes take too long, and his passes can be sloppy. They are not always tape-to-tape.
He experiences much more success with shorter passes, and he tends to play better when he keeps things simpler as opposed to more complex. In order to be a much more versatile and dependable defender, Lindgren needs to improve both his technical skill set so that he may match the level of skill required at higher levels, as well as learn to play a more efficient, reliable style.
Round Five, 134th Overall – Vsevolod Komarov, D
Vsevolod Komarov is a 6-foot-2, 183-pound defensive defenceman who, while not particularly mobile, uses his strength to contain his opponent near the defensive crease. He represented the Quebec Remparts of the QMJHL in 2021-2022, finishing the year with 40 penalty minutes and a plus-minus of plus-38 in 60 games. He is a stay-at-home defender who does not possess very much speed. He can be caught standing still quite often, and he tends to be caught out of position at times.
In the offensive zone, he can fire the puck from the point, but he does not otherwise offer very much offensively. Defensively, he uses his frame to block shots. However, he did not read plays, particularly well during the 2021-2022 season, resulting in him being out of position on numerous occasions in my viewings. Opposing puck carriers sometimes skated around him, as he did not contain them upon their entry at his blue line. On another occasion, he left his position behind the net when his defense partner was preoccupied in the corner; the opposing player, stationed behind the net, was left completely alone with the puck.
Komarov tends to chase the play. There was an instance later in that same match when he was not in a position to intercept a pass from the opposition down the half-wall. His gap control requires significant work. This lapse resulted in a prime opportunity for the recipient of the pass to cut into the crease all alone from the corner.
His outlets are imprecise and sometimes ill-advised. One such pass hit the opponent and bounced back into his own zone.
Komarov, a first-year player in the QMJHL, may need more time to adjust to the style of play in the league. When the pace is high, his struggles become more apparent. Those concerns must be addressed as his QMJHL career continues next season.
Round Six, 170th Overall – Jake Richard, F
Jake Richard is a 6-foot-1, 172-pound forward, who at this moment in time can be characterized as a fairly cautious defensive forward. He scored 18 goals and 48 points in 56 games with the Muskegon Lumberjacks of the USHL in 2021-2022. Despite these totals, he tends to commit to the upper half of the offensive zone more often than not to provide defensive support through the neutral zone on the backcheck. He has enough strength to shield the puck from the opponent, but he does not utilize his strengths consistently as of yet. Too often, he exhibits passive puck pursuit and not enough urgency in affecting the pace of play.
His technical skills require further improvement. As of right now, he is an average puck-handler without much deceptive ability. His passes can sometimes be imprecise while he is under pressure. He is also a fairly average skater with some lumbering qualities in his stride.
Richard must continue to develop his anticipation skills so that he may more effectively challenge the opposition on the forecheck. He must further refine his technical skills and improve his consistency as well. As of now, he plays too passively at his current level. He must demonstrate a much more assertive style of play as his amateur career continues to unfold. He is slated to join the University of Connecticut in the NCAA next season.
Round Six, 187th Overall – Gustav Karlsson, F
Gustav Karlsson is a 6-foot-1, 165-pound mobile scorer whose quick pivots and good speed allow him freedom to maneuver along the ice. He shoots the puck well, which led to his accumulation of 31 goals and 48 points in 41 games while in Sweden's J20 league this past season.
He skates well, covering quite a bit of distance on the backcheck. In such instances, he tries often to put himself in his opponent's lane to obstruct their path. He tends to be too aggressive at times, though, which leads to him overplaying the opponent and losing his position. He kills penalties for his team, Orebro HK J20.
In his own end, he does not tend to support his defence down low. Instead, he waits further up, looking to receive a pass so that he may initiate his team's breakout. In spite of this, he sometimes demonstrates an insufficient degree of anticipation, resulting in a lack of positional effectiveness and too much time away from the puck.
Karlsson has a quick one-timer from the right side, which he uses to his advantage. However, he does not drive enough offense for his team, and his contributions to their transition game need to increase. He must impact the game in more ways and more regularly with the puck.
Round Seven, 202nd Overall – Joel Ratkovic-Berndtsson, LW
Joel Ratkovic-Berndtsson is a 6-foot, 179-pound goal-scoring winger with a shoot-first mindset. His greatest asset is his scoring ability, as many other elements of his game tend to be secondary. He scored 22 goals and 49 points in 47 games with Frolunda of Sweden's J20 league.
He does not demonstrate much of a playmaking pedigree nor does he possess the technical puck skills to be a one-on-one threat in transition. He tends to wait at the far blue line in breakout scenarios, at times being too aggressive to leave the defensive zone so that he may initiate an offensive strike.
In the offensive zone, he hovers around the left point and at the left half-wall, especially on the powerplay. At times, he also stations himself in front of the opposing net. He is a left-handed shooter. His release can, at times, be slow, as the puck does not leave his stick quickly.
His positioning tends to be insufficient for any degree of effective forechecking, and he can often be late to pressure his opposition.
Ratkovic-Berndtsson needs to station himself closer to his teammates on their breakout, as he hampers the team's transition by being too far away. He needs to contribute in more areas, including where puck pursuit and puck possession are concerned. He must also commit to a more disciplined defensive game. His game is incomplete and too one-dimensional at this time. He must diversify and expand his game in order to become more versatile.
Round Seven, 211th Overall – Linus Sjodin, RW
With their final draft choice of the 2022 NHL Draft, the Buffalo Sabres selected overager Linus Sjodin. As a 19-year-old prospect, Sjodin has already played two seasons in the SHL. This past season, he scored five goals and eleven points in 49 games with Rogle BK.
Sjodin plays a grinding type of game. He is a good skater who has enough speed to move up the ice with the puck. Through the neutral zone, he plays a crafty east-west style. He is an assertive puck-handler who can maneuver into the offensive zone with poise during his entry attempts. In his own end, he can also deliver outlet passes quickly to his teammates. He supports the puck all along the offensive zone and can skate with it along the perimeter, from high to low, and vice versa.
His work at the boards is sufficient, and he engages in his team's cycle quite seamlessly to continue their possession of the puck in the offensive zone. He also plays on his team's penalty kill.
However, he does not currently provide much offense for his team, and he tends to spend more time in his own zone than in the offensive end. There is not a significant degree of playmaking in his game.
Sjodin is a slick grinder who can apply pressure to the opposition and move the puck quickly up the ice. Although he does not possess a noticeable level of strength during puck battles, he can engage with his opponents long enough to keep them preoccupied while his teammates assist him. He is a role player who has shown good signs of development thus far in the SHL.
Off-Season Moves
Outgoing: Arttu Ruotsalainen, Johnny Boychuk, Drake Caggiula, Aaron Dell, Ryan MacInnis, John Hayden, Dustin Tokarski, Colin Miller, Jimmy Schuldt, Michael Houser, Ethan Prow, Mark Pysyk, Cody Eakin, Mark Jankowski, Andrew Oglevie, Will Butcher, Brandon Davidson, Robert Hagg
Incoming: Ilya Lyubushkin, Eric Comrie, Lawrence Pilut, Kale Clague, Jeremy Davies, Chase Priskie, Ben Bishop
Unlike last year's off-season, the Sabres have been relatively quiet as far as free agents are concerned. Defenceman Ilya Lyubushkin, with 211 NHL games and four seasons under his belt, is the most prominent free agent acquisition to fill the void left by some of the outgoing defenders. Former SHL Defenceman of the Year and Sabres prospect Lawrence Pilut, who left the Rochester Americans in 2020 to play in the KHL, has returned to the franchise where he once competed for a coveted full-time NHL roster spot.
24-year-old current RFA Arttu Ruotsalainen has decided to join EHC Kloten of Switzerland's National League rather than continue his road towards a regular position in Buffalo.
With so many pieces departing this off-season, there appear to be opportunities for many younger prospects to audition for roles in the lineup this September. From top 20-year-old scorers Jack Quinn and J.J. Peterka to the various other prospects from throughout their depth chart, the Buffalo Sabres' 2022-2023 season could provide viewers with an extended glimpse of the bright talent pool that the organization has constructed so effectively in their most recent campaigns.
********
Kevin is @CambieKev on Twitter. He is a scout, writer, video editor and hockey historian who has published visual and written material for DobberProspects, Canucks Army (The Nation Network), Pass It To Bulis, Nucks Misconduct (SBNation/Vox), and Last Word on Sports, among other organizations. His content has also been featured in such publications as The Athletic. He is a Future Considerations (FCHockey) alumnus and has been with the DobberHockey team since March 2020 as both a scout and columnist. Kevin is also the creator of The Lost Shifts video series, numerous story-based montages, and the 85-minute highlight film, Pavel Bure: A Rocket Through Time.
LATEST RADIO & DRAFTCASTS