August 32-in-32: Calgary Flames
Dave Hall
2022-08-05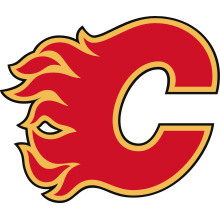 The 32-in-32 Series is an annual event here at DobberProspects! Every day in August we will be bringing you a complete breakdown of a team's Draft, and insights into their off-season movements thus far. Following this up in September, we will dive into every team's prospect depth charts with fantasy insights and implications for the
upcoming seasons. Check back often, because we plan on filling your hockey withdrawal needs all off-season long!
We are officially into the dog days of the off-season, and yet, so far, it has been nothing short of a roller coaster ride for the Calgary Flames. The club is fresh off of a very successful 2021-22 regular season, finishing tops in the Pacific Division on the back of strong even-strength play and excellent goaltending from Vezina Trophy candidate, Jacob Markstrom. Those trends spilled over into the playoffs, where they were keys to a first-round victory over the Dallas Stars. However, the Flames' season came to an abrupt end in round two, where their arch-rival Edmonton Oilers won an entertaining five-game series. Once again, the Flames played well at even-strength, but a combination of poor finishing and subpar goaltending was enough to end their season.
Heading into the summer, it's no secret that the Flames had a major task at the top of their to-do list: Sign Johnny Gaudreau. For the past eight seasons, he has been an important contributor and especially in the last few, has etched himself as a major catalyst and heartbeat of this Flames franchise. Oh, he's also coming off of a career-best 115-point season. Additionally, they had some cleaning up to do with regards to a few major RFA's, which included the budding star, who's coming off of his own 100-plus season,  Matthew Tkachuk. Yet, all that would be dealt with once task number one (Johnny) was officially tabled.
First, it was time to draft.
The Draft
It was a rather inactive weekend for the Flames, as they carried just three draft picks heading in. With hopes of building a cup contender, the club sent their first-round pick, along with Tyler Pitlick and Emil Heineman, to the Montreal Canadiens in exchange for an established goal-scorer, Tyler Toffoli. Additionally, their third-round pick was used to shore up goaltending depth, acquiring Daniel Vladar from the Boston Bruins to assume backup duties. With their fourth round also long gone, here is what they had to work with: 59th, 155th, and 219th overall. Not great.
Round Two, 59th Overall – Topi Ronni, C
Ronni, a 6-foot-2 pivot, spent his 2021-22 campaign cycling through the U20 SM-Liiga and Liiga stages within the Tappara organization. As expected, his minutes were somewhat sheltered in Liiga, only eclipsing the 11-minute mark twice over his 19-game stint. He produced four points (2G + 2A) during that time. Down in the U20, however, he produced just a hint below a point-per-game clip, with 29 points (11G + 18A) through 30 games. He is expected to continue his sound progress and take a stab at a full-time gig at the top level (Liiga) next season.
In terms of his play, Ronni brings a nice combination of size and skill. While he is not always the most physical player, he works hard and does not allow opponents to knock him off the puck easily. He's considered a playmaker by trade, but brings a strong hockey IQ and can score goals from time to time. While he is able to create chances within the lower levels, there are concerns about him driving play as he graduates through the ranks. Yet, overall, there is no questioning his abilities, and he should be able to produce as a complementary piece among an NHL middle-six in the future. He plays well in the defensive zone and had been one of his team's top penalty killers throughout the year.
Round Five, 155th Overall – Parker Bell, LW
In his first full season in the WHL, Bell skated in a top-six role on a very low-scoring, and unsuccessful Tri-City Americans squad. He finished second on the team in scoring, producing 49 points over 64 games. While he can certainly muster up a good chunk of goals in tight, his history does not offer a huge offensive punch, so the Flames were likely zeroing in on his size and work ethic. Standing a tall 6-foot-4, 194-pounds, Bell brings an almost pro-ready frame, which he will add even further down the road. He is a decent skater and works very hard at both ends of the ice. He adds tremendous board play and wins the majority of battles for the puck. Overall, the Saskatchewan native likely brings a bottom-six upside for the Flames.
Bell will return to Tri-City with hopes to bump his team out of the basement of the league.
Round Seven, 219th Overall – Cade Littler, C
Despite falling to the seventh round, Littler brings an intriguing set of skills. As a right-shot center, Littler suited up for his hometown club, the Wenatchee Wild. As a rookie, he produced at a 0.90 clip, finishing second on the team with 45 points. Additionally, he led all rookies in powerplay tallies, with 14. Despite being one of the youngest players in the draft, Littler stands an impressive 6-foot-3 and almost 200-pounds and plays a solid two-way game.  He is certainly considered a project prospect but could tap into some bottom-six potential.
He has officially committed to Minnesota State University but will return to Wenatchee to play out his second season in the BCHL. Expect him to add to his impressive rookie numbers, and move to the NCAA circuit for the 2023-24 campaign.
The Off-Season
With the draft now out of the way, the focus shifted to the summer's top priority: Johnny. After striking magic on a line that compiled for 300-plus points, the Flames were pressed to do whatever it took to keep their star winger in town. They shot their shot, eventually offering him a reported 10.5 x 8 contract. Unfortunately, not even an 84-million dollar offer could keep him in Alberta, as he fled for Ohio, taking less money and finding a new home as a member of the Columbus Blue Jackets. Now, without their main driver, the club's entire process looked to be broken and the short-term future of the Flames seemed nothing short of dwindled.
Cue the craziness.
With one-third of one of the league's top producing lines now gone, all attention was geared towards their pending RFA, and 104-point man, Matthew Tkachuk. Rumors leaked that the star power-forward was leaning towards an exit, which sparked major speculation that the team was on the brink of losing their second star within the same week. Yes, it was evident that a trade had to be made, but how much leverage could a team with a disgruntled asset have, anyway? Well, after just a couple of weeks of negotiations, Flames General Manager, Brad Treliving, managed to bring in a haul. And I mean a haul:
It's not every day that the NHL enjoys blockbuster deals such as this, especially those highlighting a team with its backs against the wall. However, the Flames managed to bring in one of the league's top playmaking wingers, a bonafide top-four defender, a B-grade prospect (Cole Schwindt), and a conditional first-round pick (2025). This, all for the price of Matthew Tkachuk and a conditional fourth-round pick (2025). And just like that, cup contention talks are back.
Of course, with both Huberdeau and Weegar running into UFA summers (2023), there was no guarantee that they would stay in town past their contract's expiration date. No problem. If that's the case, and neither wanted to extend, the club could simply deal them at the deadline for even further assets. It's a risk, but a calculated one.
Luckily, as of late August 4th, half of this issue is now moot. Jonathan Huberdeau has officially inked an eight-year extension, receiving nearly identical terms offered to Johnny Gaudreau just weeks before.
In Huberdeau, the Flames bring in one of the NHL's top point producers. In fact, the club essentially matched "Johhny Hockey's" production, as the former Florida Panther combined for 30 goals, 85 assists, and 115 points last season. This tied Gaudreau for second place leaguewide.
Weegar is fresh off of a career year that saw him tally eight goals, and 36 assists, to go with an impressive plus-40 rating – good for ninth league-wide. As if the Flames' defensive corps was not stacked enough, you can now add a top-10 performer to a core that homes the likes of Chris Tanev, Rasmus Andersson, Noah Hannifin, Oliver Kylington, Nikita Zadorov, and even Juuso Valimaki down in the pipeline. Do not be shocked to see Weegar patrolling on a top-pairing unit next season.
Cole Schwindt is likely going to spend another year in the AHL but he has the upside of a third-line energizer and someone who fits the mold of Head Coach, Darryl Sutter, well.  So far, he has produced 42 points (20G + 22A) over 82 games at the AHL level.
To cap off what can now be considered a successful off-season, thus far, the club managed to lock in 26-year-old Andrew Mangiapane for the next three years (AAV of $5.8 million). Playing in the shadows of, as mentioned, one of the best lines in hockey, Mangiapane quietly posted career numbers throughout the 2021-22 campaign. His 55 points (35G + 20A) sat fourth among the team last season, while he has been firing at a 0.57 clip over the last three seasons.
With the blockbuster theatrics come and gone, the club also touched up a few loose ends, re-signing pivotal members of the club's depth, and attempting to iron out the remaining holes within the club.
LATEST RADIO & DRAFTCASTS