August 32-in-32: Calgary Flames
Dave Hall
2022-08-05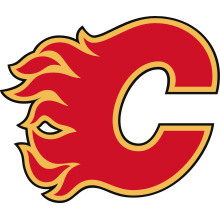 The 32-in-32 Series is an annual event here at DobberProspects! Every day in August we will be bringing you a complete breakdown of a team's Draft, and insights into their off-season movements thus far. Following this up in September, we will dive into every team's prospect depth charts with fantasy insights and implications for the
upcoming seasons. Check back often, because we plan on filling your hockey withdrawal needs all off-season long!
We are officially into the dog days of the off-season, and yet, so far, it has been nothing short of a roller coaster ride for the Calgary Flames. The club is fresh off of a very successful 2021-22 regular season, finishing tops in the Pacific Division on the back of strong even-strength play and excellent goaltending from Vezina Trophy candidate, Jacob Markstrom. Those trends spilled over into the playoffs, where they were keys to a first-round victory over the Dallas Stars. However, the Flames' season came to an abrupt end in round two, where their arch-rival Edmonton Oilers won an entertaining five-game series. Once again, the Flames played well at even-strength, but a combination of poor finishing and subpar goaltending was enough to end their season.
Heading into the summer, it's no secret that the Flames had a major task at the top of their to-do list: Sign Johnny Gaudreau. For the past eight seasons, he has been an important contributor and especially in the last few, has etched himself as a major catalyst and heartbeat of this Flames franchise. Oh, he's also coming off of a career-best 115-point season. Additionally, they had some cleaning up to do with regards to a few major RFA's, which included the budding star, who's coming off of his own 100-plus season,  Matthew Tkachuk. Yet, all that would be dealt with once task number one (Johnny) was officially tabled.
First, it was time to draft.
The Draft
It was a rather inactive weekend for the Flames, as they carried just three draft picks heading in. With hopes of building a cup contender, the club sent their first-round pick, along with Tyler Pitlick and Emil Heineman, to the Montreal Canadiens in exchange for an established goal-scorer, Tyler Toffoli. Additionally, their third-round pick was used to shore up goaltending depth, acquiring Daniel Vladar from the Boston Bruins to assume backup duties. With their fourth round also long gone, here is what they had to work with: 59th, 155th, and 219th overall. Not great.
Round Two, 59th Overall – Topi Ronni, C
Ronni, a 6-foot-2 pivot, spent his 2021-22 campaign cycling through the U20 SM-Liiga and Liiga stages within the Tappara organization. As expected, his minutes were somewhat sheltered in Liiga, only eclipsing the 11-minute mark twice over his 19-game stint. He produced four points (2G + 2A) during that time. Down in the U20, however, he produced just a hint below a point-per-game clip, with 29 points (11G + 18A) through 30 games. He is expected to continue his sound progress and take a stab at a full-time gig at the top level (Liiga) next season.
In terms of his play, Ronni brings a nice combination of size and skill. While he is not always the most physical player, he works hard and does not allow opponents to knock him off the puck easily. He's considered a playmaker by trade, but brings a strong hockey IQ and can score goals from time to time. While he is able to create chances within the lower levels, there are concerns about him driving play as he graduates through the ranks. Yet, overall, there is no questioning his abilities, and he should be able to produce as a complementary piece among an NHL middle-six in the future. He plays well in the defensive zone and had been one of his team's top penalty killers throughout the year.
Round Five, 155th Overall – Parker Bell, LW