September 32-in-32: Seattle Kraken
Alex Wyatt
2021-09-24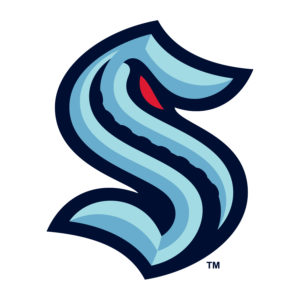 Welcome to the September 2021 edition of the DobberProspects 32-in-32 Series! This month, we will be diving into the depth of each organization, looking at their recent graduates, risers, fallers, and top 20 prospects. 
***********
Seattle's inaugural training camp is officially underway as the newly minted Kraken, and a host of potential roster players vie for try-outs in attempts to carve out the skater ranks of the NHL's newest franchise.
Set in goal with Phillip Grubauer as the Kraken's Knight of the Knitted Kingdom, and the fantasy darling for rate-stats-in-a-small-sample-size Chris Driedger (can you believe he has only played 47 games in the NHL?) ready to back him up, the Kraken will work to put pen to paper on the forward and defense rankings. This, after most have been penciling and "Twittering" in projections since the club's, shall we say, interesting selections of the expansion draft were announced.
The Kraken did not make any side deals to stock the cupboard. Perhaps NHL GM's had learned some lessons from the Knights dipping their fingers into their coffees, as they plucked prospect after prospect from teams who did not appear to be Expansion draft ready. The Kraken seemingly had less obviously high-value talent available, but they definitely did draft with an identity in mind – hard-working, defensively responsible, swiss army knife-style players, and hulking defensemen. They also left some players on the board that had us armchair GMs at home scratching our heads.
Let's dive into the first year of the Seattle Kraken, and which prospects could be graduating into higher roles than they've been offered in the past with the fledgling club.
Honour Roll
Beniers was a very safe, responsible pick for the Kraken. No report on Beniers leaves out the mention of his two-way prowess, and his stats in junior show a very balanced offensive game. You'd have to go back to his 33 games for the USNTDP Juniors where he put up 11 goals, and 20 assists to find a year with the most variance to his offense.
According to Hockey Prospecting's model, he rates similar to how Brayden Point did at the same stage of his career. Up to his draft year, Point was a very balanced scorer, with a slight lean toward assists, eventually potting a 41 goal, 92 point season in the NHL.
If Beniers can become anything close to the player Point is currently, the Kraken will certainly have knocked their first draft pick out of the park.
Morgan Geekie is another young center the Kraken will be excited about. He just turned 23 this summer and has a lot of hockey ahead of him.
The kid can put up points.
His last two seasons in the WHL saw him score at a 1.25 point-per-game clip, before joining the Charlotte Checkers and going 0.63, 0.76, and 0.75 over three seasons with them. Geekie paced for second on the team in playoff scoring, helping carry Charlotte to the 2018-2019 AHL Championship, with eight goals and 10 assists through 19 games. There were no playoffs in 2019-2020, but Geekie potted four goals in five AHL games last season before playing 36 games with the Carolina Hurricanes over the remainder of the year.
Geekie averaged less than 10 minutes of ice time last season on a stacked Carolina team, and figures to factor in far more in the top-six with Seattle than he'd have had the chance to for the Hurricanes. Geekie spent his season playing with the likes of Cedric Paquette and Steven Lorentz (over 62% of his ice time with one or both linemates), so it is not really his fault he scored only 9 points last season.
You might be able to grab Geekie from a GM who only sees his 'disappointing' point totals last season, and stash him to keep an eye on his deployment and development with Seattle.
Mason Appleton has been on the scene for a while, since being drafted in 2015 in the 6th round.
He's gotten into 138 games over the last three seasons with Winnipeg, earning himself some limited time alongside the likes of Kyle Connor, Pierre-Luc Dubois, and Mark Scheifele. However, the majority of that time was spent in bottom-six minutes with Andrew Copp and Adam Lowry, while seeing very little power play time, and under 14:00 if ice per night over the last two seasons. He only started 42% of his shifts in the offensive zone last year, so there's lots of room to grow if he's given more offensive opportunities.
Why Appleton may be worth a peek or a late flier this season, particularly in deeper leagues, is that he was able to put up 25 points in 56 games last season, mostly from the bottom six, and although the Kraken do not have a Kyle Connor to share the ice with, they do have Jordan Eberle and plenty of opportunities to play. Eberle hasn't lit up the scoring race recently, nor should we expect him to, but he has seven 20 goal seasons under his belt, and a few near misses in seasons he missed 20-plus games.
Hockey Prospecting projects Appleton has a 0% chance of being a star (0.7 career points per game), but he is very likely a serviceable player and is worth keeping an eye on to see how the Kraken choose to use him.
Dennis Cholowski was never able to reach the potential that was talked about since he was drafted 20th overall by the Detroit Red Wings. He played just one season in the WHL, going nearly a point-per-game with 66 points over 69 games across two clubs in 2017-2018.
Perhaps it was a rare misplay by Detroit, having brought him up to play 52 games with the big club the very next year. He was given lots of offense opportunities, with 18 minutes (plus), with nearly 2:30 of that on the powerplay. 13 of his 16 points came during the man advantage that year, and six of eight the next, as Detroit tended to play him as a bottom-four defenseman, and powerplay quarterback.
Questions about his defense linger, but someone is going to have to be an offensive defenseman for Seattle, with Mark Giordano likely to hang up the skates soon. If Seattle can rely on Cholowski's offense, and cover up his defensive lapses, he could end up an easy, worthwhile stash when compared against his Detroit self.
Colin Blackwell, RW
Colin Blackwell still fits as a prospect for our purposes here, despite being six months shy of his 29th birthday. He has yet to play a full 82 NHL game schedule, suiting up for the Predators, Rangers, and now the Kraken.
Blackwell was a decent streamer option for deeper leagues last year, as he provided just under a shot and a half, a hit, and half-point per game while getting (though sparse) some powerplay time.
Blackwell will likely fall in a similar line this season, but as the Kraken get used to their lineup, and try to find out what they have, you may see Blackwell grab a few more than the 14 minutes a night he played on a much more offensive Rangers squad last season. As with any Kraken winger, keep him on your watchlist and keep tabs on his deployment.
Average Joes
Cale Fleury, D
Cale Fleury is still just 22, and somewhat of a raw prospect, despite having effectively a half-season in the NHL under his belt, playing 41 games for Montreal in the 2019-2020 season. The offense hasn't really been there for the younger Fleury brother, despite being advertised as an offensively minded rearguard in the past. He's never put up more than 12 goals in a season at any level (12 in 68gp in 2017-18 is his highest, however, he did manage 39 assists that same season).
Given his single point in those 41 NHL games, and 11 points in 36 AHL games since, I don't think you'd be wise to draft him with high hopes for offensive prowess. What you will see from Cale is a peripheral game. In that half-season with Montreal, he put up north of one shot and one block, and two and a half hits per game.
If Cale Fleury is able to distribute the puck effectively and sees some powerplay time as Dave Hakstol plays with his toys to see what fits, you might have a decent late-round option for deeper leagues that reward those types of players. Fleury saw 14 minutes a game playing with the likes of Brett Kulak, and Mike Reilly, one would imagine he will see at least that level of deployment in Seattle, with marginally better defensive partners.
Haydn Fleury, D
For fun, why not keep the Fleury train rolling here.
Between the two brothers, Cale is the more offensive, which after just reading about him may give you a bit of an idea of what to expect from Haydn.
Fleury spent more than a third of his time on ice in Carolina playing with a name you likely had penciled in as the Hurricane selection in your Kraken mock drafts this summer – Jake Bean. He was traded to Anaheim for Jani Hakanpaa and a 6th-round-pick, and ended up being the selection from Anaheim, joining the Kraken ranks with his younger brother.
Haydn has played 179 games in the NHL across four seasons and has never exceeded a 26 point pace per 82 games played. What you can expect from him is a step up from his career average of 1.25 hits, shots, and blocks per game, as he will likely see an expanded deployment than the twelve-ish minutes he was getting in Carolina on a full blue line. He only saw 18 or more minutes on the ice with Carolina twice all season, and after moving to Anaheim, never saw less than that across 12 games.
He saw an increased role with Anaheim – which is what he was wanting prior to the trade that facilitated it – and played well. You're likely not drafting Haydn Fleury unless you're playing in a deep league where peripherals matter, but he's a decent low-end defensive defenseman, on a cheap contract with only a year remaining, he seemed to respond to the trade to Anaheim, perhaps he can make the most of a contract year, but temper expectations.
Nathan Bastian, RW
Nathan Bastian is a 6-4, 205-pound winger, who got his first real taste of NHL action last year with the New Jersey Devils. Not too many things went terribly well for the Devils last season, but if you were an optimistic fella, you could certainly see some silver linings in Bastian's play. He was given more time on ice (15:04 vs the season average of 12:37) and better linemates in the last 14 games of the season, though still started less than a third of his shifts in the offensive zone.
Bastian isn't without some offensive talent, though he is yet to show it in the NHL, as he did score at just under a half-point-per-game pace in his 188 game AHL career, culminating with a 0.61 point per game pace 62 games for Binghamton in 2019-20.
If you draft Bastian as a banger, and he makes the most of some offensive opportunities, you may have a decent late-round addition on your roster, but chances are Bastian belongs on your watchlist as a streamer candidate to help tilt your weekly matchups.
Kole Lind, RW
Kole Lind was just starting to earn his keep with the Utica Comets before being selected by the Kraken from Vancouver, and now he will have fewer hurdles to leap in order to ply his trade in the NHL this season.
He's a 6-1 right-winger, who is often thinking "PASS". Just once – this most recent stint in the AHL – did he almost go 2:1 on assists to goals. He was a 0.75 points-per-game in the AHL in 2019-20, and in eight games during this shortened season was eight-for-eight in the "A", and pointless through seven games in the NHL. Four of his five goals came on the Powerplay last year with Utica, and he shot 26.3% so take that goal scoring as you will.
The Kraken likely don't have a future star in Kole Lind, but they do have a young, serviceable winger who can help create plays. On a team full of middle sixers, someone is going to have to drive offense, and Lind is worth keeping an eye on during camp to see if he will grasp the reins and do so.
Summer School Students
Lauzon is a very nice pickup for the Kraken, and I know a few Boston fans who were sad to see him selected, given he was tied at the hip with Charlie McAvoy most of last season and provided some reliability defense as his partner.
That being said, as much of a benefit Lauzon could be for Seattle, he fits the common theme of the Kraken defensive prospects in that he might get you some peripherals, but that's about it. Across three seasons with Boston, he averaged about a shot, block, and PIM per game, with just over two hits, and less than a quarter of a point.
He likely won't see a lift to the 17 plus minutes he averaged in Boston – nearly 19 minutes last season – so chances are, unless the system in Seattle allows for it, or Lauzon has a complete overhaul in his game, he's going a be a consistent, albeit boring, defensemen. This will be great for the Kraken, and of limited value to you in all but the deepest leagues.
Will Borgen, D
Will Borgen was not taken from the Buffalo Sabres to put up points for the Seattle Kraken. The Hockey Prospecting model has him as a minuscule 1% chance of being a star player (0.45 points per game projection for defensemen – a mark Borgen hasn't hit since Highschool hockey) and compares him to several names who would have been readily available on the waiver wire in your fantasy leagues during their day.
If your league uses categories that reward defensive play, and it's a deep enough league, perhaps he is worth keeping a passing glance on, but I don't think Will Borgen is going to be a key cog in any fantasy hockey team's championship run.
Carsen Twarynski, LW
Twarynski is a 6-2, 24-year-old winger, who is likely going to be planted in the bottom-six of Seattle's lineup. Though there are no shortage of roamers who may see some top six-time, or get a few looks on the powerplay, I wouldn't be drafting Twarynski to supply me with anything beyond a few hits per game. Philadelphia played Twarynski roughly 10 minutes a night, in a bottom-six role with zero powerplay time, and I do not expect Seattle will do anything different.
Alex True is a big lanky fella, who was the selection the Kraken made from the San Jose sharks. He is 6-5, 200-pounds, and has had two cups of coffee with the Sharks, playing seven and 10 games in the last two seasons for the big club. His numbers were not impressive, pacing for an average of 22 points across a full season while seeing 10 minutes of ice.
I do not expect True will discover a scoring touch coming over to Seattle, but in fairness to him, he did score no worse than a 50 point pace with two-plus SOG per game over the last three seasons in the AHL.
If you're in a very deep league that allows for streaming, maybe you keep an eye on True, much like we all will as we wait to see how everyone is used. However, chances are that he will be of minimal value to your fantasy roster.
Joey Daccord, G
The poolies who had stashed Joey Daccord during Matt Murray's struggles in Ottawa can pretty much give up on the dream of him providing any meaningful benefit to their team going forward. Despite him getting a cup of coffee during last season, he didn't do much with it, going 1-3-1 with a 3.27 and .897 mark. He has outplayed NHL League average goalie stats (.908 sv%, 2.74 GAA last year) at any level just two of the last six years.
He will likely be a back-up for the Charlotte Checkers, whom Seattle will share with Florida as their AHL affiliate.
Organizational Depth Chart
| | | |
| --- | --- | --- |
| Left Wing | Center | Right Wing |
| Carson Twarynski | Matty Beniers | Nathan Bastian |
| Justin Janicke | Morgan Geekie | Kole Lind |
| | Mason Appleton | Jacob Melanson |
| | Alexander True | |
| | Luke Henman | |
| | Ryan Winterton | |
| | | |
| | | |
| | | |
| --- | --- | --- |
| Left Defence | | Right Defence |
| Dennis Cholowski | | Ville Ottavainen |
| Jeremy Lauzon | | |
| Haydn Fleury | | |
| Ryker Evans | | |
| | Goalies | |
| | Chris Driedger | |
| | Joey Daccord | |
| | Semyon Vyazovoy | |
Top 20 Fantasy Ranking
This section is intended to paint a picture of the Seattle Kraken prospects whose current trajectory projects them making the most positive fantasy impact at the time that they reach the NHL. Arrival date and NHL certainty have been taken into consideration. However, a player's potential upside is the most important factor in determining this list. 
Matty Beniers

Mason Appleton

Kole Lind

Morgan Geekie

Dennis Cholowski

Colin Blackwell

Alexander True

Chris Driedger

Ryker Evans

Joey Daccord

Carsen Twarynski

Cale Fleury

Nathan Bastian

Haydn Fleury

Will Borgen

Jeremy Lauzon

Luke Henman

Ville Ottavainen
Semyon Vyazovoy

Justin Janicke
Thanks for reading.
LATEST RADIO & DRAFTCASTS