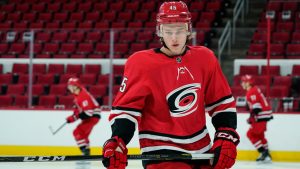 NHL.com
Fantasy Summary
Two-way center, who likely slots in as a middle-six, secondary scorer.
Observations
Click to Expand

July 2023 – Geekie was not qualified by the Kraken and became a UFA as a result. He then signed a two-year $4M deal with the Boston Bruins as the team clearly views him as a top nine player. Pat Quinn

June 2023 – As a pending RFA, Geekie set a career-high point pace (33) but also saw his deployment shift dramatically. His ice time fell to just over ten minutes a game, and he went from getting about a third of the powerplay time and sparse PK usage the last few seasons to nearly zero powerplay time and 16% of the penalty kill. Geekie's underlying numbers (shooting percentage, PDO etc.) were the highest they've been in his time with the Kraken, so he hasn't given us enough to be terribly bullish on an offensive jolt going forward. He will likely be a more valuable player for the Kraken than our fantasy teams. Alex Wyatt

February 2022- They don't come more sheltered than Morgan Geekie, who thus far with the Kraken has seen more than 55% of his shifts begin in the offensive zone, against the lowest quality of competition (as per Frozen Tools) than anyone else on the team. While his Corsi is positive, unless you're in one of eight leagues that use Corsi as a category, he isn't providing you much in the traditional fantasy categories. He has provided a shot and a half, half a hit and a quarter of a block per game. Geekie is only 23, and  hasn't yet hit 82 NHL games played yet. He could still be held in the minors of many keeper/dynasty leagues, but he needs to break out soon if he will justify a pro keeper spot on most fantasy rosters. Alex Wyatt

October 2021 – Geekie has been playing with Calle Jarnkrok and Mason Appleton as pre-season winds down, and has put up two points in four games. Likely to see middle six usage, and second power play time, Geekie is unlikely to win you any championships this year, but he has a scoring pedigree, and if he can string together some hot streak, will have every chance to earn deployment- as will anyone- on the leagues' newest franchise. Alex Wyatt

July 2021 – Geekie has been selected in the 2021 expansion draft and will join the Seattle Kraken organization. Dave Hall

March 2021 – Geekie is back up with the Hurricanes after a brief two-game stint in the AHL. He got five points in his two games with Chicago before being recalled back up to the big club. Since his recall he played well in his two games including a two-goal effort against the Predators, bringing his season totals to two goals in 11 games. Austin Broad 

February 2021 – The Hurricanes sent Morgan Geekie down to the AHL from the taxi squad. Austin Broad

March 2020 – Geekie had a big weekend with a hat trick and four points in a win over the division-leading Hershey Bears. He also went +4 on six shots with two PIMS. He has 22 goals and 43 points in 54 games for Charlotte. It wouldn't be a complete shock to see Geekie get a shot next year in Carolina, or if there are more injuries to Hurricanes players, he might be on the shortlist get the call this year late. Jack LeGwin

March 2019 – Geekie has been a dominant presence down the stretch towards the AHL playoffs, with 17 points in his last 18 games. The WHL product is second on the Checkers to only uber-prospect Martin Necas in terms of rookie scoring with 46 points in 71 games. Keep an eye on Geekie next season in Charlotte when he takes on more responsibility. He's a prospect who's full body of work may make him ready for his  debut sooner rather than later. Kevin LeBlanc

After a dominant two-year run for the WHL's Tri-City Americans, Geekie has moved on to professional hockey and the AHL's Charlotte Checkers this season. He has kept up the solid play for the Checkers, scoring 13 times and adding nine assists for the best team in the AHL. The pivot's 13 goals are good for sixth among AHL rookies.

As a coveted right handed center, Geekie projects as a bottom-nine forward in terms of an NHL future. He plays a solid two-way game with a knack for finishing in high danger areas. Carolina's recent trade of Victor Rask bumps all the centers on the organizational depth chart up a spot, but Geekie is still a couple seasons out from seeing significant NHL action.
Highlights