September 32-in-32: Buffalo Sabres
Kevin Wong
2021-09-05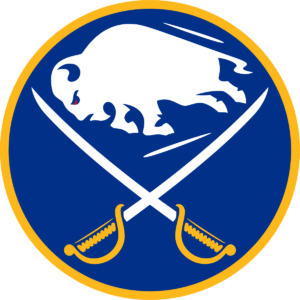 Welcome to the September 2021 edition of the DobberProspects 32-in-32 Series. This month, we are diving into the depth of each organization, looking at their recent graduates, risers, fallers, and top-20 prospects.
*************
Despite the Buffalo Sabres' disastrous regular-season performance in 2020-2021, their campaign featured some exciting glimpses into the organization's future. A philosophical shift occurred within the Sabres' management group once it became clear that the team was headed again towards at the bottom of the NHL standings.
Our Sabres feature last month covered the radical changes that took place during the latter half of the 2020-2021 campaign, including the dismissal of head coach Ralph Krueger as well as numerous trades. The vacancies created as a result of these transactions led to numerous ice-time adjustments for other players in addition to alterations to the team's style of play under interim coach Don Granato. The team began to focus more heavily on the development of its younger players, resulting in an influx of prospects and expanded opportunities for existing players. Casey Mittelstadt, Dylan Cozens and Jacob Bryson were among those tasked with filling the void. Meanwhile, amidst the exodus of veterans, new positions became available for Rasmus Asplund, Arttu Ruotsalainen and Mattias Samuelsson among others to audition their talents. In total, 10 players aged 23 or under made appearances for the Buffalo Sabres during the 2020-2021 campaign, nearly twice as many as in the previous season.
Not all of these players looked comfortable or ready to compete in the National Hockey League despite logging so many games with the team last season, however. One might express some concern that a few of these players have been pushed into the high-pressure NHL environment without having been developed enough as of yet at lower levels. In the case of Rasmus Asplund, for example, the 23-year-old played 28 games with the Sabres but struggled to influence the flow of his line's performance. The Sabres opted not to develop him further in Rochester, although based on his previous season's contributions, it may have been more ideal for him to continue his development in the AHL. Mattias Samuelsson and Will Borgen also played a handful of games with the Sabres. The Seattle Kraken selected Borgen in their 2021 Expansion Draft while Samuelsson is slated to make his case to stay in Buffalo next season.
Due to the team's apparent lack of a competitive short-term future, it remains to be seen whether the Sabres will continue to rely on their prospects to fill roster spots or if a more patient approach will be taken.
Graduating Players
Jacob Bryson

23-year-old rookie Jacob Bryson stood out as perhaps the most impressive prospect among those who debuted with the Sabres in 2020-2021. In 38 games with the team, he tallied nine points. More notably, as a first-year NHL player, he averaged 19:03 minutes per game and demonstrated an immense degree of maturity and hockey IQ. Prior to joining the Sabres, he showed a high-level ability to quarterback the Rochester Americans' powerplay and to transition the puck up the ice in the AHL. His sense of intuition allowed him to seamlessly transition his two-way game to the NHL even while playing alongside other, less-refined prospects in Buffalo.
Bryson is both shifty and crafty with the puck, and he possesses the composure to carry it up the ice on his own. However, he is also tactful, and he refrains from trying to force it past defenders or putting himself in a situation where he might be under pressure from the opposition. He moves the puck quickly out of danger and does not over-handle it. For instance, upon receiving the puck in his own crease, he might chip it into a safe position along the boards.
There remain times when he is too hasty to move the puck, though. As a result, throughout the season, he was sometimes guilty of committing unnecessary turnovers.
Thus far, he has been more of a distributor than a puck carrier. In the offensive zone, he can walk the line laterally with poise. In fact, poise is one of the more noteworthy attributes about this player. He does not force the puck on goal and prefers to instead dump it down low from the point when he sees no lane to the net. Sometimes, he will pinch low to support his team's forecheck.
He must continue to improve his sense of timing at the NHL level, although some of his mistakes may be attributed to his inexperience against such high-level competition. After his performance as a rookie last season, there should be much excitement about his future as a potential mid-pairing defenceman in the NHL. The Sabres need as many of their prospects to pan out, and Bryson appears to be on that path.
Dylan Cozens

The team's other high-profile rookie, Dylan Cozens, also had a strong first year in the NHL. Following his completion of the 2021 World Juniors as the tournament's leading goal scorer and Team Canada's leading point producer with eight goals and 16 points, there were high expectations in January for the team's 2019 seventh-overall selection.
He made his debut at just 19 years of age and became increasingly effective at utilizing his sturdy frame and two-way skill set as the season progressed. In 41 games, he scored four goals and thirteen points. His season was unfortunately marred by numerous upper-body injuries as well as by the Sabres' COVID outbreak in early February. In spite of his -15 plus-minus rating, though, Cozens showcased his strong defensive intuition and adapted quickly to the pace of the NHL.
His offensive game remains unrefined. He is neither shifty nor agile, although in a straight line he possesses a powerful stride and can bulldoze his way up the ice. He needs to improve his offensive positioning to elevate the play of his line in transition, as well as learn to create space for himself with the puck. In tight spaces, he lacks elusiveness, which can cause trouble for him when he is under pressure with the puck. He also might not possess the high-end puck skills required to be a dangerous one-on-one attacker in the National Hockey League.
For such a young player, Cozens is already both assertive and comfortable on the defensive side of the puck at the NHL level. Although his offensive upside remains a question, the foundation exists for him to develop into a strong and dependable two-way center for the Buffalo Sabres.
Casey Mittelstadt
On September 2, 2021, the Sabres re-signed 22-year-old Casey Mittelstadt to a three-year, $2.5 million AAV contract. Four seasons removed from the 2017 NHL Draft, it seemed increasingly improbable that this boom-or-bust type would become an established NHL scorer. With this contract, the Sabres have expressed their belief that he can meet their expectations as a full-time performer with the club.
Throughout the 2020-2021 campaign, Mittelstadt was often somewhat passive, playing at a relatively low-intensity pace and contributing little towards his team's forecheck. This has always been among his main criticisms — his inability to control the direction of his team's attack despite his refined puck skills. Last season, he often played alongside fellow prospects Rasmus Asplund and Tage Thompson, and the trio frequently seemed ineffective at possessing the puck. In his first 19 games of 2020-2021, Mittelstadt recorded just one goal and five points with a -14 plus-minus rating and a 5.3% shooting percentage.
In the final 22 games of the campaign, he caught fire. In that span, he scored nine goals and 17 points with a shooting percentage of 21.4% and an average TOI of 17:17 per game. Under new coach Don Granato, Mittelstadt experienced a scoring surge in April, although it remains to be seen whether he can continue to produce at a rate that would justify his new contract.
Arttu Ruotsalainen
Offensively, 5'9" Finnish center Arttu Ruotsalainen has already proven to be a highly-capable scorer at lower levels. Last Fall, just prior to joining the Sabres, he led the Finnish Liiga with 16 goals and 27 points in 19 games. He subsequently scored five goals and 13 points in 13 games with the Rochester Americans. Thus, on April 9, 2021, Ruotsalainen made his NHL debut with the Buffalo Sabres.
In 17 games with Buffalo, the 23-year-old scored five goals and six total points while averaging 13:59 of ice time.
There are numerous strengths but also a host of deficiencies to consider with this player as of now. Ruotsalainen's grit is one of his standout attributes. His tenacity in traffic and around the net, as well as his motor on the backcheck are indicative of a high work ethic and a desire by him to develop into a multi-faceted contributor at the NHL level.
Although he has been a commanding presence in other leagues, he has yet to become acclimated to the high pace of the NHL. There were too many times when the speed of his puck movement was inadequate. Furthermore, his decisions with it suggest a lack of creativity and vision. For example, he would regularly default to forcing the puck on net whenever he saw no other available options. In transition, he also experienced a degree of difficulty maneuvering the puck past his opposition through the neutral zone.
He must learn to apply pressure more effectively and to recognize plays more quickly, both of which can come with additional experience.
At the 2021 IIHF World Championships this past May, he scored four goals and five points in ten games with Team Finland.
This season, he is scheduled to enter the final year of his current $925,000 AAV contract, after which he will be 24 years of age. Having shown that he can produce effectively in other leagues, the Sabres will want to give him an extended look this season. With more games under his belt, it will soon become apparent whether he can adapt and become a reliable middle-six option for the Sabres, or if the NHL pace is simply too much for him.
Tage Thompson
Four years removed from the 2016 NHL Draft and with two previous NHL stints on his resume, it seemed uncertain prior to last season whether 6'7" winger Tage Thompson would have any more chances to prove he could be an effective bottom-six player with Buffalo.
He spent much of the 2019-2020 campaign rehabilitating a shoulder injury. Prior to that, he was able to score 12 points in 16 games with the Rochester Americans in late 2019. At the AHL level, he was often able to use his frame and long reach to protect the puck and to play a physical style. His passes are crisp, and he handles the puck well for a player of his size, hence his 26th-overall selection in 2016 by St. Louis.
Thompson's skating, however, is one of his weaknesses. In particular, his acceleration is below average, and he can appear sluggish compared to other NHL players. In defensive situations especially, this can cause him to become overwhelmed by the opposition's pace, leading to scrambly, unsound positioning in his own end. He also can be a passenger in transition due to his lack of mobility. His skating is a hindrance that restricts him in numerous ways. Additionally, he must learn to shield the puck better along the boards against NHL opponents.
Last season, Thompson scored eight goals and 14 points in 38 games with the Sabres, mostly on a line with Casey Mittelstadt. The majority of those points — seven goals and 11 points — were scored in his final 21 games, coinciding with Mittelstadt's offensive breakout. Prior to that, Thompson contributed just three points in 17 games to his team's overall scoring.
Unless Tage Thompson can either become quicker or more efficient from a positional point of view, there may be some limitations to his effectiveness in the NHL.
Rasmus Asplund
In the AHL two seasons ago with Rochester, Rasmus Asplund served primarily as a defensive presence for his team, scoring 19 points in 33 games. NHL-caliber offensive prospects tend to score at a rate closer to a point-per-game. Even without the offensive acumen, Asplund was given an opportunity this year to play alongside Casey Mittelstadt and Tage Thompson in the NHL.
In this scenario, it seems likely he was expected to be the defensive member of his unit, and in that he regard he delivered. Before joining the Sabres, he was on loan with Vasteras IK of Sweden's second-tier professional league, the HockeyAllsvenskan, where he managed a sum of nine points in 14 games.
He spent much of the early part of the Sabres' campaign on the team's taxi squad, and briefly spent time in Rochester again.
Upon being called upon to play a regular shift with the Sabres in April, Asplund demonstrated that while he was not an ideal offensive option for last year's Sabres, he was a sufficient defensive contributor.
One of the biggest drawbacks of Asplund's game is his lack of forechecking. His passivity remains an issue. Also, when he is in possession of the puck, he tends not to be strong enough to overcome the pressure of his opponent, nor quick enough at its distribution to deliver it out of harm's way. Although he handles the puck skillfully, he creates very little with it on his stick at this point.
Asplund is a conscious backchecker, however, and he will regularly put his body in the path of the opponent to disrupt their transition into his defensive zone.
At 23 years of age, this was his second campaign in the NHL. In 28 games, he scored seven goals and eleven points, an improvement over his previous year's totals of one goal and three points in 29 games with Buffalo. There may certainly be a stable role for him with the Sabres going forward if he can continue to maintain a high level of two-way focus in his development.
Linus Weissbach
In his final year with the University of Wisconsin Badgers, Linus Weissbach once again led his NCAA squad alongside Montreal Canadiens star prospect Cole Caufield. This year, unlike last season, the duo played without the help of top Los Angeles Kings prospect Alex Turcotte.
In 31 games with the Badgers, Weissbach recorded twelve goals and 41 points, second on the team in both categories behind Caufield. For Weissbach, this was a substantial increase from 2019-2020, when he scored four goals and 22 points in 35 games.
The 23-year-old, 5'9" forward recently signed a two-year contract with Buffalo worth $925,000 per season in April and is expected to begin his upcoming season in the AHL with Rochester.
Weissbach handles the puck sufficiently, but he tends to overestimate his abilities in one-on-one situations. He often attempts high-risk plays in transition. He is guilty of being overly individualistic, occasionally taking the puck wide and attempting to out-skate the opposition without full control of it on his stick. He is more of a playmaker than a goal scorer, although he sometimes tries to force passes through traffic, resulting in turnovers.
While his offensive output at the NCAA level nearly doubled in 2020-2021 compared to his previous season's totals, Weissbach will need to become more disciplined at the AHL level in order to be effective.
Lukas Rousek
There is a very good chance that Lukas Rousek will play in the NHL at some point in his career. The 22-year-old finished his 2020-2021 Czech Extraliga season with 14 goals and 38 points in 49 games wile representing HC Sparta Praha. In April, he signed a two-year, $830,000 AAV contract with the Sabres. He will likely join the Rochester Americans in the AHL this season along with Linus Weissbach.
His high-intensity, speedy, aggressive style of play is among the reasons for his success.
He is a fierce workhorse, putting himself in traffic and competing hard in the pursuit of loose pucks. He can transition the puck up the ice individually either by carrying it up or through the execution of a chip-and-chase play. This is made possible by his above-average bursts of acceleration.
On the forecheck, he uses his stick actively, and when he has control of the puck, he understands when to pivot in order to slip past an opponent's check. On the powerplay, he operates on the left side as a distributor. Defensively, Rousek plays with the same level of focus as he does offensively, and on the backcheck he sometimes skates as far down as his own team's goal line to support his defenders.
One of the primary concerns about his line was their lack of puck possession. They often hovered quite high in the neutral zone on their team's breakouts. This, however, may be attributed to the team's zone-exit strategy, which seemed to rely on lengthy outlet passes from their defenders.
The Buffalo Sabres need to improve the forechecking aspects of their forward group. Too many of the team's forwards shy away from the boards, and there is not enough sustained pressure in the offensive zone. They need puck hounds. If Lukas Rousek can develop into a puck retriever of that ilk, it would benefit the Sabres immensely.
Aaron Huglen
With his USHL career finished and his NCAA career set to begin this year, 20-year-old Aaron Huglen must work hard to adjust to a potentially-challenging rookie year. With the USHL's Fargo Force, he scored 15 goals and 35 points in 39 games last season.
While he possesses a fair degree of transition ability through the neutral zone and returns deep into his own zone to help his defenders, Huglen seems limited by tunnel vision-like tendencies. He can be very individualistic with the puck, and too often he will try to maneuver past multiple opponents in a north-south route in transition.
In the offensive-zone corners and in traffic with the puck, he can also sometimes be slow to distribute it. He tends to throw it on net when he sees no options. As he played with these drawbacks even in his most recent season in the USHL, there will likely be a sizeable learning curve in his transition to the higher pace of the NCAA.
Matteo Costantini
19-year-old center Matteo Costantini is also scheduled to join the NCAA this season after he finished his most recent campaign in the USHL with the Sioux City Musketeers. He recorded seven goals and 22 points in 37 games last year with Sioux City.
Although he did not generate enough opportunities with his line or create a sufficient degree of offense in the USHL, he supplemented this with contributions in other areas. He skates with above-average straight-line speed, controls the puck well, and is competitive at both ends of the rink. He applies pressure in the corners, is willing to bump the opponent to pry the puck loose, and backchecks with a respectable degree of effort.
While his offense seems limited, he possesses the potential to become a versatile option for the University of North Dakota program going forward.
Risers
Oskari Laaksonen
Oskari Laaksonen made a strong impression as an AHL rookie with the Rochester Americans in 2020-2021. Among all Buffalo Sabres prospects, he and Jacob Bryson may have been the most impressive in their respective leagues.
With two goals and 17 points in 28 games with Rochester, the 22-year-old puck-moving defenceman was the club's most important blue liner.
Throughout the 2020-2021 campaign, Laaksonen was a major driving force behind his team's play. Having already played parts of four seasons in Liiga, his adjustment to the AHL was seamless. He represented Rochester as an AHL All-Star last season.
He distributes the puck quickly in his own zone and understands how to gain inside position along the boards against his opponents. When he is under siege behind his own goal line, he will often snap it up the boards to free it from danger. On his team's defensive zone exits, he can both execute a crisp breakout pass or carry it up the ice, coordinating his team's neutral zone play as a multi-dimensional quarterback.
There is a sense of maturity to Laaksonen's presence at the AHL level. He walks the blue line with composure and can feather the puck through traffic from the point in the offensive zone. He also possesses a one-timer, which he occasionally uses. However, in cases where there is significant risk, Laaksonen will often opt for a more cautious approach.
This 22-year-old, two-way defender may potentially receive an opportunity to play in the NHL as soon as this season, even if only for a short time.
Fallers
Brandon Biro
In his shortened 2020-2021 rookie season with the Rochester Americans, Brandon Biro achieved lackluster results. In 15 games with the club, the 23-year-old scored just two goals and five points. Moreover, while he exuded significant grit and determination, he struggled to assert any sort of offensive presence.
Some concerns about his play at the NCAA level continued to hamper him in the AHL last year. He sometimes attempts ill-advised passes, and he commonly throws the puck away when under pressure from the opposition. While he skates well, controls the puck respectably in transition, and hustles at both ends of the rink, he had little influence on his team's attack last season. He also is not currently strong enough on the boards to out-muscle his opponents, leading to some difficulties with board battles.
From a positional standpoint, there were times last year when he trailed the play and lost his sense of place when trying to pressure the opponent. He can be guilty of taking inefficient routes along the ice.
2020-2021 proved to be difficult for Brandon Biro, although a lengthier adjustment period would have benefited him. This upcoming campaign will be the final year of his current two-year, entry-level contract. He will need to overcome the difference of pace and make more productive on-ice decisions at the AHL level in order to progress as a prospect.
Miska Kukkonen
The Buffalo Sabres' 2018 fifth-round pick is a double-edged sword. Miska Kukkonen has a skill set that can dazzle some. As a second-year professional with Lukko of the Finnish Liiga, he carried himself with confidence and played a very aggressive offensive style. In the offensive zone, Kukkonen pinches often, is mobile on his edges, and can shield the puck with his back turned towards the opponent at the boards. His passes are crisp, and there are times when he will drive the puck from the point down the wall towards the opposing goal.
While he understands how to keep plays alive in the offensive zone with his crafty maneuvers, his defensive play is a major concern. His positioning is unstable. Kukkonen often bites on his opponent's dekes, and he is susceptible to being beaten while backing into his own end. The opponent can also skate around him wide with space off the rush. Kukkonen's gap control is poor. Hence, mistakes are common. His presence regularly leaves his team vulnerable to being scored upon.
Lukko frequently assigned him to their bottom pairing.
As slick as he may seem offensively, his offensive contributions did not translate into any sort of production last year. In 2020-2021, Kukkonen scored just one goal and 10 points in 51 matches with Lukko. At 21 years of age, he is still a young player with a few years to spare in his development, but his current lack of stability on the defensive side of the puck is likely a deal breaker at the NHL level.
Lawrence Pilut
The final player we will observe today is defender Lawrence Pilut, who has fallen in our rankings two years consecutively. This is partly due to his lack of success in the NHL in 2019-2020, as well as the circumstances surrounding his departure to the KHL and his somewhat stagnant development curve.
After failing to secure a full-time role with the Buffalo Sabres in 2019-2020, Pilut signed a two-year contract with Traktor Chelyabinsk of the KHL. He has experienced significant past success in both the SHL and AHL, having once been named the SHL's Defenceman of the Year in 2018 and an AHL All-Star twice in 2019 and 2020.
In 2020-2021, he scored seven goals and 28 points in 57 games with Traktor, a comparable total to his levels of production in the AHL and SHL in previous campaigns.
While the Buffalo Sabres continue to retain his NHL rights, the 25-year-old signaled last year with his departure that his patience had worn thin with the organization. There is one year remaining on his deal with Traktor, after which the Sabres will have one last chance to sign him before their rights expire in 2023. With Rasmus Dahlin, Henri Jokiharju and Jacob Bryson already ahead of where Pilut was on the Sabres' roster, and considering the development of Buffalo's other defensive prospects, i.e., Owen Power, Oskari Laaksonen, Mattias Samuelsson and Nikita Novikov, it seems unlikely that the Sabres will have an available roster spot in 2022 to accommodate his return.
Organizational Depth Chart
| | | |
| --- | --- | --- |
| Left Wing | Center | Right Wing |
| John-Jason Peterka | Matteo Costantini | Jack Quinn |
| Isak Rosen | Tyson Kozak | Prokhor Poltapov |
| Josh Bloom | Andrew Oglevie | Lukas Rousek |
| Brett Murray | Sean Malone | Matej Pekar |
| Alexander Kisakov | | Stiven Sardarian |
| Linus Weissbach | | Olivier Nadeau |
| Brandon Biro | | Aaron Huglen |
| Jacob Konecny | | |
| Viljami Marjala | | |
| William Von Barnekow | | |
| Lukas Craggs | | |
| | |
| --- | --- |
| Left Defense | Right Defense |
| Owen Power | Oskari Laaksonen |
| Ryan Johnson | Nikita Novikov |
| Lawrence Pilut | Miska Kukkonen |
| Mattias Samuelsson | Casey Fitzgerald |
| Albert Lyckasen | |
| Linus Cronholm | |
Goaltenders
Ukko-Pekka Luukkonen
Erik Portillo
Michael Houser
Devon Levi
Top 20 Fantasy Prospects
Josh Bloom
Alexander Kisakov
Matteo Costantini
This concludes our look at the Buffalo Sabres organization in 2021. Our previous August-32-in-32 article examines the team's 2021 draftees, off-season acquisitions, and numerous other topics.
********
Kevin is @CambieKev on Twitter. He is a regional scout with Future Considerations (FCHockey) specializing in western leagues. He is also a video editor and hockey historian who writes for DobberProspects, Canucks Army, Nucks Misconduct, Pass It To Bulis, and Last Word on Sports, among other publications. He is the creator of The Lost Shifts and the 85-minute film, Pavel Bure: A Rocket Through Time.
LATEST RADIO & DRAFTCASTS