August 32-in-32: Buffalo Sabres
Kevin Wong
2021-08-04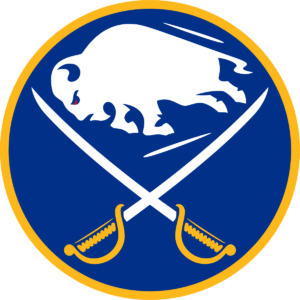 The 32-in-32 Series is an annual event here at DobberProspects! Every day in August we will be bringing you a complete breakdown of a team's draft and insights into their off-season movements thus far. Following this up, the September 32-in-32 Series will dive into every team's prospect depth charts with fantasy insights and implications for the upcoming seasons. Check back often, because we plan on filling your hockey withdrawal needs until the season begins!
******************
The Buffalo Sabres remain stuck in a cycle of mediocrity with one new cloud above their heads: captain Jack Eichel has demanded a trade. The highly-opinionated forward and de facto face of the franchise has become disgruntled about the team's decisions regarding his long-term health and their choice not to allow him the disc surgery he has requested. His relationship with the team is in tatters, and his departure now seems inevitable. Team leaders Sam Reinhart and Rasmus Ristolainen were both traded last week and are no longer with the organization. If Eichel is moved, then the franchise will have traded away each of their 2013, 2014, and 2015 first-round selections, purging from the roster those once hailed as the team's future core for a new group who will provide much of the same hope for the fanbase. Sabres supporters must once again be patient with this franchise as it attempts to dismantle its current core in hopes of yet again building for a distant playoff dream.
After an aggressive 2020 off-season that involved the appointment of a new general manager, an overhaul of the scouting staff, and key, short-term player acquisitions such as Taylor Hall and Eric Staal, the 2020-2021 Sabres finished 31st in the National Hockey League standings — with just 15 wins and 37 points in 56 games, they were the worst team in the league. They came nowhere close to realizing their vision of short-term success. Instead, they secured the first-overall pick in the 2021 NHL Draft, returning to the low point that brought them Rasmus Dahlin in 2018.
Coach Ralph Krueger was fired in March after only 28 games, having fallen short of the high expectations that came with his reputation and pedigree. Assistant coach Don Granato became his replacement, whereas assistant Steve Smith was dismissed alongside Krueger. When it became obvious, meanwhile, that the club's experiment with Taylor Hall and Eric Staal was not destined to end with the team's first playoff berth in a decade, both players were sent elsewhere. Hall, who scored just two goals and 19 points in 37 games with the Sabres, subsequently tallied eight goals and 14 points in 16 regular season matches with his new team, the Boston Bruins. Hall has since re-signed with the Bruins. Staal, meanwhile, helped to fortify the Montreal Canadiens' forward depth on their path to the 2021 Stanley Cup Final against Tampa Bay.
In addition to officially appointing Granato as their new full-time head coach in June, the team also recently hired assistant coaches Jason Christie and Marty Wilford from the NHL's Anaheim Ducks and ECHL's Jacksonville Iceman, respectively. Long-time Sabres development coach and Rochester Americans assistant Adam Mair has been assigned as the team's new director of player development, replacing Matt Ellis, who now serves as the Sabres' other full-time assistant coach. The Americans also added former Sabres captain Michael Peca, who spent last season with the Washington Capitals as a development coach, to their staff as an assistant coach for the upcoming campaign. Another new staff member is analytics consultant Sam Ventura, formerly the Pittsburgh Penguins' Director of Hockey Research, who has been hired by the Sabres to perform a similar role for them going forward.
Despite last year's failure, they did not finish the campaign empty-handed. Some of their previous acquisitions, as well as core members of their roster, were traded in a sequence of deals that signified the end of their short-term ambitions and the beginning of a lengthier, more methodical building process. A primary objective of theirs in the past few months has been to collect as many draft choices as possible.
In their deal with Florida involving Sam Reinhart, the Sabres received a 2022 first-round pick, as well as 19-year-old goaltender Devon Levi, the Panthers' former 212th-overall selection in the 2020 NHL Draft. The Ristolainen deal, on the other hand, secured the Sabres 26-year-old defenceman Robert Hagg, a 2023 second-round pick, and the 2021 fourteenth-overall selection. Buffalo used this first-round pick to select winger Isak Rosén, who we will observe more closely later in this article. The Hall trade fetched a smaller return than some had hoped due to his poor performance in Buffalo. Coming back from Boston in the deal was Bruins forward Anders Bjork in addition to the 2021 second-round pick used last week to select MHL-based winger Alexander Kisakov. The Sabres secured two additional 2021 picks when they sent Eric Staal to Montreal. Those picks were used to select Josh Bloom and Viljami Marjala, 95th and 159th overall, respectively. Two days before the 2021 trade deadline, Sabres defenceman Brandon Montour was swapped for a 2021 third-round draft pick from Florida. Their most recent trade of note involved the acquisition of 26-year-old puck-moving defenceman Will Butcher and a 2022 fifth-round pick from the New Jersey Devils in exchange for future considerations.
Many of the team's veterans were converted into draft picks, giving the Sabres eleven opportunities at the 2021 NHL Draft to bolster their current prospect group. With such an abundance of draft picks, they leaned heavily on their Russian-based scouts, selecting four prospects from Russia's top junior league, the MHL. They also took risks early in the draft with skilled, albeit incomplete players, whereas later in the draft they concentrated primarily on defense-first prospects. Of the team's eleven selections, however, only a few appear to be legitimate NHL prospects based on this scout's viewings.
NHL Draft
The Buffalo Sabres must have learned their lesson after their experience at the 2020 NHL Draft, an event in which they only held five draft picks. For a team that so desperately needed to bolster the top end of its prospect depth chart, they walked away with only two selections in the first four rounds. An adequate rebuild would certainly require a higher quantity of early selections, as the majority of well-rounded prospects are often identified and taken in the first half of the draft.
This year, not only did the Sabres hold the first pick in five of the event's seven rounds, but also six in the first three rounds — two each in rounds one, two, and three of the 2021 NHL Draft. Over the course of the 2020-2021 campaign, they sought to stockpile these picks after shifting their emphasis away from their ill-fated playoff chase. Their efforts were rewarded in principle. Their new scouting staff now had plenty of chances to apply their research and reshape the franchise's future.
Round One, 1st Overall – Owen Power, D
There was very little doubt that Owen Power would be the first-overall pick in the 2021 NHL Draft. In a year with such little consensus and few superstar prospects at the top of the draft class, all signs pointed towards the most complete, pro-ready prospect available becoming the first pick off the board.
Power is already an NHL-caliber defenceman, and there remains so much room for him to mature as a player. He towers over most other players with his formidable, 6-6, 214 pound frame, but there is more to this player than just the surface-level optics of size and brawn. His hockey IQ and puck skills are among the primary reasons why he will excel in the NHL.
Both in the NCAA with the Michigan Wolverines and at the 2021 IIHF World Championships, he was a crucial contributor against older competitors. In fact, while he began the Worlds as Team Canada's seventh defenceman with just 7:58 of ice time against Team Latvia, he quickly rose up their depth chart with his stellar play and logged 24:17 of ice time in the finals against Team Finland.
Power quickly analyzes and understands plays as they develop around him, often positioning himself well to challenge the opposing puck carrier. He maintains good gap control and uses both his lengthy reach as well as above-average mobility to keep his opponent hemmed along the perimeter of the ice.
One might expect a 6-6 defenceman to struggle against smaller, quicker opponents, but Power skates with enough agility and speed to keep himself between the net and the opposing skaters as they attempt to shift and maneuver around him along the boards. He protects the net and keeps his skates moving, actively asserting himself with his reach and challenging the opponent's possession of the puck.
He is not a physical defenceman by any means. Instead, he contains his opponents by gaining body position, closing the distance between himself and the opponent, and utilizing the long reach of his stick.
The Buffalo Sabres need defensive stability, and Power has the potential to become a reliable, high-level defensive contributor.
There is more to his game than just shutdown hockey, however. Although he might not dazzle audiences with flashy, individual rushes up the ice, he can regularly jump up into the neutral zone on a breakout play, as well as move the puck crisply and with great precision to his teammates from deep in his own zone. He transports the puck cleanly and effectively.
Even his most difficult long-distance outlet passes are tape-to-tape, but just as importantly, he recognizes his limitations when there is pressure against him from the opponent and is not overly ambitious. In dangerous situations, he will frequently opt for the safest and most intelligent play. One such occurrence in my viewings involved a moment in which Power attempted to carry the puck through the neutral zone but was caught by the opponent. Instead of trying to maneuver past the obstacle by out-skating him, Power simply dropped the puck backward to one of his teammates in the defensive end, who then continued the team's progression up the ice from the other side.
He is an excellent puck distributor from anywhere on the ice, and in the offensive zone, he elevates his team's attack with playmaking elements. He can walk the line at the point as well as pinch down to the half-wall to look for cross-seam options. If there is an opening, Power can feather the puck across the ice to the other side, forcing the opponent to adjust to a difficult scenario. He tallied only three goals during the 2020-2021 campaign and was involved in his team's offense more so as a playmaker and quarterback.
When Power stick-handles with the puck, he cradles it quickly, back and forth, in a very controlled fashion. His puck control and technical puck skills are polished with a professional quality.
Along with his refined technical skillset, Power's high-end intuition and active, rangy style of defense are reasons for Buffalo Sabres fans to be incredibly excited about his arrival. Supporters of the team may need to wait until at least 2022, though, as Power recently announced his intention to return to Michigan for one more season. Further development in the NCAA may be beneficial, and it would give the Sabres an opportunity to improve their immediate roster before thrusting him into a uniquely challenging circumstance as a rookie.
With both Power and 2018 first-overall pick Rasmus Dahlin headlining their back-end talent, the Sabres have the basis for a strong corps on defense down the road.
With their blueline already in better shape than their projected forward group, the organization decided to use as many of their remaining selections to address their most desperate need: high-end forward depth.
Round One, 14th Overall – Isak Rosén, LW
The Sabres held a second first-round lottery pick in 2021, an enviable position for any draft enthusiast. With this selection, the Sabres opted for Swedish scorer Isak Rosén, an offense-first, north-south skater with some crafty stick-handling skills but a tendency to be too individualistic at times.
He possesses a dangerous shot release and can score both with a quick wrist shot or a heavy one-timer from the right side. This is where he positions himself on the powerplay. Furthermore, he is a mobile skater who can separate himself from the pack for a breakaway opportunity or shake free from an opponent in-zone with a button-hook or pivot maneuver. He has quick hands and a long reach that can make him a threat off the rush and around the crease.
He is a shifty puck carrier, which serves as an advantage for him in transition as well. If his opponent is flat-footed, he can race past them with speed. In the offensive zone, meanwhile, he can create individual scoring opportunities as well as passing lanes for his teammates with slick maneuvers along the perimeter. When he has the puck, he controls it quickly and assertively. He can execute quick, crisp passes as one should expect from any NHL-caliber player. Rosén has the potential to drive his team's offensive attack.
In spite of his offensive flair and technical abilities, though, there are currently some drawbacks to his game that must be addressed. He is very much absent on the forecheck, both as far as his strength and aggressiveness are concerned. He is, in that regard, similar to Victor Olofssson. His intensity is also too low sometimes, and he can become sloppy with the puck. His hockey IQ is an issue that needs some attention, as while he is patient with the puck, there are patient plays that end with Rosén turning the puck over to the other team. He also tends to shoot when the path to the goaltender is blocked, resulting in a loss of possession for his team. In such cases, the other team usually gathers the puck while Rosen and his teammates must retreat back into the neutral zone.
He can also be too passive on the defensive side of the puck.
His hasty shot selection and indecisiveness with the puck must be addressed with proper player development, as certain questions about his intuition could hamper his ability to translate his skills to the NHL as seamlessly as one would hope. Some patience with this player will be required.
Round Two, 33rd Overall – Prokhor Poltapov, RW
The Buffalo Sabres acquired a dynamic and competitive two-way forward when they selected Prokhor Poltapov from Russia's top junior league, the MHL. Poltapov's effort extends in both directions, as he will often backcheck hard to support his team on the defensive side of the puck, sometimes even coming down to his own goal line to disrupt the opposing attacker.
In the offensive zone, he prefers to work along the right half-wall, although there are times when he will slide down to the goal-mouth and offer net-front traffic.
He is quick and agile, and can utilize his agility to transition the puck up the ice smoothly. His one-on-one skill provides him with options. For example, he may enter the offensive zone, cut laterally and fire it on goal, or attempt a slick deke against an opposing defender. Using his edges as well as his above-average puck-handling skills, he can pivot and shift along the boards to create room for himself, as well as shield the puck with a quick spin at the boards or a side-to-side juke. On the backcheck, he tends to cover the entirety of the rink and will move one side of the rink to the other to provide support and to stay with his opposing target.
He also tends to position himself at his own blue line during defensive zone exits to make outlet passes.
While these are all terrific qualities, his game is not without flaws. He is sometimes guilty of holding on to the puck for too long, both when trying to exit his own zone with it or when attempting to maneuver past an opponent. Like Isak Rosén, Poltapov can be too individualistic with the puck. His passing is not quite as refined as either of the Sabres' two earlier picks, however. He does not move the puck nearly as quickly or as precisely, and on a few occasions in my viewings, he attempted high-risk, low-reward passes as the last man back that could have resulted in clear-cut opportunities for the opponent going the other way.
He must also improve his shot-blocking technique and shot selection. When he has the puck in the offensive zone, he sometimes forces his shots into traffic, and in his own zone, he is prone to biting on his opponent's fakes, lowering himself to block shots at inopportune times. During one unfortunate lapse against Team Finland at the 2021 World U18 tournament, for instance, he lost his defensive positioning at a crucial moment and was beaten wide by the opponent, who then walked past him and scored a pivotal goal for the other team.
Although he is competitive and elusive with the puck, his defensive posturing, shot selection, and passing skills need to improve. He must also learn to make timelier decisions and become more proactive in order to meet the demands of high-end professional hockey.
Round Two, 53rd Overall – Alexander Kisakov, F
With their other second-round pick, the Sabres selected Alexander Kisakov, a playmaking, open-ice winger who led the MHL's MHK Dynamo Moskva in scoring this year. He and Buffalo's 188th-overall selection, Nikita Novikov, were teammates in 2020-21.
Kisakov is an offense-oriented player whose game is tailored towards give-and-go and open-ice passing plays. He controls the puck well but does not handle it deceptively. His skating is fairly average, although he can separate himself from the opponent at the boards with a degree of shiftiness. There have been instances when he has pursued the opponent aggressively in open ice, and he can carry the puck assertively. He often defers the puck to his teammates in transition, establishing scenarios in which return passes and give-and-go opportunities can occur.
Similar to the team's previous two picks, Rosén and Poltapov, Kisakov is often positioned on the right side of his team's powerplay. Unlike those two, though, he is not a shoot-first type at all. He has a propensity to look for passing options upon crossing the offensive-zone blue line with the puck. Not all of his passes are on target, however.
Moreover, his defensive positioning tends to be scrambly, and rarely does he provide enough puck support for his teammates. This is a trend with some of the players in the Sabres' system, as both Victor Olofsson and Isak Rosén have that same quality. Kisakov frequently waits for the puck to arrive and usually drifts into the slot in the offensive zone while his teammates work to retrieve it below the goal line.
He is a project whose best skills still require significant improvement before he can be considered a potential NHL player. His lack of contributions in other areas can make him a liability when he is not excelling in his few best dimensions. One should not expect much versatility or a multitude of facets from this player. He is not a line driver, nor does he currently exhibit enough offensive ability to outweigh the numerous flaws in his game. In order to succeed at a high professional level, he must bring additional elements to his game, improve his forechecking effort, as well as further develop his technical abilities.
Round Three, 88th Overall – Stiven Sardarian, F
At this point in the draft, the Sabres decided to select their first lower-tier player of the 2021 group. They chose Stiven Sardarian, a 6-1, 154 pound forward from the MHL, their third 2021 draft choice from the Russian junior league thus far.
Sardarian is quite far away from becoming a legitimate prospect for the Sabres. He represented the MHL's Krasnaya Armiya in 2020-2021 and was a teammate of fellow 2021 Sabres draftee Prokhor Poltapov.
His offensive skill set does not stand out, and last season he was fifth in scoring on his team. Sardarian is yet another weak forechecker who prefers to hover high in the offensive zone while his linemates forecheck below the goal line. He works in the upper half of the offensive zone, moving side-to-side to provide half-wall support.
From a technical perspective, his puck-handling skills are unrefined. Additionally, he possesses sluggish acceleration from a standstill. He is not shifty enough, thus, to be a one-on-one threat in transition, and he tends to react to plays rather than assert himself proactively. There were a few times when he had the puck in an offensive shooting position and was very delayed in his release of the puck, hence those shots were blocked. He plays a passive defensive style.
The Sabres took a leap of faith with this selection. In order for this player to succeed as a high-level professional, he will need to become significantly more mobile and assertive, as well as more polished in numerous technical departments.
Round Three, 95th Overall – Josh Bloom, LW
Josh Bloom last represented the OHL's Saginaw Spirit during the 2019-2020 season. As the league did not operate this past year and he was inactive during that time, his scouting reports generally pertain to his previous campaign as a draft-1 player.
The Sabres made an astute selection with their 95th pick.
Bloom possesses both the required technical skill set and degree of vision to be noticed at higher levels. His passes are crisp. He also seems to coordinate well with his teammates so that he can distribute the puck to them quickly, safely, and creatively. He uses changes of pace while in transition with the puck to maintain a fair distance from the opposing defenders.
The puck protection elements of his game are among his better attributes.
At the end boards, Bloom does well to shield the puck with his back when he has possession, and he forechecks with determination. He plays a power forward style and can also park himself in the opposition's crease as a net-front presence. Still, he needs to engage more aggressively and become stronger, as he does not win enough battles, especially along the boards, in spite of his efforts.
There are also times when he holds on to the puck for too long while under pressure, although he usually sends it to safety before the situation results in a costly mistake from him. He also possesses the ability to swerve in transition and to execute sharp lateral maneuvers to evade the opponent. With puck management skills such as these, he tends to have a positive influence on the direction of play for his team at the major junior level.
If scouts had been able to examine this player more recently in 2021, he might have been drafted earlier than 95th.
Round Four, 97th Overall – Olivier Nadeau, RW
With their fourth-round selection, the Sabres decided to look at the Quebec Major Junior Hockey League, choosing winger Olivier Nadeau of the Shawinigan Cataractes. With 13 goals and 32 assists in 34 games, he led his squad in regular season scoring.
While Nadeau is capable of some unexpected and creative passes, there should be some concerns about his vision with the puck as well as the execution of some of his plays. He struggles to recognize his options quickly enough. In addition, as his pass attempts become lengthier, his accuracy seems to fade. There are other times when his plays would be considered ill-advised.
Nadeau's linemates were more active than he was in terms of the unit's neutral zone activity, and he was frequently a passenger. At this level, NHL-quality prospects should be able to assert themselves as line drivers, but Nadeau did not excel in the matches I saw. On the powerplay, he served as his team's net-front presence.
His defensive game is of particular concern, as he often takes far too long to clear the puck away from trouble in his own zone. On one occasion in my most recent viewing, he lobbed the puck weakly from the defensive zone corner into the slot, putting the Cataractes in a perilous defensive situation. Furthermore, he is too hesitant with the puck, which allows the opposition to apply pressure and force mistakes from him. During his team's breakouts, he regularly positions himself too high along the boards, which complicates their attempts to exit the defensive zone safely.
Olivier Nadeau must learn to process plays more quickly and better anticipate his on-ice surroundings if he is to meet the high standards of the National Hockey League.
Round Five, 159th Overall – Viljami Marjala, LW
With 62 draft positions separating this selection from their previous one, the Sabres opted to draft 5-11, 154 pound Finnish winger Viljami Marjala of the Quebec Remparts. Originally with the Kärpät system in Finland, he relocated to the QMJHL in 2020 and logged nearly 18 minutes per game with his new team.
Despite being a winger, Marjala tends to roam the ice as a center would. He skates with a lumbering style and accelerates sluggishly, but he exerts a respectable degree of effort on the backcheck and attempts to play a responsible style in his own zone. His offensive upside seems somewhat limited, as his puck handling skills are choppy, his forechecking is passive, and his passes are not always accurately placed.
Through the neutral zone, he prefers to provide outlets to his linemates so that they may carry the puck up the ice, likely as they are quicker than him through the neutral zone. Marjala accelerates quite slowly from a standstill. Thus, if he is not in motion while receiving the puck and an opponent is within his vicinity, he will usually opt to distribute it to an open teammate before he is caught.
Once his team has established its forecheck, he will usually position himself in the upper half of the offensive zone while his linemates grind for the puck further below. When his defencemen need puck support at the point, he is often there to help alleviate pressure.
He struggles to elude the opponent offensively, but defensively, he also understands when to put his body in the way of opposition to hinder their puck carrier. His defensive impact is much more noteworthy than his offensive acumen. His heatmap, which indicates where the player has spent the most time, tends to be concentrated along the defensive half-wall and on his side of center.
Last season, he provided a stable defensive presence for the Remparts. His positional awareness helped him succeed at the major junior level. His technical skillset, however, is the main point of concern with regards to his future within the Buffalo Sabres organization.
Round Six, 161st Overall – William Von Barnekow, W
As the Sabres entered the latter half of the draft, they began to target defensive players, beginning with Viljami Marjala. Swedish forward William Von Barnekow continued this trend with the Sabres' 161st-overall selection.
Von Barnekow can play all three forward positions, although during the 2020-21 season he was listed as a winger.
He is a defensive forward like Viljami Marjala. Unlike the diminutive Marjala, however, Von Barnekow is 6-4 and 190 pounds.
In the offensive zone, he operates as his team's net-front presence, screening the goaltender and creating traffic with his size. When he is not stationed in the crease, he often lurks in the corner and at the half-wall.
He is not physical along the boards in spite of his size, though. Rather, on the forecheck he often tries to wedge himself between the opponent and the puck, relying on strategic body positioning to win puck battles.
With a lanky stride and lengthy reach, he moves sufficiently in a straight line but is below-average agility-wise. In tight spaces, he sometimes loses his sense of positioning relative to the opponent and is at times caught flat-footed. Technically, he handles the puck choppily and, thus, he is not a very deceptive player.
While he is not an offensive driver, he attempts to overcome these deficiencies with safe puck decisions.
He does not often force the puck on goal, nor does he usually rush passes. If no suitable play has materialized in front of him, he will patiently stick-handle into a better position or relinquish the puck to an open teammate so that he may reposition himself for a return pass.
He is attentive while coming back into his own zone, although there is room for him to backcheck more aggressively. He frequently makes an effort to close his distance towards the opposing puck carrier but falls short of using his body to impede their path. He instead relies too heavily on stickwork.
In his own zone, he aids his goalkeeper and defenders in keeping the crease clear. Once his team has regained possession of the puck in their own end, though, he sometimes leaves the defensive zone too early, taking himself away as a passing option for his defenders. Such occurrences as these remain opportunities for him to improve defensively, although offensively he may never be a high-end contributor.
Although his lack of mobility and limited offense might make him a long-shot for the NHL, his defensive work ethic may improve to the point where he may earn a role within the Buffalo Sabres' development system. He is already on the verge of becoming a contributor with his current team's parent club, the Malmö Redhawks of the Swedish Hockey League.
Round Six, 188th Overall – Nikita Novikov, D
6-4, 207 pound defenceman Nikita Novivok was the second and final defenceman to be chosen by the Buffalo Sabres in the 2021 NHL Draft. While it broke the team's streak of forward selections, it did not betray their defense-first philosophy of the final three rounds.
Novikov is a two-way defender who can provide a steady, quiet presence on his team's back end. He does not offer much in terms of offensive assertions, and unlike Owen Power, he is not a creative quarterback at the point. Instead, he is a cautious defensive player who tallied a plus-minus rating of +21 in the MHL this season with MHK Dynamo Moskva. He was the captain of his U17 and U18 clubs.
When he has the puck at the point in the offensive zone, his most common play is to lob the puck on goal. He does not spend too much time walking the line or playmaking; rather, he is efficient in the attacking zone with the puck. He will sometimes pinch down to keep a play alive, although only if the scenario does not present danger to his team.
In his own end, Novikov is active in the corners of the rink and competitive in front of his crease. He usually tracks his opponent well enough to keep them towards the perimeter of the defensive zone. He can be guilty, however, of attempting risky passes from his own half of center. One such play in the neutral zone almost resulted in a breakaway for the other team.
He can also be slow to react to the opponent's plays as they develop. While he generally does well to gauge the gap between himself and the opponent coming back into his own zone, occasionally he will allow the opposing puck carrier to pass him at his defensive blue line, forcing him to try to recover with his mobility. He skates with enough quickness to carry the puck out of his own zone, but his preference is to provide short, manageable outlet passes to his teammates.
Despite drafting only two defencemen in the 2021 NHL Draft, the Buffalo Sabres did not squander either selection. Novikov should, at some point, land a role with his MHL club's parent organization in the KHL, allowing him to gain valuable experience as a professional defender over the course of the next few seasons. The Sabres will certainly try to bring him to North America if he succeeds in a high-end professional setting such as the KHL.
Round Seven, 193rd Overall – Tyson Kozak, C
The Buffalo Sabres' used their final selection of 2021 to secure the rights to Tyson Kozak of the WHL's Portland Winterhawks.
Kozak spent time on a line with 2020 first-round pick Seth Jarvis during the 2020-21 season, logging an average of over 17 minutes per night. Despite significant minutes, however, Kozak was limited to just three goals and 11 points in 18 games this year.
In terms of his style of play, he is a very traditional, undersized center type. He is not particularly shifty, and he slows down noticeably when he turns. However, he has bursts of straight-line speed that help him to join his team's attack as well as to backcheck. At 5-11 and 161 pounds, he is willing to engage physically along the boards, but he does not exhibit a sufficient degree of strength, heaviness, grit, nor hustle to succeed during intense puck battles. His intensity and tenacity must improve in order for him to out-compete his opponents regularly at this level.
Kozak's offensive elements are limited. He does not exhibit enough vision or creativity with the puck to generate opportunities on his own. On one particular occasion during a recent viewing, he transitioned the puck up the ice alone, dumped it into the far corner, pursued it alone, and then was contained by the opponent, losing possession. He generated very little offense during my viewings.
He has, thus, built his game around his defensive strengths instead, especially with his willingness to block shots in his own end. He wastes little time moving the puck safely out of his own end to his teammates. In spite of these strong habits, though, he is often too passive on the backcheck. He regularly positions himself adjacent to the opposing puck carrier but does not do enough to challenge their control of the puck. His defensive game lacks persistence and determination.
He can be a non-factor at even strength during games with too much time spent chasing the play. He participated on the penalty kill and powerplay with the Winterhawks in 2020-2021, playing in all situations for his team.
With more experience and instruction, he may be able to develop into a defensive player within the Sabres' system, but much work still needs to be done before his game can be considered sufficient for professional standards.
Off-Season Moves
The Buffalo Sabres have been very active during the current off-season, although their biggest move still awaits.
Outgoing: Sam Reinhart, Curtis Lazar, Rasmus Ristolainen, Linus Ullmark, Jake McCabe, Steven Fogarty, C.J. Smith, Matt Irwin, Carter Hutton, Jean-Sebastien Dea, Tobias Rieder, Riley Sheahan, Michael Houser
Incoming: Drake Caggiula, Vinnie Hinostroza, Will Butcher, Sean Malone, Mark Pysyk, Jimmy Schuldt, Craig Anderson, Aaron Dell, Ethan Prow, John Hayden, Ryan MacInnis, Anders Bjork
Acquisitions thus far from the 2021 free agency pool include forwards Vinnie Hinostroza from Chicago, Ryan MacInnis from Columbus, and John Hayden from Arizona, as well as defenceman Mark Pysyk. Multiple goaltenders have also signed with the club, including the New Jersey Devils' Aaron Dell and 40-year-old veteran Craig Anderson, most recently the Washington Capitals' third-string backup.
With Rasmus Dahlin, Casey Mittelstadt, and Henri Jokiharju being the only restricted free agents expected to start with the Sabres next year, as well as the expectation that Eichel's $10 million AAV will be moved to another team, the organization is in a strong position to take advantage of its wealth of cap space. Whether this means relieving other teams of their player salary issues in exchange for prospects and draft picks or spending the available funds to upgrade the Sabres' immediate roster, the organization has options depending on its short-and-long-term objectives.
One should expect the Sabres to achieve mediocre on-ice results this year, as they are in a worse position to compete than they were one year ago. Sam Reinhart was the team's leading scorer in their dismal 2020-21 campaign. With 25 goals and 40 points, he was the only player on the roster to beak the 20-goal plateau and 40-point barrier. Second in scoring, much like two seasons ago, was sniper Victor Olofsson, who scored 13 goals and 32 points in 56 games. If Eichel is moved as well, then there will be an offensive void in Buffalo.
One of the more noteworthy stories of last season was the late emergence of Casey Mittelstadt, who despite still playing a lethargic style for much of the year, surged in the final 22 games of 2020-21 with nine goals and 17 points under new coach Granato's tutelage. In a season that saw many of the organization's prospects, call-ups, and younger players receive opportunities to play with the Sabres, he finished fourth in team scoring behind only Reinhart, Olofsson, and Dahlin. Mittelstadt tallied 10 goals and 22 points in 41 games in total.
The team also found roles for rookies Dylan Cozens, Tage Thompson, Jacob Bryson, and Arttu Ruotsalainen, all of whom are expected to continue their development with the Sabres this season. Depending on the performances of J.J. Peterka and Jack Quinn amongst other top prospects in training camp, there may be a few new faces on the roster to be excited about, although the team's latest picks, Owen Power included, seem unlikely to debut until at least a year from now. While Power could likely fit alongside the other Sabres' defenders without any issues this year, he himself seems to recognize that a return to the Wolverines might be the best long-term decision for his development. For those eager to witness Power's NHL debut, patience must be emphasized.
For the Buffalo Sabres and their supporters, patience remains critical.
********
Kevin is @CambieKev on Twitter. He is a regional scout with Future Considerations (FCHockey) specializing in western leagues. He is also a video editor and hockey historian who writes for DobberProspects, Canucks Army, Nucks Misconduct, Pass It To Bulis, and Last Word on Sports, among other publications. He is the creator of The Lost Shifts and the 85-minute film, Pavel Bure: A Rocket Through Time.
LATEST RADIO & DRAFTCASTS