The Most Interesting Prospect on Every Team (Western Conference)
Michael Kosciesza
2021-08-04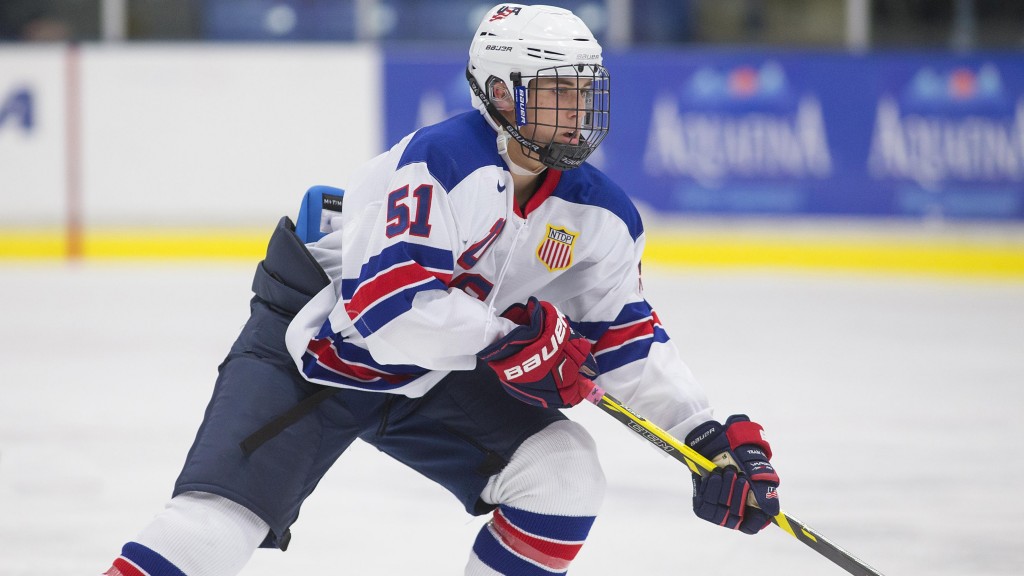 Welcome back to another edition of something I will be doing yearly. I will likely do a midseason update on both this and my Eastern conference rankings. As I mentioned in the ECF rankings these are the most "interesting" meaning that I think they could be of value, they're not a project but they are perhaps in an 50/50 scenario, some opportunity opened up in their position on their team's depth chart or something about them is interesting in general. Basically a long way of saying don't take this as my own personal favourite or top prospect. Instead, see it as an article to perhaps mine a diamond in the rough.
Chicago Blackhawks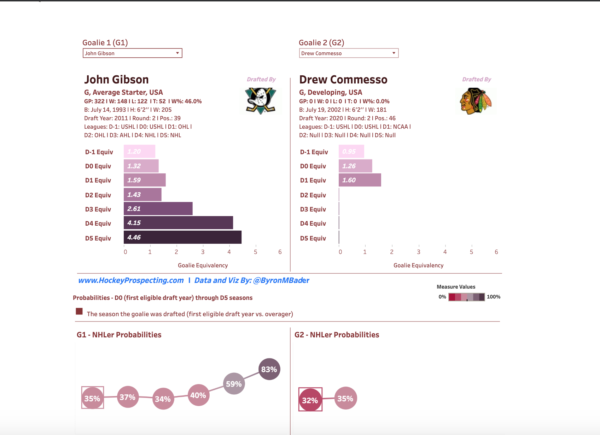 Comesso is following a similar development curve to another successful 6-2 American goalie who has carried a poor defensive team through tough times in his NHL career. He's posted great numbers through the USDP and a .915 in his first season in the NCAA for Boston University. I would expect him to make some noise in his sophomore season with the Terriers and jump into the mainstream.
Colorado Avalanche
I had Connor Timmins in this slot but he is on his way to Arizona with a first round pick for Darcy Kuemper. However, I will write about Justin Barron because he will now be the number one defense prospect once Bowen Byram makes the jump this season. Barron has been a great point producer for the Halifax Mooseheads and produced at a neat point per game level putting up 31 points in 33 games after returning from the AHL this season.
Dallas Stars
Mascherin is a creative playmaker. Mascherin has the playmaking ability that made him a 100-point player and a 1.14 point per game player through his 259 games in Kitchener. Mascherin completed his third season with Texas and has posted a 0.52 points per game pace through his first 105 games in the American League. This season however while boasting an "A" he had 34 points in 36 games.
Minnesota Wild
Intelligent and release that commands notice. His upside is all star caliber if he ever gets an opportunity to play with Kaprisov or Rossi in Minnesota. Beckman threw up a casual 107 points in 63 games in 2019 and is playing at a point per game pace exactly after being sent back to the WHL from Iowa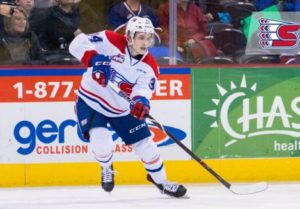 Nashville Predators
Hobey Baker finalist and with Ryan Ellis leaving it likely opens up opportunity first for Dante Fabbro but hey, as we know with Nashville there is never too many elite defensemen. Farrance is offensively gifted and as good as a transitional defensemen as we have seen in the NCAA the past two season's putting up over a point per game in each season.
St. Louis Blues
I have been a Kostin guy from early on and big guys like him who play his style take time to develop. Readers probably remember him as the Russian captain who tossed his helmet and made a scene after losing the WJC Gold. I would think he has matured since then and he could have some serious impact at the NHL level with his skating and size. The Blues have opened up some room in their top six recently which means there is now room in their bottom six. It could be Kostin time.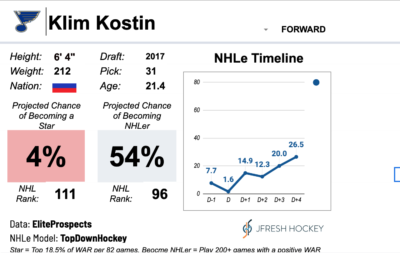 Winnipeg Jets
I know we are all shocked that I am writing about a Peterborough Pete but I truly believe Chisholm has a place in the NHL. He's not the strongest skater but it is certainly not a weakness. He is an underrated puck mover and has posted some serious assist totals, which is increasingly impressive when you remember he lost the PP QB role to Ryan Merkley and then took it back and the team did better for it. The Jets blueline has a lot to be desired so his time may come after a bit more seasoning with the Winnipeg Moose but he has looked good in his little time there.
Anaheim Ducks
I like this kid, he has 70 point upside especially when you consider playing with guys like Trevor Zegras, Jamie Drysdale and Mason McTavish among their more lightly seasoned guys. His floor to me is a powerplay triggerman with such a capable shot already but he could develop into a top six producer. He has 70 points in 57 games in Sarnia and 17 in 27 in his AHL rookie reason. He has been a pretty heavy minus in both spots so he won't be able to get heavy minutes if he can't play on both sides of the puck.
Arizona Coyotes

We all remember Hayton as Canada's World Junior where he put on an inspired effort to lead Canada past Yaroslav Askarov and team Russia. Before that he was a .93 Point Per Game player in the OHL for the Soo Greyhounds (I am surprised he is not a Leaf). Since then he has had a bit of failure to launch at both the NHL and AHL level. For a deep dive on Hayton and his potential at the NHL level I will leave this piece written by Josh Simpson
Calgary Flames
A good amount of offensive upside here with Poirier. 20 goals as a defensemen in the QMJHL for the St John Seadogs this past season to likely finish his career with 111 points in 158 games for a clean .70 points per game. Everything you hear about the kid is how well he breaks the puck out and generates offence from the back end.  There is a reason he fell to the third round though because there are valid questions on if he will be able to do the things he does at the NHL level not because his skills aren't elite but because he doesn't do the whole defense part of his game particularly well.
Edmonton Oilers
Evan Bouchard is a frustrating prospect to no fault of his own. The Oilers have one of the highest star potential defenseman in their system, which is a major need of theirs and refuse to play him. They locked up a lot of money and assets into acquiring questionable players to fill minutes that frankly should be going to Bouchard getting an opportunity. What do I know. Bouchard could be a massive fantasy asset should he get some opportunity as he is a minute munching offense driver and the whole McDavid, Draisaitl and Nuge thing doesn't hurt.
Los Angeles Kings
Kupari was robbed on a WJC coming out party. He was set to lead Finland on a deep run as their captain when he got hurt and had to miss the tournament. He often gets overlooked because there are so many high octane prospects in the Los Angeles Kings system. Kupari also plays the wing, so that's encouraging thinking of him nestling up to Anze Kopitar, Philip Danault, Quinton Byfield, Alex Turcotte or Gabriel Vilardi. He's an offensive weapon who scored 23 points in 32 games as a 20 year old. His opportunity could be coming in the NHL this year. If not you hope to see some point per game production in the AHL.
San Jose Sharks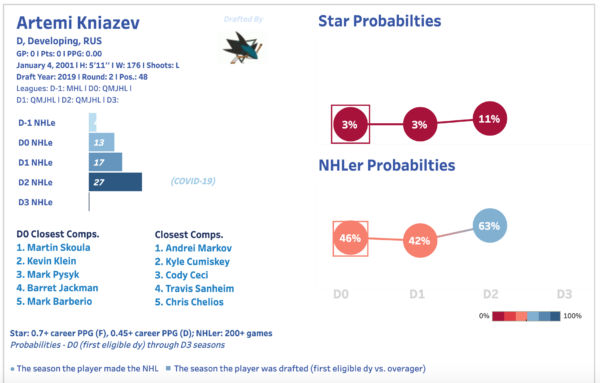 Andrei Markov, Travis Sanheim and Chris Chelios are three solid comps here. We will forget about the Cody Ceci, although he looked like a solid fantasy defenseman out of his draft. If Merkley doesn't take the spot that will be left by Erik Karlsson and Brent Burns we know who will be claiming that role and its Kniasev (not sure how you say it but I love it).
Seattle Kraken
I love Cholowski because it sounds like a polish last name and I bet he gets the same brutal pronunciations I get on my last name. He doesn't profile as a high end scoring talent for fantasy but there must be a reason that Seattle chose to go for him. However if the make up of the rest of their blueline tells us anything it's that they value defence first and that doesn't help us in fantasy land.
Vancouver Canucks
The former 95th overall pick in the 2017 draft sits 22nd in star potential which is pretty good for defenceman as I'm sure he ranks even higher. Something about Rathbone screams sleeper pick as a defenseman for me. No real hitches in his transition to Utica and was a top four guy with powerplay responsibility. Don't be scared of the Quinn Hughes effect, I'm sure even with OEL's arrival his offensive upside is nice.
Vegas Golden Knights
Dugan scored 33 points in 37 games for the Henderson Silver Knights this year as a 23-year-old rookie. With only Mattias Janmark to beat for top nine opportunity and Max Pacioretty being in constant trade rumours it's not entirely out of the realm of possibility Dugan carves out some opportunity with Vegas in the near future. They're a competitive team so he needs to really be a viable option to crack any meaningful minutes. He is cheap though and competing teams need that. He had 100 PIMS for the Chicago Steel one season and had 26 with Henderson last season. He could provide some multicat production.
**************
Much larger, longer more in depth write ups on all these above players (by smarter people) are available in our Dobber Prospects guide. Check it out.
Follow me on twitter: @mikekosciesza
michael kosciesza
LATEST RADIO & DRAFTCASTS