Prospect Ramblings: Prospect Goalie Chances – Central
Pat Quinn
2021-04-08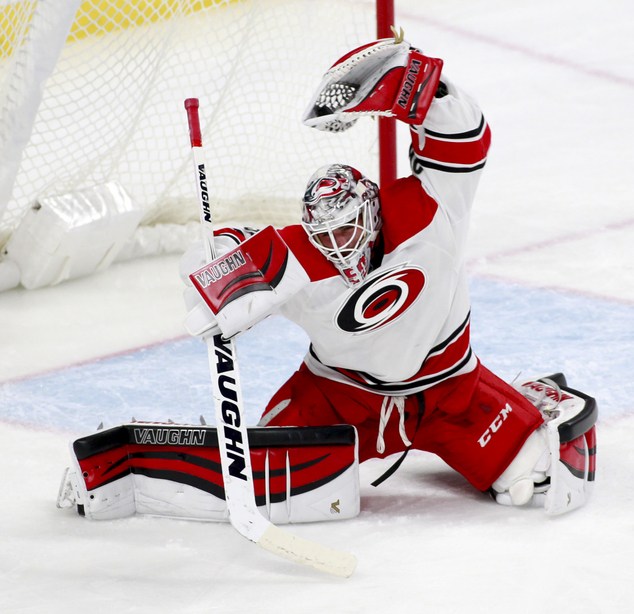 Welcome to the Thursday prospect ramblings. This week I will conclude my series of looking at NHL teams' goalie prospects, if there is room for them in the near future, and how long I estimate they could take to be on the roster. I have already completed the West division, the East division, and the North division. Just remember with my "analysis":
"Goalies can take a long time to get to the NHL and sometimes us Fantasy GMs forget that as they are the shiny new toy that we falsely proclaim "will be the starter if they give him a shot next season." I always remind myself to look at goalie prospects differently. There are only so many NHL spots, and one year a goalie can be unstoppable and the next year he is on waivers because he is so bad. Goalies need to be looked in a way where you look at the team, see who is starting what their contract(s) are like, and how likely the prospect will get to actually start." – Me (from the past three out of four weeks)
Also Kirill Kaprizov is not "The Thrill"! How bad are NHL writers to just re-use a nickname for a player already playing in the NHL? He is "Dolla Bill Kirill" and Phil "The Thrill" Kessel cannot be forgotten
******************
Carolina
Just like last week I start off with probably the most interesting team… is something I would have said pre-Mrazek injury (and this article being fourth), but thanks to the stellar play of Alex Nedeljkovic this season I do not have to. They have let "Ned" percolate in the AHL since 2016-2017 and it is paying off. The Canes have two solid 1A/1B goalies is Mrazek and Reimer, but Ned has forced his way on the NHL roster so much that head coach Rod Brind'Amour says he now has three goalies for the remainder of the season. Pretty crazy how 30 NHL teams let Ned slip by on waivers to begin this season as well. All three goalies are free agents after this season, with Ned of course being the only RFA. The likely plan is to run with Ned plus one of the two UFAs, as in the one that can fill the 1A/1B type role the Canes feel they need with Ned. The Canes have two interesting names coming up as well in (recently signed) Beck Warm and Russian prospect Pyotr Kochetkov.
Warm was unsigned after his four years in the WHL and while he never had eye-popping numbers he never had terrible numbers either. His play was always solid and sound in net. He is currently one of four goalies playing for the Chicago Wolves in the AHL but he is leading in starts with seven. His numbers are great so far with a 0.931 save percentage and 2.32 goals against average, but that number is carried by four stellar performances, one good one, a poor one, and one where he was lit up. Obviously he needs AHL time to become consistent but there is no reason why he could not challenge Ned in two to three years. Kochetkov is a great prospect but in Russia he is not getting in a lot of games, playing 15 regular season games and two playoff games for 2020-2021. Pretty standard young player treatment as a goalie in the KHL. His contract is up this off season, and at 21 he may come over to North America, however I have read zero rumblings either way so I will assume he will stay in Russia for two more seasons. I would have Kochetkov as the Canes #1 goalie prospect but Warm can still beat him out with how hockey works, and I expect them both ready to challenge Ned's net at the same time.
Chicago
We are pretty much in the transition phase of Chicago's goaltenders: Kevin Lankinen seems to have a solid grasp on the starting role; Malcom Subban sometimes looks like and NHL goalie but mostly looks like an AHL back up; Colin Delia is there but is doing a great job of being terrible this season (I still think there is at least a 1A/1B goalie there); and the Hawks finally convinced Ivan Nalimov to come to North America after years of convincing. All three of Delia, Lankinen and Subban have one-way deals next season and become UFA's in 2022-2023, and Nalimov currently has an AHL deal but will likely be signed by Chicago for 2021-2022. Figuring who will be the starter for next season is a complete guess but I can guarantee it will not be Subban. My best guess is the Hawks of course keep Lankinen but split him with Nalimov. That unfortunately leaves Delia in the wind but with a strong training camp he may win one of the two positions.
So, it would look like a 1A/1B split with Nalimov and Lankinen, Delia likely going through waivers because not even Gostisbehere, Gusev, or a cheap Svechnikov get claimed these days.
Columbus
I am glad I did my research as I would swear up and down that Merzlikins had to be protected, thanks capfriendly! I am also glad Columbus is a goalie factory because you can almost never be wrong about the prospects they have. Elvis and Korpisalo are both signed until 2022-2023 where they will become UFAs. The Jackets have Matiss Kivlenieks in the AHL and he has been good goalie prospect developing well, and is strangely a goalie the Jackets have to protect in the expansion draft. I mean strangely because you would swear (without looking) that he would not have to be protected and Elvis would. Kivlenieks will likely max out as a good 1B goalie but I could see an Average NHL starter argument there as well.
The current prize for the Jackets is Daniil Tarasov, who came over from the KHL on March 25 as his season in Russia concluded. He played mainly as a back up but posted great numbers in the 16 KHL games he played with a 0.925 sv%. He should be ready to challenge for an NHL role in 2022-2023.
Dallas
The Stars are an interesting case as Jake Oettinger is NHL ready and he is currently proving it. However, he also has to deal with the contracts for Ben Bishop and Anton Khudobin who are both locked in until 2023-2024 in a flat cap world. Thankfully, if Seattle does not take Khudobin then both netminders cap hits are under $5 million. I doubt there is any way Dallas does not keep Oettinger up for next season, but contracts can win out over skill, especially when NHL teams own your rights.
The Stars do not have much else in the goalie pipeline but they just recently made an interesting signing earlier this month in Adam Scheel. The USHL product has been a pretty consistent average to above average goalie in his first two seasons, but this season for the University of North Dakota he exploded with a 0.931 sv% in 26 games, after having averaged 0.907 between the earlier two seasons. The Stars may have unearthed a gem to go alongside Oettinger, but he will need a couple AHL seasons first. If we hear from Scheel in the NHL it will be when either of the remaining contracts for Khudobin or Bishop remain.
Detroit
Well, I am going to full on admit I do not think there is really anyone in the Detroit system for goalies, but it is probably the prospect area I have looked the least, so I will go by our trusty Red Wings DobberProspects page. Filip Larsson from the 2016 draft, Keith Petruzzelli from the 2017 draft, Jesper Eliasson and Victor Brattstrom both drafted in 2018. Based on the draft positioning, year and their numbers I would say Larsson has fell off, and that it is much to early to tell with Brattstrom and Eliasson. However, Petruzzelli looks like the key player here after four years of constant improvement in the NCAA for Quinnipiac University, moving from back up in his first two seasons to starter in his final two. The Wings' crease is a big mess though, Griess is fine and signed until 2022-2023, Bernier has been quite good for Detroit but also gets injured a lot, and Calvin Pickard has a good last couple of games. My best guess is that Detroit trades for a good young goalie using one of the many good prospects they have, and that player will have to battle Petruzzelli for the crease in 2023-2024.
Florida
Bobrovsky is signed until the end of time the 2025-2026 season. Everyone knows the main player here being Spencer Knight, but he is also just 19 (20 on April 19) and will need AHL time. Florida's "goaltending excellence" division will look to help develop him sooner than later, but even if he is ready in two seasons, Bob will still have three seasons left. I had been a Sam Montembeault fan for a while but he really just seems like an NHL back up at best. A wildcard here is Ryan Bednard who has improved this year in the ECHL, after being sent down to the ECHL after eight poor AHL games in 2019-2020. Bednard had a really strong final two years in the NCAA for Bowling Green State University with save percentages of 0.916 and 0.927 respectively over 29 and 32 games. Whichever goalie is ready will still have the mammoth Bob contract to deal with, so it is tough to peg a starter. My bet is that Knight becomes the 1A starter in three to five years.
Nashville
Juuse Saros is a great goalie and only 25 so he will be in Nashville for a long time. Nashville also has a prize in net with Yaroslav Askarov, who is the goalie of the future. There is a positive and a negative for Saros with Askarov, the negative being Askarov is the golden boy but the positive is that he is signed in the KHL until the end of the 2021-2022 season and may stay longer. A tandem of these two would be pretty remarkable in the NHL, too bad offense dies in Nashville.
While everyone has eyes on Askarov someone who plays great in the AHL is flying under everyone radar: Connor Ingram. After spending time in Europe to start the season Ingram entered the NHL/NHLPA player assistance program in January and there has not been an update since, but he would also be loaned to the Chicago Wolves who have four goalies right now and perhaps there is not room. Considering his AHL save percentage goes: first year 0.914 in 35 games, 0.922 in 22 games, and 0.933 in 33 games last season. He will be a starter, it is just unknown where, except a return to Tampa Bay of course.
Tampa Bay
Andrei Vasilevsky is signed until the end of the 2027-2028 at $9.5 million per year so no one is taking the crease from him, especially as he is only 26. Hugo Alnefelt will become an NHL goalie but he has no chance of taking the crease over, unless something crazy happens. We probably will not see Alnefelt in the NHL for at least three years, so he could get a smart fantasy GM spot starts on a top team, which we all expect Tampa to stay.
*****************
Thanks for reading, follow my twitter for the best takes on the internet: @FHPQuinn
LATEST RADIO & DRAFTCASTS