SHL Report: December
Tomáš Zahorák
2020-12-25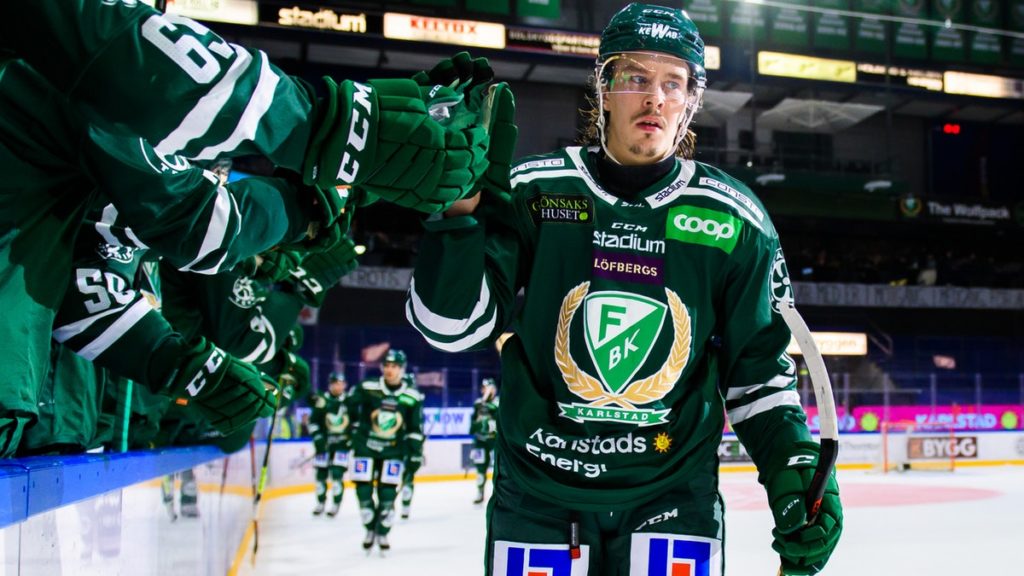 Christmas time is here, 2020 is almost over, and my latest SHL report is ready to go. Could this day get any better? Well, yes. The World Juniors are starting today. However, that is not going to be the main topic of this article. We are heading back in time to summarize the last month of the year in the SHL. The most important news and player updates all in one place. I hope you will enjoy it, and I wish you all Merry Christmas and a Happy New Year!
In case you have missed it 
The first departures are finally here. Färjestad winger Joakim Nygård and

Frölunda defenseman Theodor Lennström were recalled from their loans to join the Oilers training camp, while Örebro forward Mathias Bromé is on his way to Detroit. 
Skellefteå AIK added a couple of new faces from overseas to the lineup. The club has signed former Sharks forward Melker Karlsson and also acquired new Hurricanes signee Roland McKeown on loan. 
There have been rumors that Brynäs and R

ögle are pursuing the possibility of adding Red Wings prospect William Wallinder (currently playing for MODO in HockeyAllsvenskan) to the lineup for next season. 
SHL prospects who made the final roster for WJC: Lucas Raymond (DET), Alexander Holtz (NJD), Noel Gunler (CAR), Emil Heineman (FLA), Theodor Niederbach (DET), Arvid Costmar (VAN), Zion Nybeck (CAR), Elmer Söderblom (DET), Albin Sundsvik (ANA), Oskar Olausson (2021), Emil Andrae (PHI), Tobias Björnfot (LAK), Philip Broberg (EDM), Albert Johansson (DET), Hugo Alnefelt (TBL), Jesper Wallstedt (2021)

 
Player Reports
Joakim Nygård, LW, Färjestad BK (Edmonton Oilers)
A silent killer. Joakim Nygård is a player that perfectly fits this description. He can be flashy, take the puck up the ice, fly past defensemen, and create good scoring chances by using his incredible speed, but his biggest strength remains to find ideal places to score goals from, mainly in front of the net. He has been fully using this ability on the power play, specifically in the slot, as he has scored three of his seven goals during a man advantage. 
Nygård had a slow start of the season, missed eight games in October due to a finger injury, but picked up his old poise in November and was especially prolific throughout the current month. From November 28th to December 13th, he was able to score six goals and collect seven points in five outings. The 27-year-old could not have been in better shape as he will join the Oilers training camp in the coming days. 
Oskar Bäck, C, Färjestad BK (Dallas Stars)
A while ago, I wrote that I think Bäck's skating is a bit underwhelming. However, I was watching him closely this month and changed my mind a bit. I think it is not that bad. The 20-year-old center forechecks well, plays responsibly with the puck, moves well without the puck, and defends effectively with his stick. Although I know where my initial concerns came from. He is not very dynamic in the offensive zone. He plays with poise but lacks explosiveness. It is not a bad thing, do not get me wrong, but I would love to see him attack more aggressively. 
Adam Ginning, LHD, Färjestad BK (Philadelphia Flyers) 
When someone leaves, others profit from it. In this case, Albert Johansson (DET) left Färjestad for WJC, so Adam Ginning stepped up and filled his shoes. Since December 12th, his average ice time climbed up drastically from just 6:58 to 19:03. The big gap is also caused by the lack of opportunities he got at the start of the season, but it does not change the fact that he has been getting around 20 minutes per game lately. 
He has been very solid defensively and responsible with the puck. He uses his big frame (6-4, 205 lbs) effectively in board and net-front battles. The 20-year-old defenseman played in the last minute of the Färjestad – Växjö game on December 12th, while his team was defending a one-goal lead stuck in its zone. Then he assisted on Viksten's goal that secured Färjestad the victory. It shows that coaches trust him more than they did a few weeks ago, and he makes use of it.
Nils Lundkvist, RHD, Luleå HF (New York Rangers)
I suspect that Lundkvist read my last report where I wrote that he is not dominant offensively. Up to that point, he did not look like the old dynamic Lundkvist with great confidence in the offensive zone. However, he has been terrific since then. Very good defensively, but even better on the other end of the ice. He has been flying ou there, firing the puck from everywhere in the offensive zone, creating a ton of chances, and producing a lot more than he did a month or so ago. He has recorded five points in seven December outings so far and currently is on a three-game point streak. 
Filip Hållander, LW, Luleå HF (Toronto Maple Leafs)
Hållander is a player whose performance has visibly improved as the season progressed. Although he has been on the first line since the start of the campaign, it seems like he got fully used to this role just a month ago. He became more confident with the puck, and because of that, he could finally use his undeniable playmaking skills to their full potential. He can find his teammates in quality scoring chances and make it look easy. The Leafs prospect has scored three goals and collected 11 points in 22 games so far.
Luleå has been the dominant team with Hållander on the ice. He and his linemates create a lot more shot attempts for (238) than against (177), which puts him on the fourth spot on the team in Corsi-for percentage (57,35%). He has also been very dynamic and fast lately. His confidence is through the roof and I love it. 
Nils Höglander, RW, Rögle BK (Vancouver Canucks)
I need to get this out of my chest. I think I am a Nils Höglander stan. However, I am not going to fangirl now because that would be unprofessional. I will just let Höglander's performance throughout this season speak for itself. Up to now, he has scored five goals and 14 points in 23 contests. 
These numbers might not look extraordinary, but points are not everything. He has been very dominant with the puck, a slick skater, a quick thinker, and a strong competitor. His confidence is growing with every game he plays in, and sometimes it looks like he is doing whatever he wants out there. Canucks fans, be ready for a show. 
Moritz Seider, RHD, Rögle BK (Detroit Red Wings)
A human wrecking ball. There is no better way of describing Seider's recent performance. He has been throwing around his opponents like he was playing with kids. Even though he is only 19 and plays against much older competition, his physicality is just on another level. However, he has been dominant in almost every other possible way, not just wrestling with other players. 
His defense is stunning. He plays with great poise, reads the game well, and just as much contributes offensively, which is an underrated part of his excellent overall game. He has recorded two goals and 12 points in 17 outings with roughly over 20 minutes of ice time per game. He has been so much fun to watch lately. 
Joe Veleno, C/RW, Malmö Redhawks (Detroit Red Wings)
Veleno has found a new place on the roster. Coaches have put him on the right wing next to Fredrik Händemark (SJS) on the first line. This role suits him well, as he is on a three-game point streak as we speak. The 20-year-old forward has put up six goals and 11 points in 21 games so far. He has been very dangerous offensively, creating a lot of high-quality scoring chances around the net.
Veleno has been a threat on the power play too, where he moves all-around the offensive zone, uses his quick hands, agile and dynamic skating, and good one-timer to make a lot of noise. He seems to be getting more and more comfortable as the season progresses. 
Tobias Björnfot, LHD, Djurgården IF (Los Angeles Kings)
Björnfot, I think, is defensively one of the best prospects in the SHL. He is very steady and level-headed in the defensive zone, likes to block shots, and is not afraid to engage physically. As a result, coaches have been using him quite frequently on the penalty kill throughout the season. Although he is the third-most penalized player on the roster, he plays maturely and makes smart decisions. That unfortunate statistic is mainly influenced by the game against Linköping in mid-October when he received 25 penalty minutes.   
Bobby Nardella, LHD, Djurgården IF (Washington Capitals)
In case you are not familiar with Nardella, he is a 24-year-old offensively-minded defenseman who never got drafted and played for Hershey Bears in the AHL during the previous season. The coaching staff in Djurgården has given him an important role, as he is logging slightly over 19 minutes of ice time per game. They have been heavily using him on the power play where he efficiently uses his attacking mindset, accurate shot, and good playmaking abilities. He is also a solid skater that can draw penalties with quick and agile movement. 
His biggest weakness, however, is that he wants to do too much with the puck sometimes. He tends to complicate his life, especially in the defensive and neutral zone, where he occasionally holds on to the puck for a bit too long, which helps forwards to catch up to him and steal it away from him. 
Jonatan Berggren, LW, Skellefteå AIK (Detroit Red Wings)
Berggren is having a lot of fun this season. He still has the most assists (19) and points (24) on his team and is second in assists and fourth in points overall. Despite being penalized for three games in late November for a crosscheck to the head, he got back on track in December. Although he has not been as dominant as he was at the beginning of the season, he has collected four points (all assists) in five outings after the suspension. He is still driving plays, creating tons of chances, and being an exceptional player at this level. 
Philip Broberg, LHD, Skellefteå AIK (Edmonton Oilers)
Broberg is the new captain of the Swedish squad at the World Juniors. In my opinion, this honor could not have ended up in better hands. He has been one of the key players on his team, averaging over 19 minutes of ice time per game. Although he might not be very prolific, since he has recorded just two goals and eight points so far, he looks mature, plays responsibly, and leads by example. He rarely makes mistakes, even though he is not afraid to show some dekes in the defensive zone. He has a great long pass, excellent vision, and the guts to take responsibility on his shoulders. Coaches have been using him in all situations, including power play and penalty kill as well. 
2021 Draft Eligible Players
Fabian Lysell, RW, Luleå HF
Lysell began the season in J20 Nationell wearing a Frölunda HC J20 jersey. The 17-year-old did pretty well there, as he scored three goals and 13 points in 11 contests. Later in the year, he decided to move to Luleå in expectation of getting an opportunity to play against men in the SHL. He has appeared in three outings with no points recorded and just over six minutes of ice time per game. 
However, he has been showing that he is a very talented prospect with tons of raw skill. He has also caught many eyes with the high level of competitiveness and hustle that he brings in every shift. This kid is just so fun to watch, and I cannot wait for him to get more opportunities down the road.  
Our scouts Tony Ferrari and Mikael Holm recently interviewed Lysell in a new episode of Dobber's DraftCast, so you should definitely check it out. Furthermore, the trio broke down his game in the latest episode of Game Tape with Tony, so do yourself a favor and learn something more about this young Swedish talent. 
Simon Robertsson, RW, Skellefteå AIK<