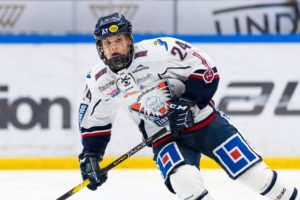 EP Rinkside
Fantasy Summary
Offensively gifted centre who thrives with the puck on his stick.
Observations
Click to Expand

August 2020 – Costmar was named to the U20 selection camp for Sweden. The recently-turned 19-year-old projects to be one of the middle six pivots for the club. He'll look to once again push for a full-time job in the SHL when camps break next month. Cam Robinson

March 2020 – One of the final selections of the 2019 NHL Draft, Costmar bounced around a bit in 2019-20. Expected to make the SHL on a full-time basis, he was unable to secure any tangible deployment and ended up back in the J20 circuit. After shredding that league for a stretch, he was loaned to Sweden's second division, only to once again come up dry for production. The 18-year-old concluded his season in the SuperElit league, leading that crop of players in points-per-game with 1.72. On a historical basis, that metric meshes extremely well with the few NHLers who spent their draft-plus one season in Sweden's top junior circuit. We will once again look for the dynamic offensive pivot to secure a full-time job in the SHL in 2020-21. Cam Robinson

June 2019 – The Canucks selected Swedish centre, Arvid Costmar with their final pick in the draft. The 5'10 pivot put up 38 points in 41 SuperElit contests and even had four games in the SHL for Linkoping. Costmar is on the map to push for a U20 WJC spot as a draft-plus one. More likely at the '21 event though. 
Highlights