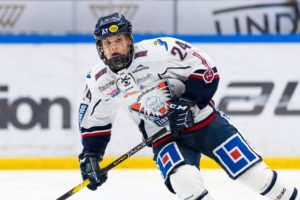 EP Rinkside
Fantasy Summary
Offensively gifted centre who thrives with the puck on his stick.
Observations
Click to Expand

June 2023 – Costmar has not been offered an NHL Entry-Level deal, making him an official free agent for 31 other teams. Dave Hall

May 2023 – While Costmar was once a late draft "feel good story", the now 21-year-old has fallen back down to earth and continues to struggle to transition his game to pro-level in Sweden – at least enough to warrant an Entry-Level contract. While he added two points (2G + 7A) from last year, and managed to wrap up the year as an even player (in terms of plus/minus), his role as a sophomore on Linköping remains in a bottom-six role. Until he can prove his worth overseas, his path to becoming an NHL player, and fantasy relevant, continues to track the wrong direction. Hold off, GM's. Dave Hall

March 2022 – After catching the eyes of Canucks nation just one year ago, it seems like we are singing a much different tune this season. Costmar has struggled to find any rhythm during his second full SHL season, producing just six points (3G + 3A) over 43 games, seeing above 13-minutes of ice time just twice as a result. While both his compete level and high-motor are still relevant, he will need to find a way to bring it all together among the higher ranks before the jump to North America is in play. For now, the undersized pivots stock drops, with hopes for a much improved 2022-23 campaign. Dave Hall

March 2021 – Costmar won over the hearts of Canucks fans during his recent WJC run, with his tremendous workhorse attitude and non-stop motor on full display. With two goals on his scorecard, he even tossed in some offensive flair, which comes as an added bonus to his rising stock. From there he would return to Linköping HC (SHL) to assume his bottom-six role, where he had posted a single goal through 15 matches prior to the tournament. Unfortunately, during game six of his return, the 2019 seventh-rounder suffered a season crippling shoulder injury. The ailment effectively shut down his season, with hopes that he can rehab and return for the 2021-22 campaign promptly, and healthy. He continues to show growth in his game but should see a few more seasons overseas before making the move across the pond. Regardless, he is quickly becoming a fan-favored prospect and certainly one to keep a close eye on. Dave Hall

December 2020 – Costmar has officially received his invitation to Sweden's WJC selection camp. With Karl Henriksson and William Eklund out with COVID-19, Costmar will likely be a key feature for the club down the middle. This will be an exciting opportunity to play with some of the top talents from his home country. Cam Robinson

November 2020 – Costmar has found himself in familiar territory early in 2020-21. He's racked up six points in three J20 games while going scoreless in six SHL contests. He's averaging just five minutes per night with the big club so the lack of production isn't surprising. Unfortunately, the 19-year-old was named to Sweden's U20 team ahead of a mini-tournament but was removed from participation as a COVID scare with his club team forced the hand. Costmar is still projected to play a role with the Swedes at the WJC next month as the team lacks centre depth. It should be a great opportunity for him to showcase his skillset on the big stage. Cam Robinson

August 2020 – Costmar was named to the U20 selection camp for Sweden. The recently-turned 19-year-old projects to be one of the middle six pivots for the club. He'll look to once again push for a full-time job in the SHL when camps break next month. Cam Robinson

March 2020 – One of the final selections of the 2019 NHL Draft, Costmar bounced around a bit in 2019-20. Expected to make the SHL on a full-time basis, he was unable to secure any tangible deployment and ended up back in the J20 circuit. After shredding that league for a stretch, he was loaned to Sweden's second division, only to once again come up dry for production. The 18-year-old concluded his season in the SuperElit league, leading that crop of players in points-per-game with 1.72. On a historical basis, that metric meshes extremely well with the few NHLers who spent their draft-plus one season in Sweden's top junior circuit. We will once again look for the dynamic offensive pivot to secure a full-time job in the SHL in 2020-21. Cam Robinson

June 2019 – The Canucks selected Swedish centre, Arvid Costmar with their final pick in the draft. The 5'10 pivot put up 38 points in 41 SuperElit contests and even had four games in the SHL for Linkoping. Costmar is on the map to push for a U20 WJC spot as a draft-plus one. More likely at the '21 event though.
Highlights