December 31-in-31: Arizona Coyotes
Keith Duggan
2020-12-01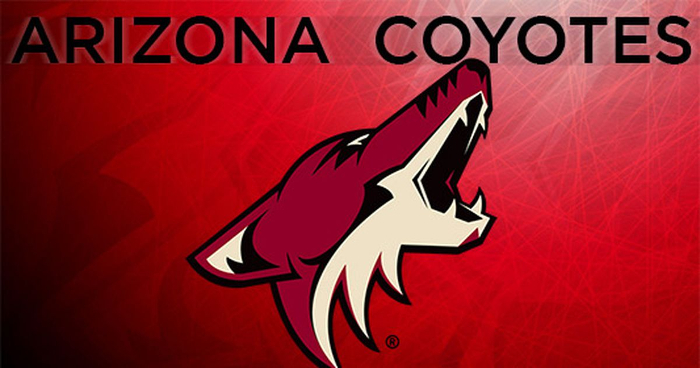 The Coyotes are in a weird spot right now. On one hand they have several high-paid veterans on the team and are awfully close to the Salary Cap ceiling. That would be fine if they were Stanley Cup contenders except for the fact the Coyotes aren't expected to finish very high in the standings and just making the playoffs will be a challenge. On the other hand, several of those veterans will be unrestricted free agents the next two years and with the Coyotes ownership hit hard financially by the COVID-19 pandemic, it looks as though they are headed for a rebuild. Except for the fact management has denied that will happen but every indication is ownership doesn't' want them spending big money anytime soon. So, who knows what the future holds and honestly that's probably true for almost every team with the COVID-19 pandemic. Right now, though, cheaper contracts seem to be in demand for the Coyotes. We already saw that this offseason when players like Taylor Hall, Carl Soderberg and Vinny Hinostroza were replaced by the signings of Johan Larsson, Tyler Pitlick and John Hayden. Which is to say there will be excellent opportunities for Arizona's prospect pool in the future. This is especially true on defense where Arizona has five players who will be unrestricted free agents at the end of 2020-21, giving rearguards like Kyle Capobianco and Victor Soderstrom excellent chances. Arizona's prospect cupboard is solid right now thanks to some quality drafts and free agent signings by former GM John Chayka but will definitely take a hit with the Coyotes not picking until the fifth-round this year and no first or third-round pick for 2021 draft due to scouting combine violations and trades. 
Graduating players
The Coyotes didn't see any players graduate from prospect to full-time NHLer last year. Barrett Hayton spent most of the year with the big club but only appeared in 20 games, so he keeps his rookie status.  Hayton and a few other prospects should graduate to full-timers this campaign though. 
Graduate to NHL
 Barrett Hayton, C: As mentioned above Hayton spent most of last season with the Coyotes, only appearing in 20 games and seeing little playing time. Arizona felt Hayton was too good for another year of juniors but due to the NHL-CHL agreement the then 19-year-old couldn't play in the AHL. So, he experienced the NHL life, practicing and being around the Coyotes. With the team pushing for a playoff spot, it was hard for Hayton to crack a permanent spot in the lineup. 
Outside the NHL though, Hayton showed why he's considered an excellent future player to get excited about. He had an awesome 2020 World Juniors, finishing as one of the tournaments best players and played extremely well in a brief conditioning stint in the AHL. Hayton is a very skilled player who plays a responsible 200-foot game. The Coyotes desperately need him to be that number one center that they have been lacking. While I don't think he lights up the league, he'll have an expanded role this year and Hayton has looked good playing in Finland so he will be ready. 
Kyle Capobianco, D: After three excellent years in the AHL, the Coyotes signed Capobianco to a one-way contract. He's currently number eight on their defenseman depth chart so he probably won't see a lot of playing time off the bat. Once again with five veteran contracts expiring at the end of 2020-21 season though, he will see an expanded role next year. 
Adin Hill, G: Just like Capobianco, Hill was signed to a one-way contract this offseason. He starts the campaign at number three on the depth chart but with potentially a condensed schedule and both Darcy Kuemper and Antti Raanta's injury history, Hill will see some playing time. Also, Raanta is an unrestricted free agent at the end of 2020-21 and Kuemper's name has come up in trade rumors. 
Brayden Burke, LW/RW: He plays an extremely similar playing style to current Coyotes Conor Garland and after a point-per-game season in the AHL last year, Burke looks ready to push for a roster spot. 
Dryden Hunt, LW: Signed for depth, Hunt could possibly provide more for the Coyotes. He has 63 games of NHL experience with the Florida Panthers and while Hunt never showed much offensively (15 points) he's been a reliable scorer in the AHL. Playing on a line with Brayden Point helps but Hunt absolutely lit it up in his final year of WHL action to the tune of 58 goals and 116 points. Maybe he provides more to a team that has struggled to score. 
On the Cusp
Matias Maccelli, LW: Arizona has stated it does not want to rush Maccelli but the Coyotes struggle to score and with Taylor Hall gone, it's not going to get better. Maccelli is having another strong year offensively in Finland. Is he ready for an NHL top-six role? Maccelli has an open-ended loan agreement this year on his contract, so basically if he doesn't make the Coyotes, he heads back to Finland to play for Ilves. I'm not sure we see him in a Coyotes sweater just yet.
Victor Soderstrom, D: The plan was to have him play in the AHL this season and with eight blueliners signed to one-way contracts ahead of him, it's hard to see that changing. Although, catch some highlights of him playing in Sweden and you have to think they give the skilled Soderstrom a look this year. 
Lane Pederson, C: After two excellent years in the AHL, Pederson looks ready to earn an NHL spot. Just not sure it will be this season though. Pederson missed a good chunk of last campaign to injury, so I think he spends another year in the AHL. 
Graduating from Junior/College to Pro
Jan Jenik, LW/RW: Was in the midst of an awesome offensive year in the OHL until a knee injury at the World Juniors last campaign ended his season. Currently is playing in Finland and is expected to play this year in the AHL, getting adjusted to the pro game. An exciting player who brings a little of everything to the lineup will be a future multi-cat beast.  
Nathan Sucese, LW: After four consistently good years at Penn State, Sucese enters the pro ranks as an older prospect (24). Brings a key element of today's game, speed, and could earn a bottom-six spot with the team. Most likely starts the campaign in the AHL though. 
Ryan McGregor, C: Just like Sucese, McGregor brings speed to the lineup and is a good old hardworking team guy. Originally a seventh-round pick of Toronto, after five years in the OHL, he wasn't signed and was picked up by Arizona this offseason. Not sure he'll bring much offense to the next level though and most definitely plays this year for Tucson in the AHL. 
Risers
Victor Soderstrom, D: The Coyotes surprised everyone selecting him as high as they did in the 2019 Draft. Then all Soderstrom did was go out and have an outstanding year and is arguably one of the best defense prospects not in the NHL right now. 
Brayden Burke, LW: After a so-so rookie pro campaign, Burke had a great 2019-20 season. He was one of the top players in the AHL and now looks poised to seize a roster spot with the Coyotes.
Matias Maccelli, LW: As mentioned above, the fourth-round pick from 2019 has been very good. He won SM-Liiga Rookie of the Year last season and has been lighting it up so far this campaign. If he's still available in your dynasty league, grab him now!
Michael Callahan, D: Coming out of the USHL and after his freshman year, Callahan was a reliable defenseman but didn't show much in the way of offense. That changed last year with him finishing as one of the top scoring defensemen in the NCAA. Some of that was a byproduct of playing with studs on the Providence College power play (Jack Dugan, Tyce Thompson) but you don't play with players like that if you don't have the skill in the first place. Callahan isn't a big name and could be worth a late round flyer in dynasty drafts. 
Fallers
Tyler Steenbergen, LW: He hasn't been bad at the AHL level, playing a solid bottom-six, reliable 200-foot player who kills penalties and chips in a point here and there. You just expected more from a player who put up huge point totals in the WHL (194 points his last two years of junior). He could surprise me this year, but I don't think he's fantasy relevant anymore.
Filip Westerlund, D: When the Coyotes talk about their prospect pool, they don't mention Westerlund's name anymore. The former second-round pick from 2017 has until June 1st, 2021 to sign his entry-level deal or he's no longer Arizona property. I'm not sure the Coyotes have any plans on signing him.
Merrick Madsen, G: Entering the pro ranks after posting some outstanding stats at Harvard University, Madsen looked to be a goalie prospect to keep an eye on. Unfortunately, serious hip issues which required multiple surgeries now seemed to have ended his career.  
Organizational Depth Chart 
(Combination of NHL readiness and upside).
Left Wing
Braydon Burke
Dryden Hunt
Matias Maccelli 
Nate Sucese
Michael Bunting
Tyler Steenbergen
Alexander Daryin
Liam Kirk
Carson Bantle
Danil Savunov
Ben McCartney
Center
Barrett Hayton
Lane Pederson
Michael Chaput
Blake Speers
Ryan McGregor                
John Farinacci
Anthony Romano
Valentin Nussbaumer
Filip Barklund
Emil Pettersson
Right Wing
Jan Jenik
Hudson Fasching
Aku Raty
Erik Walli Walterholm
Elliot Ekefjard
Left Defense
Kyle Capobianco
Cam Dineen
Michael Callahan
Axel Bergkvist
Patrick Kulda
Micheal Karow
Right Defense
Victor Soderstrom
Jordan Gross
Vili Saarijarvi
Dysin Mayo
Cameron Crotty
Ty Emberson
Filip Westerlund
Goalie
Adin Hill
Ivan Prosvetov
David Tendeck
 Top 20 Fantasy Prospects
   This section is intended to paint a picture of the Arizona Coyote prospects whose current trajectory projects them making the most positive fantasy impact at the time that they reach the NHL. Arrival date and NHL certainty have been taken into consideration; however, potential upside is the most important factor in determining this list.
Prospects playing currently
A list of Coyotes prospects and where they are currently playing.                                             
Player, League, Team   
Forwards
Barrett Hayton: Liiga, Ilves   Loan
Matias Maccelli:, Liiga, Ilves
Jan Jenik: Kettera, Mestis   Loan
Alexander Daryin: KHL/VHL/MHL, Lokomotiv Yaroslavi/Buran Voronezh/Loko Yaroslavi
John Farinacci: USHL, Muskegon
Aku Raty: Liiga, Ilves
Carson Bantle: NCAA, Michigan Tech
Anthony Romano: NCAA, Clarkson
Filip Barklund: J20 Nationell, Orebro
Elliot Ekefjard: J20 Nationell, Malmo
Liam Kirk: Ettan (Sweden), Hanhals IF
Danil Savunov: VHL, SKA-Neva St. Petersburg
Erik Walli Walterholm: Allsvenskan, Timra
Valentin Nussbaumer: NL (Swiss), Biel-Bienne
Emil Pettersson: SHL, Vaxjo Lakers HC
Defense
Victor Soderstrom: Allsvenkan, AIK   Loan
Cameron Crotty: Norway, Sparta Sarpsborg
Ty Emberson: NCAA, Wisconsin
Michael Callahan: NCAA, Providence
Micheal Karow: NCAA, Boston College
Axel Bergkvist: Allsvenskan, Karlskoga
Filip Westerlund: Allsvenskan, Timra
Vili Saarijarvi: Liiga, Lukko
Notes: Hayton and Maccelli playing not only on the same team but the same line is exciting and fun to see. Hopefully, they can form some solid chemistry together that lasts to when they're in Coyote sweaters. Pettersson and Saarijarvi are both prospects who received qualifying offers from Arizona but are on that fence whether they return to North America anytime soon. Though both are having outstanding campaigns in the SHL and Liiga, respectably. Daryin has appeared in three different leagues, VHL/MHL/KHL, while putting up decent point totals in all of them. The Coyotes tried to find a team for top goalie prospect Ivan Prosvetov, but Russian teams that were interested wanted him to play the whole season with them and other goaltending slots were already filled. 
Upcoming 2021 World Junior Tournament:
 Hopefully the 2021 World Junior Tournament goes on as planned because it's some of my favorite hockey to watch during the year and I would be pretty bummed if it got cancelled. If it does get played, the Coyotes should see a few of their prospects taking part. Soderstrom will almost definitely be there, representing Sweden. He should play a large role for his home country and it would be surprising if Soderstrom doesn't finish as one of the tournaments best defenseman. John Farinacci looks to have a good chance at making Team USA and Aku Raty will most likely be on the Finnish squad, playing with his brother and potential 2021 first overall pick, Aatu Raty. 
Thanks for reading, stay safe out there and Happy Holidays!
Keith Duggan
@KDuggan92
LATEST RADIO & DRAFTCASTS