August 31-in-31: Tampa Bay Lightning
admin
2019-08-26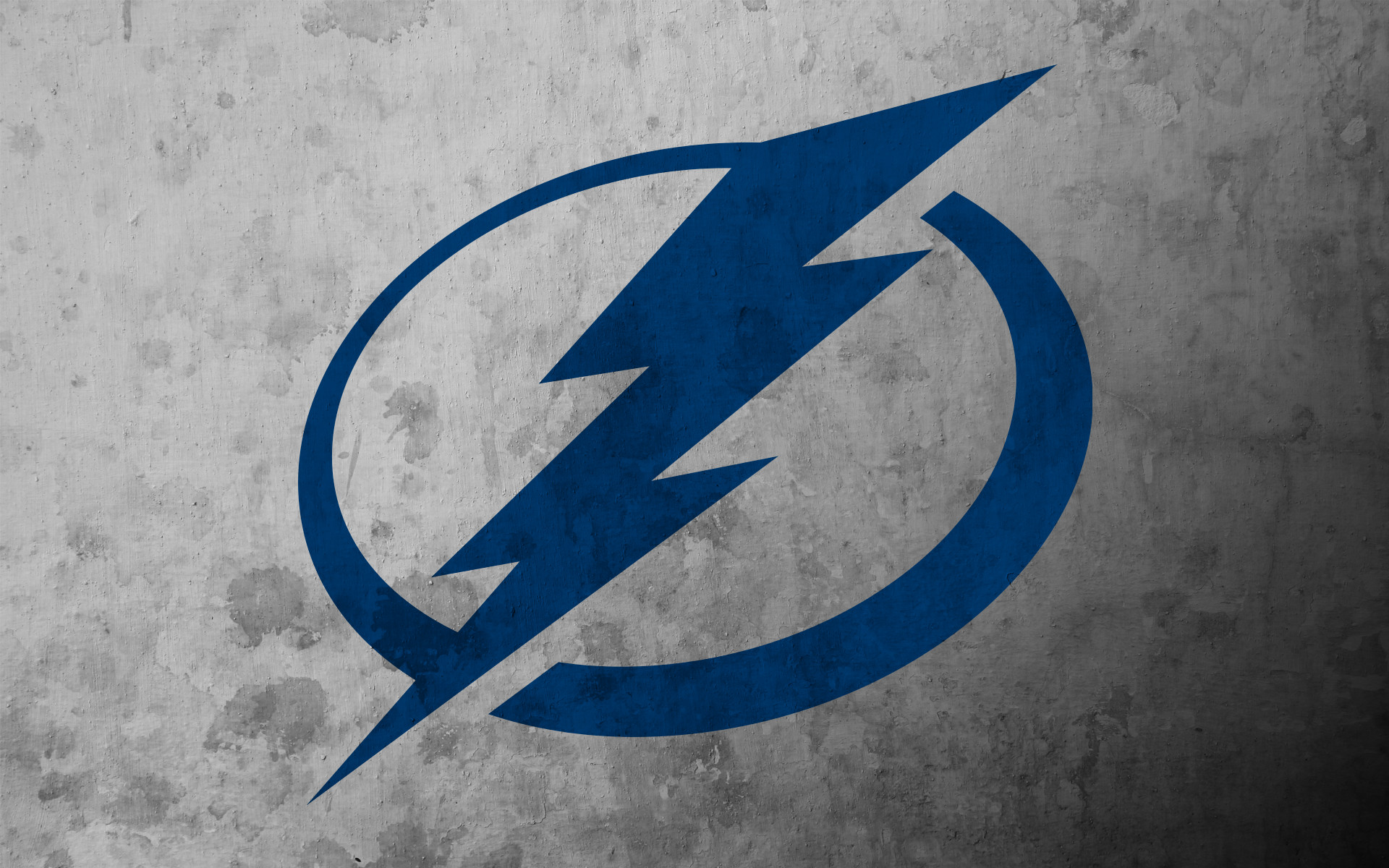 ***
Welcome back to another installment of Dobber Prospects' August 31-in-31 series! Today we'll be looking at the reigning President Trophy winners, the Tampa Bay Lightning. Despite consistently finishing near the top of the league's standings, Tampa Bay has cultivated a talented and deep group of young players both in the AHL and junior ranks. Today, we'll be examining that group's outlook, analyzing their NHL readiness, overall progression, and fantasy upside.
Graduating Players:
Anthony Cirelli solidified himself as an NHL player during the course of the 2018-2019 season, securing a third line center role with the Lightning en route to 19 goals and 39 points during his rookie season. Cirelli is a fantastic two-way center with blossoming offensive abilities and appears to be a lock to continue in his role from last season, with increased ice time at the top of Tampa's lineup being a legitimate possibility with the departure of JT Miller via trade back in June. 40 points seems like a very realistic goal for Cirelli in 2019-2020, which the potential for an increase in his goal scoring should Tampa utilize him more prominently on their second powerplay unit.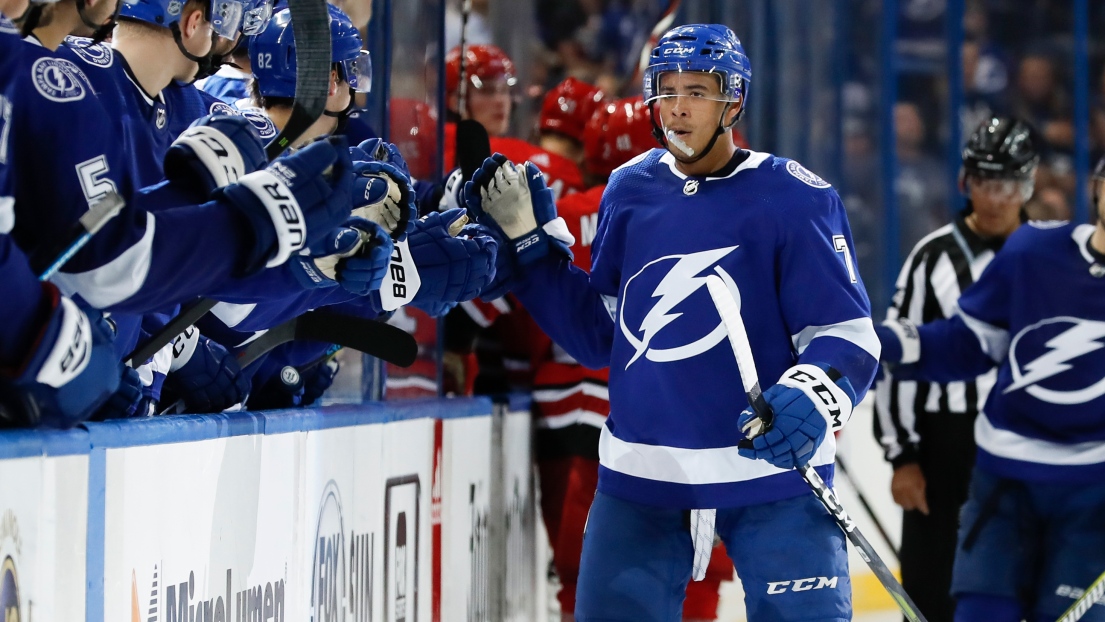 Mathieu Joseph (pictured) looks to make a bigger impact for the Bolts in 2019-2020. 
Speaking of players that should benefit from the Miller trade, Mathieu Joseph appears to be a prime candidate to take Miller's spot on Tampa's top line. The speedy winger broke into the NHL with the Bolts last season in a bottom six role and gradually gained increased responsibility and trust from Jon Cooper as the season progressed. In times of desperation, Joseph even saw time in the top six during the Lightning's first round matchup with the Blue Jackets, which is a good role for him with the offensive upside he possesses. With a speedy, versatile, and skilled tool kit alongside increased ice time and opportunity, Joseph owns scary sleeper potential for the 2019-2020 season.
Another rookie who played his way into a prominent role with the Lightning was Erik Cernak, who joined the team in early November before sticking with the club for the remainder of the season. Cernak was a stabilizing presence for the Lightning on the right side of their defense, as his steady defensive play alongside capable puck moving ability was a much needed asset for Tampa on their third defensive pair. Cernak should be expected to see an elevated role in 2019-2020 for the Lightning, as the departure of Anton Stralman leaves the door open for him to see time in Tampa's top four defense unit. Cernak is a very physical defenseman and should be expected to break the 200 hit plateau for fantasy owners this year.
Spots in Tampa Bay's bottom six are up for grabs, and the most likely candidate to grab a spot out of camp is Alexander Volkov. Volkov, a versatile two-way forward with capable goal scoring ability, is a player the organization has long been high on, and was even a late cut to make the team out of camp in 2018. Volkov held down a spot on Syracuse's top line in 2018-2019 alongside Gabriel Dumont and Cory Conacher, where he was a key contributor for the Crunch and broke the 20 goal plateau for the second consecutive season in the AHL. He shouldn't be expected to set the league on fire in 2019-2020, but a steady role for the Lightning seems likely for the Russian winger. Taylor Raddysh, a bullish winger with excellent goal scoring ability, Carter Verhaeghe, a 24-year-old playmaking forward coming off an AHL scoring title, and Alex Barré-Boulet, an undersized but skilled forward, are all contenders to make the Lightning out of camp as well.
Beyond the NHL, a list of players transitioning to pro hockey in North America includes Jimmy Huntington, who was signed by the Lightning in March after a breakout season in the QMJHL. Huntington centered Rimouski's top line during the 2018-2019 season, where he posted a 40 goal and 92 point campaign playing alongside 2020 draft eligible phenom Alexis Lafreniere. Huntington is a reliable two-way player who developed an extra level to his skill alongside his shooting ability in 2018-2019, and will likely hold down a bottom six center role for the Crunch in his first pro season. In addition to Huntington, Mikhail Shalagin will be joining the Crunch for the 2019-2020 season, as Tampa Bay's 2019 7th Rounder signed an AHL contract with Syracuse this summer. Shalagin is a remarkably interesting project to watch as he transitions to North American hockey, as his borderline elite level skill mixed with his size and shooting ability propelled him to a record setting 48 goal and 75 point season in the Russian MHL this past season. Where Shalagin struggles is with pace and speed, which will be an obstacle for him as the pace of play will be quickened in the AHL as compared to the MHL, but it's the organization's hope that Shalagin is able to prove himself as a pro level forward in Syracuse's top nine. Otto Somppi may also be with the Crunch in 2019-2020, as the Finnish playmaking forward looks to rebound from a year that was mired by a mid-season demotion to the ECHL where he skated with the Orlando Solar Bears.
Overseas, the Lightning have a pair of Swedish goaltenders that will be looking to make jumps to new leagues in Hugo Alnefelt and Magnus Chrona. Alnefelt, a 3rd Round selection by the Lightning in 2019, will be looking to make the transition to pro hockey in Sweden after spending the 2018-2019 season with HV71's U20 program. An athletic netminder with pro size, Alnefelt will be battling for HV71s backup position behind Jonas Gunnarsson along with Adam Åhman, as he looks to establish himself as a reliable pro level goaltender. Chrona, Tampa Bay's other Swedish goaltending prospect, will actually be transitioning overseas to play for the University of Denver in the NCAA in 2019-2020. The 6'4" netminder had a poor season for Skellefteå in Sweden's junior ranks last season, as his goals against average of 4.00 and save percentage of .889 were both well below league average. Chrona will likely settle into a backup role behind junior netminder Devin Cooley, where the hope is he regains his form playing for one of the top collegiate programs in the country. Along with Chrona, Max Crozier will also be making the transition to college hockey in 2019-2020. A mobile and competitive blueliner, Crozier was a 4th Round selection by the Lightning in 2019, and will take his talents to Providence College after winning a championship with the Sioux Falls Stampede this past season in the USHL.
***
Risers:
Alex Barré-Boulet, RW – Barré-Boulet took the AHL by storm in 2018-2019, leading all rookies in scoring while maintaining a prominent role in Syracuse's top six and top powerplay unit. Barré-Boulet is most commonly listed as a center, but spent much of the 2018-2019 season on the right wing and thrived in that spot for the Crunch, so it appears likely Barré-Boulet will stay in that spot moving forward as a pro. Playing on the wing allows Barré-Boulet the flexibility to play more on the offensive side of the puck and in turn likely heightens his offensive potential. Alongside Volkov, Barré-Boulet appears to be the Crunch forward with the best chance to make Tampa's roster out of camp, potentially seeing time in the Bolts' bottom six as early as next season and providing fantasy value for owners in keeper leagues.
Sammy Walker, C – Walker has been among the biggest risers in Tampa's depth chart over the past year as his development has not gone unnoticed by management and coaches alike. He was very impressive during his freshman season at the University of Minnesota and continued to impress at Tampa Bay's development camp in June, as praise was heaped upon from the top of the organization. Walker is among the fastest players in the NCAA, as his feet allow him to create space and retrieve loose pucks with ease, while also having the vision to dish to his teammates when given the opportunity. He became a legitimate offensive option for the Gophers in 2018-2019, and will continue to develop into a top flight college player as he returns to Minnesota next year.
Gabriel Fortier, C – Fortier became a top line player in the QMJHL this past season for the Drakkar, as his line flanked by Ivan Chekhovich and Nathan Legare became among the most dangerous units in the league. Fortier's production spiked by 24 points in 2018-2019, as he broke the point-per-game plateau for the first time in his major junior career. He's a very versatile player with good speed, skill, and two-way ability, and looks to be a key contributor for Baie-Comeau once again as he goes back for what will be his final season in major junior hockey.
Fallers:
Otto Somppi, C – Somppi had a turbulent first season of pro hockey in 2018-2019, as he spent his time between the AHL's Syracuse Crunch and ECHL's Orlando Solar Bears following a demotion. Somppi did produce well in the ECHL with 24 points in 21 games, however, he struggled to gain footing in the AHL with just four points in 27 games for the Crunch. This season was a mild disappointment after his successful 2017-2018 with the Halifax Mooseheads and in turn has tarnished his stock a bit, as he's likely been passed on the organizational depth chart by a few players. His vision and playmaking ability is still quite good, and he'll need to show his best more consistently to stick in the AHL with the Crunch in 2019-2020.
Alexei Lipanov, C – Lipanov's season in the OHL this past year was disappointing to say the least. He matched his 2017-2018 total of 11 goals and 30 points this past season, however, he needed an additional 26 games to do so as he fell below the .50 points-per-game mark, which was a major red flag for a double-overage player in the OHL. Lipanov's skating is still his best asset, as he can get up and down the ice with ease, and that will need to be his best asset as he looks to gain traction in likely the ECHL next season.
Magnus Chrona, G – As mentioned earlier, Chrona's 2018-2019 season was a major disappointment and a change of scenery will be good for him as he transitions to the NCAA. Chrona has always been viewed as a long term project, as the Lightning bet on his pro level 6'4" frame when they selected him in 5th Round in 2018. Chrona was a dominant netminder in Sweden's U18 ranks, and the hope for the Lightning fans and management is that Chrona is able to regain his form playing behind an elite collegiate program in Denver next season.
***
Depth Chart
| | | |
| --- | --- | --- |
| Left Wing | Center | Right Wing |
| Mathieu Joseph | Anthony Cirelli | Alex Barré-Boulet |
| Alexander Volkov | Carter Verhaeghe | Taylor Raddysh |
| Boris Katchouk | Mitchell Stephens | Maxim Cajkovic |
| Nolan Foote | Gabriel Fortier | Mikhail Shalagin |
| Dennis Yan | Ross Colton | Cole Guttman |
| Cole Koepke | Jimmy Huntington |   |
| McKade Webster | Sammy Walker |   |
|   | Otto Somppi |   |
|   | Ryan Lohin |   |
|   | Alexei Lipanov |   |
| Left Defense | Right Defense | Goaltender |
| Cameron Gaunce | Erik Cernak | Scott Wedgewood |
| Dominik Masin | Cal Foote | Spencer Martin |
| Daniel Walcott | Ben Thomas | Hugo Alnefelt |
| Radim Salda | Matthew Spencer | Ty Taylor |
| Oleg Sosunov | Nick Perbix | Magnus Chrona |
| Quinn Schmiemann | Max Crozier | Kristian Oldham |
| Ryan Zuhlsdorf | Alex Green |   |
| Dmitri Semykin | Jonathan MacLeod |   |
Top Fantasy Prospects:
***
Reminder that the 2019-20 Fantasy Hockey Guide is available now, and if you're serious about being competitive in your pools no matter how deep, it is an absolute must-read:
https://dobbersports.com/product/dobbers-2019-20-fantasy-hockey-guide/
***
Brandon Holmes
LATEST RADIO & DRAFTCASTS