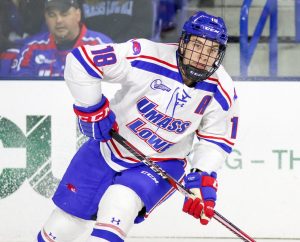 Matt Dwyer
Fantasy Summary
Offensive minded center with good hands, playmaking ability, and hockey IQ, though he may struggle with the pace of the pro game. However, his offensive tools may be an avenue for Lohin to carve out a depth role in the NHL.
Observations
Click to Expand

March 2019 – Lohin is currently undergoing his Junior season of college hockey with UMass-Lowell and is in the midst of his most productive season as a collegiate player with 26 points in 30 games. Lohin has become a valuable player on the powerplay for the River Hawks, as he typically operates on his off-wing in the right-hand circle to feed teammates or set up for a one-timer. Lohin's stat line is split down pretty close to the middle with 12 goals and 14 assists, though I'd argue his skill set favours a playmaker's role as his best assets are his hands, vision, and hockey argue, while I find his shot to be average at best. It's likely Lohin returns to the River Hawks for his Senior year in 2019-20, though I wouldn't completely close the door on him making the jump to pro hockey at some point in the near future. Brandon Holmes

March 2018 – the UMass-Lowell sophomore finished the season with a comparable scoring rate to his rookie season, leading the River Hawks in points and assists. The River Hawks had a disappointing and inconsistent season, finishing in the middle of the standings and then being eliminated by the Merrimack Warriors in the Hockey East Tournament. Lohin will return to Lowell for his junior season next fall before the Lightning will feel any pressure to sign him. Brayden Olafson

January 2018 – An exceptional start to his sophomore season at UMass Lowell has the Lightning smiling about their 2016 7th round selection. Lohin's gradual development through the USHL and NCAA has been steady. Because he is currently playing outside of the Lightning system, Lohin tends to get slightly less attention than his peers who are playing with Syracuse and have come up through the CHL. His current trajectory, however, could put him in position to challenge for some of their jobs upon graduation. Brayden Olafson

October 2017 – A year removed from his overage draft selection, Ryan Lohin is having an October to remember at UMass-Lowell. The 21-year-old centerman has tallied nine assist for the slumping River Hawks – more than half of his 17-assist total from 2016-17. Lohin remains unsigned by the Lightning, who will retain his NHL rights for another couple of years, but continuing his current trend could quite possibly motivate the Lightning to make him an offer before the beginning of his junior year. One thing that may motivate Lohin to continue on his college path without inking an NHL-deal is the logjam that the lightning already seem to have in their fringe-forwards depth. Unless he's able to prove to himself that he can separate from the pack, Lohin will continue to pursue his college education first. Brayden Olafson

June 2017 – In his freshman year at UMass-Lowell, Lohin got off to a successful start in his NCAA playing career. The River Hawks, much like the rest of the Lightning farm system, provided plenty of competition down the middle to motivate Lohin to improve throughout the year. Lohin was one of the youngest players on the Hawks' roster, however, he played like a veteran, coming up clutch at various points throughout the season. Lohin will continue to develop at UMass-Lowell, likely until his senior season with the River Hawks, which will allow him plenty of opportunity to add strength and earn high minutes. Brayden Olafson

June 2016 – Lohin is another two-way center the Lightning went after in the 2016 draft. An overager born in 1996, Lohin will be starting his first year at UMass-Lowell next season. Lohin had a very productive draft year in the USHL, his 83 points in 122 games came as a result of his great puck skills and high hockey IQ. Lohin will be able to strengthen his defensive game and physical game at the NCAA level next year.