August 31-in-31: Arizona Coyotes
Keith Duggan
2019-08-02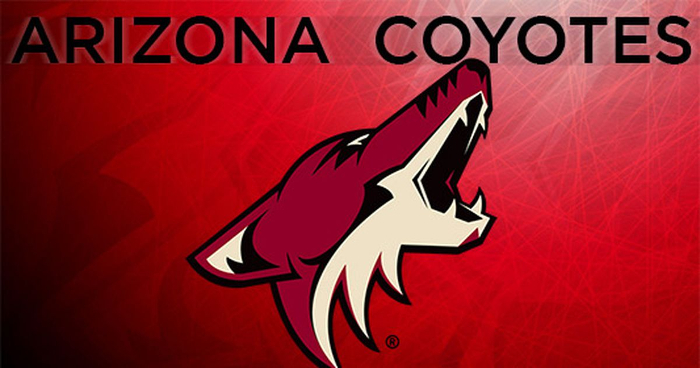 OFFSEASON MOVES
The 2018-19 season was a double-edged sword for the Coyotes. On one side they were playing meaningful hockey down the stretch, remaining in the playoff mix most of the year and just narrowly missing. They had one of the best team defenses in the NHL, allowing the fifth-least goals-against and received excellent goaltending especially from Darcy Kuemper, who found his name even getting thrown around in some Vezina talk. On the other side, almost every Western Conference team was in the playoff mix until late in the year. While goaltending and team defense was good, the offense was just awful as they scored the third fewest goals in the NHL.
Clayton Keller led the Coyotes in points with 47, which was good for 129th in the league. He would have finished seventh in team scoring just on the Tampa Bay Lightning. Once again, team defense was strong but (sorry Coyote fans) it could be boring at times to watch games. Keller shows potential but the team lacked star power, someone who brings fans of out their seats.
Enter Phil Kessel.
Give General Manager John Chayka credit for fixing a team weakness this offseason. He acquired Phil "the thrill" Kessel and Carl Soderberg in two different trades. Off the ice, Kessel is a reluctant superstar, but in Arizona that is not a big deal. Bringing speed and offensive flare to a game is something the Coyotes badly need. The Yotes gave up Alex Galchenyuk, Kevin Cannauton and one of their top prospects in PO Joseph for Kessel. The Kessel trade has caused a lot of buzz in the dessert as ticket sales have gone through the roof this summer, creating some serious optimism going into this coming season. 
The team expects internal growth from some of their younger players who missed significant time last year with injuries like Christian Dvorak, Vinnie Hinostroza and Nick Schmaltz. Chayka also signed some depth in forwards Andy Miele, Beau Bennett and defenseman Aaron Ness to two-way contracts. If the injury bug hits the Coyotes, they have some vets to recall and this also helps the AHL affiliate in Tucson, who also just missed the playoffs. The Coyotes are close to the salary cap ceiling and all this means is that prospects will be given proper time to develop and will not be rushed to the NHL like in the past.
Graduating players
Vinnie Hinostroza, Jordan Oesterle, Lawson Crouse (for the second time) and Conor Garland were all graduated from prospects to full-time NHL players. Garland was the most personally for me satisfying to see make the NHL. He was drafted by the Coyotes in the fifth-round of 2015 and came up through the system. Outside of rounds one and two of the draft, Arizona has only selected two players who made the NHL in the last ten years, Connor Clifton and Louis Domingue. Neither are even in the organization anymore. Clifton was not even signed to an ELC.
For the first time since I have been covering the Coyotes for Dobberprospects I am not sure a prospect will make the team full-time this season. Arizona fully feels as though Barrett Hayton is ready for the NHL, but like I said above the team is pretty deep. The Coyotes do not want him to be a 13th forward type who barely plays, they want him playing solid minutes. With that in mind I expect Hayton to start the year off with the Coyotes, get a cup of coffee, play around that nine-game mark then head back to dominate the OHL for one more season. Recent first-round pick Victor Soderstrom is expected to possibly stick with the big club but I don't see that happening. Kyle Capobianco has a shot but returning from major knee surgery and is still on his ELC, be he will likely head back down to Tucson for his last stint in the AHL. Michael Bunting is expected to be the Coyotes 14th forward, meaning he will be on an NHL-AHL shuttle all season, but he had basically that job last year and appeared in just five games with Arizona. Antti Raanta has yet to play a full NHL season in Arizona without an injury, so Adin Hill probably sees some time with the Coyotes again. These are all maybe's and injury recall though, so once again I really do not see anyone graduating to full-time NHLer this coming season.
Nate Schnarr will graduate from juniors to the pros for this season, playing for Tucson. He is an interesting prospect but after just one big offensive year in the OHL, Schnarr still needs some work. He is physically ready but his skating and keeping up with the faster pace of the pros will be Schnarr's biggest challenge. After recently signing his ELC, Ivan Prosvetov could possibly begin his first year in the pros, probably in the ECHL. Prosvetov's been good at every level he has played at, so it would not be shocking to see him also get some starts in the AHL. He could potentially head back to the OHL and play as an overage player also. His play in rookie and training camp along with how the whole goalie rotation works out will dictate this.
Risers
Barrett Hayton: The Coyotes took some serious heat for drafting Hayton fifth-overall in 2018 but in the past year he has really turned a lot of people's feelings on that pick. Hayton had a dominating offensive season in the OHL, improved his skating and honed an already strong 200-foot game. He is ready for the next step but can Hayton beat out a veteran for a spot on the Coyotes?
Nate Schnarr: Basically, a forgotten prospect at this time last year it was questionable if Schnarr would even be signed to an ELC with the Coyotes. Then he went out and put together and awesome final year of junior. Schnarr put up more points last season then his first three years combined. Can he maintain that offensive output at the next level?
Adin Hill: When Raanta and Kuemper were both hurt it looked like the Coyotes were possibly dead in the water. Hill played very well to start, setting some rookie records with the team and helped keep them alive in the playoff hunt. His play started to slip towards the end before he headed back to the AHL, where Hill was easily Tucson's MVP and kept them alive in the playoff mix as well.
Ivan Prosvetov: Taken in the fourth-round back in 2018, there was not a whole lot of hype on that selection. All Prosvetov has done though is move through the North America junior leagues and excel, like last year with Saginaw in the OHL. The Coyotes believe he is the most talented of Arizona's goalie prospects. Prosvetov is quite the fun character, from wearing a Gerry Cheevers mask, cartwheels and splits on the ice, too interacting with fans after games, he should quickly become a fan favorite. Just maybe do not bat the puck into the stands in the OHL Western Conference Finals, earning a five game suspension.
Fallers
Jens Looke: After a great 2015 WJC for Sweden, the Coyotes drafted Looke 83rd overall in that year's draft with many considering it a steal. Unfortunately, Looke never really showed anything with the Coyotes, struggling in the AHL with just 32 points in 120 games. He actually had one more year left on his ELC but the Coyotes terminated the deal and Looke signed with Timra IK in the Allsvenskan.
Emil Pettersson: The Coyotes acquired the Elias Pettersson's older brother from Nashville last season. He showed some skill in Tucson but with just five assists in 12 games he was never going to be confused with the Elias. He signed a two-year contract with Valxo in the SHL, putting some doubt in what little NHL future he had but Arizona still owns his rights.
Nick Merkley: I really did not want to put Merkley in here. He is a very good player and personally I love the way he plays. Just injury after injury every year since he has been drafted, we have moved past tough/bad luck and into is this kid even able to physical handle professional hockey. I hope he can stay healthy, but until Merkley can stay off the IR consistently, any kind of NHL future is cloudy.
Prospect Depth Chart
| | | |
| --- | --- | --- |
| LW | C | RW |
| Michael Bunting, AHL | Barrett Hayton, NHL/OHL | Nick Merkley, AHL |
| Tyler Steenbergen, AHL | Michael Chaput, AHL | Hudson Fasching, AHL |
| Braydon Burke, AHL | Lane Pederson, AHL | Jan Jenik, OHL |
| Matias Maccelli, SHL | Nate Schnarr, AHL | Aku Raty, SHL |
| Giovanni Fiore, AHL | John Farinacci, NCAA | Erik Walli Walterholm, SHL |
| Liam Kirk, OHL | Anthony Romano, NCAA | Alexander Daryin, MHL |
| Danil Savunov, MHL | Valentin Nussbaumer, QMJHL | |
| | Emil Pettersson, SHL | |
| | |
| --- | --- |
| Left Defense | Right Defense |
| Kyle Capobianco, AHL | Victor Soderstrom, SHL |
| Cam Dineen, AHL | Jordan Gross, AHL |
| Kevin Bahl, OHL | Filip Westerlund, SHL |
| Jalen Smereck, AHL/ECHL | Dysin Mayo, AHL |
| Michael Callahan, NCAA | Dennis Busby, OHL |
| Michael Karow, NCAA | Cameron Crotty, NCAA |
| Axel Bergkvist, SHL | Ty Emberson, NCAA |
| Patrick Kulda, Czech | Dean Stewart, NCAA |
Goalies
Adin Hill, AHL
Merrick Madsen, AHL/ECHL
Erik Kallgren, AHL/ECHL
Ivan Prosvetov, OHL/AHL/ECHL
David Tendeck, WHL
Top 20 Fantasy Prospects
This section is intended to paint a picture of the Arizona Coyote prospects whose current trajectory projects them making the most positive fantasy impact at the time that they reach the NHL. Arrival date and NHL certainty have been taken into consideration; however, potential upside is the most important factor in determining this list.
Barrett Hayton: He is the real deal that does it all: offense, two-way game, power-play, penalty-kill, faceoffs, and leadership. The Coyotes looked to be reaching at the 2018 draft but not anymore. NHL arrival: Some games this season, full-time in 2020-21
Victor Soderstrom: Listening to the Coyotes after the 2019 draft it sounded like Soderstrom was the second coming of Nicklas Lidstrom. I do not think his ceiling is even close to being that high, but he will still be a very good player for them. NHL arrival: 2020-21
Kyle Capobianco: Talk about bad luck, Capobianco tears up the AHL, finally gets recalled and seriously injuries his knee. If not for that injury he would have played the second half of last year for Arizona. Modern NHL defenseman: good skater who transitions the puck quickly. NHL arrival: Returning from major knee surgery he spends most of the year in the AHL but gets some games with the big club. Full-time 2020-21
Nick Merkley: He is a difference maker when in the lineup but injuries have derailed a promising career. Comes in to this season injury free so he could push for a spot in the Coyotes lineup but with him missing so much time and still on his ELC, probably plays another year in the AHL. NHL arrival: 2020-21
Adin Hill: Played well last season in both the NHL and AHL. The plan is to have him play this year in Tucson for at least one more campaign. NHL arrival: 2020-21
Tyler Steenbergen: While he did not provide a ton of offense last year, he played a strong 200-foot game and earned the Tucson coaching staff's trust. Expect another step in his development as Steenbergen takes on a bigger offensive role this season. NHL arrival: 2021-22
Filip Westerlund: Was impressive for Sweden at the WJC and when given more playing time in the SHL, Westerlund responded until a shoulder injury ended his campaign. NHL arrival: 2021-22
Ivan Prosvetov: The Coyotes consider him to have the most raw talent of all their goalie prospects. It's going to be a long wait, but it could pay off. NHL arrival: 2023-24
Nate Schnarr: A big bodied, smart center, Schnarr showed another level to his game by putting up some serious points last year. Now the next challenge, the AHL. NHL arrival: 2022-23
Jan Jenik: After an impressive showing for Czech Republic at the 2019 WJC, Janik stayed in North America and brought his gritty game to the OHL. Needs a few more years of development but could be a useful player in multi-cat fantasy leagues. NHL arrival: 2022-23
Thanks for reading and if you missed it check out my July 31 in 31 on the Coyotes 2019 draft here. Also, if you missed any other teams' writeups be sure to check them out too here and be sure to follow along all month for more Offseason Prospect Reviews.
Keith Duggan
LATEST RADIO & DRAFTCASTS