July 31-in-31: Minnesota Wild
Tony Ferrari
2019-07-15
***
Welcome to our annual 31-in-31 Summer Series here at DobberProspects! Every day in July we will be bringing you a complete breakdown of a team's draft, notes from their development camp, and insights into their off-season moves so far. Following this up, the August 31-in-31 Series will dive into every team's prospect depth charts with fantasy insights and implications for the upcoming seasons. Check in often, because we plan on filling your hockey withdrawal needs all summer long!
***
The Minnesota Wild have had an interesting start to their offseason after missing the playoffs, ending a streak of six straight seasons of post-season play. They were active in free agency and like many teams, they made some questionable decisions on July 1st. The Wild were among the teams with more than a full compliment of draft picks at the 2019 NHL Draft, selecting eight players during the annual event. They were active in filling organizational needs while also coming away with talent and value throughout the NHL Draft. The Wild selected three wingers, two centers, one defenseman and two goalies throughout the event. Let's take a look at them: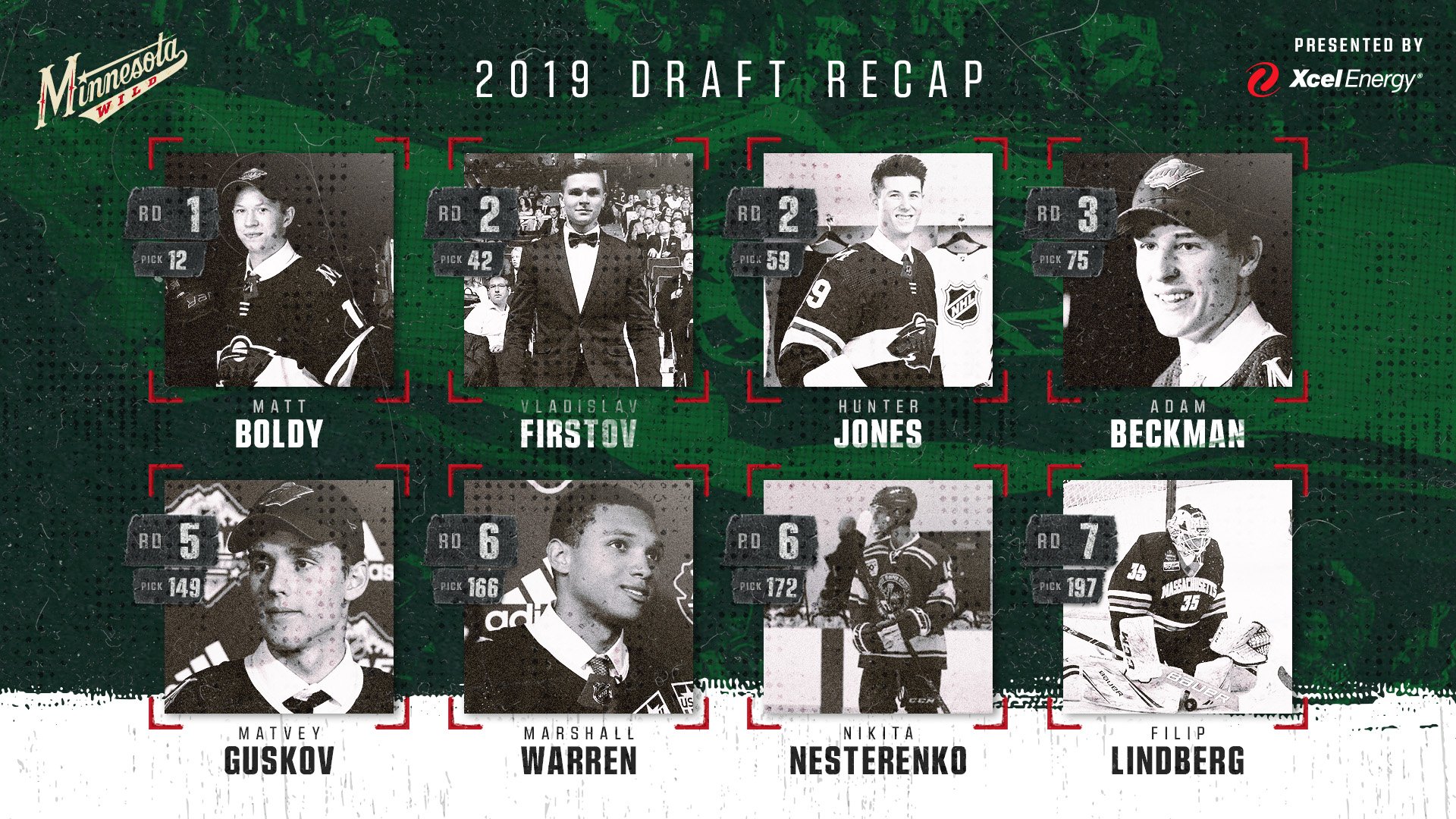 DRAFT RECAP
Round 1, Pick 12:  Matthew Boldy, LW, USNTDP 
The Wild were fortunate to have a variety of options when their clock started at the draft with the 12th pick. With the likes of Cole Caufield, Alex Newhook and Peyton Krebs all available, the Wild were overjoyed to select left winger Matthew Boldy. Good at everything, not exceptional at anything, the Wild select a forward who safely projects as top-six winger with high-end upside. Boldy has the skill and hockey IQ to fit in on a top line eventually, assuming his development goes as planned. 
 Coming into the year there were some concerns about his skating and his defence but he did an excellent job at shoring up his weaknesses and adding those tools to his arsenal. The young American was adaptable in his playing style, suitably meshing with a variety of line mates as a playmaker or triggerman throughout the year. Boldy's adaptability will serve him well next season as he joins an absolutely stacked recruiting class for Boston College. There is a fairly high chance that Boldy will be playing in front of fellow USNDTP teammates Spencer Knight in goal and Marshall Warren on the blueline. His center could end up being Alex Newhook, drafted 16th overall to Colorado. Boldy's commitment to Boston College will mean that he is at least a season away, likely two from truly making an impact on the Wild organization. 
Boldy fits the style of player that Minnesota seems to target at the draft in recent years. Opting for safe picks having not selected in the inside to top 15 since 2012 (Matthew Dumba at 7th overall), Boldy filled their desire to select a safe player while also possessing the high end upside of a pick just outside of the top ten. Boldy will slot in alongside fellow left winger Kirill Kaprizov as the Wilds top prospect, with both possibly making an impact within the next couple of seasons. Boldy and the Wild seem like a match made in heaven.  
ETA: End of the 2020-21 season, upon conclusion of the NCAA season
Round 2, Pick 42: Vladimir Firstov, LW, Waterloo Blackhawks (USHL) 
The second straight left winger taken by Minnesota, Firstov is a high-skill, high IQ player. He finished second in USHL rookie scoring with 58 points in 62 games for Waterloo. Firstov is commuted to the University of Connecticut next year where he will be able to refine some of the finer points of his game. His shot is excellent and his vision is above average. He is another player that can fill both the play-making and trigger man roles on a line, the Wild clearly focused on versatility and adaptability at the top of the draft. 
The selection of the Russian winger at 42nd overall seemed like a slight reach considering some of the talent available. He is a very good prospect and certainly fits the model of a player who's project-able and able to play in a variety of situations. Next year he will likely suffer from a fairly typical adjustment period as he acclimates to the NCAA level of play. He goes to a team in UConn that wasn't exactly a force to be reckoned with so the opportunity to earn some minutes higher up the lineup is there for Firstov in his freshman season. 
ETA: End of the 2021-22 season, upon conclusion of the NCAA season
Round 2, Pick 59: Hunter Jones, G, Peterborough Petes (OHL)
Selected slightly higher than expected, Jones was the fourth goaltender off the board in the draft. Jones was a good prospect who shows good positional play and fairly good poise. He has good size, 6'4 and 194lbs, and statistically he was good, but not great with a .902 save percentage in a massive 57-game workload in the regular season. Jones carried the load in the Petes' net, showing his strong base and good lateral movement. The Brantford, Ontario native rarely drops into his butterfly too early and doesn't cheat off the shooter. Overall, Jones does a good job and shows projectable skills.
The Wild's selection of Hunter Jones came as a bit of a shock because of the fact that they have a fairly stocked goaltending cupboard. With Kaapo Kahkonen and NCAA-signed Mat Robson fairly entrenched at the AHL level, Hunter Jones will be given ample time to develop and slot into an AHL spot when one of the two aforementioned goalies graduates to the NHL level. This puts Jones in position to work his way up the Wild's goaltending depth chart slowly. The security of having the full cupboard will prevent the 59th overall pick from being rushed or forced into a situation he isn't ready for. The Wild seemed to identify Jones as a goalie that fits into their timeline and plans which made the second round selection worth it for Wild GM Paul Fenton. 
ETA: 2023-24 in spot duty, 2024-25 in a backup role. 
Round 3, Pick 75: Adam Beckman, LW/C, Spokane Chiefs (WHL)
One of the better value picks for the Wild, Beckman is a high-IQ player who oozes potential. His 32-goal campaign was without much fanfare but it showed that his promise was beginning to pay off. He is outstanding at putting himself into position to be dangerous in the offensive zone. Although he played both left wing and center this past season and he may play center more this upcoming season, he projects as a left winger at the next level. 
Returning to the Chiefs next season, Beckman will look to improve in his solid production during his draft year. He will likely take on a larger role for Spokane in all areas of the game. His relentless forecheck and effort in the offensive end will be looked to be replicated making him more of a 200-foot presence. Selecting Beckman in the third round seemed like a steal with a player who projects well on the wing and has a good amount of upside to be a solid middle-six contributor at some point. 
ETA: 2022-23 season 
Round 5, Pick 149: Matvey Guskov, C, London Knights (OHL)
A fifth-round pick generally doesn't exhibit the 200-foot game that Guskov has. The slender Russian will likely need a couple years of development and possibly some time in the AHL before making the leap to the NHL. Another possibility for the skilled and smart center is the KHL. After he ages out of junior hockey, if he unlikely to be ready for the NHL there would be a chance that Guskov could conceivably move back home for a year or two while he continues his physical maturation and development, albeit without team control. 
Next season will be a big year for Guskov as he is likely to gain more of a role on the perennial powerhouse London Knights of the OHL. With the increased playing time and more opportunities, he should increase his point production from about 0.50 points per game to something a little more on track with his 2001-born peers. 
ETA: 2023-24 season
Round 6, Pick 166: Marshall Warren, LD, USNTDP (USHL) 
The steal of the draft for Minnesota, Warren's draft day fall was confusing to say the least. Often ranked as the third best defender out of the USNTDP in the stacked 2019 class, he was the last of the group selected in this draft. A smooth skating puck mover, Warren could be one of the steals of the draft among every player selected. He will be joining fellow Wild draft pick Matthew Boldy at Boston College, he will be joining an insane freshman class in the perennially competitive NCAA program. 
The young American defender will be given ample time to develop while at Boston College, he won't be rushed to join Minnesota's organization. He's a smart player and uses his active stick and strong skating to defend, understanding that his 5'11", 170lbs frame is not going to rough anyone around. Physically maturing will be the biggest development for Warren as he already possesses excellent skating with good edge work and and advanced hockey IQ. 
ETA: 2022-23 season 
Round 6, Pick 172: Nikita Nesterenko, C, Lawrenceville High School (USHS) 
A pretty obvious home run swing, Nesterenko was very productive in the USHS hockey circuit in the New Jersey area. Whether or not a high school prospect translates to the next level is always the major concern when drafting a player like Nesterenko. Fortunately, the Wild used a late round pick on him, mitigating the risk. Although a project player, has shown the ability to see the ice well and his shot is a major asset. 
Next season the young American will play in the BCHL with the Chilliwack Chiefs. This will be a step up in competition and the hope is that he will step in seamlessly and produce at a high rate in his D+1 season. He is committed to Brown University in 2020-21 and will likely play multiple years there. This allows the Wild to push their decision on whether or not to sign him to an Entry Level contract down the road a bit and allows Nesterenko to grow at a pace that is more suited towards his current development path. There are certainly skills there, but he will be a long shot to make it as with most sixth round picks. 
ETA: 2023-24 season 
Round 7, Pick 197: Filip Lindberg, G, University of Massachusetts 
After taking over the starting job at UMass mid-season, Lindberg vaulted onto many teams draft radars because of his outstanding performances leading the young NCAA squad to the national title game on the back of a .934 save percentage. Although undersized for a modern goalie at just 6'0", he shows good positioning and quickness in his crease. As a seventh round pick, he is likely a long shot to make it to the NHL but goalies seem to have the higher success rate later in the draft as they are often difficult to truly evaluate. 
Lindberg will look to build on an exceptional freshman season and continue to show that the Wild made a good decision to take a flyer on him with the 197th pick in the draft. He is likely to continue starting the majority of games for UMass and will look to refine his movements in the crease and use his quickness to enhance his positioning rather than take him out of it. As any seventh round pick is, Lindberg is quite a ways away from truly making an imprint on the Wild's organizational depth chart but with impressive numbers, a skill set that favours being a smaller goalie and some work, Lindberg at a minimum helps bolster the pipeline of goalies that now seems stocked to the brim following the 2019 NHL Draft. 
ETA: 2024-25 for possible spot work 
DEVELOPMENT CAMP
The Wild were among the first group of teams to have their development camp and the week went by without major injuries which is always one of the big goals. The team had a good group of talent in camp, roster below, that featured all of their 2019 draft picks aside from second rounder Vladimir Firstov. Along with the fresh crop of picks, other marquee names attending the Wild's development camp included RHD Filip Johansson (2018 1st round, 24th overall), C Jack McBain (2018 3rd round, 63rd overall), C Damien Giroux (2018 5th round, 155th overall) and G Matt Robson (FA -UMass 2019).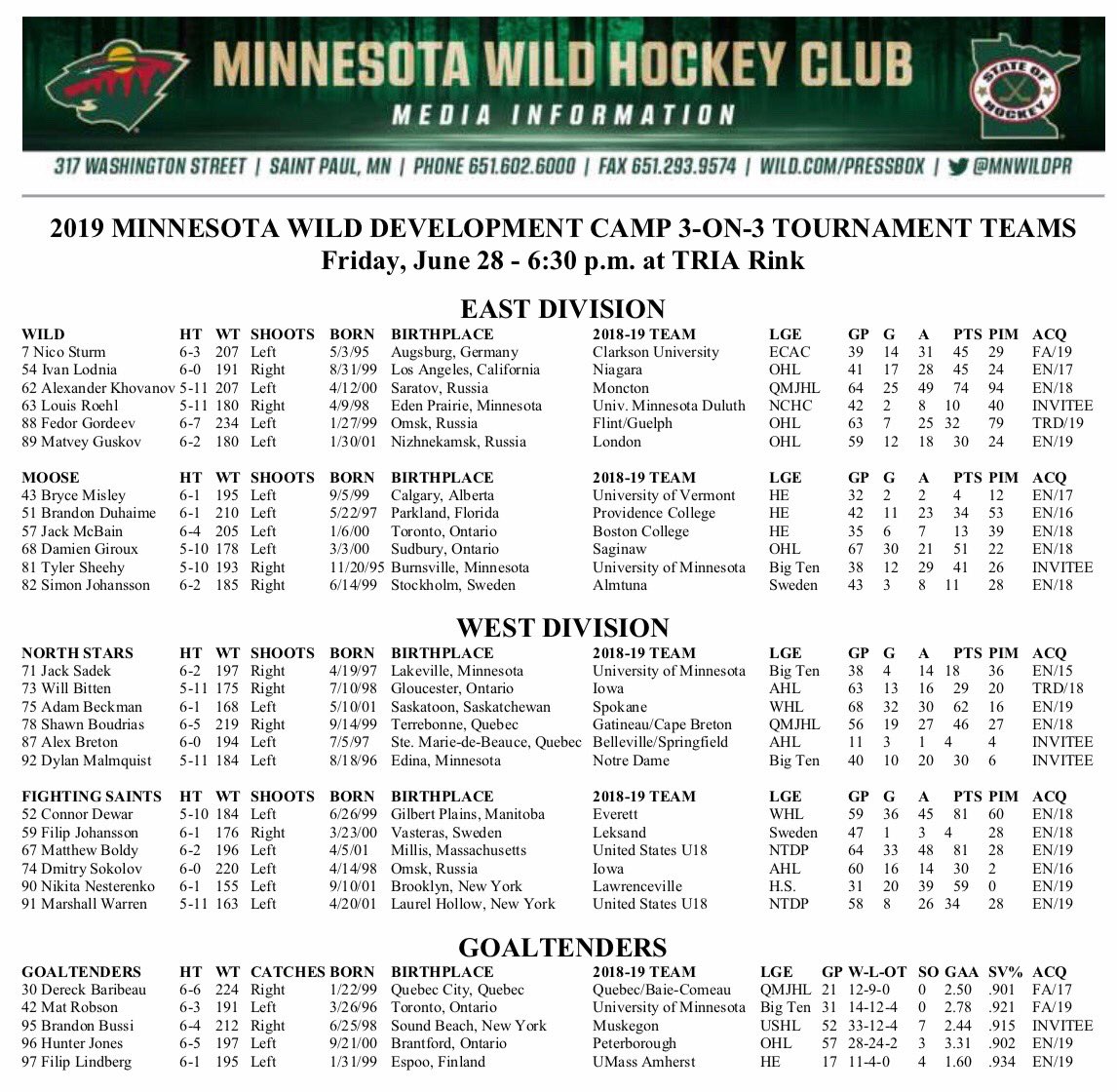 Development camp is an excellent chance for the team to get an close-up look at their newest draft choices, evaluate prospects development in comparison to last years camp and work with prospects to give them areas of improvement that can work on over the next calendar year. Some of the standouts in camp this year were:
LD Filip Johansson: The Wild's 2018 first round didn't have the D+1 season that he had hoped. He admitted so himself in interviews at development camp and towards the end of last season. He showed well at camp however with good skating and improved awareness in all three zones. 
LW Matthew Boldy: This year's top choice was a welcome addition to development camp. He was a cut-above the rest of the competition in drills and showed well in the 3-on-3 tournament. 
https://twitter.com/dave_schwartz/status/1143552751839916032?s=21
LD Marshall Warren: Able to put on a show with his skating ability and poise in the defensive end, he was excellent at moving the puck all camp long and showed that the 6th round was far too late for his selection. 
C/W Nico Sturm: Older than most of the prospects at camp, the 24-year-old had a solid camp and showed leadership ability throughout the camp. Left camp with the "Hardest Worker On and Off the Ice" award and he led his team to the 3-on-3 development camp title. 
https://twitter.com/mnwild/status/1144785052846440449?s=21
C Damien Giroux: Walking out of camp with the award for "Most Improved Prospect" shows his development over the last year. He was a driver offensively and excelled in the drills during camp. 
OFFSEASON MOVES
The Minnesota Wild have had an interesting start to their offseason after missing the playoffs, ending a streak of six straight seasons of post-season play. During the season Minnesota seemed to be dealing of veteran players for younger, cheaper players which signaled their acceptance of having to rebuild on the fly. That mindset was thrown out the window on July 1st as they decided to sign Ryan Hartman (2 years, $1.9 million AAV) and May Zuccarello (5 years, $6 million AAV). Both of these moves seem to suggest that the Wild are likely to attempt to complete for a playoff spot in the 2019-20 season.  
Minor signings of center Luke Johnson (two-year, two-way $700,000 AAV) and forward Gabriel Dumont (two-year, two-way $700,000 AAV) provide some added depth for the Iowa Wild. Overall the Wild's off-season has been a bit of a head-scratcher because they seem to be positioning themselves in the awkward middle. They likely won't be good enough to truly compete but they also likely won't finish low enough for a high draft pick. Going into next season, the Wild will need to answer a few questions: 
What are they? Rebuilding? Competing? 

Do Jordon Greenway and Joel Eriksson Ek step up and play prominent offensive roles this year? 

Is Jared Spurgeon part of the future? 

Can Ryan Suter and Zach Parise recover from down years and get back to consistent play? 

Where do players like Nico Sturm and Louie Belpedio fit into the teams plans? 
It will be interesting to see how the Minnesota Wild answer those questions and more prior to and during the upcoming season. There is talent on the roster and within the prospect pipeline but much of the high end talent is at least a year away. What the Wild do from here is anyone's guess. 
Leave comments below and you can always reach out to me personally on twitter at @TheTonyFerrari!
**
Be sure to check out the Dobber's Fantasy Hockey Prospect Report for 2019! It's the best guide for fantasy prospects around and makes sure that while you're there you check out the rest of the fantasy hockey guides.
LATEST RADIO & DRAFTCASTS