July 31-in-31: Buffalo Sabres
Josh Tessler
2019-07-09
***
Welcome to our annual 31-in-31 Summer Series here at DobberProspects! Every day in July we will be bringing you a complete breakdown of a team's draft, notes from their development camp, and insights into their off-season moves so far. Following this up, the August 31-in-31 Series will dive into every team's prospect depth charts with fantasy insights and implications for the upcoming seasons. Check in often, because we plan on filling your hockey withdrawal needs all summer long!
***
DRAFT RECAP
The Buffalo Sabres only had six draft picks at the 2019 NHL Entry Draft, but Sabres general manger Jason Botterill vastly improved his farm system. He originally had a few more picks, but he used them as bait to move up in the draft to snag prospects that his scouts were incredibly high on. The Sabres had an extra first round pick from the Ryan O'Reilly trade with the St. Louis Blues, but they didn't have a second round pick as it was included in the Jeff Skinner trade with the Carolina Hurricanes. But, as I mentioned above, they had a bunch of late round picks that they were able to use to move up in the draft board.
Round 1, 7th overall: Dylan Cozens, C
The Buffalo Sabres aren't shy about taking big-bodied centremen in the draft. In the past, the Sabres have selected Jack Eichel and Casey Mittelstadt (while Eichel pre-dated Botterill's time in Buffalo, he did draft Mittelstadt). Botterill loves his strong-built centremen and he decided to grab another one in Cozens.
Early last season, Cozens was high up on draft boards. There were a few analysts that felt that Cozens' skill-set was worthy of him being selected top-five. However, a few forwards such as Alex Turcotte had their stock rise over the course of the year and Cozens began to fall in the rankings as a result. With Cozens coming to the Sabres, Buffalo can have three outstanding lines. Cozens will make his line-mates more efficient and he'll take the pressure off of Mittelstadt and Eichel. He'll be an asset on the power-play and could potentially use his big-body to frustrate goaltenders by eliminating their sight lines.
Unfortunately, Cozens suffered a thumb injury at Sabres' development camp. He recently had surgery and will be on the shelf for the next two to three months. With that being said, there is a chance that Cozens might miss rookie camp and training camp. If he does miss both camps, Sabres fans shouldn't be overly concerned. He's bound to spend more time in the WHL with the Lethbridge Hurricanes anyway. There is no need to rush Cozens. He'll be a dynamic two-way centre at the NHL level soon enough, but he could definitely benefit from additional time in the WHL.
https://www.youtube.com/watch?v=0HkcX4Sf_aU
Round 1, 31st overall: Ryan Johnson, D
After Rasmus Dahlin and Lawrence Pilut, the Sabres don't have a ton of left handed defensive prospects with a high NHL certainty. John Gilmour and Mattias Samuelsson have a great chance of cracking the Sabres' lineup down the road, but it's always good to add more talented left handed defensemen to your system. 
Johnson is a great two-way defenseman who is coming off of a strong season with the Sioux Falls Stampede and is ready for his first season with the University of Minnesota. Throughout last season, he showed that he's a fantastic defensive-minded left hander, who possesses great skating and edge-work. Johnson has solid speed and is always looking for the optimal poke check in the defensive zone. He's by no means a puck-carrying defenseman. Johnson often relies on his defensive line-mate to get the puck up the ice, but he does showcase strong stay at home defensive qualities and can be lethal in the offensive zone. 
As mentioned previously, he'll be playing for the University of Minnesota Golden Gophers next season. Johnson might end up playing on his wrong side in Minnesota as the Golden Gophers don't have a ton of right handed defensemen. If that's the case, the Golden Gophers could line him up with Jackson LaCombe, Anaheim Ducks defensive prospect. LaCombe and Johnson could be special together and could be a great combo. 
Round 3, 67th overall: Erik Portillo, G
The Buffalo Sabres added to their goaltender depth at the NHL Draft and snagged Swedish goaltender Erik Portillo in the third round. Portillo is a tank. He's 6'6" and 207 lbs. The Sabres love drafting huge goaltenders. It wasn't that long ago when they took 6'4"/196 lbs Finnish goaltender Ukko-Pekka Luukkonen. While it's not a given that a big-bodied goaltender will succeed long-term, we've seen plenty that have. 
Portillo is coming off of a strong season with Frölunda HC J20. The Göteborg native appeared in 26 games for Frölunda and managed to muster up a .931 SV%. In addition, he had posted a 1.99 GAA. His SV% and GAA were the highest in the SuperElit and were higher than fellow Swedish goalie Hugo Alnefelt, who was taken by the Tampa Bay Lightning with the #71st pick.
Next season, Portillo will play with the Dubuque Fighting Saints of the USHL. He'll spend time in the USHL and get used to playing in North America before making the jump to the University of Michigan.
Round 4, 102nd overall: Aaron Huglen, RW/LW
The Buffalo Sabres love grabbing prospects from the USHL. In the past three drafts, Botterill and his front office have selected six prospects from the USHL. Huglen was rather impressive during his 28 games played with the Fargo Force last season. He also played on the USA Hlinka Gretzky Cup squad, in which he tallied 2 goals in 5 games. Plus, he had a great season with Roseau High School.
Even though he's a tad under-sized, he proved that he's a solid two-way winger. Hughlen will return to the Fargo Force next season and he's committed to the University of Minnesota for the 2020-21 season. If Hughlen fulfills his commitment to the University of Minnesota, he'll join fellow Sabres prospect Ryan Johnson in Minneapolis.
Round 5, 143rd overall: Filip Cederqvist, LW
Last season, Cederqvist split his time between the Växjö Lakers HC J20 (SuperElit) and Växjö Lakers HC (SHL). Cederqvist has exceptional speed and solid edge-work, but the best part of his game is his offensive positioning. When he's on the ice, he seems to evade his opposition and he looks like he's invisible. Next season, Cederqvist will hopefully get more playing time in the SHL and continue to develop. 
Round 6, 160th overall: Lukas Rousek, RW/LW
The Czech winger is a solid flier. There is no downside with the Sabres selecting Rousek in the sixth round. Rousek has solid speed and has top-tier hands. He loves to do most of his damage right next to the net. But, we've seen a noticeable drop in his production. When Rousek was playing in the Czech U18 and U20 leagues, he was unstoppable, but his offensive production hasn't translated well to the premiere Czech league. He'll play with HC Sparta Praha next season and will hopefully find his groove yet again.
DEVELOPMENT CAMP
The Buffalo Sabres held their development camp in late June at the Harborcenter. The development camp roster can be found in the below: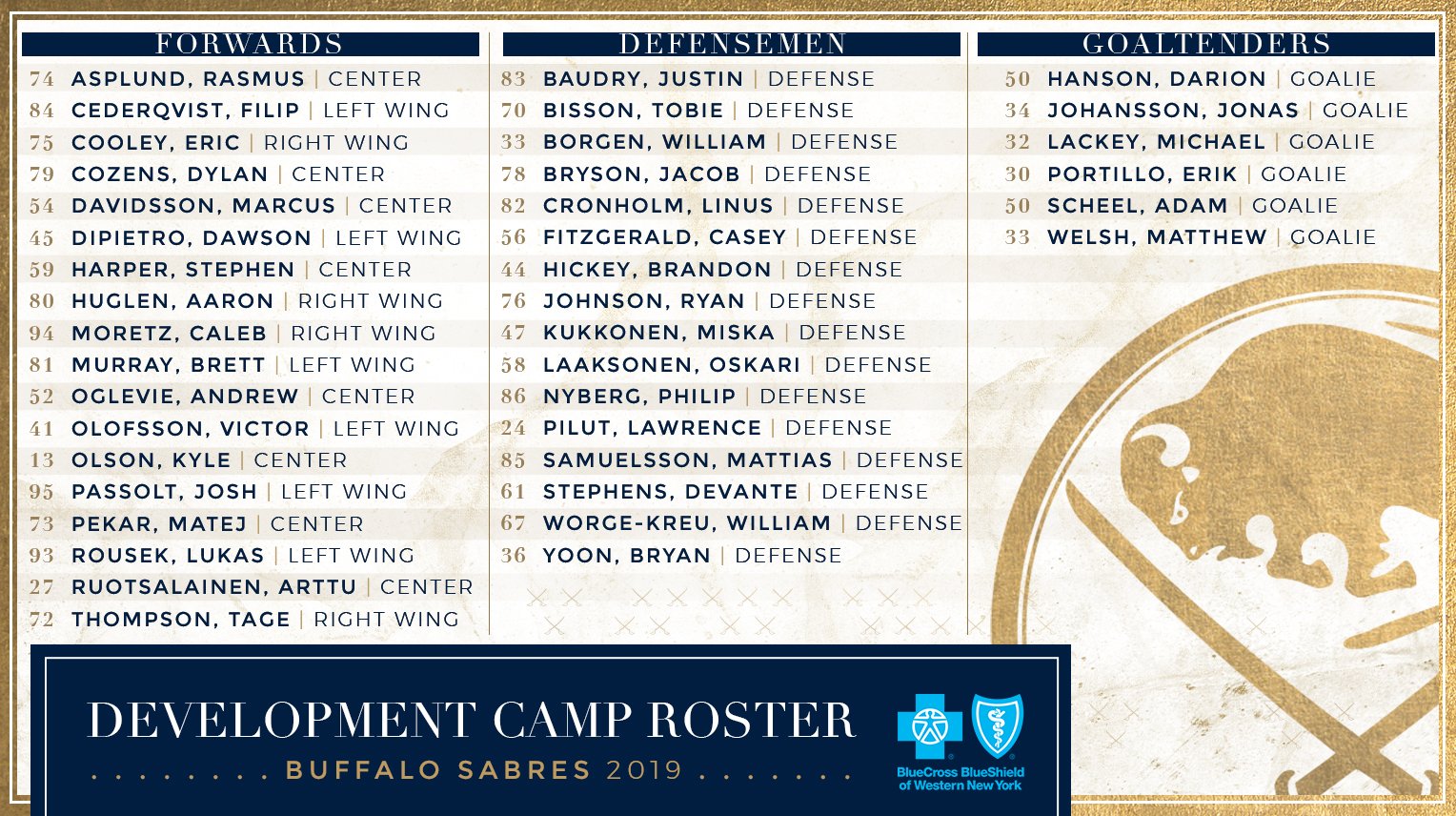 As mentioned previously, Cozens got hurt during the development camp. He banged up his thumb after a collision from Sabres defenseman Brandon Hickey during the 3-on-3 tournament. He underwent surgery and will be out for two to three months.
Unfortunately, Cozens' injury is stealing the headlines from the development camp, but there are quite a few highlights. Sabres forward prospect Victor Olofsson has shown improvement in the offensive zone and could be an asset in the future for Buffalo. Olofsson could potentially make the Sabres opening night roster.
Aside from Olofsson, Ryan Johnson had a beautiful shoot-out goal on the final day of camp. The left handed defenseman showed off his beautiful puck-handling out maneuvered goaltender Adam Scheel. 
OFF-SEASON MOVES
In – Marcus Johansson, John Gilmour, Jimmy Vesey, Colin Miller, Curtis Lazar, Andrew Hammond, Jean-Sebastien Dea, Ralph Krueger
Out – Kyle Criscuolo, Matt Tennyson, Danny O'Regan, Scott Wedgewood, Phil Housley
So far this off-season, the Buffalo Sabres have been quite busy. First, Botterill decided to replace former Sabres head coach Phil Housley with Ralph Krueger. Krueger previously coached the Edmonton Oilers and was an adviser to Hockey Canada's coaching staff. Aside from the head coaching change, the Buffalo Sabres have been quite busy making move after move.
The Buffalo Sabres acquired Colin Miller in a trade with the Vegas Golden Knights, in which Botterill coughed up very little. The Sabres dealt a 2021 second round pick and a 2022 fifth rounder to obtain Miller. Miller adds another exceptional defenseman on the right side and allows for Rasmus Ristolainen to become expendable.
In addition, the Sabres locked up Jeff Skinner to a long-term deal. Skinner is on the books for the next seven seasons with a cap hit of 9 million USD. Early on last season, Skinner and Eichel developed great chemistry and were impossible to shut down. But, the Sabres hit a cold streak and the duo failed to re-store their success. The Buffalo Sabres are banking on Skinner finding that magic again. If he does, Skinner and Eichel could help power the Sabres to a playoff spot. 
The Sabres also inked Marcus Johansson to a two-year deal and traded for Jimmy Vesey from the New York Rangers. Johansson adds a strong veteran with exceptional skating ability. Despite health issues, Johansson was an asset for the Boston Bruins down the stretch last season and the Sabres are hoping that he'll be as effective in upstate New York. With Vesey, the Sabres add a solid depth winger who has tremendous upside and has the potential to have a big season in Buffalo. The Sabres could pair him with Casey Mittelstadt and hope that the duo manage to blossom.
Even though the Sabres have been quite busy in adding forward depth this off-season, there still is room for Victor Olofsson to join the club next season. But, his time on ice might be pretty limited as the Sabres forward depth is quite stronger compared to last season. However, his spot is far from a lock. He'll be competing against Tage Thompson and Alex Nylander in training camp and if he's a bit inconsistent in training camp, he'll likely begin the season in Rochester.
***
Feel free to give Josh a follow at @JoshTessler_ for more updates on the Buffalo Sabres farm system and other hockey-related updates.
LATEST RADIO & DRAFTCASTS