August 32-in-32: Buffalo Sabres
Kevin Wong
2023-08-06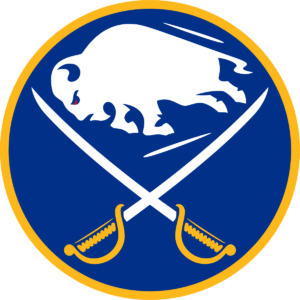 ******
Welcome to the August 2023 edition of the DobberProspects 32-in-32 Series. This month, we are diving into the depth of each organization, looking at their recent graduates, risers, fallers, and top-20 prospects.
*********
The Buffalo Sabres and their AHL affiliate Rochester Americans both saw significant impacts from numerous rookie players in 2022-2023. The offensive emergence of 2022 first-rounder Jiri Kulich in the AHL was a pleasant development, as were the adjustments of 2020 draftees J.J. Peterka and Jack Quinn to the challenges of the NHL. In the absence of Quinn and Peterka at the AHL level, Brandon Biro and Lukas Rousek both stepped forward for the club this season, receiving AHL All-Star Team honors and successfully auditioning for leadership roles in the coming seasons.
With the Americans advancing to the 2023 Calder Cup Semifinals and the Sabres missing the playoffs by its closest margin — one point — since last qualifying twelve years ago, the organization is as close as it has been in over a decade to realizing its vision for franchise prosperity and postseason success.
Graduating Players
The duo of Peterka and Quinn excelled in the American Hockey League prior to joining the Buffalo Sabres and generated high expectations for their NHL rookie campaigns. Both players found a full-time role with the Sabres in 2022-2023, not once being reassigned to Rochester during the course of the season. Peterka scored 12 goals and 32 points in 77 games, averaging 13:39 of ice time per game.
Towards the end of the campaign in March, he recorded a streak of 11 points in 13 games. His forechecking and playmaking attributes made him a versatile option for the Sabres and allowed him to contribute comfortably, albeit in a limited capacity. Following the end of the NHL regular season, he represented Team Germany at the 2023 IIHF World Championship, leading his team and tying for second among all tournament players in point scoring. He scored six goals and 12 points in 10 games, helping his team reach the Gold Medal match against Team Canada and end their tournament with a silver medal. He was one of only two German players to score in the gold medal match, opening the scoring for his squad in a 5-2 loss.
Jack Quinn's NHL rookie campaign was similar to Peterka's. With an average ice time of 13:51 per game, he tallied 14 goals and 37 points in 75 games. Although he is primarily known for his shooting ability, he was able to diversify and expand his game over the course of the season. He killed penalties, developed his forechecking abilities and learned where to find open ice to effectively shoot the puck.
After the completion of the Sabres' season, Quinn represented Team Canada at the 2023 IIHF Worlds. He scored two goals and provided five assists in the tournament, helping his team win the gold medal. In the Gold Medal match against Peterka and Team Germany, Quinn assisted on Canada's empty-net insurance marker to secure the victory.
He suffered a ruptured Achilles tendon during the tournament and underwent surgery in late June. His recovery is expected to span between four-to-six months.
Following a QMJHL Championship season with the Shawinigan Cataractes in 2022, the Cataractes traded Olivier Nadeau to the Gatineau Olympiques. As a result of a shoulder injury and subsequent surgery, his season did not begin until December 28 against the Rouyn-Noranda Huskies. He quickly established himself as a key figure for the Olympiques as they named him their new captain on February 17, 2023. He finished the regular season with 22 goals and 46 points in 34 games, and then scored seven goals and 15 points in 13 playoff performances. The Olympiques were swept in the third round by the Quebec Remparts, a series in which Nadeau scored just one assist.
Nadeau's game is structured around his physical frame. His presence in the crease and his determination for rebounds as well as deflections are among his primary strengths at the QMJHL level. He must now adapt his skill set to the AHL as a 20-year-old professional. The Sabres assigned him to Rochester upon the completion of his most recent QMJHL run. He is expected to be a full-time member of the AHL squad next season.
Ryan Johnson's senior year with the University of Minnesota Golden Gophers began with his appointment as an alternate captain and concluded with a shot at the NCAA Frozen Four championship against Quinnipiac. With four goals and 18 points in 40 games during the regular season, the puck-moving defender played a substantial role in his team's offensive strategies. He was also one of his team's top shot-blockers. Johnson and the Gophers ultimately fell short of the championship, losing 3-2 in overtime in the Frozen Four final.
His leadership was on full display not only on the ice, but away from the rink as well. He was awarded the NCAA's Hockey Humanitarian Award for his work in the community.
He signed an entry-level deal with the Sabres in May and is slated to join the Rochester Americans next season.
***
Risers
The 2022-2023 season was a breakout season for Jiri Kulich, who propelled himself to the top tier of the Sabres' prospects chart with an offensive barrage. He scored 24 goals and 46 points with the Rochester Americans in his rookie AHL campaign. He finished fifth among players on the team in scoring and was best among junior-eligible players.
At the 2023 IHF World Juniors, Kulich recorded seven goals and nine points in seven games to help Team Czechia win Group A and subsequently capture the silver medal. He scored the critical overtime winner against Team Sweden in the semifinals to advance his team to the gold medal game. His on-ice leadership then brought them to within one goal of the gold medal in a competitive final match against Team Canada. He scored one of Czechia's two regulation goals while they trailed in the third period to help tie the game and force overtime; however, Team Canada ultimately scored the championship-clinching goal in the extra frame. Along with other participating top NHL prospects Logan Cooley and Connor Bedard, Kulich was honored with a position on the tournament's Media All-Star Team.
His tournament heroics did not end with his World Junior performance. After missing the first two AHL playoff games in April, he returned to the Americans' lineup on April 28. Down two-games-to-none and facing elimination in the best-of-five series against Syracuse, Kulich played a critical role in helping the Americans rally back. He scored a goal in Game Three, a goal and an assist in Game Four, and another goal in the series-deciding fifth game to clinch his team's comeback. His streak continued, as he scored a goal in each of the next three games — in addition to two assists in Game Three — against Toronto to sweep them in the next round. He did not fare as well in the third round against the eventual Calder Cup champion Hershey Bears, finishing with just two points in six games.
Although the 19-year-old rookie's season ended with a scoring drought, he demonstrated a special ability to elevate his game at key moments throughout the year.
Despite missing 23 games due to injury in 2022-2023, Brandon Biro finished second among Rochester players in scoring. His 16 goals and 51 points in 49 games accounted for the highest rate of scoring among Americans players last season, and his total of 51 was a mere five points behind that of the team's scoring leader, Lukas Rousek.
In addition to producing at a high level, Biro was one of his team's most important defensive players, killing penalties and logging crucial defensive minutes with a sense of sandpaper and hustle. A lower-body injury prevented him from representing Rochester at the 2023 AHL All-Star Game. He played his final regular-season game on April 5, missing the postseason as a result of his injury.
Lukas Rousek led the Rochester Americans in scoring with 16 goals and 56 points in 70 games. Considering his injury-shortened rookie total of one goal and four points in 19 games in 2021-2022, he made huge improvements in his sophomore AHL campaign. His high motor and explosive style were rewarded with two call-ups to the Buffalo Sabres. He tallied a goal and an assist in his NHL debut on March 27, 2023. He made another appearance on April 14 for the Sabres.
He was the team's representative at the 2023 AHL All-Star Game, and he finished the season strong with 17 points in a span of 17 matches. During the playoffs, he scored five goals and 12 points in 14 games, finishing third among Americans players in 2023 postseason scoring.
***
Fallers
Alexander Kisakov, the Sabres' 20-year-old former second-round draft choice, faced some growing pains in his rookie AHL season. After finishing his 2021-2022 MHL campaign with 26 goals and 56 points in 51 games, the skillful playmaking forward found difficulties with the pace and defensive structure of the American Hockey League. The 5-10, 150-pound winger does not yet possess the strength, quickness or evasive puck-handling abilities to create space for himself. He has a tendency to remain in open ice and needs to develop his skills along the boards.
His sophomore campaign will hopefully represent an ongoing development of his game in offensive situations as well as with his technical abilities and defensive wherewithal.
***
Organizational Depth Chart
Left Wing
Center
Right Wing
Zach Benson
Jiri Kulich
Lukas Rousek
Isak Rosen
Matthew Savoie
Prokhor Poltapov
Brandon Biro
Noah Ostlund
Olivier Nadeau
Brett Murray
Anton Wahlberg
Aaron Huglen
Linus Weissbach
Tyson Kozak
Jake Richard
Viktor Neuchev
Sean Malone
Stiven Sardarian
Ethan Miedema
Linus Sjodin
Alexander Kisakov
Matteo Costantini
Filip Cederqvist
Viljami Marjala
William Von Barnekow
Jacob Konecny
Joel Ratkovic-Berndtsson
*
| | |
| --- | --- |
| Left Defense | Right Defense |
| Ryan Johnson | Maxim Strbak |
| Mats Lindgren | Nikita Novikov |
| Riley Stillman | Gavin McCarthy |
| Jeremy Davies | Albert Lyckasen |
| Sean Keohane | Vsevolod Komarov |
| | Joseph Cecconi |
| | Norwin Panocha |
*
Goaltenders
Devon Levi
Ukko-Pekka Luukkonen
Topias Leinonen
Scott Ratzlaff
Devin Cooley
***
Top 20 Fantasy Prospects
1. Zach Benson
2. Devon Levi
3. Ukko-Pekka Luukkonen
4. Jiri Kulich
5. Matthew Savoie
6. Isak Rosen
7. Noah Ostlund
8. Ryan Johnson
9. Anton Wahlberg
10. Maxim Strbak
11. Brandon Biro
12. Lukas Rousek
13. Prokhor Poltapov
14. Viktor Neuchev
15. Olivier Nadeau
16. Brett Murray
17. Linus Weissbach
18. Tyson Kozak
19. Topias Leinonen
20. Mats Lindgren
*****
This concludes our look at the Buffalo Sabres organization in 2023. Our previous July-32-in-32 article examines the team's 2023 draftees, off-season acquisitions, and numerous other topics.
********
Kevin is @CambieKev on Twitter. He is a scout, writer, video editor and hockey historian who has published visual and written material for DobberProspects, Canucks Army (The Nation Network), Pass It To Bulis, Nucks Misconduct (SBNation/Vox), and Last Word on Sports, among other organizations. His content has also been featured in such publications as The Athletic. He is a Future Considerations (FCHockey) alumnus and has been with the DobberHockey team since March 2020 as both a scout and columnist.
Kevin is also the creator of The Lost Shifts video series, numerous story-based montages, and the 85-minute highlight film, Pavel Bure: A Rocket Through Time.
LATEST RADIO & DRAFTCASTS