July 32-in-32: Buffalo Sabres
Kevin Wong
2023-07-04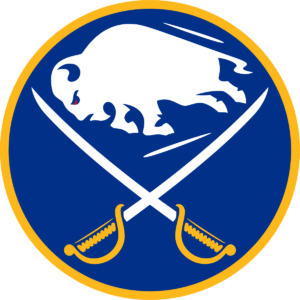 The 32-in-32 Series is an annual event here at DobberProspects! Every day in July we will be bringing you a complete breakdown of a team's Draft, and insights into their off-season movements thus far. Following this up in August, we will dive into every team's prospect depth charts with fantasy insights and implications for the upcoming seasons. Check back often, because we plan on filling your hockey withdrawal needs all off-season long!
******************
The Buffalo Sabres, already with the richest prospect pool in the entire NHL, added eight new players via last week's draft in Nashville. The team focused heavily on size, sandpaper, and sheer strength, although they headlined their 2023 class with diminutive star winger Zach Benson, a crafty and elusive playmaking phenom who could have been selected numerous slots above the Sabres' 13th-overall draft position.
NHL Draft
Round One, 13th Overall – Zach Benson, LW
Widely considered to be a top-ten prospect in this year's draft class and the best player available at the 13th-overall position, Benson further bolsters the Sabres' high degree of skill and creativity within their prospect pool. Despite his smaller stature, this five-foot-ten playmaker plays with tenacity and energy to pursue loose pucks and propel his team forward offensively.
He finished third in WHL regular season scoring this past year with 36 goals and 98 points in 60 games for the Winnipeg Ice. He also finished with the second highest plus-minus rating in the entire Western league, an impressive +67, behind only Seattle defenceman Jeremy Hanzel.
Benson's elusiveness with the puck and crisp passing are key to his offensive approach, as he frequently pivots and weaves to open up passing lanes and create opportunities for his teammates. He has an above-average shot as well, giving him numerous options in the offensive zone.
Benson adds a new element to the team's mix of forward prospects, several of whom are goal scorers. Along with J.J. Peterka, Benson will likely be relied upon as a key line driver once he becomes accustomed to the level of play in the NHL. There is the additional bonus of his familiarity with fellow Sabres prospect and Winnipeg Ice teammate Matthew Savoie, as well as former Ice captain Peyton Krebs. The Ice have relocated to the city of Wenatchee in Washington State for the 2023-2024 WHL season. Thus, Benson is expected to begin next season with the new Wenatchee Wild.
Round Two, 39th Overall – Anton Wahlberg, C
The Sabres drafted gritty two-way Swedish power center Anton Wahlberg with their 39th-overall pick. With a six-foot-three frame, Wahlberg adds puck protection skills along with enough quickness to transition the puck up the ice. He utilizes his strength along with sufficient puck-handling abilities to generate offense in traffic and to navigate into open ice. He also improves his team's presence in high-percentage areas via his work along the boards and at the front of the opposing net. His greatest drawback at this time is that he lacks certain playmaking elements, particularly his ability to read situations. His recognition of plays as they develop is not currently at the level required for him to be effective at higher levels of competition.
According to general manager Kevyn Adams, the Sabres intended to draft Wahlberg in the first round had they been able to acquire a late-first-round selection on day one of the draft.
During the 2022-2023 season, he split time between the SHL's Malmo Redhawks and their J20 affiliate. In 32 games with the junior squad, he scored 14 goals and 27 points. The 17-year-old scored two goals and four points in limited minutes with the SHL team across 17 games. At the IIHF U18 World Championship in April, he scored three goals and six points in seven games.
Round Two, 45th Overall – Maxim Strbak, D
With their other second-round selection, Buffalo selected defenceman Maxim Strbak of the USHL's Sioux Falls Stampede. Owing to his size, grit and maneuverability, the six-foot-two two-way defender possesses attributes to aid his team in both offensive and defensive situations. He can transition the puck out of his own end but can also pressure the opposition deep in his own zone, protect his team's crease and block shots. He understands where to be when defending on the backcheck and can contain the opposing puck carrier to the outside using both his body and stick.
His offensive game can be limited at times, although he possesses a certain degree of offensive flair. He can pinch down low in the offensive zone as well as weave past unsuspecting opposition players with a quick move. His offensive contributions are usually more opportunistic, as he does not tend to quarterback his team's attack or direct its offense. He scored five goals and 18 points in 46 games with Sioux Falls, as well as six assists in seven games at the 2023 U18 World Championship. Strbak is slated to join Michigan State University in the NCAA next season.
Round Three, 86th Overall – Gavin McCarthy, D
Another defenceman from the USHL, Gavin McCarthy of the Muskegon Lumberjacks offers a more aggressive style than Strbak at both ends of the ice. He scored eight goals and 27 points in 42 games. He also tallied 88 penalty minutes during the season. He is local to the Buffalo area and played most of his hockey there growing up before his two-year USHL stint.
McCarthy's physicality and competitiveness played a role in his frequent trips to the penalty box. The six-foot-one right-shot defenceman can navigate smoothly with the puck on his stick and has adequate passing abilities. He provides his team with options on their defensive zone breakouts as a carrier and distributor. He has good speed, allowing him to transition the puck through the neutral zone as well as to position himself to engage the opponent on the defensive side of the puck. He is a versatile defenceman, although he does not quite have the offensive perceptiveness to elevate his attacking game beyond a serviceable level.
His 2022-2023 campaign was partly hampered by a knee injury suffered during the midway point of the season. He missed over a month of action but was able to recover and continue where he left off. He is committed to play at Boston University next season.
Round Four, 109th Overall – Ethan Miedema, LW
Ethan Miedema is a six-foot-four offensive winger who spent 2022-2023 representing both the Windsor Spitfires and Kingston Frontenacs in the OHL. Between the two clubs, he scored 20 goals and 52 points in 68 regular season games.
Although he handles the puck with poise and demonstrates a light touch with it on his stick, he struggles to maneuver along the ice in an effective manner. He delivers smart, clean passes to his teammates and can generate offensive opportunities when lanes become open. He fires dangerous shots on net and controls the puck with a degree of authority along the boards, pressuring his opponent effectively with his frame.
Miedema has fairly strong offensive tools. His slow-footedness, however, will hamper his ability to contribute effectively at higher levels of competition that require a greater pace. He possesses a skill set to potentially be an effective offensive player but must continue to develop in critical, make-or-break areas.
Round Five, 141st Overall – Scott Ratzlaff, G
The only goaltender selected among the Sabres' draft picks in 2023 was six-foot Scott Ratzlaff of the WHL's Seattle Thunderbirds. He and acclaimed goaltender Thomas Milic alternated playing behind the league's championship squad during the regular season, although Ratzlaff saw no action in the postseason. Through 34 games, he posted a goals-against average of 2.15, a save percentage of .918, five shutouts and a record of 25-8-0.
As a smaller goaltender compared to the current height expectations for his position, Ratzlaff plays a much more nimble, mobile style than his larger, lankier peers. He moves quickly across his crease to become square to the opposing puck carrier, and in most cases, he stops the ensuing shot. There are occasions when he over-commits to one side, and sometimes his recovery can be slow. However, he demonstrates strong alertness, speed, and dexterity in preventing gaps in his net coverage. His ability to read plays is currently sufficient for the WHL, but his reaction and recovery time must be quicker at the NHL level.
Round Six, 173rd Overall – Sean Keohane, D
With their 173rd-overall selection, the Sabres opted to draft a player out of the US High School system: six-foot-four defenceman Sean Keohane, captain of Dexter Southfield School. He scored four goals and sixteen points in 32 games with his team in 2022-2023.
Keohane is fairly mobile for a player of his stature. He combines size, strength, speed, and a physical edge to become a barrier for his opposition at the USHS level. He can contribute offensively against his high school opponents, transitioning the puck up the ice and protecting it sufficiently with his frame. He intimidates his opposition with a sense of heaviness and aggression in traffic, delivering bumps and bodychecks to ensure that their forecheck is impeded. The pace of play at the USHS level does not require the degree of reaction speed and positional awareness needed to play in more-advanced junior systems. He exhibits a degree of control that might not occur in a more challenging environment. His physicality, maneuverability and reach provide him with a distinct advantage at this level.
He remains unpolished, although the Sabres believe his physical tools and untested circumstances may be signs of a potential professional player if he is patiently developed.
Round Seven, 205th Overall – Norwin Panocha, D
Six-foot-one German defenceman Norwin Panocha was the eighth and final pick of the Sabres' 2023 draft pool. Panocha appeared at the 2023 U18 World Championship for Team Germany, scoring two goals and an assist in six appearances. He spent most of the 2022-2023 campaign in Germany's junior league, the DNL U20, or German Development League. In 34 appearances with Eisbaren Juniors Berlin U20, he scored six goals and 22 points.
Panocha's offensive upside is not particularly noteworthy, although he demonstrates a respectable degree of defensive skill. He maneuvers with good speed along the ice and can successfully gauge the distance between himself and the opponent to force them to the outside. Upon retrieving the puck, he can pivot into open ice in his own zone in order to execute a breakout pass. He engages along the boards and absorbs checks to make simple plays out of his own zone, although he must add strength to his frame as he tends to be knocked off the puck too easily upon being pressured with enough force.
His passing skills need improvement, and his vision can be lacking, affecting his zone exits negatively. His passes can vary in terms of precision and appropriateness. Some of his breakout passes can go astray, leading to turnovers.
Panocha possesses some noteworthy characteristics on the defensive side of the puck, but his game is quite incomplete and requires more technical development in order to be adequate enough for professional play.
Off-Season Moves
Outgoing: Vinnie Hinostroza, Craig Anderson, Malcolm Subban, Jeremy Davies, Sean Malone, Austin Strand, Lawrence Pilut, Brett Murray, Kale Clague, Matej Pekar
Incoming: Erik Johnson, Justin Richards, Dustin Tokarski, Devin Cooley, Connor Clifton
There will be several changes next season to the Buffalo Sabres' AHL affiliate, the Rochester Americans. Several players including Malcolm Subban, Matej Pekar, Lawrence Pilut and Brett Murray have departed. Pilut, who returned to the organization in hopes of finally earning a roster position in Buffalo, was far too low on the depth chart to receive the same opportunities he had prior to 2020. He has signed a new two-year deal with Lausanne HC of Switzerland's National League.
Veteran NHL defenceman Erik Johnson, the Sabres' most recent free agent signing, will join a talented, albeit young defense corps and provide leadership. His one-year, $3.25 million contract is the most significant of the new Buffalo deals thus far in the 2023 off-season. Dustin Tokarski, who played parts of two seasons in Buffalo between 2020-2021 and 2021-2022, returns to the organization as goaltending depth following the departure of Subban and the retirement of Craig Anderson. Goaltender Devin Cooley serves as further depth in Rochester, especially with Uukko-Pekka Luukkonen and Devon Levi emerging as the Sabres' next apparent NHL net tandem, particularly once the former recovers from his current injury woes. In the meantime, Eric Comrie may once again be tasked with some of the team's starts between the pipes.
********
Kevin is @CambieKev on Twitter. He is a scout, writer, video editor and hockey historian who has published visual and written material for DobberProspects, Canucks Army (The Nation Network), Pass It To Bulis, Nucks Misconduct (SBNation/Vox), and Last Word on Sports, among other organizations. His content has also been featured in such publications as The Athletic. He is a Future Considerations (FCHockey) alumnus and has been with the DobberHockey team since March 2020 as both a scout and columnist. Kevin is also the creator of The Lost Shifts video series, numerous story-based montages, and the 85-minute highlight film, Pavel Bure: A Rocket Through Time.
LATEST RADIO & DRAFTCASTS