Lucas Edmonds 2022 NHL Draft Journey
Peter Harling
2022-03-06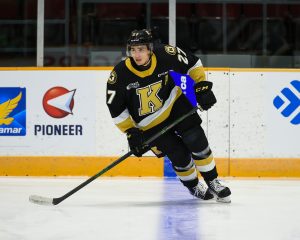 Lucas Edmonds has had an unusual journey in his hockey career. Born in North Bay Ontario, he has dual citizenship with Canada and Sweden.
Lucas has passed through three NHL Entry Drafts but as a 20-year-old, remains eligible for the 2022 Draft in Montreal. Why has Lucas Edmonds been passed over three times, and why is he considered a sure-fire selection in 2022? Let's take a closer look at his file.
His father Randy Edmonds is a North Bay native and former pro hockey player. Hs hockey journey as a player had him play at Concordia University before playing pro hockey in Sweden for six seasons. Randy remained in Sweden and worked in hockey as a Coach and Scout for several organizations in his career. Randy met his wife Pia, and with a Canadian father and Swedish mother Lucas has been able to play in both Canada and Sweden.
Lucas played his minor hockey in North Bay before moving to Toronto to allow Lucas to play in the GTHL where he skated with the Mississauga Rebels alongside Philip Tomasino of the Nashville Predators and a pair of New Jersey prospects in Case McCarthy and Michael Vukojevic. Edmonds was a dominant offensive player with the Rebels scoring 27 goals and 49 points in 33 games and winning a GTHL U15 Championship.
Then his career moved to Sweden and as a U16 player with Frolunda he combined for 33 points in 33 games at the Elite and SM level.
At this time Lucas was selected by the Kingston Frontenacs in the 2017 OHL Priority Selection with a late seventh round selection, 131st overall. Playing in Sweden lowered his draft status as he would be considered a long shot to play in the OHL as he was living in Sweden. The Frontenacs invited Lucas to come and play in their system, but with a Championship contending roster loaded with players such as Jason Robertson, and Gabriel Vilardi his ice time was not guaranteed, and he elected to remain in Sweden.
As a 2001 born player, his draft was the 2019 Draft. Lucas played his D-1 season in Sweden as one of few 16-year-olds and scored 17 points in 25 games. His 0.68 point per game pace kept him in some good company for players under 16 just behind NHL Drafted players Simon Holmstrom, Albin Grewe, Noel Gunler, and ahead of Alexander Holtz. Edmonds performed well in the playoffs as well helping Karlskrona advance to the second round.
After a successful D-1 season he remained in Sweden and played with the pro team in the preseason and performed well. Starting the season in Allsvenskan he scored three points in the first four games. He was a scratch for the next six and was relegated to the J20. Edmonds spent his draft year in three different levels of play with Karlskrona with 10 games at the pro level he spent 37 games in the J20 level trying to prevent that team from relegation as one of the weaker teams at the time. Edmonds would practice with the pro team but was often a scratch.
It was a challenging year for Lucas as he bounced between different teams, never getting a sense he belonged with a team.
His 20 points in 37 games was not enough to draw attention on a poor team and get the attention of scouts and Lucas was not drafted.
Edmonds remained in Sweden again for the 2019-20 season and played for Vaxjo where he led the team in scoring and finished fifth in league with 22 goals and 51 points in 44 games. Despite his successful year, the Vaxjo SHL team struggled and was not looking for young players, leaving Edmonds in the lower level for all but one game.
Edmonds was noticed by NHL scouts and spoke to several NHL teams, but ultimately was passed over as an over age prospect.
At this point, Edmonds had been speaking with the Kingston Frontenacs. The Fronts were inviting Edmonds back to play with Shane Wright and promising him a key role with Kingston in the OHL as a 19-year-old. Edmonds was all set to come back to Canada and play in the OHL for the Kingston Frontenacs and showcase his skill set to OHL scouts, and then COVID hit.
The OHL season was cancelled, and Edmonds remained in Sweden where he produced a disappointing nine points in 35 gams with Karlskrona in Allsvenskan and HockeyEttan in a limited role.
The year was short, but not a complete write off. While he didn't do much to gain scouts attention on the ice, he worked hard off adding some much-needed strength.
Edmonds is a physically late blooming player. He has always been one of the smaller players and not just because he was always playing with older players in Sweden. One scout said of Edmonds, "He has the skills and smarts. He has everything, just needs to physically mature"
Now 20-years-old, and with the OHL returning to play in the 2021-22 season, Lucas Edmonds decided to join the Kingston Frontenacs as an over age rookie and draft eligible prospect. The Kingston Frontenacs are a team chasing a Championship with their sights set on a run at the Memorial Cup.
Kingston is a high-powered offensive team, lead by Super Star Shane Wright, the consensus top prospect for the 2022 draft. Kingston now boasts seven NHL prospects with Martin Chromiak (LAK), Zayde Wisdom PHI), Jordan Frasca (PIT), Francesco Arcuri (DAL), Braden Hache (FLA, and Ben Roger and Leevi Merilainen (OTT). Despite all these offensive weapons, Edmonds is leading the team offensively by a wide margin. In 49 games he has 26 goals and 85 points and currently sits third in league scoring.
For the first time, Edmonds is one of the older players, not one of the younger. He is relishing the role of leader and mentor and wears the "A" on his jersey as an Alternate Captain.
As a Kingston resident, I have watched Edmonds play all season and have been highly impressed with his game. Here are my thoughts on his game
Lucas Edmonds Scouting Report:
Coming into the season I read that Edmonds was a skilled offensive winger that needs to improve his skating and strength. One of my first observations was that his strength was one of his better assets.
Edmonds is very strong on the puck. He is not big at 5-11 but has very good core and lower body strength.
Edmonds protects the puck extremely well, has excellent puck control and keeps his feet moving while handling the puck and fending off forecheckers
Edmonds is strong on the boards, he is difficult to push off the puck, uses his feet to move/protect the puck and maintains a read of the ice. Cycles the puck extremely well.
Not a physically aggressive player, but not afraid to take a hit.
The skating is an area of concern but is not detrimental and is improving as the season progresses.
Edmonds is not a speedster and needs a step to win a lot of foot races.
First step has a good "pop", and he is more quick than fast
Edmonds has a heavy, but powerful stride. You can hear him carving the ice
Edmonds is strong on his feet, he has good lateral mobility, and agility. He can turn his hips and open his feet to evade defenders and protect the puck
Defensively Edmonds is a hard working and reliable player. The Coach deploys Edmonds on the penalty kill and to defend a lead.
Edmonds reads and reacts defensively, getting his stick into lanes and intercepting passes and blocking shots
Very effective at breaking down and interrupting oppositions offensive plays.
Shows hustle on back checks and responsibly covers his man
Smarts is arguably the most important skill to play at the pro level and in the NHL and Edmonds has great vision
Edmonds overcomes any potential skating concerns with smarts – reading the play and reacting accordingly
Edmonds always seems to be in position to receive a pass, or support the player with possession
Finds the soft or open ice, and more importantly his timing on when to be there is exceptional
Kingston often uses five forwards on the PP, Edmonds on the point using his vision to create offense
This is a great example of how Lucas Edmonds finds open ice at the exact right time. He is a very smart player, so strong on the puck as well and his shot is an NHL shot. https://t.co/htYhNn6SW4

— Peter Harling🏒 (@pharling) February 28, 2022
Shooting is Edmonds greatest weapon
Edmonds has an array of shots, wrist, snap and both are heavier than a lot of slap shots.
Shot has NHL level accuracy and power
Release is quick and deceptive. Shot pops off his stick when unexpected
Edmonds disguises his shot with deception, looks to pass then shoots, no look shot, through legs etc.
Puck skills
Edmonds has soft and quick hands. Moves puck and stickhandles while skating with speed
Accepts passes seamlessly, even if pass is poor.
Excellent hand-eye-coordination with tips and deflections in front of net
Passing makes Edmonds a dual threat to score or make the play
Passes are quick and deliberate
Makes consistent tape-to-tape passes
Sneaky passer, looks off from recipient of pass
Very good at receiving a pass and making a quick pass
Uses give-and-go play effectively
Looking at the 2022 draft and the question now seems to be what round will Edmonds be selected in, and not will he be drafted? Speaking to one NHL scout at a game recently I asked if he thinks Edmonds will be selected and if he has interest.
"Of for sure we have interest. He will definitely be drafted; it is just a question of where? We see him as an option in the later rounds, after the fourth."
Craig Button from TSN ranks Edmonds 74th overall which would place him in the third round. Button said of Edmonds "Edmonds is smart, cagey and knows how to play to his strengths"
Russ Cohen has Lucas Edmonds ranked as high as a first-round selection ranking him 26th overall in his Full Press Hockey rankings
All signs point to Edmonds being drafted finally in the 2022 draft. However, even if he is not the silver lining would be he becomes free to sign as a free agent with the team of his choice.
A source tells me close to 20 NHL teams have already had recruiting conversations with Edmonds. This fall will be his first NHL training camp one way or another before he begins his full-time pro career in the AHL. This breakout season for Edmonds makes him a tempting option for NHL teams. It is not common for 20-year-old players to be considered for the Draft, but looking at his path you can see how he may have been overlooked, and combined with his late physical development, the time for NHL teams to look at securing his playing rights is now.
LATEST RADIO & DRAFTCASTS