The Most Interesting Prospect on Every Team (Eastern Conference)
Michael Kosciesza
2021-07-17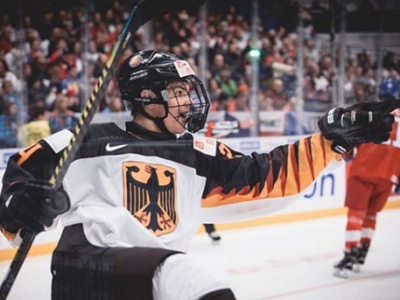 If you live under a rock in the online fantasy community you may have missed the release of our Prospects guide. Our team has worked hard on it under the leadership of Tony this season and we have some talented people who have contributed to a monstrosity of a prospect booklet. I covered the Dallas Stars portion of it so it had me all excited to see everyone's evaluations on some of my favourite prospects around the league. No one asked, but here it made me take on my own task of giving you my most interesting prospect on each team.
I'll start by reminding you that this is the most interesting prospect, not the best or highest potential but interesting. IN some cases this one someone who has been forgotten, someone who has been overlooked or someone who I think is in an interesting situation that hasn't gotten a lot of exposure. With that being said, let's look at the Eastern conference.
Boston Bruins:
Jack Studnicka
Studnicka is a player who plays with a lot of confidence and exhibited that with a strong OHL career in which he captained the Oshawa Generals for two seasons and boasted an "A" in his short time in Niagara. He is a strong player who plays with skill, structure and the occasional flare of creativity. The COVID years were not kind to him, playing only a total of 31 games between the NHL and AHL. It's unfortunate because he had a great year leading up to this season with 49 points in 60 AHL games that had a lot of people thinking he might go on a Calder run filling in for an injured David Pastrnak. That obviously didn't happen but I'd bet on the COVID season being an anomaly on what has been nothing but a promising star career on the rise. 
Buffalo Sabres
Jason-John Peterka
JJP has potential to be the next big German star following the likes of Leon Draisaitl, Tim Stutzle and Moritz Seider (who looks plenty promising). Peterka has Mike Hoffman written all over him, offensive sniping abilities and a powerplay threat both with his release and nose for offensive opportunity. 
New Jersey Devils
Nolan Foote
Foote got his debut this year and as Mike Babcock would say he was 6-4 when he touched the NHL ice for the first time. Foote has an impressive shot, if you watched the World Juniors or any Kelowna Rockets games this much is obvious. He can score from distance and I can picture a world where he is doing that with feeds from Jack Hughes on the powerplay. Enough said. 
New York Islanders
Kiefer Bellows
I was trying to be on Bellows early in my leagues and ended up dropping him by a product of being a competitive team and being unable to wait but I think now might be the time to take a leap of faith on him. He plays a style that the Islanders not only need but really love. He could put up big hit totals and also 30 goals if he gets some chemistry with Mat Barzal and cements a trigger man role on the Isles powerplay. Don't be surprised if he sneaks his way into a Calder conversation this year. 
New York Rangers
Nils Lundqvist
I have a hard time being all in on Lundqvist as he has um, Adam Fox ahead of him for being PP1 QB in New York but there is enough talent in that organization to have two power plays get close to even time. I already wrote about his production at the World Championships being an encouraging sign considering his peers in that regard but this kid just has it. He's a smooth skater and an efficient puck distributor. I like it, I like it a lot. 
Philadelphia Flyers
Wade Allison
Allison first caught my eye in a video of him being mic'd up and he's honestly pretty hilarious. There is obviously no category for laughs in fantasy hockey although it is meant to be fun, so he will need to bring more to the table than being a funny guy. He, like some of these guys I've listed is a power winger with potential for multi cats but if he can find his way into a top six role in a Philadelphia that is bound to see some turnover. I don't know what it is about him but I got a feelin and that feelin is that he could be a Dustin Brown type. 
Pittsburgh Penguins
Pierre Oliver Joseph
The Pittsburgh cupboards are bare, like real bare but Pierre Oliver Joseph is a rare bright spot. The Joseph brothers are easy to love and although Mathieu has two cups Pierre Oliver could be the more fantasy relevant brother. He is smooth skating both east west and north south and sees the ice in the way you want to see the player who is set to take over Kris Letang's role in Pittsburgh. 
Washington Capitals
Hendrix Lapierre
Lapierre is a creative playmaker who has produced at an above point per game level. As he develops and becomes at the core of the new wave in Washington he should be able to cozy up nicely to Connor McMichael and make some magic on that Washington Powerplay. If goal scoring is at a premium he may not be your first option but he's a sneaky sleeper prospect and I love a creative playmaker because the point total floor is much higher on a big brain than on a player who is a trigger man. 
Carolina Hurricanes
Noel Gunler
Gunler is Carolina's most exciting prospect behind Seth Jarvis, no disrespect to Ryan Suzuki. Gunler could be a multi cat beast considering he is not afraid to mix things up physically and if he plays in a role that encourages that style of play it could be good value for his hits. His best trait is a NHL level release that allows him to be a sniper that should translate to an NHL powerplay. 
Columbus Blue Jackets
Danil Tarasov
Tarasov is an ideal height at 6-5, in the modern NHL that is more of an advantage than ever. He was a shade under .900 Sv% in the AHL with Cleveland this year. Columbus is going through a rebuild by all accounts so as much as it has two 27 year old goalies in their prime it's intriguing to keep an eye on the goalie of the future. 
Detroit Red Wings
Joe Veleno
You don't become the first exceptional player in the QMJHL by being anything but, well, exceptional. As a fantasy prospect however Veleno has been underwhelming. He put up lots of points in his junior days but outside of some multicat value his production is not exactly popping off the page offensively yet. He is a solid two way player and has led and excelled at every level, so my concerns are not that he will be an NHL player but a solid fantasy asset. That being said, a player who looks like a solid NHL player could find production if in the right situation and I love what Steve Yzerman is building in Detroit so here's hoping Veleno etches his way into a power play there. 
Florida Panthers
Serron Noel
I would love to write about Anton Lundell here but his value is well documented as he is a hell of a prospect. I also like to be edgy and get on someone early, how very hipster of me. Seriously though, I love Serron Noel. He is a big dude obviously and his skating was never great but the advancements I saw in his skating in his first year with the Oshawa Generals to when he was in his final season were leaps and bounds and to see a prospect excel in the one area that is a concern is encouraging. Power forwards and big players take a bit of time to develop and as is the case with Noel as he barely got to play this year in the AHL seeing only eight games this year but did manage four points in those games. Noel has great instincts and can score from a lot of places on the ice. I don't think it's if but when with him. 
Tampa Bay Lightning
Antoine Morand
Morand was over a point per game posting 270 points in 243 games in the QMJHL. That alone is enough of a reason to get him a sniff on people's radar. It should ring alarm bells when you consider Tampa Bay doesn't really miss. That team has got to see some turnover at some point, we've all heard the 18 million over the cap jokes but there will be inevitably be a new face to come in and make an impression and with a scoring pedigree it's possible he could see some value with the surrounding cast there.  
Montréal Canadiens
Cayden Primeau
It was well documented the impact that Carey Price still has at the NHL level. It was also well documented how exciting this Montreal team could be for years to come with the likes of Nick Suzuki, Alexander Romanov, Cole Caufield, Kasperi Kotkaniemi currently in the mix and Kaiden Guhle, Ryan Poehling and Jan Mysak still to come. Carey Price is 33 though. I know 33 is younger for goalies than players, especially when you have elite goalies like Pekka Rinne and Marc Andre Fleury competing for Vezina trophies into their late 30's but one can't help but wonder if it will be Carey Price taking advantage of the fantasy wealth that comes for whatever goalie will be tending the crease when this team hit's its peak. Primeau however will be an AHL starter for next season but I could see him follow the Jusse Saros trajectory where he becomes the heir apparent through a slow process that has really paid off for Saros in Nashville. 
Ottawa Senators
Jacob Bernard-Docker
I didn't expect to see what I saw when I watched Bernard-Docker play at UND this year. I was mostly watching for Shane Pinto, Jordan Kawaguchi and Jake Sanderson but I couldn't help but watch Bernard-Docker every shift. He played well at the World Juniors for Canada this year in their Silver medal effort this year and with his strong physical game I can anticipate him being a multi-cat sleeper with offensive upside as he has never not thrown a good first pass in any game I've seen. 
Toronto Maple Leafs
Nick Robertson
The Leafs fan base drives me nuts. I'm a part of it, I live in Oshawa and I am consumed by it's evergreen nature and the narratives around their players is enough to make your blood boil. Robertson went from being the prized jewel of the deep 2019 draft and Kyle Dubas was a genius for drafting Robertson before his breakout 50 goal season with the Petes. He is now pretty expendable in some people's mind and will be lucky to crack the Leafs in the near future. I don't get it. Full disclosure I work for the Peterborough Petes and I have seen this kid first hand. No one works harder than Robbie, he's on the ice well before practice and well after it working on the things scouts have said he needs to. He didn't have a great shot, he worked on his one timer and potted 50. He didn't skate well enough, he skated after practice. He was too small, he has been in the gym big time and looks fours years older than his draft photo. If he doesn't pan out it won't be because of Nick Robertson.
Tune in for the Western Conference version coming in two weeks. In the meantime mull over our Prospects guide, enjoy the expansion chaos and of course, the NHL Entry draft.
Michael Kosciesza
LATEST RADIO & DRAFTCASTS