[Ferrari] 2021 NHL Draft Rankings: The Final Cut
Tony Ferrari
2021-06-30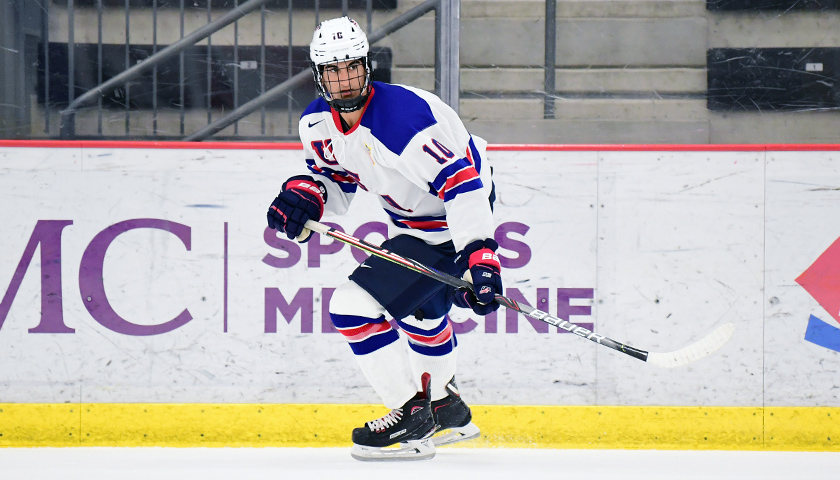 The 2021 NHL Draft is almost here and that means that final rankings are due! This year has been wild thanks to a global pandemic and a wide-open draft class. While Owen Power seems to be the favorite at the top of most boards, he does not hold down that spot on this board. Instead, his Michigan teammate, Matty Beniers, has captured the number one spot on my final board, and the Swedish flavor that's been evident on my list all season continues to be strong.
I wanted to thank the Dobber team for a wonderful year and for helping me grow as an evaluator. The DobberProspects scouting team will be releasing their ranking next week but for now, you get my personal twist on the 2021 draft board. As always, feel free to reach out on Twitter and let me know what you love or what you hate, what you think should be a discussion, and any other comments you have on my board. Before we get to the rankings, I want to shamelessly plug the DobberProspects Fantasy Prospect Report that will be released in mid-July where there will be blurbs and information on over 100 players with evaluations and projections from a real-world and fantasy hockey perspective. I've included blurbs for the top-32 here but the guide has a boatload more plus a bunch of other draft content and that's not taking into consideration all of the drafted prospects' content breaking down each teams prospect pools! Be sure to snag your copy when you can! Without further ado, let's just get to the reason you came here, my final 2021 NHL Draft Rankings!
1 | Matthew Beniers | C/W | Michigan (NCAA) | 6-2 | 174lbs 
The name atop the board has changed many times this season but Beniers has been on top since his NCAA season came to an end. With such a complete game from the skill and speed to his detail work along the boards and on the backcheck, Beniers has solidified his name atop the Ferrari 2021 NHL Draft board. His skating stride isn't the cleanest and he may not project as a true number one star but in a draft that lacks star power, Beniers gives you a top-six center who can play big minutes in an important role in all situations. There's a ton of belief that he could be the player to wear the 'C' at some point in his career as well. 
2 | William Eklund | C/W | Djurgården (SHL) | 5-10 | 170lbs 
While Benier's solidified his spot at the top, Eklund and Wallstedt (#3) were both in the conversation. Sweden continues to produce high-end talent with a strong 2021 draft class headed by Djurgårdens forward William Eklund. He plays a highly intelligent game with few mistakes. His playmaking ability is among the best in the class with silky smooth passing and vision that sees through layers with ease. He looked comfortable at the SHL level this season and came up big in big moments with multiple overtime winners. He has some positional versatility with the ability to play center as well. As arguably the top transition player available in 2021, Eklund should translate quite well to the NHL game. 
3 | Jesper Wallstedt | G | Luleå (SHL) | 6-3 | 214lbs 
You say drafting a goalie this high is a dumb move, I say you're a coward and need to grow a backbone. As possibly the only true franchise-altering talent in this class, if Wallstedt isn't at least in the conversation for teams at the top of the draft, they are doing themselves a disservice. One of the most technically sound goaltenders in years to enter the draft, Wallstedt has the incredible ability to put his athleticism on the backburner with save after save look easy because of his elite puck tracking and positional play within his net. That's not to say that he is unathletic as some have suggested because he has made numerous stellar saves from a position of desperation this season showcasing his lower body explosion as well as his flexibility. I'll say it again. If Wallstedt isn't in the conversation for teams up top, it's a mistake. 
4 | Brandt Clarke | RD |  HC Nove Zamky (Slovakia) / Barrie Colts (OHL) | 6-1 | 180lbs 
Starting the year as my top defenseman and despite flipping back and forth with Luke Hughes for much of the year, Clarke is back atop the blueliner list. His skating isn't pretty, and honestly looks strikingly similar to my own stride, but the four-way mobility and cerebral mind for the game make him a difference-maker on every shift. He controlled play regularly in a men's pro league in Slovakia and then was the best defender at the U18s – despite my boy Heimosalmi winning the award – on route to a gold medal for the Canadian squad. His play in his own end is a work in progress but there has been steady progress. His offensive instincts often make him a fourth attacker on the play. He doesn't just join the rush, he integrates himself into every play. 
5 | Fabian Lysell | W | Luleå HF (SHL) | 5-10 | 172lbs 
One of my personal favorite players on the ice during the 2021 NHL Draft evaluation process and he was my midseason number one. His play certainly warrants a position near the top of the board even if the counting stats didn't show up regularly at the SHL level. Borderline dominant at every other level he played at, Lysell was among the best Swedes at the U18s. His pace of play is incredible, pushing defenses back at will at times. He has the requisite skill to beat defenders, even at high speeds. His off-puck play is quite good with a true commitment to defensive play in Luleå and a motor that never quits. He is among the very limited number of forwards who have the potential to be true top-line talents but there is some risk involved with rumored attitude and off-ice issues which wasn't the vibe I've gotten over conversation with him. 
6 | Owen Power | LD | Michigan (NCAA) | 6-6 | 214lbs 
He's 6'6" every time he steps on the ice. Power had a very good season at Michigan and hopefully, he gets the opportunity to develop there for another season or two. That may not be the case however as the likely number one pick by the Buffalo Sabres may be forced into an NHL lineup sooner rather than later. He's been hyped since his men's Worlds performance but the same issues that plagued him all season were present there as well. He has the physical package that scouts drool over. He is a very good skater for a player his size, particularly exceptional as a puck rusher. His shot is very good for a defender and his playmaking is solid as well. His defensive details need work, particularly dealing with pressure and forechecks. His panic threshold isn't as high as you'd like but with the frame, skill, and mobility, there is a nice canvas to paint a beautiful picture on. If you're patient. 
7 | Luke Hughes | LD | U.S. U18 (USNTDP) | 6-2 | 176lbs 
The youngest Hughes brother has the same trademark mobility that made his brothers' special talents but doesn't come with the undersized frame. The NTDP defender was among the most improved prospects throughout the season, particularly on the defensive end of the ice. His incredible mobility allows him to join the rush as a fourth attacker with a regularity that may frustrate some coaches. That is until he turns water into wine and creates a scoring chance or five. He plays an ultra-aggressive transition game where he wants the puck on his stick or he is putting himself in a position to be the primary outlet on the rush. He doesn't have quite the dynamic and rounded-out offensive game as you'd expect but as one of the younger players in the class, the runway is incredible and he shows all of the tools to be the best player in the 2021 draft. 
8 | Mason McTavish | C/W | EHC Olten (SL) / Peterborough (OHL) | 6-2 | 207lbs 
The skating and defensive concerns that kept him towards the back end of round one for much of the season – including the midseason rankings with just a few underwhelming Swiss League games under his belt – have all but disappeared. His skating looked more and more powerful as the games wore on during his stint in Switzerland and he showcased his explosiveness at times at the U18s. His defensive effort improved greatly over last season as well, playing center even at times in Switzerland and quite a bit at the U18s. McTavish had the looks of a hired gun with a physical edge and nice hands in tight coming into the year. As we head into the draft shortly, he goes in looking like a much more complete player with a wicked shot from anywhere, physicality, and a cycle game that can wear on defenders, all wrapped up in a player who has some positional versatility and defensive acumen that wasn't expected. I'm happy to say I was dead wrong on McTavish earlier this season.    
9 | Aatu Räty | C | Kärpät (Liiga) | 6-1 | 177lbs 
A player many thought would be at the top of the board come draft day as recently as last summer, Räty had an up and down season. To be honest, he's had an up and down couple of seasons. After participating at the World Juniors as a draft-1 player, he was cut from the team this year after a slow start to the year that just felt a bit underwhelming overall. He seemed to take that personally and was a different beast for a bit in January. The rest of his year went up and down a few more times. At the heart of his game, Räty is a strong center who can play a very good two-way game and he has a wrist shot that should make him a scoring threat as well. His playmaking is underrated as well. His teammates couldn't convert on a ridiculous amount of scoring chances that he would create, maybe more than any other player in Europe with the exception of Fabian Lysell. Räty may not be the number one guy anymore but he should still be a very good middle-six center at worst and a solid 1A/B if he can get his consistency and mentality back to where it was in the past. 
10 | Simon Edvinsson | LD | Frölunda (SHL/J20) / Västerås IK (Allsvenskan) | 6-5 | 207lbs 
One of the most divisive prospects in the draft, Edvinsson has the size, mobility, and flash that you love to see in a defensive prospect. He has been a bit miscast however in my opinion. Where some see the tools he has and projects him as a pace pushing offensive defender, the best parts of his game are away from that area of the game. His defensive play is quite solid and his has the length and mobility to continue to build out his defensive game. He has an excellent stick and generally good instincts when defending the rush. He will need to get a bit more active physically in the front of his net when play is hemmed in his own end but that will just require some added muscle on his already towering frame. 
11 | Kent Johnson | C | Michigan (NCAA) | 6-0 | 166lbs 
One of the most fun players in the draft, Kent Johnson plays college hockey like he's on his Xbox at home. That's not necessarily always the best thing but it certainly makes him entertaining to watch. He has incredible pucks skill with the ability to do anything from the lacrosse goal to dangling through multiple defenders but he is always in that 'gamer' mode. He needs to reign in some of the wild creativity and harnesses it to make him more consistently dangerous. With that said, he is an excellent playmaker who may not play with the most pace all of the time but he is so incredibly dangerous when the puck is on his stick in the offensive zone. His ceiling is quite high but the floor is at the other end of the scale as well. There is so much to like about Johnson but there are some major red flags as well. 
12 | Dylan Guenther | W | Edmonton (WHL) | 6-0 | 166lbs 
One of the premier goal scorers in the 2021 group, Guenther tore apart the WHL's East division. He was clicking at just over two points per game until he departed to play for Team Canada's U18 team in Texas where he helped the team take gold. Expected to be a standout at the tournament, he was more of a secondary cast member to players like McTavish and young studs Shane Wright and Connor Bedard. Guenther certainly didn't look bad but he did get lost in the shuffle a bit. Regardless of that, his WHL totals were wildly impressive, even in a weakened division-only schedule. He might have the best one-time shot of the class, a skill not many others truly possess this year. 
13 | Simon Robertsson | W | Skellefteå (J20 Nationell) | 6-0 | 190lbs 
While many don't have Robertsson quite this high, the goal-scoring potential is too much to pass up. The name of the game is to put the puck in the net and Robertsson has quite the cannon. He has an unreal snapshot that can score from distance or below the dots. His wrist shot can elevate from in tight or pick a corner from the circles. He really does have the ability to change a game with a shot from just about anywhere in the offensive zone. He is a fine playmaker but he certainly needs to learn when to use his teammates a bit more often. Robertsson is an excellent forechecker and he has quick feet to get the puck back. He does need to work on his defensive consistency a bit although he was a bit better at the professional level. There is room to grow and a speedy goal scorer to mold. 
14 | Cole Sillinger | C | Sioux Falls (USHL) | 6-0 | 203lbs 
Planning to start the year in the WHL, Sillinger went south to the USHL and tore the league up. He earned Second Team All-USHL honors and Rookie of the Year as he tallied 46 points in just 31 games. His 1.48 points per game were good for third league-wide and his 24 goals were ninth league-wide despite playing in up to 25 fewer games than the players ahead of him. Sillinger is possibly the best pure shooter in the draft. He can get a shot off in a variety of ways and from various hand positions. He has some selfish tendencies but with a shot like that, I would too. He played on the penalty kill but wasn't really a defensive stalwart by any means. He was more committed this season which is nice to see. His offensive ceiling may be as high as almost anyone in the draft class. 
15 | Fyodor Svechkov | W | Togliatti (VHL) | 6-0 | 178lbs 
Say it with me.  F Y O D O R!!! The rising center has been gaining steam for much of the year and his U18s performance truly put him on the map. I've often referred to him as 'B+ Anton Lundell" which may be a bit lofty but the young Russian has a highly advanced defensive game that allows him to create on the counter-attack. His U18s play was an excellent example of it as it seemed like every one of his points was the result of him making an excellent defensive play and then joining the rush. He has creativity that was unable to be put on display for much of the year as he was on a fairly bad team that didn't have players that would allow him to put his full arsenal on display. He likely won't be an offensive dynamo but a solid middle-six center that counter-attacks and wins the battle of possession more often than not is incredibly valuable come playoff time. 
16 | Isak Rosén | W | Leksands (J20 Nationell) | 5-11 | 161lbs 
A player that finally seems to be getting the respect he has deserved all year. His strong U18 where he was Sweden's most consistent offensive threat alongside Lysell has given people something to talk about after playing a minor role for Leksands' SHL team. He put his quickness and shifty skill on display quite often but with extremely limited playing time, as little as 37 seconds in some games, he had a difficult time putting up counting stats. With Rosén showing his full capabilities off against his age group, his shot and playmaking ability finally were put on display. The young Swede looks every bit the offensive talent that gets drafted in the top-20 of the NHL draft. 
17 | Chaz Lucius | C/W | U.S. U18 (USNTDP) | 6-0 | 172lbs 
With only a very small sample size to go off this season, Lucius needed to stand out in a major way. He certainly did. Producing at a goal-per-game rate across 13 games, Lucius made sure to let everyone know that he was going to try and stake his claim to the throne of top goal scorer in this draft class. He has an impressive skill level and quick, decisive hands that allow him to work his way through the offensive zone. He attacks the net and has a wicked shot. He often shoots from unorthodox positions and finds ways to be goaltenders with relative ease. His skating has improved year over year, even with the lower-body injury that held him out to start the season. The improvement in his stride and efficiency will go a long way towards ensuring he can stay at center going forward. He may be better suiting for the wing at the next level. 
18 | Ayrton Martino | W | Omaha (USHL) | 5-10 | 168lbs 
From the OJHL to the BCHL for the preseason to tearing the USHL up in a COVID season, Ayrton Martino has been on a journey since last season. He plays an all-out offensive game with underwhelming defensive efforts at times but the seemed to be a bit of a systematic thing with the Omaha wingers. On the powerplay, he presents a true dual-threat who can beat the goalie with a quick-release perfectly placed or he can find the streaking player across the zone. He is a strong penalty killer as well, pressuring all over the ice. He understands timing and anticipates play extremely well. His ability to go from zero to top speed is impressive even if the top speed isn't necessarily blazing. With high-level offensive instincts and the skill to pull off what he sees regularly, Martino is one of the most underrated players in the draft. 
19 | Scott Morrow | RD | Shattuck (USHS-Prep) | 6-2 | 198lbs 
I've said it every time I've ranked Morrow inside my top-20 this year that I generally dislike ranking high school players inside the top-75 in any year. This year is an exception however with the ultra smooth-skating defender Scott Morrow. He may be the most complete skater among blueliners in this class with a Cale Makar-like ability to change direction and feet that are as agile as they come. That's not to say this is the second coming of Makar – it's not – but one of the key elements that make him special is shared by Morrow. The Shattuck St. Mary's defender has an attack mindset on every play. He instinctively looks to create as soon as the puck is on his stick. If Morrow hits his ceiling, there is a chance that he could be among the best defenders in the 2021 draft. His combination of mobility, cerebral mindset, and puck skill could result in a special player down the road. 
20 | Logan Stankoven | C/W | Kamloops (WHL) | 5-8 | 170lbs 
So let's start off with the one knock on Stankoven. He is an undersized forward at just 5'8". That's pretty much where the true negatives start and end. The Kamloops forward has an innate ability to do the right thing at the right time to drive play positively. His skating could be a bit quicker overall but the scrappy forward hasn't let that impede his ability to drive play in any way thus far in his career. He has a high-end motor that doesn't quit at both ends of the ice. Stankoven, known for his lightning-quick shot, rounded out his game a bit more this season, showcasing his playmaking on a much more regular basis. He attacks the middle of the offensive zone with his feet or his passing, putting himself and his team in great positions to score from. If he slips out of round one and your team drafts him, just laugh to yourself. 
21 | Nikita Chibrikov | W | SKA (KHL) | 5-10 | 161lbs
A speedy and ultra-skilled winger, Chibrikov has been up and down boards a bit this season. His incredible puck skill and high-speed game intrigue many but his tendency to disappear at times is worrisome. He showed off just how impressive he can be at the World U18s for Russia as he led the tournament in assists and finished fourth overall in scoring. His high-octane style of attack should translate to the NHL with excellent puck carrying ability through the neutral zone and a relentless intent on getting the puck to dangerous areas. There is a bit of boom or bust to his game which is why he's fallen down boards a but in some cases but a competitive team possibly adding a talent like this in a few years could be really fun. 
22 | Sebastian Cossa | G | Edmonton (WHL) | 6-6 | 212lbs 
While he may not be quite in the Wallstedt/Askarov/Knight tier of goalie prospects, he is better than just about any other goalie drafted in the last few seasons. His size is the first obvious big draw as the 6'6" netminder has the advantage of covering a huge chunk of the net with his frame. His ability to fiend the puck and get his massive frame in front of it to make the save is enviable as he generally swallows whatever hits him. His athleticism in net is fun to watch as he has zero issues calling an audible on a play when he needs to make that desperation save. He integrates to his posts quite well with his long frame giving him the ability to cover the backside well as well. He can sometimes overslide his positioning, particularly when challenging shooters below the dots but he has shown growth in his limited sample in that area as well this season. His numbers should be taken with a grain of salt though as well with the WHL's East Division being a bit lackluster to put it kindly. Regardless of that fact, Cossa is an impressive prospect who should be not only the second goalie taken but the second goalie taken in round one. 
23 | Matthew Coronato | W | Chicago (USHL) | 5-10 | 177lbs
Do you need to score? Matthew Coronato will do that. And then do it again. The winger was an absolute force in the USHL this season, running away with the goal-scoring lead and finishing behind only teammate Sean Farrell (MTL) for the league scoring lead. Coronato has a great release from anywhere on the ice. He had 48 goals in 51 games, challenging a goal-per-game pace all season long. He does need to get his feet moving a bit quicker and hopefully, he can build his top speed up a bit as he matures and gets stronger but he has shown off decent edge work at times and his acceleration has improved. He's a hard-working goal scorer who should be able to improve the areas he is lacking. His scoring proficiency can not be ignored. 
24 | Francesco Pinelli | C | HDD Jesenice (AlpsHL) / Kitchener (OHL) | 6-0 | 184lbs 
If a player who attacks by picking his opponents apart intellectually is what you want, Francesco Paolo Pinelli is your man! One of the most intelligent players in the class, the Kitchener Rangers center took a trip overseas like many OHL players this season and he was one of the best players for HDD Jesenice during his stint. He has a very underrated shot that he should use a bit more often but his bread and butter is his ability to identify the smallest of passing lanes and hit them with proficiency. He out-thinks opponents regularly and uses his hands to evade pressure. He needs to attack the slot a bit more which could make his shot a legitimate threat on the regular but the craftiness and vision through layers should make him a quality NHL distributor. 
25 | Samu Tuomaala | W | Kärpät (U20 SM-sarja) | 5-10 | 174lbs 
While his stock seemed to take a hit throughout the year, the U18s were his time to shine as he played hero in a number of Finland's games. He helped lead the squad to the bronze medal game in a tournament where the Finns were expected to be fairly underwhelming. His ability to score on any shot was evident as was his ability to change the game with goals in quick succession. His playmaking, which has been deemed selfish at times, was much better at the U18s. He was the offensive catalyst that the team needed upfront. Tuomaala is going to be an interesting player to watch over the next few seasons. 
26 |  Zachary L'Heureux  | C/W | Halifax (QMJHL) | 5-11 | 196lbs 
Let's get this out of the way. Zachary L'Heureux needs to calm the hell down. With four suspensions in a shortened season, there is major concern, regardless of what they were for. If he can get his act together in that regard, there's a very good player here. The Halifax forward brings a dual-threat offensive game as a passer and shooter as well as the physical edge that teams in the NHL covet. He has a very heavy shot but he can get a bit easy to read at times so adding a bit more deception to his shot will go a long way because of the power behind it. He has shown some very nice playmaking tendencies with the puck being sent to the middle regularly. There is so much to like in L'Heureux's game and if he can chill a bit with the extracurriculars, he could be the modern power forward that teams are in constant search for with legit scoring ability. 
27 | Xavier Bourgault | C/W | Shawinigan (QMJHL) | 6-0 | 172lbs 
Bourgault is a player who I've often referred to as a high-end complementary player. The kind of forward that helps round out a line or plays an integral role in a deep playoff run but not a guy who is going to drive the results on his own. He has such an adaptable and versatile offensive skill set that he is able to join just about any line and play whatever role is needed. If you need him to be the goal scorer, he can do that with a good release and the impressive ability to look off defenders and change the angle of his shot. If you need him to be a playmaker, he has the touch and passing vision to do so. He could do a bit more on puck retrievals and battles which is a bit reason he needs to get a bit stronger. 
28 | Ville Koivunen | W | Kärpät (U20 SM-sarja) | 5-11 | 161lbs 
Ville Koivunen has been trending up all season long. He led Kärpät U20 in scoring and was a constant source of creativity and play driving. He made every player on the ice with him better, fellow 2021 prospect Samu Tuomaala included. He plays with such a high level of intelligence, making small plays that lead to big results constantly. He is an efficient transition player who drives the puck up ice with his skating and passing ability. Koivunen is expected to go after the first round which is going to look absolutely silly if a team like Tampa Bay or Colorado scoop him up later. 
29 | Aleksi Heimosalmi | RD | Ässät (U20 SM-sarja) | 5-11 | 154lbs
Heimosalmi was a player that caught my eye this season a number of times early with Eetu Siltanen, DobberProspects man on the ground in Finland, turning my attention to him. He isn't the fastest straight-line skater but his agility and edgework are very good which allow him to maneuver around the ice and play a major role in the transition. He shows a high level of creativity off the blueline and although he lacked scoring a bit for a player who leans a bit more offensively but the process was there more often than most players. He shows high-level flashes of skill and put them all on display at the World U18s where he took home Defenseman of the Tournament honors. 
30 | Carson Lambos | LD | JYP U20 (U20 SM sarja) / Winnipeg (WHL) | 6-1 | 200lbs 
Coming into the year, Lambos was projected to be a fairly high draft pick but a season of weirdness has changed his trajectory a bit. Going over to Finland to play with JYP in the U20 league, Lambos took some time to adjust to the larger ice. He plays a very anticipatory game that relies on him being able to pounce on the attacker in transition. The high-risk, high-reward transition defense that he plays didn't work quite as well on the bigger ice overseas but he seemed a bit more comfortable in the WHL. Upon the WHL's return this year, however, he was only able to get into two games due to injury. The tools that made Lambos such a high-end prospect to start the year are still evident. He projects as a solid transitional defender who can contribute at both ends of the ice but to what extent is the question. 
31 | Corson Ceulemans | RD | Brooks (AJHL) | 6-2 | 201lbs 
One of the more polarizing players in this year's draft, Corson Ceulemans didn't get the opportunity to showcase his game for very long at the AJHL level this season due to COVID. He produced at a very respectable clip in his eight AJHL games and then looked quite solid at the U18s. His raw tools are very good from his mobility to his playmaking. The Brooks Bandits blueliner is an excellent passer who can thread the needle from the point. His mobility along the blueline allows him to open lanes and find teammates where many defenders would just send the puck around the boards. He will be a bit of a slow burn as he heads to the University of Wisconsin next season. 
32 | Ryder Korczak | C | Moose Jaw (WHL) | 5-10 | 164lbs 
Playing on a team that is still in the growth stage of development as a group, Ryder Korczak was the main offensive catalyst on many nights for the Moose Jaw Warriors. His puck skills are impressive with deliberate and controlled hands that attack defenders wherever they give him room. He has quick feet and plays with a swiftness that lacks at times in this draft class. He tore up the WHL as a draft-1 player with 67 points in 62 games and then fell under the point-per-game mark in a shortened season this year with 16 points in 17 games. With a game that is heavily reliant on his vision and playmaking, sometimes not having true high-end finishers is an issue. With that said, Korczak has some of the tools that really intrigue as a two-way forward with some silky playmaking ability. 
33 | Stanislav Svozil | LD | Kometa Brno (Czech) | 6-1 | 172lbs 
34 | Brennan Othmann | W | EHC Olten (SL) | 5-11 | 170lbs 
35 | Olen Zellweger  | D | Everett (WHL) | 5-10 | 174lbs 
36 | Oskar Olausson | W | HV71 (J20 Nationell) | 6-1 | 177lbs 
37 | Dylan Duke | C/W | U.S. U18 (USNTDP) | 5-10 | 181lbs 
38 | Jacob Martin | RD | U.S. U18 (USNTDP) | 6-0 | 190lbs 
39 | Zach Dean | C | Gatineau (QMJHL) | 6-0 | 176lbs 
40 | Brent Johnson | D  | Sioux Falls (USHL) | 5-11 | 165lbs 
41 | Jack Peart  | LD | Fargo (USHL) | 5-11 | 181lbs 
42 | Matthew Samoskevich | W | Chicago (USHL) | 5-11 | 176lbs 
43 | William Strömgren | W | MODO (J20 Nationell) | 6-3 | 175lbs 
44 | Samu Salminen | C | Jokerit (U20 SM-sarja) | 6-2 | 186lbs 
45 | Brett Harrison | C | Oshawa (OHL) | 6-1 | 167lbs 
46 | Jack Bar | RD | Penticton (BCHL) | 5-11 | 192lbs 
47 | Sasha Pastujov | W | U.S. U18 (USNTDP) | 6-0 | 175lbs 
48 | Dmitri Kuzmin | D | Dinamo-Molodechno (Belarus) | 5-10 | 176lbs 
49 | Samuel Helenius | C | JYP (Liiga) | 6-6 | 201lbs 
50 | Cole Jordan  | RD | Moose Jaw (WHL) | 6-0 | 170lbs
51 | Evan Nause | LD | Québec (QMJHL) | 6-2 | 186lbs
52 | Daniil Chayka | LD | CSKA (KHL) | 6-3 | 187lbs  
53 | Cole Huckins | C | Acadie-Bathurst (QMJHL) | 6-3 | 200lbs 
54 | Jeremy Wilmer | W | U.S. U18 (USNTDP) | 5-7 | 142lbs 
55 | Oliver Kapanen | C | KalPa (U20 SM-sarja) | 6-0 | 166lbs 
56 | Aidan Hreschuk | LD | U.S. U18 (USNTDP) | 5-11 | 182lbs 
57 | Zachary Bolduc | C | Rimouski (QMJHL) | 6-1 | 175lbs 
58 | Dmitri Katelevsky | C/W | Kazan (VHL) | 6-0 | 174lbs 
59 | Valtteri Koskela | LD | JYP (U20 SM-sarja) | 5-10 | 157lbs 
60 | Ty Voit | W | Sarnia (OHL) | 5-9 | 150lbs 
61 | Liam Dower-Nilsson | C | Frölunda (J20 Nationell) | 6-0 | 172lbs 
62 | Andre Gasseau | C | U.S. U18 (USNTDP) | 6-4 | 202lbs 
63 | Vincent Iorio | LD | Brandon (WHL) | 6-3 | 191lbs 
64 | Jiri Tichacek | LD | Rytiri Kladno (Czech2) | 5-9 | 170lbs 
65 | Robert Orr | LW | Halifax (QMJHL) | 5-11 | 176lbs 
66 | Aleksi Malinen | LD | JYP (Liiga) | 6-0 | 176lbs 
67 | Tristan Broz | C | Fargo (USHL) | 6-0 | 179lbs 
68 | Hugo Gabrielsson | LD | Frölunda (J20 Nationell) | 6-0 | 159lbs 
69 | Kalle Ervasti | RD | Lukko (U20 SM-sarja) | 6-0 | 163lbs 
70 | Dmitri Zugan | C | Krasnaya Armiya (MHL) | 5-11 | 180lbs 
71 | Benjamin Gaudreau | G | Sarnia (OHL) | 6-2 | 160lbs 
72 | Red Savage | C/W | U.S. U18 (USNTDP) | 5-11 | 175lbs 
73 | Peter Reynolds | C | Saint John (QMJHL) | 5-10 | 167lbs 
74 | Wyatt Johnston  | C | Windsor  (OHL) | 6-0 | 178lbs 
75 | Lorenzo Canonica | C | Lugano (U20-Elit) | 5-11 | 179lbs 
76 | Dmitri Kostenko | RD | Togliatti (VHL) | 6-2 | 165lbs 
77 | Artyom Grushnikov | LD | Hamilton (OHL) | 6-2 | 174lbs 
78 | Tristan Lennox | G | Saginaw (OHL) | 6-3 | 198lbs 
79 | Ryan Ufko | RD | Chicago (USHL) | 5-10 | 170lbs 
80 | Matthew Knies | W | Tri-City (USHL) | 6-3 | 206lbs 
81 | Tyler Boucher | W | U.S. U18 (USNTDP) | 6-1 | 200lbs 
82 | Liam Gilmartin | W | U.S. U18 (USNTDP) | 6-2 | 190lbs 
83 | Sean Tschigerl | W | Calgary (WHL) | 6-0 | 179lbs 
84 | Prokhor Poltapov | W | Krasnaya Armiya (MHL) | 5-10 | 161lbs 
85 | Martin Rysavy | W | Prerov (Czech2) | 6-2 | 203lbs 
86 | Kirill Gerasimyuk | G | SKA (MHL) | 2021-06-02 | 179lbs 
87 | Pavel Tyutnev | C/W | Loko (MHL) | 5-10 | 185lbs 
88 | Nolan Allan | LD | Prince Albert (WHL) | 6-1 | 174lbs 
89 | Victor Stjernborg | C | Växjö (J20 Nationell) | 5-11 | 202lbs 
90 | Topias Vilén | LD | Pelicans (Liiga) | 6-1 | 194lbs 
91 | James Malatesta | C/W | Québec (QMJHL) | 5-9 | 179lbs 
92 | Kyle Masters | D | Red Deer (WHL) | 6-0 | 174lbs 
93 | Anton Olsson | LD | Malmö (SHL/J20 Nationell) | 6-1 | 183lbs 
94 | Elias Stenman | C | Skellefteå (J20 Nationell) | 5-10 | 165lbs 
95 | Kalle Väisänen | W | TPS (U20 SM-sarja) | 6-4 | 165lbs 
96 | Sean Behrens | LD | U.S. U18 (USNTDP) | 5-9 | 175lbs 
97 | Kirill Kirsanov | LD | SKA (VHL) | 6-1 | 194lbs 
98 | Marcus Almquist | W | HV71 (J20 Nationell) | 5-5 | 152lbs 
99 | Vladislav Lukashevich | LD | Loko (MHL) | 6-2 | 165lbs 
100 | Ruben Rafkin  | D | TPS (Liiga) | 6-0 | 190lbs 
******
I want to thank everyone who read my rankings throughout the season and any of the amazing content that the DobberProspects team put out this season. It has been a difficult year, scouting and evaluating through a pandemic when much of our work was done through video and limited viewings. This year is going to be interesting to look back on and identify which evaluators, teams, and scouts truly found a way to deal with a difficult situation. Credit to all of the kids as well who have been through hell and back trying to ensure that they put their best foot forward whether it was heading over to Europe to play or whether it meant playing in the tournament in Erie that helped showcase junior-aged players, it was a tough year and every kid who put in the work deserves some love.
If you would like to follow me on Twitter for more NHL Draft and prospect talk, you can find me at @theTonyFerrari! Thank you once again for reading DobberProspects and making us a part of your NHL Draft and prospect coverage. We appreciate all of the kind words that you've sent our way and we value the feedback when you think things can be improved. You are the reason we do what we do, so thank you!
LATEST RADIO & DRAFTCASTS