SHL Report: May 2021
Tomáš Zahorák
2021-05-21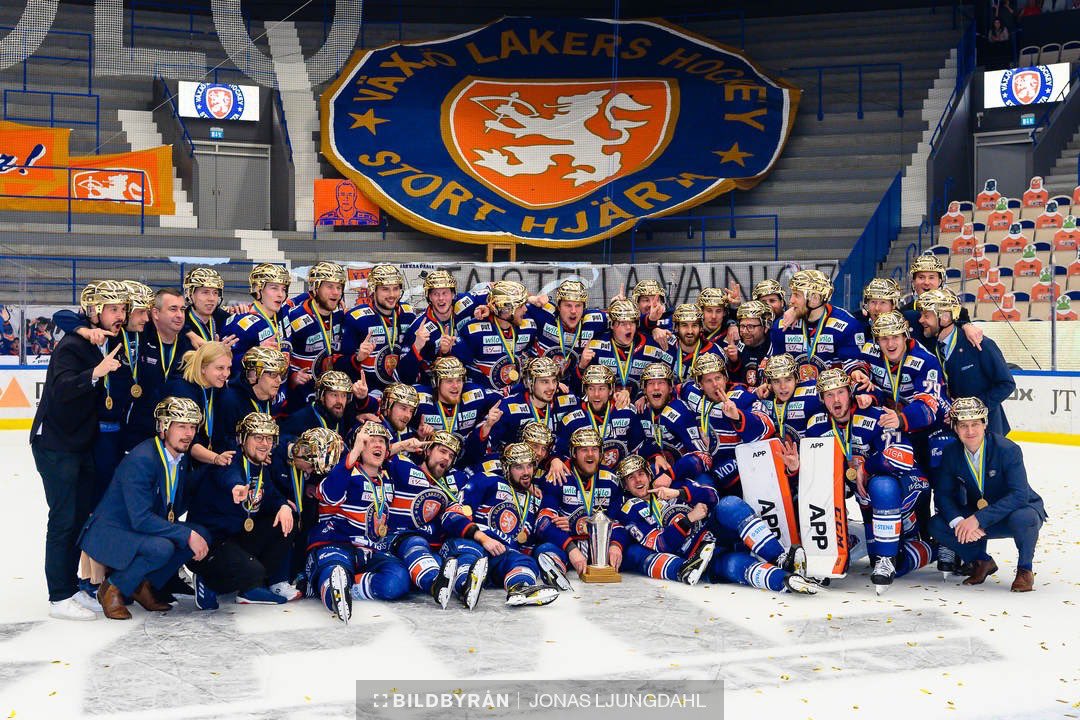 It has been a great past eight or so months, but the 46th SHL season is now over, and we got to know the new champion. Växjö Lakers with prospects Pontus Holmberg, Jack Drury and Fredrik Karlström defeated Rögle BK in five games and raised the Le Mat Trophy above their heads. It is Växjö's third win in the history of the league. The organization also accomplished this goal in 2015 and then in 2018.
The Lakers were the best team after the regular season, but they kept grinding until the end and won it all more than deservedly. Rögle fell just short, even though they also had a great group of guys on the team. It was a good battle, and the NHL prospects on both sides showed great potential. Let us take a quick look at how they and other SHL prospects performed under the playoff pressure.
This is the last report from the 2020-21 season, so I hope you will enjoy it!
In case you have missed it
It has been a pretty busy few days for former Växjö goaltender Erik Källgren. A week after he won the SHL with the Lakers, he signed a two-year contract with Frölunda. However, just a couple of days ago, he inked his first two-year, two-way, entry-level NHL deal with the Maple Leafs. It may sound surprising, but it is possible to get out of the SHL contract to sign in the NHL before June 15th. The 24-year-old Swede recorded a fantastic .930 save percentage in ten playoff contests. In 21 regular-season outings, he registered a .911 save percentage with a record of 12 wins and nine losses.
Källgren is not the only goalie that drew the attention of NHL teams. The Blackhawks were also fishing in the Swedish waters, and they caught six-foot-three inches tall fish named Arvid Söderblom. The older brother of the Red Wings prospect Elmer Söderblom signed a two-year, two-way, entry-level deal with the Original Six organization. You can read more about him further in the article.
One of two SHL's top scorers, Simon Ryfors, inked a one-year, two-way, entry-level contract with the Lightning. The 23-year-old forward tallied 25 goals and 45 points in 51 regular-season contests. In the playoffs, he marked one goal and ten points in 14 outings. Bolts also signed the 71st overall pick from the NHL Entry Draft, 19-year-old goaltender Hugo Alnefelt. He played in 22 games for HV71 and recorded a .904 save percentage.
Jacob Peterson is another Swede who signed his first deal in the NHL. The 21-year-old Stars prospect has a pretty good campaign under his belt, as he collected 14 goals and 33 points in 43 regular-season games. He also played in six contests during the playoffs, where he scored just one goal and two points.
Let us stay in Färjestad for a bit longer, as there is another forward who just inked a deal with the NHL organization. Peterson's teammate and the Flyers prospect Olle Lycksell agreed on two-year, two-way, entry-level terms with the organization that drafted him almost four years ago. The 21-year-old winger recorded nine goals and 21 points in 46 regular-season contests. He also appeared in six playoff games and collected one goal and three points.
Albin Grewe (DET), Albin Eriksson (DAL) and Simon Johansson (MIN) are all moving to the Finnish Elite League AKA the Liiga. Grewe and Johansson, both teammates from Djurgården, found their new home in Ilves while Eriksson will wear the Äsät jersey. Grewe and Johansson signed one-year deals, and Eriksson inked a two-year contract.
William Worge Kreü (BUF) is yet another prospect on the move, although he stays in the SHL. His new place of operation will be in IK Oskarshamn, but only for the next season. The 21-year-old giant (6-6, 185 lbs) played 31 games in Linköping this past year and recorded four assists.
Moritz Seider (DET) won the award for the best defenseman in the SHL.
Pontus Holmberg (TOR) received the Stefan Liv Memorial Trophy for the most valuable player in the playoffs.
Nils Höglander (VAN) won the SHL's goal of the year award for the third straight season.
Player Reports
Pontus Holmberg, C, Växjö Lakers HC (Toronto Maple Leafs)
When the playoffs started, I honestly did not expect Holmberg to be this impactful. I mean, his regular season was not bad at all, but to say that he is a difference-maker would be a bit of a reach. He showed that he is a responsible, versatile, and skilled player with an apparent talent, but I think there was something more in his tank. The hunger and focus that oozed from him in the playoffs just were not there yet. Thus it was a pleasant surprise to see him dominate the scoring race and eventually become the top-scoring player in the playoffs.
The Västerås native played in all 14 contests with the record of seven goals, 14 points, and almost 17 minutes of ice time per night. He also ended up tied with Fredrik Karlström (DAL) for the most game-winning goals scored on the team with three and often appeared on the ice during both power play and penalty kill.
It was Karlström that he played with the most, and they worked with each other very well. It seems like all things clicked into the right place for the 22-year-old who recently found himself on the final Swedish roster for the upcoming World Championships. If he can translate the appetite for offense from playoffs to this event, I am sure he will be a valuable addition to the squad in Riga. It will be his international A-team debut, so I am very excited to see him finally wear the three crowns on the big stage.
Jack Drury, C/LW, Växjö Lakers HC (Carolina Hurricanes)
Jack Drury is genuinely one of the best prospects that I covered throughout the season. Even though it was his first year in Sweden, he was nothing but consistent right off the bat. He transitioned to European hockey pretty quickly, which helped him integrate into the Lakers' top-six. His versatility also contributed to the fact that coaches frequently used him on both penalty kill and power play. The 20-year-old centerman showed us that he is a very mature player for his age.
The thing that I probably like the most about him is his patience with the puck. He loves to have it on his stick and always tries to create something with it. He always wants to keep the puck around the opponent's net and maintain the team's possession as much as possible. It not only helps Växjö generate a lot of chances, but it also prevents the opponent from creating any offense.
Drury even doubled down on his play-driving talents during the playoffs. The number of shot attempts that the opponent fired when he was on the ice descended from 44.03 per 60 minutes in the regular season to just 38.61 shot attempts per 60 in the playoffs. It puts him at fifth place on the team and second among forwards, just behind Fredrik Karlström (DAL) with 36.27 allowed shot attempts per 60.
From the offensive point of view, Drury was dominating even more. The Lakers fired 54.36 shot attempts per 60 minutes with him on the ice, which is the most on the team. Specifically, it is three more shot attempts than the second player on the list, Andrew Calof. Växjö also shot staggering 13.59 shot attempts more with Drury on the ice than without him, which is also the highest number on the team.
Just like his teammate Holmberg, Drury will end this successful season at the World Championships. It will be his first international tournament with the United States A-team, so I am sure he will do his best to show off his qualities. If he can adapt to the new environment as quickly as he did in the SHL, I think he will help the team a lot in all game situations.
Fredrik Karlström, LW, Växjö Lakers HC (Dallas Stars)
Karlström is a man that I have mentioned a couple of times already. Even though he just wrapped up his fourth season in the SHL, this was his first experience with the playoffs in a professional league, and he did very well. The 23-year-old winger became an integral part of the Lakers playoff success and helped the team complete the championship puzzle. The depth-scoring role on the third line suited him just greatly.
Throughout 14 outings, Karlström recorded five goals and ten points. Three of those goals were game-winning, and one of them sent Växjö to the semifinals in double-overtime of Game 4 against Färjestad. Karlström showed a hunger for goals and picked the right situations to pull the trigger. This cold-blooded attitude is quite evident in his expected goals, as he recorded 3.63 of them. It is the second-most in the league, only behind Richard Gynge (Växjö) with 5.29.
The young Stars prospect had a very positive influence on Växjö's offense. The team fired 6.49 shot attempts per 60 minutes more with him on the ice than without him. I loved watching how easily he could sometimes outskate other defensemen and get himself into a rush opportunity. He truly made a big step forward in his development throughout the season. It was great fun seeing him showcase his undeniable offensive qualities.
Moritz Seider, RHD, Rögle BK (Detroit Red Wings)
Moritz Seider was arguably the most outstanding prospect in the SHL. The unique yet complex abilities that he brought to the table at that young age were nothing like the skills of all the other players around the league. He dominated the physical aspect while also maintained high-end skills and a mature game on both ends of the ice.
After an excellent regular season, Seider led Rögle to the playoffs as an elite defenseman on a pretty stacked lineup. He set the bar very high for himself, but I can confidently say that he delivered. He averaged almost 20 minutes of ice time per night, played on both penalty kill and power play, and did pretty well every time he hit the ice.
From an offensive point of view, Seider helped Rögle generate a lot of chances. The team fired 11.24 shot attempts per 60 minutes more with him on the ice than without him, which puts Seider in the first place. He also sent out 25 shots on goal, which is the sixth-highest amount on the team and the second-highest among defensemen.
Seider had a good influence on Rögle's possession in the offensive zone. It also meant that the opponent could not create chances, as they did not have the puck that often. He and his teammates allowed just 36.52 shot attempts per 60 minutes on their net. That puts our 20-year-old German in second place on the team, just behind Samuel Johannesson (CBJ), who, however, was in the lineup in only six contests and averaged just slightly over a minute of ice time per game.
Seider will end his great campaign at the World Championships. Unlike Holmberg and Drury, this will be his second experience with this tournament. He also wore the german A-team jersey back in 2019 when he tallied two goals in five contests. After this season, I have a feeling that he is going to improve these numbers a bit.
Simon Ryfors, C, Rögle BK (Tampa Bay Lightning)
Ryfors is a 23-year-old undrafted centerman who recently signed his first NHL contract with the Tampa Bay Lightning. The Stockholm native played his fifth season in the SHL and recorded the best numbers of his career. He finished the regular season with 51 outings under his belt and the SHL scoring title as a bonus, as he and Daniel Viksten scored the most, 25 goals. In total, Ryfors registered 45 points and was placed second on the team (five points behind Daniel Zaar) and sixth league-wide.
It was a breakout campaign for the young forward in many ways, especially when we look at his production on the power play. Out of 45 points that he recorded in the regular season, 20 came during man-advantage. That is the fourth-highest number in the league. He and his teammate Niklas Hansson also marked five power-play points during the playoffs, which is also the most among all players.
Ryfors just generated a lot of offense throughout the whole campaign. Rögle fired over six shot attempts per 60 minutes more with him on the ice than without him, which carried to the playoffs as well. Unfortunately, he had some bad luck with finishing, as he registered 2.75 expected goals but scored only one goal.
It will be interesting to see whether he finds a spot on the Bolts roster or whether he will end up in the AHL. He is the type of skilled forward that fits the best in the top-six, but who knows, maybe he will end up as a depth-scoring winger on the third line. I would not be surprised if that will be the case.
Roland McKeown, RHD, Skellefteå AIK (Carolina Hurricanes)
McKeown was loaned to Skellefteå from the Hurricanes organization at the end of 2020. It took him some time until he got used to the European style of hockey, but he kept improving as the games went on. Then the playoffs began, and he was, without doubt, one of the better players on the team. With one goal and four points in 12 outings, he was placed sixth on the team. Yes, Skellefteå struggled to score a lot. But anyway, production is not McKeown's biggest asset. He is, firstly, a puck-moving defenseman with good mobility who plays responsibly in his own zone.
However, he also generated a lot of offense for the team in the playoffs. At least a lot more than he did in the regular season. Throughout the 12 outings, he was on the ice for over 64 shot attempts per 60 minutes. That is seven more shot attempts than the second player on the list, Arvid Lundberg. Skellefteå also fired almost nine shot attempts more with McKeown on the ice than without him. There is no doubt he had a very positive influence on the team's offense.
Coaches used McKeown's two-way ability in all situations. He averaged around 18 minutes of ice time per game, from which he spent almost two and a half minutes on the power play and averaged over a minute on the penalty kill.
The 25-year-old should be heading back to the States for the next season. His stint in Sweden was pretty mediocre for most parts, but he stepped his game up during the playoffs. After all, his team got into the semifinals, so I think he will have some nice memories from his first European adventure.
Arvid Söderblom, G, Skellefteå AIK (Chicago Blackhawks)
Similar to Ryfors, Arvid Söderblom also experienced a breakout season in the SHL. The difference between them is that it was just Söderblom's first full year against man competition. The 21-year-old Göteborg native spent the previous season in Tingsryds (HockeyAllsvenskan), where he recorded a fantastic .924 save percentage in 32 outings. As a result, he moved to Skellefteå to back up far more experienced Gustaf Lindvall and learn alongside him. Although I think he did well above all expectations. He finished the regular season with 22 starts, just nine fewer than Lindvall, and registered a .922 save percentage.
Lindvall, however, had a pretty good year as well, so it was up to coaches to decide who will get more starts in the playoffs. They went with the veteran option, which, in conclusion, was not a bad pick. Lindvall played in ten games with a .927 save percentage and did not allow even two goals per game. For Söderblom, there was only room for two contests, even though he performed very well and marked a .951 save percentage.
It is a bit of a shame that we could not see more from him in the playoffs, but at the end of the day, he does not need to worry about it at all. It was enough for the Blackhawks to see his talents, and that matters the most. He will most likely not be a regular backup behind Kevin Lankinen, but I think there is a chance for him to get a couple of starts if he proves himself in the AHL. After all, Malcolm Subban and Collin Delia are not the toughest competition on Earth.
Underwhelming
Jonatan Berggren, LW, Skellefteå AIK (Detroit Red Wings)
Berggren set the bar for his performance pretty high after that excellent regular season where he tallied 12 goals and 45 points in 49 games. The 20-year-old youngster became the sixth-best scorer in the SHL (tied with Simon Ryfors and Joakim Lindström) and the top-scoring player on the team. The expectations for the playoffs were through the roof. I think we all assumed that he would continue to dominate the production. But it did not happen for some reason. Zero goals and just four points in 12 outings are, I am sure, way less than what he expected.
However, it is not like Berggren did not get enough opportunities from the coaches. The Red Wings 33rd overall pick from the 2018 NHL Entry Draft averaged over 17 minutes of ice time per game. It is roughly one and a half minutes more than what he usually spent on the ice during the regular season. Berggren also spent almost four full minutes on the power play per night throughout the 12 playoff contests. That is over a minute more than his regular-season average.
Despite getting so many opportunities, he struggled to generate offense big time. Skellefteå fired 1.35 shot attempts per 60 minutes fewer with Berggren on the ice than without him. That is well below average if we compare him to his teammates. Also, regarding the quality of his shots, he finished the playoffs with just 1.35 expected goals, which puts him in 12th place on the team. Not to mention that the number of his shots on goal stopped at 14 (13th place on the team).
I honestly do not get why he was so hesitant to shoot more. Although he is primarily a playmaker, there is no doubt he can snipe it hard and accurately. He also found himself among the final cuts from the Swedish World Championship roster. That certainly did not help his morale, but it might be better for him to recharge batteries and be ready for the next season.
Thank you for reading this article! If you liked it, please follow me on Twitter @TZahorak for more updates throughout the season.
LATEST RADIO & DRAFTCASTS