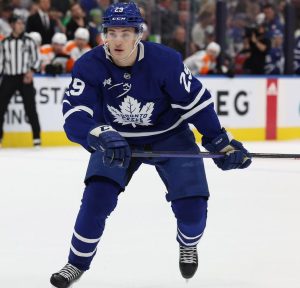 TheStar.com
Fantasy Summary
Responsible two-way forward with a strong work rate. Has the potential to grow into a bottom-six forward with the ability to provide secondary offense at the NHL level.
Observations
Click to Expand

July 2023 – The Maple Leafs have extended Holmberg through 2024-25 on a contract worth $800k per year. The 24-year-old played 38 NHL games last season, scoring ten goals and 22 points. He was also one of the Toronto Marlies best forwards when down in the AHL, even potting six goals in their seven playoff games. Holmberg will compete for a spot in the bottom-six come training camp and seems to be the odds-on favourite to be Toronto's fourth-line center to begin the year. Curtis Rines

February 2023 – Holmberg has proven to be a solid addition to the Maple Leafs' bottom six this season. Through 14 games, he has scored two goals and six assists in fairly limited minutes. According to EvolvingHockey's Goals Above Replacement model, Holmberg ranks seventh in Toronto forwards ahead of the likes of Pierre Engvall, Calle Jarnkrok, and David Kampf. It remains to be seen if Sheldon Keefe trusts Holmberg enough to be a regular in the lineup for the playoffs, but he has certainly done enough to be an excellent option. Curtis Rines

November 2022 – Holmberg impressed in training camp despite a lack of offensive production and earned his first taste of NHL action a couple of weeks into the season. He has since been recalled again, notching his first career NHL goal which stood as the winner in a game against the New Jersey Devils. It appears that Holmberg is on his way to becoming a full-time NHLer with the Leafs, albeit in a bottom-six role. Nick Richard

May 2022 – As was expected, Holmberg joined the Marlies after Växjö were eliminated from the SHL playoffs and scored a pair of goals to go along with two assists in six games to close out the AHL season. The former sixth-round pick had a breakout season in the SHL, tallying 41 points in 46 games while showing there may be some untapped offensive upside in his game. Already 23 years of age and with a wealth of pro experience, Holmberg is expected to compete for NHL minutes as a depth option next season. Nick Richard

December 2021 – Holmberg signed an entry level contract with the Leafs last spring after earning SHL Playoff MVP honors and was loaned back to Växjö for the 2021-22 season. He has picked up right where he left off, scoring 22 points through his first 26 games of the SHL season after tallying 23 points in 45 regular season games last season.

Drafted in the sixth round back in 2018, Holmberg is looking like another late-round win for Swedish scout extraordinaire Thommie Bergman. Expect him to make the jump to North America and join the Marlies upon the conclusion of Växjö's season. Nick Richard

June 2021 – Holmberg has signed a 2-year ELC with the Maple Leafs. Transitioning to North America is a logical next step for the 22-year-old. Hayden Soboleski

May 2021 – The clutch playoffs continued, leading to 7 goals and 7 assists in 14 games, an SHL championship, and Playoff MVP honors for Holmberg. Not a bad postseason. Hayden Soboleski

April 2021 – Seeing a career-high 16 minutes per night in the SHL led to Holmberg's most productive season yet, putting up 9 goals and 14 assists in 45 games played. His SOG total also rose, but at 54 he is still far from a volume-shooter. His stock is currently rising thanks to a clutch playoffs performance where he has 7 points in 7 games thus far. He has one more year left on his SHL contract but has enough pro experience to be worthy of a North American audition when he is ready. Hayden Soboleski

October 2020 – Holmberg's 2020-21 campaign has begun in the SHL and he's off to a hot start with 4 goals and 5 points in his first 8 games. His 11 SOG in that time is low relative to his teammates who are doing most of the shooting, but playing 16 minutes per night and being offensively successful is a great sign for the two-way forward. After finishing 8th on his team in scoring in 2019-20 and not taking much of a step forward offensively, this burst of scoring is a pleasant indicator that he can serve as more than a bottom-six safe-play corsi-generator. Now in his third SHL season, he has the experience to earn more minutes if he continues to produce and could be a dark horse competitor for a Leafs depth position in 2021-22. Hayden Soboleski

January 2019 – The WJC tournament was a disappointment for Holmberg (and Team Sweden as a whole). The squad was upset in the quarterfinal round, and the winger (who ended up in the middle-six for the majority of the showing) managed zero points in five games. This isn't a step backwards but it is a missed opportunity for the youngster having a good year up up to this point. Hayden Soboleski

December 2018 – Holmberg has made Team Sweden for the upcoming WJCs, and is starting the tournament on the top line. This is a prime opportunity for an offensive breakout. Hayden Soboleski

December 2018 – One of the Leafs' fastest-developing prospects, Holmberg is now being moved to the RW to get him on the top line, rather than playing 2C/3C. He has now played all three forward positions this campaign. Hayden Soboleski

November 2018 – In his rookie SHL campaign as a 19-year-old, Holmberg has racked up 7 points in 18 games so far and is considered a strong candidate to play for Team Sweden in the upcoming WJC. He is still a complementary player rather than a true offensive driver, but this is still good progress for a late-round pick in his d+1 season. Don't draft yet, but keep an eye out. Hayden Soboleski

The Leafs traded a 2019 pick for this 2018 one to select Holmberg, who was clearly on their radar as a late-round flier. A smaller winger who can maintain puck possession is right up the Leafs' alley and despite minimal SHL playing time in his draft year, his Junior and Division 1 play was apparantly strong enough to make a trade a snag Holmberg.
Highlights