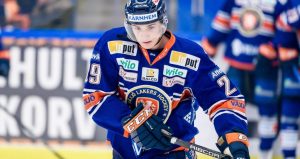 image courtesy of Sportsbloggare
Fantasy Summary
Puck-possession winger with top-six upside
Observations
Click to Expand

October 2020 – Holmberg's 2020-21 campaign has begun in the SHL and he's off to a hot start with 4 goals and 5 points in his first 8 games. His 11 SOG in that time is low relative to his teammates who are doing most of the shooting, but playing 16 minutes per night and being offensively successful is a great sign for the two-way forward. After finishing 8th on his team in scoring in 2019-20 and not taking much of a step forward offensively, this burst of scoring is a pleasant indicator that he can serve as more than a bottom-six safe-play corsi-generator. Now in his third SHL season, he has the experience to earn more minutes if he continues to produce and could be a dark horse competitor for a Leafs depth position in 2021-22. Hayden Soboleski

January 2019 – The WJC tournament was a disappointment for Holmberg (and Team Sweden as a whole). The squad was upset in the quarterfinal round, and the winger (who ended up in the middle-six for the majority of the showing) managed zero points in five games. This isn't a step backwards but it is a missed opportunity for the youngster having a good year up up to this point. Hayden Soboleski

December 2018 – Holmberg has made Team Sweden for the upcoming WJCs, and is starting the tournament on the top line. This is a prime opportunity for an offensive breakout. Hayden Soboleski

December 2018 – One of the Leafs' fastest-developing prospects, Holmberg is now being moved to the RW to get him on the top line, rather than playing 2C/3C. He has now played all three forward positions this campaign. Hayden Soboleski

November 2018 – In his rookie SHL campaign as a 19-year-old, Holmberg has racked up 7 points in 18 games so far and is considered a strong candidate to play for Team Sweden in the upcoming WJC. He is still a complimentary player rather than a true offensive driver, but this is still good progress for a late-round pick in his d+1 season. Don't draft yet, but keep an eye out. Hayden Soboleski

The Leafs traded a 2019 pick for this 2018 one to select Holmberg, who was clearly on their radar as a late-round flyer. A smaller winger who can maintain puck possession is right up the Leafs' alley and despite minimal SHL playing time in his draft year, his Junior and Division 1 play was apparantly strong enough to make a trade a snag Holmberg.
Highlights