Prospect Ramblings: Open Roster Spots for Prospects – Pacific Division
Pat Quinn
2020-11-04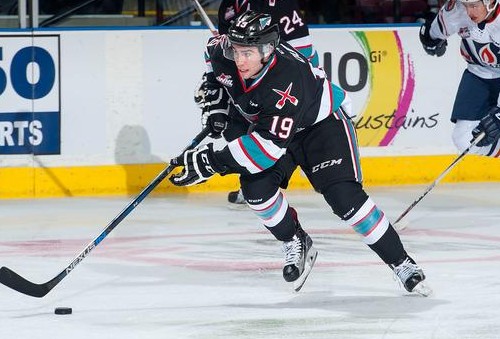 Welcome to the Thursday prospect ramblings. I hope to distract you if your preferred candidate lost in the US election, or if you want a break from still waiting for a result (seriously, how is it not wrapped up in a night?), or if you are just sick of all the politics talk on the internets.
This week I am going to go through the contract situations of teams in the Pacific Division (yay for Capfriendly) to see how many openings they have, where they have openings, and what prospect is most likely to take that spot. I am also assuming the rosters are set, as in how the roster will look when the 2020-2021 season starts… whenever that starts
First, my #GoodTweet of the week… which was not what I tweeted, but I was involved in it!
********************
You better follow the off-season 31-in-31 series that began on November 1st. It is the best out there.
Be sure to grab Dobber's 2020-21 Fantasy Guide while you are at it. It is officially in the Dobber Shop and loaded with content. Read it, enjoy it, and beat your friends in fantasy.
*******************
PACIFIC
Anaheim Ducks
Forward:
11 one-way contracts; all $1M or above
One to two forward spots open
Unfortunately, there is not really an open for Trevor Zegras or Isac Lundestrom with established players and prospects ahead of them. However, those two should be the first players called upon if both are in the AHL at the time. If those two are not available for call ups expect the Ducks to rotate Vinni Lettieri, Andrew Agozzino, Chase De Leo, or Jack Kopacka
Defense:
Seven one-way contracts; all $1M or above
Christian Djoos only has a one-year deal, so he could be sent down if he does not perform
Kodie Curran is a European signing who could surprise or flame out
If one or both of those above players do not work out, or injuries occur, expect Josh Mahura to get a call or even Brendan Guhle
Goalie:
John Gibson is not going anywhere
Anthony Stolarz has a one-way contract and there are no real threats for Gibson any time soon
Arizona Coyotes
Forward:
11 one-way contracts; nine $1M or above and two below $1M

One of those under $1M contracts is Conor Garland so there are 10 spots locked up

Two spots should be open
Guaranteed Candidate: Barrett Hayton
Likely Candidates: Brayden Burke and Lane Pederson
Dark Horse Candidate: Jan Jenik
Non-fantasy Candidates: Dryden Hunt and John Hayden
Hayton will likely fill out the top nine while Hunt and Hayden will fill out the bottom line and 13th forward position
Defense:
Eight one-way contracts; seven are $1M or above, five are UFAs in 2021
Spots will open as the season progresses, especially if the Coyotes are out of the playoffs
Likely Candidate: Victor Soderstrom; Who can likely step in to a top four role should force his way on to the roster
No other defense prospect in Arizona's system is moving the needle for fantasy
Goalie:
Kuemper, Raanta and Adin Hill all signed to one-way deals, with only Kuemper extended past 2020-2021
Dark Horse Candidate: Ivan Prosvetov is close, but there is no need to rush him
Calgary Flames
Forwards:
12 one-way contracts; nine above $2M and four players under $870K

Buddy Robinson has a one-way contract at $700K but should predominately stay in the AHL

Guaranteed Candidate: Dillon Dube; who is on the final year of his ELC and is a lock for the top nine
No real spots open as one of Josh Leivo, Joakim Nordstrom and Dominik Simon should rotate as the 13th forward
Dark Horse and Likely Candidates: Mathias Emilio Pettersen, Glenn Gawdin, Eetu Tuulola, and Matthew Phillips
Calgary is quite full up front and unless major injuries or trades happen prospects will likely play another year in the AHL
Defense:
Five one-way contracts; four above $4.5M and one under $1M

Nikita Nesterov is returning to the NHL and can play on the bottom pairing

Guaranteed Candidate: Juuso Valimaki; should pay immediate dividends
Likely Candidate: Oliver Kylington; Hopefully he can stick in the NHL but he may not have the defensive awareness and structure IQ that coaches require
Dark Horse Candidate: Alexander Yelesin
Possible Candidate, and previous Florida protected player in the Las Vegas expansion: Alex Petrovic
Goalies:
Locked up with Markstrom, and Rittich as one year and $2.75M remaining
If injuries occur the first call up should be: Louis Domingue
Dark Horse Candidate: Artyom Zagidulin; Possible impact could be made if given the role due to injuries
Edmonton Oilers
Forwards:
14 one-way contracts; 11 are $1M or above and three are under $1M
Recently signed Dominik Kahun is under $1M but he should easy stick in the top nine
Alex Chiasson is a UFA in 2021 and has been talked about as a trade candidate or someone to be sent to the AHL
Guaranteed Candidate: Kailer Yamamoto; final year of his ELC and he is a fixture to in top six
No real spots open
Dark Horse Candidate: Tyler Benson
Oilers are quite full at forward, especially with Jesse Puljujarvi returning so do not expect much movement at forward unless trades happen
Defense:
Six one-way contracts; five are over $3.75M and one is below $1M
Ethan Bear is a RFA and will factor in to the defense, but thanks to Oscar Klefbom likely being out for a season there is still a spot open
Likely Candidates: Evan Bouchard and Philip Broberg; It will be a battle between these two for the Oilers defense and while the Edmonton media loves Broberg, Bouchard is the better prospect to me. It is still a toss up
Dark Horse Candidate: Dmitri Samorukov
Goalies:
Koskinen, Mike Smith and Anton Forsberg are signed to one-way deals, with only Koskinen as the one signed past 2021
Dark Horse Candidates: Stuart Skinner and Dylan Wells
Los Angeles Kings
Forwards:
Nine one-way contracts; six above $1M and three below $775K
Guaranteed Candidates: Gabriel Vilardi and Blake Lizotte; Both players finished the year strong
One or two spots open
Likely Candidates:
Dark Horse Candidate: Alex Turcotte; Like Byfield he could benefit from an extra year in the NCAA or overseas, but unlike Byfield there is a much greater argument for Turcotte to not be in the NHL for 2020-2021
Lots of room for movement in 2020-2021 for prospects in the Kings system
Defense:
Five one-way contracts; Three over $2.5M and two under $1M
Guaranteed Candidate: Michael (Mikey) Anderson
One spot open
Likely Candidates: Sean Durzi and Kyle Clague
Dark Horse Candidate: Tobias Bjornfot; made the roster outright in 2019-2020 but did not stick. I think Clague and Durzi are in a better spot to play for 2020-2021 and Bjornfot would be better suited waiting a year
Goalie:
Cal Petersen and Jon Quick are both signed to one-way deals
If an injury occurs expect Troy Grosenick to get the first call
San Jose Sharks
Forwards:
11 one-way contracts; seven players over $1.5M and four under $1M
Guaranteed Candidates: Noah Gregor and Joel Kellman; both were up and down all of 2019-2020, with Gregor finishing strong
One or two spots should be open
Likely Candidates: Antti Suomela
This roster is surprisingly full and not very exciting. They have many Dark Horse Candidates that could make the jump and an impact, those being:
Defense:
Goalies:
Martin Jones and Devan Dubnyk are both signed for 2020-2021, which is exciting for H2H leagues when you team plays San Jose
Likely / Dark Horse Candidates (as both need additional AHL time): Alexei Melnichuk and Josef Korenar
Vancouver Canucks
Forward:
15 one-way contracts; 12 are over $1M and three are below $1M
The Canucks are looking to move a number of forwards but have been out of luck so far. Sven Baertschi, Brandon Sutter and Tanner Pearson are all UFAs in 2021, so they are the ones likely to be moved. Perhaps if Vancouver gets luck a team will take Loui Eriksson but I doubt it

Marc Michaelis is on a one-way contract at $700K and can easily be sent down

Elias Pettersson is on the last year of his ELC. That is 16 forward roster spots so do not expect prospects to really get a sot

Justin Bailey is an RFA and also likely looking for a one-way deal

Dark Horse Candidate: Kole Lind
Defense:
Six one-way contracts; four are $2M or more, and the final two are $700K
Quinn Hughes is on the last year of his ELC, I am pretty sure he is on the roster
There are one to two spots available
Likely Candidates: Brogan Rafferty and Jack Rathbone
Dark Horse Candidate: Olli Juolevi
Goalies:
Braden Holtby and Thatcher Demko should have the net sealed up for as long as Holtby is in Vancouver (currently until 2022
Dark Horse Candidate: Michael DiPietro
Vegas Golden Knights
Forward:
15 one-way contracts; 10 over $1M and five below $1M

Nicolas Roy is signed to $750k for two seasons and will make the roster
Tomas Jurco, Tyrell Goulbourne, Patrick Brown and Dylan Sikura are all between $700K-$750K and might make the roster but will likely stay in the AHL

Cody Glass was injured to finish the season, and through the return to play playoffs, but will be a fixture on the roster
There should be one open spot
Likely Candidates:

Keegan Kolesar – The second year of his two-year contract is one-way (slated for 2021-2022), so Vegas sees something there
Lucas Elvenes – Great year in the AHL and if moved in to the top nine he could post underrated numbers for poolies lucky to grab him
Peyton Krebs – Vegas' top prospect can fill out the teams top nine, and make it even more scary
Defense:
Goalies:
Robin Lehner and Mark Andre Fleury will start for the next two seasons, unless there is a sword attack, if any prospect comes up they will just be a back up
Likely Candidate: Oscar Dansk
**********************
Thanks for reading. Follow my twitter: @FHPQuinn
LATEST RADIO & DRAFTCASTS