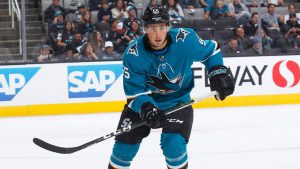 Photo courtesy of NHL.com
Fantasy Summary
Loads of skill and potential, defensive play and consistency are the only question marks.
Observations
Click to Expand

January 2022 – Chmelevski has taken a bit of a step backwards statistically to start the season with 17 points in 30 games, which is his lowest point per game pace since he's made the jump to the AHL. After getting his first cup of coffee in the NHL last season, Chmelevski looked primed to take a bigger role with the Sharks to start the year but he hasn't exactly seized the opportunity. The Sharks have used 21 forwards to date this season and Chemelvski's name has yet to be called. His cerebral game and finishing abilities still hold tremendous value if he can put everything together, but one has to wonder if he's running out of real-estate.  Donesh Mazloum

October 2020 – Although he is likely not completely NHL ready, Chmelevski's flexibility and strong hockey IQ may work in his favor this season.  With contract negotiations still swirling around Kevin Labanc, and the Sharks lack of depth at right-wing there may be a need for his unique abilities. Chmelevski is a natural center but has played right-wing in the past with some success. The American will wait patiently this off-season and fill whatever role San Jose asks him to come the new year. Alex Howes

May 2020 – Chmelevski's jump from the OHL to the AHL this season marked a crucial step in the young forward's development. Naturally, he saw a significant decrease in his offensive production, but Sharks fans should not sweat too much about the reduced numbers. Chmelevski's competitive nature and dedication to perfecting his craft are things his coaches in Ottawa revered about him. Watch for him in this year's training camp to see if his "win at all costs" attitude has helped him boost his game speed to a professional level. Alex Howes

June 2019 – Chmelevski finishes the 2018-19 season as the biggest riser in the Sharks system. He posted 75 points in 56 games for the Ottawa 67's and added another 31 points in 18 games during the playoff run. He was a leader for the 67's both offensively and defensively. The WJC this year showcased Chmelevski's ability on the world stage and he didn't disappoint; he's shown he has the ability to produce when it matters most. Turning 20 this month, it's now time for Chmelevski to turn pro, expect him to get a long look in Sharks training camp this fall. Chris Legg

February 2019 – Chmelevski had himself quite a game against North Bay last Monday as he posted five goals in the contest. This brings his point total this season to 65 in just 46 games. It is not just the points that Chmelevski's putting up, but the way in which he's getting those points that should have people taking notice. His skill is undeniable as he is regularly making OHL defenseman look foolish, he possesses both playmaking ability and a good shot which opponents have to respect. The sixth round pick now looks like a top talent and can be counted among the top Sharks prospects. Chris Legg

January 2019 – Chmelevski finishes the WJC in Vancouver with seven points in seven games. Chmelevski
was not named one of USA's three best players of the tournament, but the argument could be made he
was one of, if not the best player, for team USA in the loss against Finland. He had a goal and an assist in
the final and would have had a second assist on team USA's first goal, which was disallowed due to
goaltender interference. Chmelevski came into this tournament on fire with the Ottawa 67's, he started
out on team USA's third line and made his way up the line-up as the tournament progressed. Sharks fans
and fantasy owners alike should be very excited about Chmelevski's potential. Chris Legg

December 2018 – Chmelevski picked up a pair of assists in team USA's overtime loss against Sweden in the World Junior Championship. One of those assists was a ridiculous cross ice backhand saucer pass. Team USA's coaching staff is taking notice and Chmelevski's minutes went way up in the third period of the game. He started on what was team USA's third line, but look for Chmelevski to play a more prominent role for team USA moving forward into the medal round. Chris Legg

December 2018 – Chmelevski has been named to the team USA preliminary roster for the 2019 World Junior Championship in Vancouver. Chmelevski has been on fire lately, he's posted 36 points through 27 games so far this season in the OHL. He will look to bring offense to the team USA squad with his playmaking ability and his ability to manoeuvre with the puck in tight spaces. Chris Legg

November 2018 – Chmelevski continued his recent hot streak with a four point performance in Wednesday's game against the Kingston Frontenacs. The forward now sits at 11th overall in the OHL scoring race with 34 points, he is continually climbing that ladder after a slow start to the year. His hot streak is coming at an opportune time, as he will get a look for the American squad in the upcoming World Junior tournament. Chris Legg

November 2018 – Chmelevski posted three assists in a game against the Sault St. Marie Greyhounds. He was off to a bit of a slow start to the season with the Ottawa 67's but may be starting to find his game. He's now posted 21 points through 22 games this season and while these aren't bad numbers, they are behind his pace from last season. Chmelevski impressed in both the Sharks rookie tournament and the World Junior Summer Showcase, he is expected to take a big step forward this season. Chris Legg

September 2018 – Alexander Chmelevski lasted late into Sharks training camp before being returned to the OHL's Ottawa 67's. The Sharks are sticking to the plan with Chmelevski, being ineligible for the AHL this season due to the CHL transfer agreement, it was a forgone conclusion he would be returned to junior this season. He showed well in both the rookie tournament and Sharks training camp, he scored once in the only pre-season game he got into. Look for Chmelevski to play a big role for the 67's this season and make a strong push for team USA at the World Junior Championship. Chris Legg

July 2018 – You would have to be forgiven if you assumed Chmelevski was a Russian, he is in fact a California native and Ukrainian American. He has shown improvement over his first two seasons with the OHL's Ottawa 67's and the Sharks will be hoping he does it again in his third. The Sharks signed Chmelevski to an entry level deal in April of 2018. Just earning a contract is a success for a former sixth round pick. You can bet that the Sharks are now expecting much more out of Chmelevski, who is now looking like a late round steal. Questions remain about his defensive game, however with his offensive skill set and his size, he may be able to carve out an NHL career regardless. Keep Chmelevski on the watch list as he heads into his final year of junior as he has the potential to put up a lot of points if he does make it to the show. Chris Legg

November 2017 – Sasha Chmelevski is in the early running for a Cy Young award with a team-leading 13 goals to go with just six assists through 21 games for the Ottawa 67s. The 19 points are good for a three-way tie to lead the squad and Ottawa is currently atop the Eastern division in the OHL, so the goals are translating into wins.

The Sharks often reach into the Ottawa well with their draft picks and were fortunate to have Chmelevski fall to them in the sixth round. He still has time to improve his off-puck and defensive zone play, but the offensive instincts are what San Jose hopes are still intact as he rounds out his game. Zachary DeVine

July 2017 –Sasha Chmelevski is an high-skilled pivot with a large offensive ceiling. His speed, puckhandling and shot make him a dangerous player with the puck. He has powerful strides and quick feet that help him create space between him and his opponents. He reads the plays well in the offensive zone and sees the game at a high level. His shot is not only powerful, but also very accurate. Chmelevski needs to work on his game in his own zone and doesn't show the same urgency to backcheck. He has the ability, but hasn't shown it a lot in his play. Unfortunately, Chmelevski's offensive production has been spotty at best. He'll look like a legitimate top 10 pick for a couple games and be invisible for the next couple. He was placed on the third line as a winger late in the season and his production did not change. Kathryn Jean
Stats
Nothing Found. Error.
Highlights