July 31-in-31: San Jose Sharks
Chris
2019-07-24
***
Welcome to our annual 31-in-31 Summer Series here at DobberProspects! Every day in July we will be bringing you a complete breakdown of a team's draft, notes from their development camp, and insights into their off-season moves so far. Following this up, the August 31-in-31 Series will dive into every team's prospect depth charts with fantasy insights and implications for the upcoming seasons. Check in often, because we plan on filling your hockey withdrawal needs all summer long!
***
Draft Review
The Sharks drafted five players in the 2019 NHL entry draft. Their draft was a mixed bag of the typical draft position maneuvering by Doug Wilson and some picks that could be described as questionable. The Sharks took the first day of the draft off, without a first round pick (having traded it to Buffalo as part of the Evander Kane deal). On day two of the draft they went to work, making a series of deals which culminated in five selections. They traded the 41st pick (acquired from Philadelphia for Justin Braun) for the 48th and the 82nd pick. They selected QMJHL defenseman Artemi Kniazev at 48th overall. They then moved back into the second round, trading the 82nd and 91st pick for 55th which they used to select Dillon Hamaliuk of the WHL. Next the Sharks made a minor league deal with the Canucks, swapping Francis Perron and pick 215 for Tom Pyatt and pick 164. The Sharks then dealt a 2020 4th round pick for the 108th pick which they used to select Russian forward, Yegor Spiridonov of the MHL. The Sharks closed out the day by drafting Timur Ibragimov and Santeri Hatakka 164th and 184th respectively in the sixth round. Despite all the deals, it's difficult to argue that the Sharks got great value in this draft. With the exception of Spiridonov, they left some higher ranked and more intriguing players on the board after their picks. That being said, Doug Wilson has a ton of faith in his scouting staff and they have pulled some gems out of the late rounds before. Time will tell if they are seeing something in these players that nobody else is.
Round 2, 48th overall: Artemi Kniazev (D)
Artemi Kniazev was the Sharks first pick of the draft, a smooth skating puck moving defenseman, he fits the mold of the modern NHL defender. Kniazev may have been a bit of a reach at 48th-overall as there were several higher ranked defenders still on the board. However, you can't deny that his superior skating ability is a huge boon in today's NHL. Kniazev put up 34 points in 55 QMJHL games. These aren't huge numbers, especially for the QMJHL which is a bit weaker than the rest of the CHL. Kniazev doesn't have massive offensive upside in that he doesn't have a big shot and probably won't be quarterbacking an NHL power-play. He does however have that puck moving ability which could land him those secondary assists when he gets a chance to move the puck up to skilled forwards.
Round 2, 55th overall: Dillon Hamaliuk (LW)
Hamaliuk is a big-bodied forward out of the WHL, previously of the Seattle Thunderbirds, Hamaliuk was dealt to the Kelowna Rockets where he'll play next season. This pick is a bit of an intriguing one, although considered a reach by many, the Sharks scouting staff has stated that they had Hamaliuk rated as a first-round talent. Clearly they liked what they saw before Hamaliuk's season was cut short by injury. It is certainly possible that had Hamaliuk played out the season he could have landed higher in the rankings, we often see the board shift quite a bit in the latter half of the season. The fact that Hamaliuk almost hit a point per game with 26 points in 31 games for Seattle, a team that wasn't blowing anyone's doors off last season, is certainly cause for optimism. Hamaliuk plays the typical power forward type game, he has a strong shot and can use his size to separate opponents from the puck. He's a prospect to watch next season with a clean bill of health and a memorial cup berth with the host city.
Round 4, 108th overall: Yegor Spiridonov (C)
The Spiridonov selection is the one Sharks selection in this draft which you can say for sure they got great value on the pick based on the player's ranking. Spiridonov was listed as a probable second-rounder by many scouting services and the analytics look favourably upon him. Spiridonov had a great season in the MHL, posting 41 points in 43 games. He really caught the eye of scouts though at the IIHF U18, where he played on Russia's top line and posted six points in seven games. He's a two way center, kills penalties and battles hard on the boards, he's not the fastest skater but he makes up for it in tenacity. He also possesses an above average wrist shot. All in all, for a fourth round selection Spiridonov has a decent shot at becoming an NHL player compared to his peers. He's under contract for two more years in Russia after which the Sharks will look to bring him to North America.
Round 6, 164th overall: Timur Ibragimov (LW)
The Sharks went back to the MHL again and selected Ibragimov in the sixth round. Ibragimov plays a fast, skilled game. He put up 41 points in 63 games with the MHL's SKA St. Petersburg. This pick was a bit off the board and info on Ibragimov is scarce, most scouting services didn't even have him ranked. The knock on Ibragimov is his play without the puck, so he'll need to work on his defensive game. He's under contract in Russia for one more season, it is anyone's guess if he remains overseas at that point or jumps the pond to North America.
Round 6, 184th overall: Santeri Hatakka (D)
The Sharks selected Hatakka with their final pick in the draft. The Finish defenseman played for Jokerit in Finland's U20 league. Hatakka's best asset is his skating ability, he played top minutes for Jokerit last season and uses his skating and transition skills to defend effectively. His puck skills need some work however and his offensive upside is limited. Hatakka will be a bit of a long-term project, next season he is slated to suit up for the Tampereen Ilves of the Liiga.
***
Development Camp Roster/Notes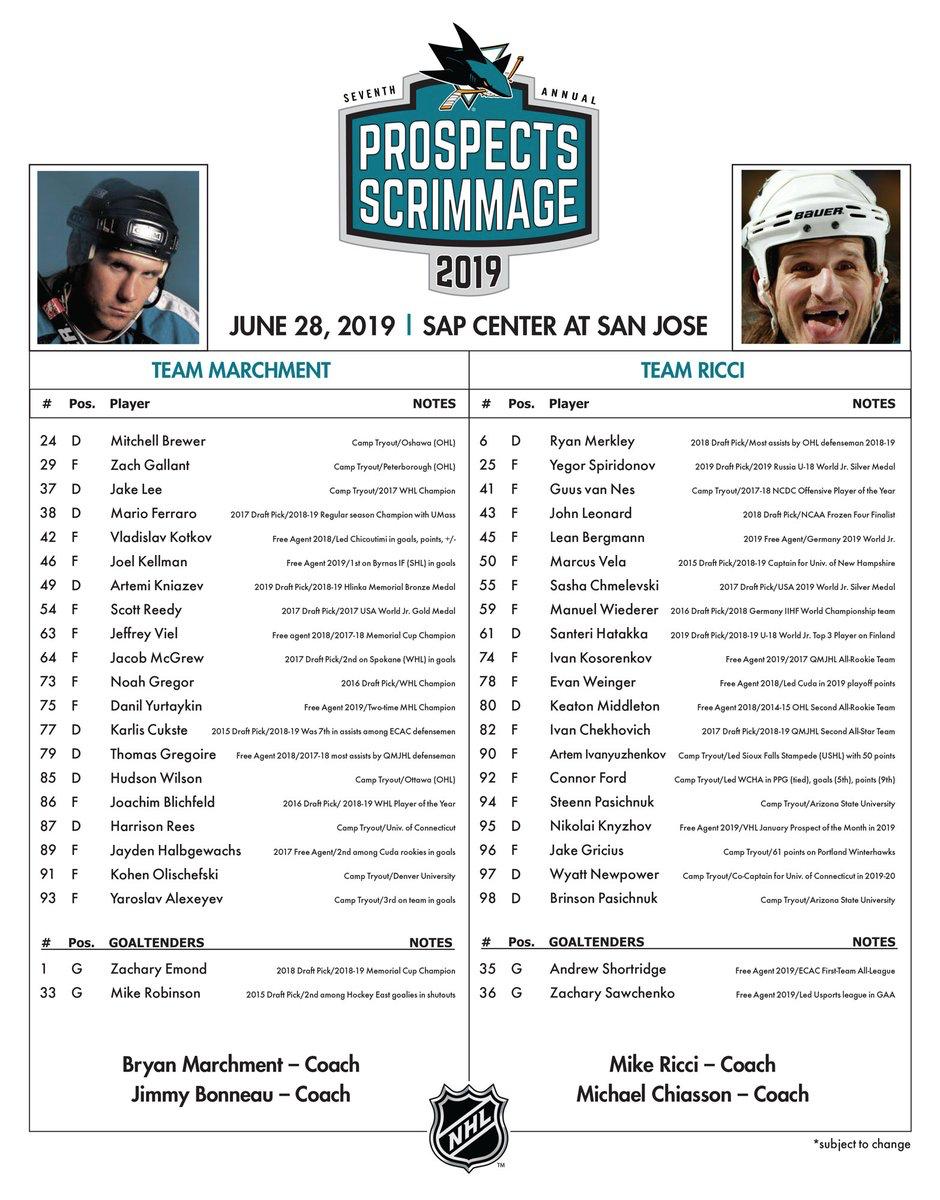 The Sharks 2019 development camp took place in San Jose starting June 25th and culminating in a scrimmage on June 28th. All of the team's top prospects attended with no notable omissions. With the exception of Yegor Ibragimov, all of the 2019 picks were in attendance.
Several Sharks picks from previous drafts are knocking on the door of the NHL and were out to make an impression on Sharks brass at the camp. At the top of that list are forwards Sasha Chmelevski and Ivan Chekhovich. It's not wise read too much into a short camp and a single scrimmage, but Chekhovich has drawn some attention already and looks like he could be NHL ready this fall. 
Undrafted camp invitee, Zach Gallant, made some noise when he dropped the gloves during the scrimmage with newly acquired Sharks prospect Lean Bergmann. His physical play caught the eye of Doug Wilson as he earned himself an entry level deal shortly after camp.
***
Off-season Moves
Along with some notable departures, the Sharks biggest off-season moves were really just resigning their own top players. Erik Karlsson received an eight year deal worth $92 million dollars and Timo Meier re-upped for four years and $24 million.
Kevin Labanc caused a bit of a stir when he signed for one year at just $1 million dollars. This is an absolute steal as Labanc posted 56 points last season and with a bigger role coming he's likely to reach that number again. Clearly Labanc wants to remain a Shark and accepted less than the going rate to stay with the team. He'll be in line for a big raise after next season.
The big story of the Sharks off season are the departures from the team. After re-signing Karlsson the team just didn't have the cap space to keep everyone. Pavelski, who signed with the Dallas Stars, is the biggest name out the door. Joe Thornton has said he intends to continue playing but as of yet, is still without a contract. The team also shipped out Justin Braun to Philadelphia just before the draft. Donskoi, Nyquist and Ryan were the other regulars to depart as free agents. This doesn't bode well for the Sharks depth next season, but for Sharks prospects, many of whom are knocking on the door next season, there are spots up for grabs. It's going to be a very interesting fall as the Sharks look to inject some more youth into their lineup.
Players out:
Joe Pavelski (RW)
Joe Thornton (C)
Gustav Nyquist (RW)
Joonas Donskoi (RW) 
Justin Braun (D)
Joakim Ryan (D) 
Micheal Haley (LW)
Francis Perron (LW)
Cavan Fitzgerald (D)
Cody Donaghey (D)
Tim Clifton (C)
Jonathon Martin (C)
Michael Brodzinski (D)
Rourke Chartier (C)
Alex Schoenborn (RW)
Players in:
Dalton Prout (D)
Tony Sund (D)
Lean Bergmann (LW)
Jeffrey Truchon-Viel (LW)
Jonny Brodzinski (RW)
Zach Gallant (C)
Danil Yurtaikin (LW)
Joel Kellman (C)
Andrew Shortridge (G) 
As you can see there are a lot of fairly significant holes to fill in the lineup, particularly at forward. It looks like there is a good chance Joe Thornton will return on a team friendly deal, but it doesn't appear they are in a rush to get the contract done. Gambrell, who was up and down between the minors last season, should be a lock in the starting twelve. After that, it is anyone's guess but there are at least two and possibly three spots in the opening night lineup up for grabs. Chmelevski, Chekhovich, Suomela and True all have a decent chance to secure a roster spot. 
On defence, the competition is less wide open, however the lack of real depth on the bottom pair suggests there may be some rotation there throughout the year. Look for Middleton to play some more NHL games this season and don't be surprised to see someone like Ferraro get rotated through for some NHL experience.
***
Thanks for reading and I look forward to bringing you more on the Sharks in August and throughout the season. 
Follow me on twitter at @Legg06 for more on Sharks prospects!
Chris Legg
LATEST RADIO & DRAFTCASTS