Prospect PNHLe: Organizational Ranking Metro Division (Part 1)
Mason Black
2019-06-30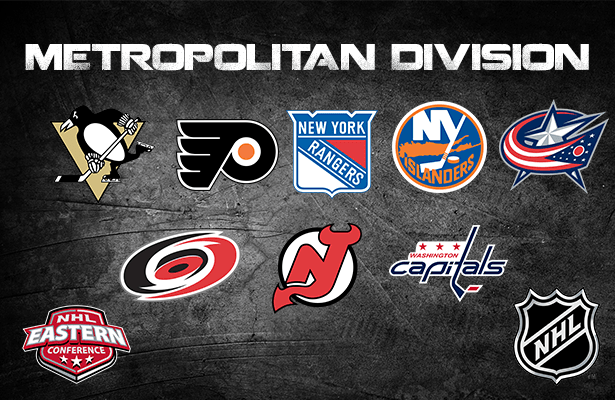 (Photo Credit to Icing.no)
Keeping with the theme of the previous divisional articles, no recently drafted players will be discussed in the following piece. Fret not; I will be ranking the top organizations based on their prospect pools and PNHLe potential in the coming weeks, and you can guarantee the recent acquisitions will play a huge part in those standings.
If you are interested in the previous articles in this series you can find those posts here:
Over the course of a long season, a prospect's point production can swing greatly based on many variables: linemates, usage, time-on-ice, slumps and streaks, only to name a few of the factors. However, the trend that has been developed over the course of an entire season can give great insight into how that production translates to NHL success if a prospect is able to maintain that current point production trajectory.
PNHLe is a stat that looks at prospect point potential at the NHL level based on historical production set by current NHLers from a variety of different leagues. I thought it would be valuable to look at the current rates set by each team's prospects – according to NHL divisions – to give a greater sense of systemic depth.
PNHLe is certainly not a sure-fire statistic that can benchmark a prospect's potential with 100% accuracy, but it should be seen as a piece of the overall puzzle that can help to paint a greater picture of a player's conceivable value and ability. With the number of fantastic writers and scouts already contributing fantastic content at DobberProspects, it is quickly becoming a one-stop shop for all of your fantasy needs. As a diligent fantasy G.M. it is your responsibility to evaluate the greatest amount of information that you can fit into your busy life in order to construct a juggernaut roster based on league settings. The scouting, anecdotal evidence and statistics analysis provided throughout this website can give you a huge advantage over your competition.
I've included the top-10 prospects, based on the PNHLe ranking, for each team in their respective division. In case you are wondering why a player shows up multiple times, if a prospect has played on more than one team, or in different leagues, those PNHLe stats are broken down separately, which may give greater insight into their overall value. Please remember that PNHLe is not a stat that predicts whether a player will make the NHL and should not be used to compare if one player is 'better' than another.
The minimum games played requirement to end up on the list is a maximum of 40 games played for a given NHL before they graduate, however there may be a few irregularities of players that I missed when combing through rosters. It should also be noted that the 2018-19 DobberProspects organizational prospect rank included for each team took into consideration under-21 roster players, in case you are wondering why some teams are ranked much higher/lower than prospect-only rankings. Let us begin.
NOTE: Part 2 will be available Tuesday morning!
Needless to say, a trip to the conference final was not only a surprise for the Hurricanes but also a stepping stone to gain some much needed experience for a young squad. The roster was made up of young talented forwards with speed to burn and one of the most underrated blue-lines in the league. Fortunately for Carolina, not much has changed in their prospect depth chart as many of their top prospects were held away from NHL action to focus on development instead of an immediate return on their puck prowess. Only Svechnikov stepped in as a full-time rookie.
It's a huge reason why their AHL affiliate, the Charlotte Checkers, has had an amazing season catapulting them to the Calder Cup final, and winning the championship. The roster is littered with players that are on the verge of making an impact at the NHL level. Jake Bean, Janne Kuokkanen and Morgan Geekie are all prospects whose names should be regular in fantasy keeper leagues, and were better served playing a significant role while fine-tuning their professional craft. Other notable names played a smaller, but not less important role for the Checkers, and will probably need another season as top-line players as the first group of prospects graduates to the top level next year. Expect Aleksi Saarela, Nicolas Roy (recently traded to the Vegas Golden Knights) and Julien Gauthier to take over at the helm in Charlotte and have a jump in their point totals. At one point, all three were regarded as top end NHL prospects and many fantasy GMs have all but forgotten about them.
Do not sleep on Stelio Mattheos, a personal favourite of mine who has shown exceptional consistency in terms of his offensive upside for the Brandon Wheat Kings over the past four years and looks to have a bright future within the organization.
Often times there is a prospect who's PNHLe does not stack up against his true NHL potential, and Necas is a prime example. The 2017 first rounder's 52 points in 64 games will not jump off the page at you, but there is so much more to his game to like that is suited to the speed-NHL game style. He probably could have played most of the year with the Carolina, but it would have relinquished his exempt status for the Seattle expansion draft. It's a wise decision to keep this future star under team control. Necas does not have anything more to prove in the AHL and should be a lock to be a regular contributor in Carolina next year. The only question is who he will line up with, but with so many young studs he is in a position to rack up points right away and could surprise with a Calder nomination.
You have to respect Blue Jackets GM Jarmo Kekalainen's brass balls for going in at the trade deadline in order to propel them into the playoffs. After an historic sweep of the top regular season team, the Tampa Bay Lightning, Columbus came up against the second best team, and the Bruins were too formidable of an opponent to handle. The cost could be seen for years to come as they lost some top end draft picks and some decent prospects in Vitaly Abramov and Jonathan Davidsson. Just last year Abramov was rated as the Blue Jackets top prospect, but I feel that Kekalainen was able to hold on to his most prized prospect possessions who played in various leagues around the world this season. Alexandre Texier was a somewhat off the radar selection out of the top professional league in France in 2017, but has made huge strides as a prospect since that time. Not only was he one of the better players  for KalPa in the top league in Finland (Liiga), but he also made his way over for Columbus' improbable playoff run as an impact player.
Although he didn't cross the pond with much fantasy potential, defensive defenseman Vladislav Gavrikov is arguably one of the best defenders playing outside of the NHL and could feasibly wind up next to future Norris candidate, Seth Jones, next year allowing him more room to roam and picking up residual points in the process. You may want to target him in multi-category leagues with hits and blocks.
Trey Fix-Wolansky made some serious noise in the WHL playing for the Edmonton Oil Kings after surpassing the 100-point threshold. Ten years ago, his size would have been a limiting factor but he has always seems to find a way to contribute on the offensive side of the puck. He is still a few minor pro years away from making the jump to the NHL, but a player to keep an eye on. Liam Foudy, the Blue Jackets' 2018 first round pick, also had a break out year. He was the most athletic player in his draft year and it's now translating on the score sheet.
Bemstrom completed his phenomenal year in the Sweden doing what most teenagers have failed to do in the past. He led the SHL in goals (23) in only 47 games, and was rewarded with an entry-level contract. Bemstrom was also one of the best players on a strong Swedish world junior championship team, and potted four goals in five games for the Tre Kronor. He is expected to come to North America this year and could surprise in training camp by earning a spot in Columbus, but will more than likely spend some time next door in Cleveland. If you're in a fantasy league that has some sleepy GMs he may be worth an early round pick where the results are a second line player with not much time to wait before he makes an impact in the NHL.
The Devils have some high-end prospects that can provide an offensive punch, and fortunately, many of those come in the form as dynamic defensemen; a much needed area of improvement in New Jersey. Reilly Walsh was buried under teammate Adam Fox's incredible year, but he will need to quarterback Harvard's power play after Fox was traded and signed in Manhattan. Of Walsh's 31 points, 18 came this season on the power play, so this year will be pivotal for him to show that he has what it takes to pick up even-strength points while not playing next to the guy who had the highest points per game average in the entire NCAA.
Jesper Boqvist continued his offensive progression in the SHL and is very close to being NHL ready. However, he has got one more year left on his contract with Brynas so it is either a full-time gig with the Devils or back to Sweden where he will be one of the top players in the SHL.
There were a couple of former first round picks and highly touted prospects that have not been able to make a leap in their progression that both spent the majority of the season with the Binghamton Devils (AHL). During Michael McLeod's rookie professional season he spent a 21 game stint with the New Jersey but failed to make any offensive contribution while averaging just over 12 minutes of ice-time. His numbers were better in the AHL, but not anything that would warrant a 12th overall selection. Similarly, John Quenneville was excellent at times and posted over a point per game with Binghamton, but only produced one goal in 19 games in the NHL. Both players need to redefine their role within the organization. (Quenneville was recently traded to the Chicago Blackhawks for John Hayden in a deal to help kick-start both prospects' potential).
Jeremy Davies signed his entry-level contract after his junior year at Northeastern, and is a defender that has a very pro-ready game. He will never become a top-pairing defenseman but is the type of player that contributes in both ends of the rink. He has been buried behind some exceptional prospect names while playing for Northeastern and is really nice option to stash away for fantasy GMs that are in deep keeper leagues. (Davies was recently a part of a trade, along with Steve Santini and a couple of draft picks that saw PK Subban come to the Devils).
Coming off an exceptional year where the young defenseman went over a point per game with the Spokane Chiefs of the WHL that saw him earn a 17th overall selection by the Devils, you would think there was not much more room for improvement. However, Smith took another step forward in terms of his development and posted 68 points in only 57 games from the back end. He is an undersized defender but is an excellent skater that uses his agility to open up seams in the offensive zone. He could very well quarterback a power play that includes Taylor Hall and Jack Hughes in the near future.
The Islanders had a somewhat quiet, yet great year in the Metro division. After losing their franchise centreman in free agency it looked like doom and gloom on Long Island, but a new GM and phenomenal coach brought stability to the franchise. Trotz was able to take the worst defensive team in the NHL and get buy-in from the entire roster to make their defensive zone one of the toughest to play against. The next few years could see a revamped blue line that starts to contribute more in the offensive zone with the progression of Ryan Pulock and emergence of some great prospects in the system.
After a couple of seasons playing with the USNTDP team, Bode Wilde decided to head to the OHL and test his craft while producing a phenomenal rookie season in Saginaw. He posted 70 points, including 19 goals, in only 62 games on one of the strongest rosters in the league, and will look to improve upon those totals next year.
Oliver Wahlstrom struggled to adapt in his freshman season with Boston College after absolutely torching teams with the USNTDP the previous year. His 19 points in 31 games allow the Islanders to be more patient with his development instead of having Wahlstrom force their hand into finding a roster spot for him this fall. An extra year in the NCAA well help the sniper round out his game, but I would fully expect he will be signed at the culmination of the 2019-20 season.
The Islanders could use a wave of offensive prospects that are pro-ready and capable of landing in a middle-six role in the NHL, but when first round picks (fifth overall) Michael Dal Colle and Josh Ho-Sang (28th overall) still have not made the jump full-time, it delays a franchise moving to the upper echelon of the NHL. 
Islanders fans cannot help but be excited by their top prospect who is a proven winner on the verge of reshaping the teams back end. Dobson is fresh off winning his second consecutive Memorial Cup with the Rouyn Noranda Huskies (QMJHL). At the start of the season, things did not look so good when Acadie-Bathurst dismantled their team after their title run, but a mid-season trade kick-started Dobson's offense and vaulted the Huskies into the number one ranking in the CHL. Dobson is a near perfect all-around defender that should have a long career doing just about everything right for the Islanders, and hopefully your fantasy team
************************
You can read up more on the PNHLe stat, where it comes from, and the methodology behind how the algorithm was created here.
If you are interested in seeing full team rankings, player cards and their stats, a prospect's progression and how their PNHLe stacks up against other prospects, every profile is available in a completely free iOS app that I've created specifically based around fantasy hockey. If you have an iPhone or iPad you can download it here. 
If you have Twitter, please give me a follow @NHLRankKing
Thank you, and I hope you enjoyed.
Mason Black
LATEST RADIO & DRAFTCASTS