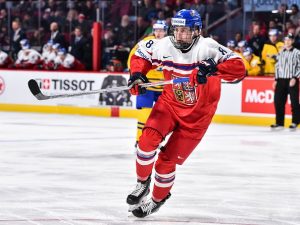 Photo courtesy of Last Word On Sports
Fantasy Summary
Top-line prospect, able to play in all situations.
Observations
Click to Expand

March 2019 – In his rookie season in the AHL, Necas has proven himself worthy of his lofty prospect ranking. In 49 games, the Czech forward has posted 35 points and is tied for third among the Checkers with 26 assists. His nine goals don't jump off the score sheet, but his shooting percentage is at a reasonable 11.4%, so as long as the shot number increase, the goals should follow. He's and elite prospect and could be in the NHL as early as next season. Kevin LeBlanc

May 2018 – Necas had as strong of a post draft cycle as any prospect this season. His performance in both the Czech League and the World Juniors has elevated him as one of the top prospects outside of the NHL. With Carolina desperately in need of a top center with dynamic ability to play in front of Jordan Staal, it's good to know help is on the way in the not too distant future. Adding the number two overall pick to the mix in June's draft will only help Necas's fantasy upside, whether that selection is Andrei Svechnikov or Czech teammate Filip Zadina. Kevin LeBlanc

January 2018 – Necas continues to dominate the World Juniors, helping to carry his Czech Republic team to the semi-finals where they will face off with Canada. In five tournament games, the dynamic center has three goals and six assists, tying him for the tournament lead with Casey Mittelstadt. Necas has shown both speed and skill throughout the World Juniors and has driven play each time he has been on the ice, showing that he is closer to being NHL relevant then thought when drafted in June.  Kevin LeBlanc

June 2017 – The Hurricanes selected Necas 12th overall in the first round of the NHL draft. His skill set is what the Canes tend to look for in players as he is an excellent skater who has good playmaking ability and a high on-ice IQ. He adds to an already excellent prospect group that the Hurricanes have compiled over the last few seasons. Necas is still some time away from making an NHL impact, so watch his development closely over the next couple seasons.   Kevin LeBlanc

March 2017 – Necas is a fast, skilled, dynamic forward with great offensive and fantasy upside. The knock on him is only that he needs to add some size and strength as he is extremely lean at the moment, but is not shy about playing a physical game and competing for pucks in the hard areas. He played well at the World Juniors showing plenty of skill, confidence and leadership as a young leader on the Czech team. He carries the puck with confidence and skill and is not shy about attacking defending players with speed and skill. Plenty of skill with this prospect and a big upside, but needs a lot of development time and could be several years away.
Highlights