Arizona Coyotes – Offseason Prospect System Review
Keith Duggan
2018-08-02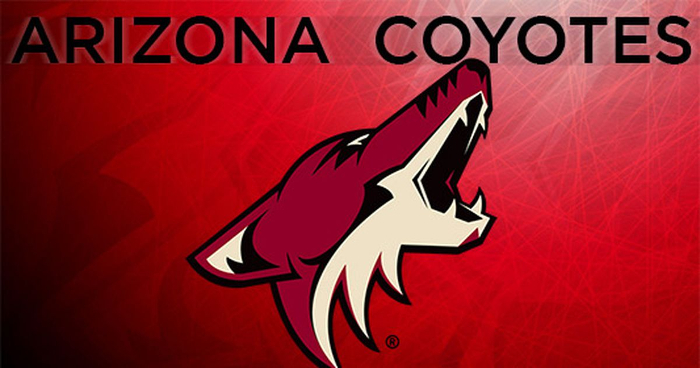 ***
Thanks for joining us for our August 31-in-31 series! Every day this month we will be taking a look at each team and diving into their prospect depth charts, risers and fallers, graduating prospects, and top ten prospects in the system.
***
Offseason moves
It was once again another disappointing season in the desert as the Coyotes finished near the bottom of the standings, but they did give us some optimism though. For most of the first half of the campaign they looked like the front-runners in the Rasmus Dahlin sweepstakes, but the second half was a different story. The Coyotes finished the year with a 17-9 record and looked like an actual competitive team for the first time in a while. So, the question is did the Coyotes just need time to adjust to new coach Rick Tocchet's system or with the season coming to an end and the pressure off did they just play a looser, better hockey? Personally, I think it was a little of both but still it's fun to go into 2018-19 with some optimism.
This offseason continued the trend of General Manager John Chayka rebuilding the team or basically getting rid of anyone that his predecessor Don Maloney had drafted or acquired except for of course Oliver Ekman-Larsson, who was signed to an extension. Fan favorite Max Domi was traded to Montreal for Alex Galchenyuk, giving the skilled former Canadian a fresh start in a less demanding environment. After that Chayka acquired some depth along with young potential breakout players. Michael Grabner was picked up on July 1st from New Jersey giving the team more speed and a solid penalty killer. David Ullstrom and Ilya Lyubushkin were signed from Europe for depth. Hudson Fasching, Robbie Russo, Vinnie Hinostroza and Jordan Oesterle were all acquired and are expected to push for roster spots. Hinostroza could possibly be a dark horse fantasy breakout player.
Chayka also dealt two former top prospects in the organization who were sliding down the depth chart. Kyle Wood and Ryan MacInnis were traded to San Jose and Columbus, respectively, for fringe prospects in return (Adam Helewka and Jacob Graves). With all this new depth basically, it means that roster spots won't just be given to rookies like in the past and that includes Dylan Strome, who's expected to finally be a full-time NHLer in 2018-19. The Coyotes are suddenly deep at center now with Galchenyuk expected to play there this coming season.  With Derek Stepan, Christian Dvorak, Brad Richardson and now Galchenyuk, that leaves Strome as the odd man out. He could shift to the wing or possibly beat out one of those centers but either way Strome will have to play well in training camp or he could possibly end up in the AHL again.
Graduating players
Despite taking some criticism for being one of the three final nominees for the Calder Trophy, Clayton Keller had an outstanding rookie season. He led the Coyotes in goals and points, and by far was one of their most exciting player to watch last year. Along with him, Brendan Perlini and Christian Fischer were also graduated from prospects. I was very close to graduating Hinostroza, who is expected to have a top-six role with the Coyotes in 2018-19, but we'll give that one a little time first.
Russo, Lyubushkin and Oesterle are expected to battle it out for the teams seventh defenseman spot which is good and bad for players like Kyle Capobianco and Jordan Gross. I thought both might make a run for a roster spot with the Coyotes this fall but more playing time in the AHL will be good for their development. Nick Merkley is expected to make a run at roster spot also (see below) and is this finally the year Strome graduates from being a prospect?
Risers
Nick Merkley: Coming in 2017-18, Merkley had little fanfare despite being a first-round pick in 2015. That changed quickly as he had an excellent first season of pro. Merkley really took off playing on a line with Dylan Strome and Lawson Crouse but even when he wasn't playing with them his game was still dynamic. The biggest thing hurting him, literally and figuratively, right now is injuries. Merkley only played 39 games last year (38 AHL, one NHL), missing the whole last quarter of the season and AHL playoffs with a knee injury. He's still expected to make a run at a roster spot with the Coyotes this fall but coming back from that knee injury Merkley could start the season in the AHL.
Kyle Capobianco: Much like Merkley, Capobianco came into 2017-18 with even less fanfare. And just like Merkley, Capobianco had an outstanding rookie pro season. He plays perfectly into the new NHL defenseman: swift-skating, quick transition, moving the puck back up the ice type defenseman. Capobianco was great on the power play for Tucson and had the Coyotes not acquired several depth type defensemen this offseason he very well would have probably made the team this fall. Instead he'll work on his defensive game another year in the AHL but keep an eye on him.
Michael Bunting: Modeling his game after Brad Marchand, Bunting had the pest thing down his first two seasons of pro, but he showed little offense. That changed last year when after starting the year on the fourth line he quickly moved up the lineup, finishing the season on the top unit and as Tucson's leading goal scorer. Bunting will have to clear waivers to be sent to the AHL again and with a strong training camp could possibly push for a fourth line spot with the Coyotes.
Fallers
Dylan Strome: I really do believe Strome is going to be an excellent player in the NHL for a long time. And full credit to the Coyotes for not rushing him either, letting him develop another year in the OHL or as in last season, the AHL. But man oh man is this taking a long time. He showed some promise, registering eight points in the Coyotes last 10 games to finish 2017-18, but in earlier stints with the team Strome struggled. Now the Coyotes are suddenly deep at center if he doesn't show well in training camp, Strome could very well find himself in the AHL once again.
Marek Langhamer: He's posted some good numbers in pretty much every league he's played in, from the WHL, ECHL, up in the AHL and even with a couple quick call-ups and games with the Coyotes. But with Arizona suddenly deep with goalie prospects, he left Tucson to go play in his native Czech Republic. It seems doubtful he comes back at this point pretty much ending his NHL future.
Lawson Crouse: After spending 2016-17 in the NHL with the Coyotes, 2017-18 saw Crouse end up in the AHL. There the Coyotes wanted him to work on being more than just a fourth line energy player. He had a pretty solid season with Tucson and is expected to make the Coyotes again this fall. But it's as a fourth line energy role player making you kind of scratch your head a little bit.
Prospect Depth Chart
Left Wing
Vinnie Hinostroza, NHL
Lawson Crouse, NHL/AHL
Michael Bunting, AHL
Mario Kempe, AHL
Braydon Burke, AHL
Adam Helewka, AHL
Liam Kirk, OHL
Center
Dylan Strome, NHL/AHL
Barrett Hayton, OHL
Tyler Steenbergen, AHL
Laurent Dauphin, NHL/AHL
Lane Pederson, AHL
Nate Schnarr, OHL
Right Wing
Nick Merkley, NHL/AHL
Hudson Fasching, NHL/AHL
Conor Garland, AHL
Jens Looke, AHL
Jan Jenik, ? OHL or Czech
Erik Walli Walterholm, SuperElit/SHL
Left Defense
Pierre-Olivier Joseph, QMJHL
Kyle Capobianco, AHL
Cam Dineen, AHL
Trevor Murphy, AHL
Dakota Mermis, AHL
Jalen Smereck, AHL/ECHL
Kevin Bahl, OHL
Noel Hoefenmayer, OHL
Michael Callahan, NCAA
Patrick Kulda, Canadian University
Michael Karow, NCAA
Right Defense
Robbie Russo, NHL/AHL
Ilya Lyubushkin, NHL/AHL
Jordan Gross, AHL
Filip Westerlund, SHL
Dysin Mayo, AHL
Dennis Busby, OHL
Cameron Crotty, NCAA
Jacob Graves, AHL/ECHL
Ty Emberson, NCAA
Dean Stewart, NCAA
Goalie
Adin Hill, AHL
Hunter Miska, AHL
Merrick Madsen, AHL/ECHL
Erik Kallgren, Allsvenskan
Marek Langhamer, Czech
Ivan Prosvetov, OHL
David Tendeck, WHL
Top Ten Prospects
Dylan Strome, C: While many, including myself, have been frustrated with the slow development of Strome, he's still the Coyotes best fantasy upside prospect. His skating and overall strength have been criticized but Strome's skill and vision are off the charts. I don't think he'll rack up the points right away, but I do believe this is the year he makes the NHL for good. NHL arrival: This season
Nick Merkley, RW: The skillful, gritty right wing showed very well in his first season of pro. Only thing really hurting him is his injury history. NHL arrival: This season but probably starts the year in the AHL.
Barrett Hayton, C: The jury is still out on what kind of offensive production he'll have at the NHL level but almost a guarantee to be in the big show in a couple years if not sooner. NHL arrival: 2020-21
Pierre-Olivier Joseph, D: He needs to bulk up, but the poise and smarts Joseph plays with are already NHL ready. NHL arrival: 2020-21
Vinnie Hinostroza, LW: The Coyotes took on Marian Hossa's contract to get their hands on Hinostroza, who they think is a top six forward in the NHL. Could be a sleeper this season. NHL arrival: This season
Kyle Capobianco, D: Showed extremely well in first year of pro, still needs some work on the defensive side of things though. NHL arrival: 2019-20
Tyler Steenbergen, C: After two dominating seasons in the WHL, Steenbergen now begins his pro career. Plays this season in the AHL but I'm excited to see how he adjusts to the next level and playing without Aleksi Heponiemi. NHL arrival: 2020-21
Cam Dineen, D: He's part of the next wave of NHL defensemen: small but excellent skater who transitions the puck quickly back up the ice. Scored 20 goals and 64 points last season, now on to the next challenge, the AHL. NHL arrival: 2020-21
Lawson Crouse, LW: Since being drafted his offensive potential has been questioned and that has only continued. With more playing time could possibly be a Tom Wilson type player. NHL arrival: This season
Jordan Gross, D: Another one of the next waves of smaller but premier puck-moving defensemen, Gross is older than the others in the Coyotes system after four years of college. Even though Arizona loaded up on depth defensemen, I still expect Gross to make a run at a roster spot this season. NHL arrival: Split between the AHL and NHL this season, full-time next year.
Rookie Camp
Coyote rookies will report to camp at Gila River Arena on September sixth, where they will undergo medical evaluations and fitness testing with an on-ice practice set for September seventh. Then it's off to Vegas where they will take part in a rookie tournament hosted by the Golden Knights. Even though it's coming quick, the Coyotes haven't released their roster for the tournament yet.
Coyotes Vegas Rookie Faceoff schedule
Saturday, Sept. 8
Arizona vs. San Jose — 3:00 p.m. (City National Arena at Vegas)
Sunday, Sept. 9
Arizona at Los Angeles — 3:00 p.m. (City National Arena at Vegas)
Monday, Sept. 10
Practice day, no games.
Tuesday, Sept. 11
Arizona at Anaheim — 11:00 a.m. (City National Arena at Vegas)
Thanks for reading and if you missed it, check out my July 31-in -31 on the Coyotes 2018 draft here. Also, if you missed any other teams write-ups, be sure to check them out too here.
Keith Duggan
Image courtesy of foxsports.com
LATEST RADIO & DRAFTCASTS