USHL update
Kevin Wickersham
2017-11-17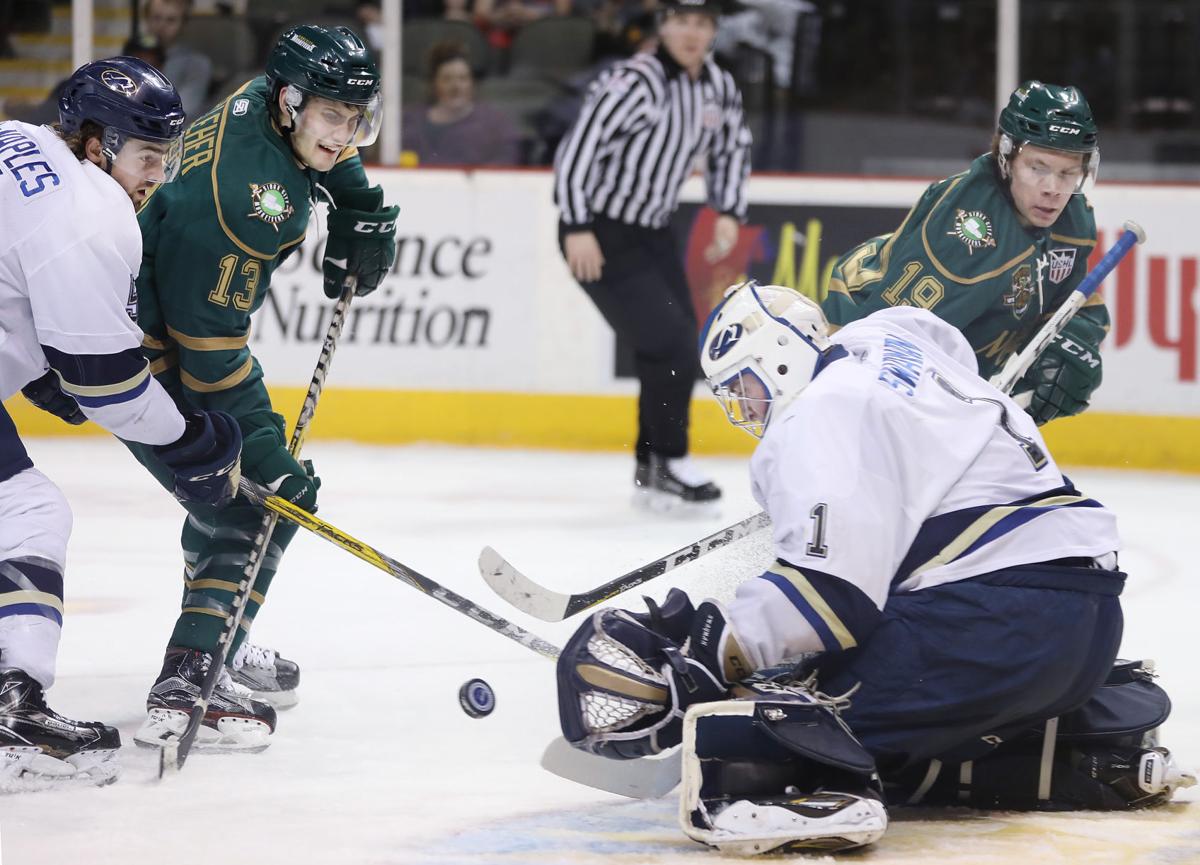 The NHL's "Players to Watch" prospect list came out earlier this week and among the 54 current USHL players selected five were given "A" ratings, considered as first round candidates. Along with 14 "B" and 35 "C" prospects, four Team USA and one Sioux City Musketeer 2018 draft-eligible players top the list.
Joel Farrabe, LW – Team USA
The 17-year-old Cicero, New York native and 2019-20 Boston University commit has 14 goals and 27 points in Team USA play this year. Since they split their schedule between USHL and NCAA opponents as well as a few NAHL squads, Farrabe has skated in just three league games, registering three goals and three assists in that short span. Last year he totaled 31 points with 17 goals in 42 games with the U17 team, 19 points with eight goals in 22 games with the U18 squad, and helped the Americans to the IIHF U-18 World Championships gold medal with three goals and three assists in seven tournament contests. His biggest asset might be his speedy, shifty skating that allows him to accelerate past most defenders and makes him deadly in the open ice. Coupled with deft playmaking ability and on-ice awareness it's not hard to envision him going in the mid-first round or earlier this June.
Sampo Ranta, RW – Sioux City Musketeers
Ranta's taken great strides with Sioux City this campaign. After six goals and three assists in 30 Musketeer contests suiting up with Eeli Tolvanen last year, he's upped his production to five goals and three assists in 11 contests thus far. Ranta's not huge at 6-01, 192 but the Finnish-born wing possesses a hard and heavy shot along with excellent skating skill. He's slated to attend the University of Wisconsin next year. UW Badgers' assistant coach Mark Osiecki describes him as a growing "power forward who is strong over the puck and has a good hockey IQ." His recent development has seen him rise from a previous "B" Central Scouting ranking to his current "A".
Mattias Samuelsson, LD – Team USA
Samuelsson is huge for a 2018-eligible prospect standing at 6-04, 216-pounds. The New Jersey-born son of Kjell Samuelsson is a tough, left-shot defender with superb fundamentals and an expert understanding of the game and his role in it. He likely won't put up huge offensive numbers as he develops. His rookie, 2016-17 totals were six goals and ten assists in 47 games, and he's off to a four-goal, five-assist start in 16 games, so he can be dangerous. But his bruising play in slowing opponents stands out most. A 2019-20 University of Michigan commit, it looks like it will be a while before he turns pro, but he'll likely be a good get for a franchise willing to wait.
Oliver Wahlstrom, C – Team USA
Wahlstrom is on fire this campaign with 12 goals and 12 assists in 17 contests thus far. That includes four goals and three assists in USHL competition, and represents a big jump from his final 24-goal, 16-assist, 63-game Team USA campaign as a rookie last year. If not the best, he's among the best 2018-eligible stick handlers, and a very crafty skater that can deke goalies and defenders, in heavy traffic no less, with the league's most elusive. This helps his playmaking, as he's adept at drawing attention and patiently hanging on to the puck until teammates get open and in good position. A pinpoint passer with an accurate wrister, he may develop into the complete offensive package in the pros. He'll be hitting the ice with Harvard in 2018-19, where their solid and successful program should advance his growth nicely. Consistency his been a bit of an issue in the past and could bring his draft stock down slightly, but if he continues on his current pace expect a mid-first round selection or better.
Bode Wilde, RD – Team USA
Wilde is a bit of an anomaly as a Montreal-native playing for Team USA where he's displayed an excellent two-way game on the right side of the blue line. Thus far he's registered three goals and ten assists in 17 contests against all competition, with no goals and two assists in three USHL tilts. Again we have big gains from a prospect in his second USHL year – 2016-17 saw him land a relatively modest eight goals and 11 assists in 57 games. He's an extremely smooth skater, especially considering his large and growing 6-02, 194-pound frame, which helps him keep the front of the net clear and win tough board battles, and doesn't hurt his cannon shot from the point. Wilde can move the puck well and get it to teammates up-ice in stride and quickly.
Showing their dominance in the USHL landscape, Team USA obviously dominated the upper crust of the prospect list as they did through its entirety. With 17 prospects in total, their squad by far is the most widely-represented. The Lincoln Stars, Muskegon Lumberjacks and Sioux City Musketeers tied for next-most with four selections each.
Follow me on Twitter @KWcrosscheck
LATEST RADIO & DRAFTCASTS