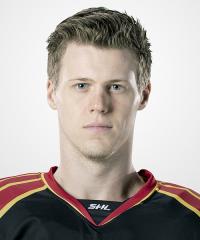 NHL.com
Fantasy Summary
Above-average hockey sense has led to experience on both special teams. He handles the puck well and has good hockey ability overall.
Observations
Click to Expand

May 2020 – Olund has been placed on unconditional waivers and will have his contract terminated by the Penguins. Clare McManus

May 2020 – Played this season on a loan to Brynäs IF of the SHL while remaining under contract with the Penguins. This season, he scored four goals and added 10 assists for 14 points in 49 games. His decision to play the season in the SHL reflects upon wanting to develop more as well as receive more ice time. Clare McManus

February 2020 – With just three goals and seven assists in 40 Swedish Hockey League outings, the two-way forward is not starring in his fourth SHL campaign with Brynäs IF. However, his points-per-game pace is right in line with what he accomplished in 61 AHL appearances the previous season. It remains to be seen if Pittsburgh will give him another shot in North America or loan him again to a squad in his homeland for 2020-21. Mark Allan

June 2019 – After the North American first-timer scraped his way to 15 points in 61 AHL games with Wilkes-Barre/Scranton, Pittsburgh decided to loan him back to Brynäs IF. A skilled two-way forward, Ölund has just 39 points in 116 outings against the men of the Swedish Hockey League, although 15 points in 29 SHL playoff appearances is cause for some guarded optimism. The 22-year-old has two seasons left on his NHL entry-level deal. The Penguins will let him marinate in Sweden until they feel he's ready to return to the AHL. Mark Allan

May 2019 – Six goals and nine assists in 61 AHL outings is not exactly a North American pro debut to rave about, but crossing the Atlantic as well as dealing with an alien culture and a foreign style of play are no small challenges. Two game-winning goals must have provided at least temporary boosts to his confidence. His sophomore campaign with Wilkes-Barre/Scranton will tell much more about what kind of player and what kind of person the young Swede is. His entry-level contract gives him time to develop. Mark Allan

March 2019 – The young Swede's rookie pro début is largely unremarkable, although there are some positive signs beyond six goals and eight assists in 52 appearances. Two game-winning goals, two shorthanded points and a 15 per-cent shooting percentage (fifth on the team among players with at least 15 games played) are promising. Maybe he should shoot more. Mark Allan

November 2018 – As is often the case with young European players, Ölund is feeling his way around the AHL in his North American pro début. He'll improve on his one goal and an assist in his first eight games, but this campaign will be educational not sensational. Mark Allan

September 2018 – One of a dozen forwards dispatched by Pittsburgh to the AHL at the same time, the young Swede will try to translate his extensive experience back home into North American pro success. He'll likely need a period of adjustment. He didn't register any points in 12:10 of his lone NHL pre-season appearance. Mark Allan

July 2018 – The 21-year-old stuck with the Swedish Hockey League post-season instead of coming over for Calder Cup play. Outperforming his 51-game, 23-point regular schedule for Brynäs IF, the skillful two-way center posted two goals and three assists in five playoff contests. Playing in his nation's elite league has prepared Ölund to play against men, but the Penguins will be interested to see how he makes the transition to a new league, smaller rinks and a radically different culture. Mark Allan

April 2018 – As is often the case with signings these days, Pittsburgh inked the young Swede to a three-year, entry-level deal with an annual average value (AAV) of $925,000, a contract that doesn't kick in until next season. In the meantime, the Wilkes-Barre/Scranton Penguins signed the skillful two-way forward to an amateur tryout agreement for the 2018 Calder Cup playoffs. He joins Pittsburgh's AHL affiliate as it continues a first-round series against the Charlotte Checkers. Although he understandably has performed better against opponents his age (i.e. 17 points in 12 2016-17 SuperElit junior games with Brynäs, he compiled six goals and four assists in 20 SHL games in the 2017 playoffs, topping all junior-aged players in scores. Proving that was no fluke, Ölund had two goals and three assists in eight SHL post-season outings this season. That followed personal bests of 51 games played and 23 points in the Swedish Hockey League regular schedule.
| Attributes | |
| --- | --- |
| Fantasy Upside | 4.5 |
| NHL Certainty | 0.5 |
| Country | SWE |
| Position | C |
| Roster Type | Free Agent |
| Shoot/Glove | Left |
| Date of Birth | June 5, 1997 |
| Height | 6'0" |
| Weight | 185 lbs |
| Drafted | 2017 Round 5; Overall: 155 |
| | |
Highlights