Prospect Ramblings – Pump the Brakes
Pat Quinn
2023-10-05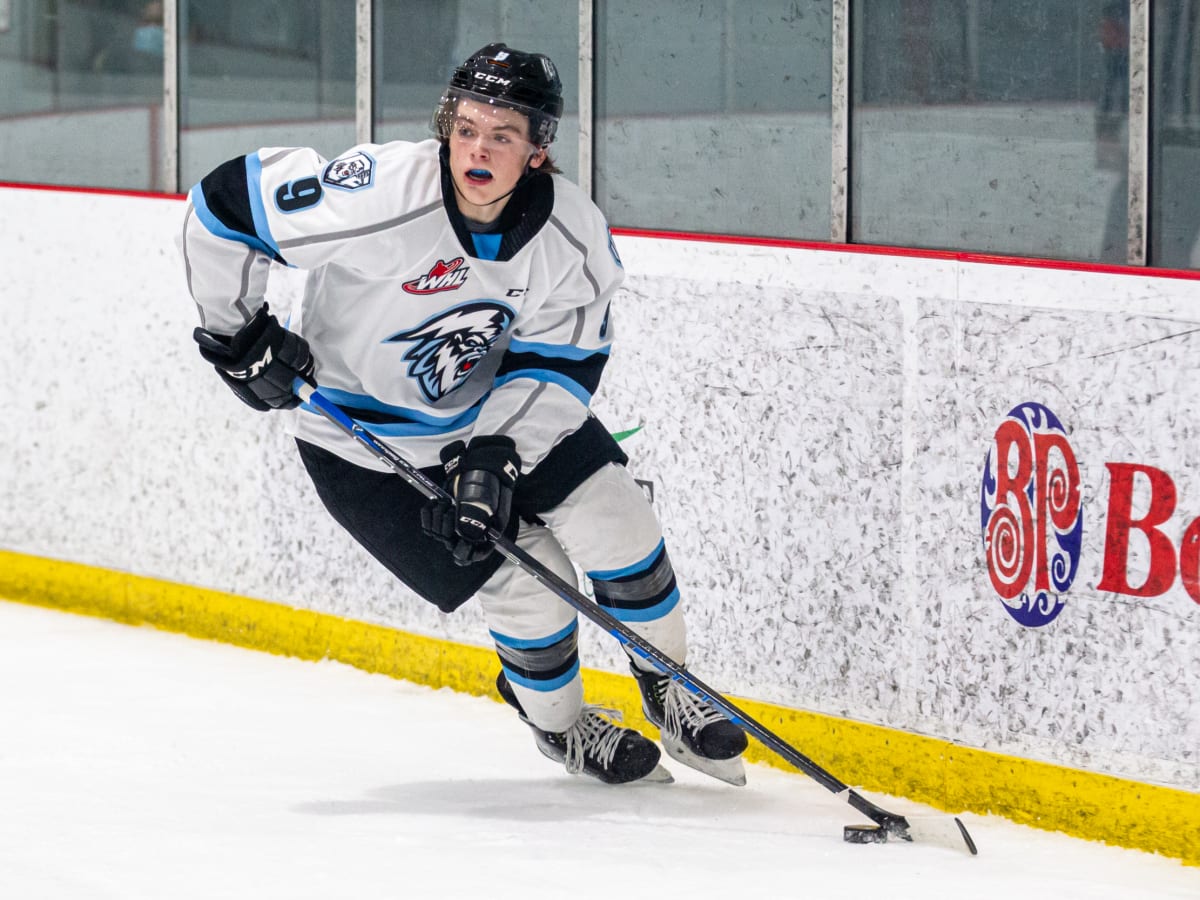 ***
Welcome to the Thursday Prospect Ramblings. I have decided to write some very spicy takes for all keeper league owners or one-year league drafters. Feel free to bookmark this, as I could be 100% wrong about everything.
There have been quite a few prospects hyped up this off-season, and in exhibition play, while they are great longer-term adds, immediately (I believe) they will not help your team much.
***
Let us first recall the top exhibition player and my frequent example of preseason hype, Brandon Bochenski in 2005-06. Bochenski lit up preseason on a line with Jason Spezza and Dany Heatley in Ottawa to the tune of nine points in five games. Don Cherry said he was a shoe-in for the Calder that year. He ended up scoring 13 points in 20 games and was sent down to the AHL for the rest of the season. He never grabbed a line-up spot after this and eventually retired. This was a lesson for all in one-year and keeper leagues.
Side note: Brandon Bochenski is currently the Mayor of Grand Forks, North Dakota, which seems pretty cool. Government site here https://www.grandforksgov.com/government/city-leadership/mayor-bochenski
There are a few players that I believe are being hyped to the moon, and I believe there is one major hurdle standing in all their ways. It is called the dreaded "Contract" and it looms over these players from other players on the roster and the salary cap. 10 NHL teams currently have over $2M in cap space, with six of those teams having over $4M in salary. There is not a lot of wiggle room on any teams. Many players will not get claimed, and trades right now are pretty much non-existent.
***
I am going to start in Buffalo:
Zach Benson
He has been incredibly impressive, and I agree! Looking at the Buffalo CapFriendly page, and they could fit him in the lineup, but then that brings up a lot of questions: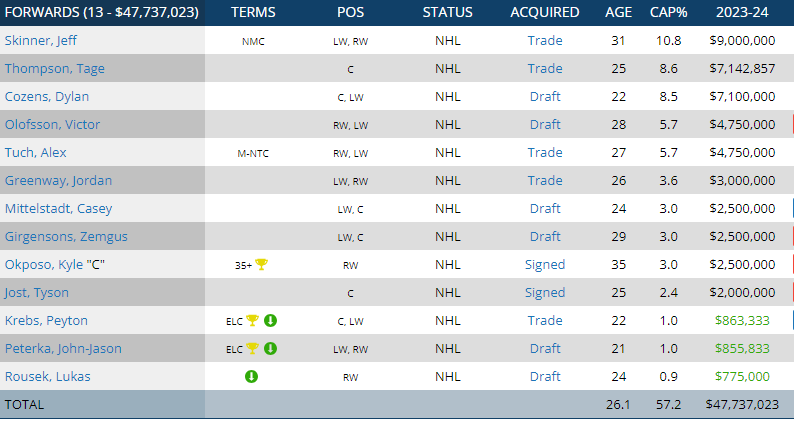 Who sits regularly? Jost? Krebs? Olofsson?
Will he play in the top six? We all know the Skinner, Thompson, and Tuch line has very high odds of being Buffalo's top line once the season starts.
Then, will he play the 2L RW spot until Savoie is healthy? It is reported that they want to give Savoie some games and not send him down to the WHL right away. Do they just send Savoie down? What happens when Quinn comes back?
Will they waive Brandon Biro and Brett Murray? Biro is one that the organization has had a soft spot for, for a while.
I think the lineup works against Benson here. However, I do think he has done enough to get nine games in the NHL.
If you are in one-year leagues, I would not draft. If you are in a deep league and want to risk it, go ahead if he does make the team full-time and you draft him later it will be worth it. You do not want to be the person who reaches for him, and gets nine games out of him, then are stuck with him all year getting no points.
*
Devon Levi
Now is where it seems like I am picking on Buffalo! Everyone expects Levi to be the Buffalo starter, so much so that he is being drafted insanely high in one-year leagues! There are a few things working against him, besides him being waiver-eligible, and one of Comrie or UPL surely being lost on waivers.
When was the last time a goalie went from the NCAA to straight NHL starter? Ryan Miller didn't even get the starters role until two years after he was done. Last time might have been the Hextall era of goalies
The most games he has played in one league is 37. College players usually hit a wall in the NHL grind. Do you want the pressure on Levi to help Buffalo make the playoffs while he is burned out?
I think the smart play is to give him all the AHL starts. Let him deal with the difficulty of the pro leagues and face those ups and downs first in the AHL. I am probably erring on the side of caution here. Levi is just 21, when was the last time such a young goalie became the starter?
Now, if UPL and/or Comrie both really stink, then Levi will for sure come up and start, but Buffalo is a team that will also be able to outscore bad goaltending, so it will have to be pretty poor play over a long period. Each has one year left of their deals; they can surely be lost to waivers. Then, if Levi and the other faulters, what does Buffalo do?
I have all the faith in Levi being a top own for fantasy goalies down the line, but immediately I will let my fellow poolies draft him. Now if he opens the NHL as the starter and kicks butt this year, good for him and good for the poolie that drafted him. I will stick with known goalies in non-murky situations.
Leaving Buffalo alone for now
*
Dustin Wolf (CGY)
Wolf shines everywhere he goes. The issue for Wolf taking over is that the Calgary Flames have six million reasons until 2025-26 to not make that happen, it is called a Markstrom. Markstrom has played well so far this preseason, especially compared to last season, with a 0.917 save percentage and won both of his games. Wolf has played alright, with a 0.860 sv% with lesser line-ups in front of him.
Flames fans seem to want Wolf to make the roster and split with Markstrom. Markstrom plays better when he plays  a lot in a row, so I doubt that would happen. The idea out there in the Twitterverse seems to be that the Flames should just waive or trade Dan Vladar. His $2.2M salary would only fit on six teams, unless the Flames want to retain or take a contract back. There is also the case that all other teams have the goaltending secured. Also: No, Tampa will not take Vladar as they have no cap space; even with Vasilevski on LTIR, as what do they do when Vasi is back?
The Flames will roll with Vladar as the backup; and Wolf will re-dominate the AHL. Does anyone really want Wolf on the bench for 60-65 games instead of playing as much as he can in the AHL? It is much better for his development, especially at 22, to just play as much as he can.
With the cap increasing next season and Wolf likely having another great AHL season, he will for sure make the roster next year.
*
Logan Stankoven (DAL)
I know Dallas put Wyatt Johnson on the team last year; well, he put himself on it, but there was room for a young player to make it, especially at centre. Now though? The team ADDED Matt Duchene and Craig Smith, kept Evgeni Dadonov, and signed Sam Steel for depth. There is sadly no room for Stankoven, even with his five points in four games.
The Stars have a team full of 13 contracts, as there is no chance they put Johnson in the AHL. Matej Blumel is older and may get called up ahead of Stankoven as well. Look to him more next year, or even the year after.
*
Easton Cowan (TOR)
I have seen his name pop up a lot this preseason. The coach likes him as he is still in training camp, but just look at Toronto's line-up, and then look at the team's cap, and how does he fit? Toronto is in the LTIR territory for cap, so they have to be smart with the room they have. No chance they waive a Lafferty. The team would want assets unless it is the last option available.
This team is looking to fit Nick Robertson on the roster, so much so that Pontus Holmberg will likely be sent down. As much as Cowan has impressed, there is really no room at the Inn in Toronto.
****
Those are the names I have heard the most so far; if there are others, let me know and I can give my thoughts.
I did want to highlight a couple players who have the opportunity and are likely going to make their teams. There is still a risk of being sent to the minors though, so draft with caution.
Mackie Samoskevich (FLA)
After the team's run to the Stanley Cup finals, they largely brought back the same team at forward. Did anyone think that Samoskevich had a chance to make this roster? He looks to have sewn up a top-six spot alongside Sam Bennett and Matt Tkachuck. This will surely bump Nick Cousins down to line four. The Panthers will be a very deep team at forward if he makes the team. This will also mean that the team will likely put Grigori Denisenko on waivers. It is crazy to me how he just never took the next step in North America.
I do have them missing the playoffs, barely, but that is mainly because of the losses of Ekblad AND Montour. If one or both come back early, I think they can sneak in again, but if both are out until January, I do not see it.
*
Roby Jarventie and Jiri Smejkal (OTT)
Jarventie was a player I had always liked, but it feels like he had been drafted forever ago, and many keeper owners may have given up on him. He really is looking good this preseason, and he looks to have a roster spot available for him.
Jiri Smejkal is a 26-year-old signee from the SHL, as he has played all over Europe and is now giving the NHL a chance. He appears to have impressed the Ottawa coaching staff so much that there is talk he will be in the lineup.
Let us not talk about how Ottawa is so against the cap ceiling; they cannot sign Shane Pinto though.
***
That is all. Thanks for reading, follow my Twitter/X (for as long as it exists), and feel free to argue with me here: @FHPQuinn
And follow the DraftCast too @DobberDraftCast
LATEST RADIO & DRAFTCASTS