Prospect Ramblings: WJC Prospect Flipping
Pat Quinn
2023-01-05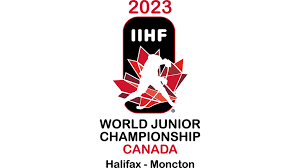 Welcome to the Thursday ramblings. One key to consistently winning your keeper leagues is to pick up the hot prospect and trade them for an upgrade to finish your season. What better way to grab a hot prospect than a player on the waiver wire who is lighting it up at the World Junior Championship.
If you have room to take some flyers on players pre-WJC then do it, but there is nothing wrong with adding a player in the middle or after the tournament and flipping them to a roster upgrade. Obviously, you do not trade your top prospects (i.e., David Jiricek or Logan Cooley) but your grab the under-valued prospect who may or may not ever make the NHL.
Two names that stand out the most right now:
Stanislav Svozil, D – CBJ (5% owned on Fantrax)
Svozil has looked great at this tournament, with large portions outshining top prospect David Jiricek. He is a great prospect who the Blue Jackets snagged in round three with pick #69 (nice). He was a legit late first/mid-second round selection, like a lot of players in the 25 to 70 range. One thing about him though is that he will not be a scorer on a team that currently has Zach Werenski manning the 1PP, Adam Boqvist (who cannot stay healthy but still has 1PP upside), Jake Bean, Nick Blankenburg, Corson Ceulemans, Denton Mateychuk, and fellow countryman David Jiricek all ahead of him.
If he can stand out in the gold medal game, then look to flip him ASAP.
Thomas Milic, G – Undrafted x2 (1% owned on Fantrax)
Milic was passed over twice in the NHL draft after NHL GMs did not want to take a late round chance on him. His performance at the WJC is turning heads and will likely see him either get drafted in 2023 or signed to an ELC immediately afterwards. He may turn in to a legit NHL starter, but considering how long goalies take to develop, and if they can get a legit chance, it would be much smarter to look to trade him. Hopefully, he puts out another strong performance in the gold medal game to boost his value.
A small theme you may notice is that half of the players play on Czechia. That is not to disrespect the Czech's play at this tournament at all, they are great to watch and a very well put together team.
Canada also beat the USA to go to the Gold medal game, in case there are any American readers reading this and forgot
Gabriel Szturc – Undrafted 2022 (0% owned on Fantrax)
He was passed on at the 2022 draft but he will surely get a late round flyer this draft. He plays in the WHL, so it was very surprising when he was not selected, and has improved his statistics this season for the Kelowna Rockets. He sits tied with Jiri Kulich in points at the top for the Czech squad, eight points in six games. There could be a skilled middle-six winger here, but he could also be turned in to a better NHL player on your keeper roster.
Ludvig Jansson, D – FLA (1% owned on Fantrax)
Sweden did not look overly good in this tournament but they had some large issues on the back end, mainly an injury to Mattias Havelid and Simon Edvinsson remaining with the Grand Rapid Griffins. Jansson stepped up for Sweden on the back end, and recorded a very impressive eight points in six games. If you can flip him, do it.
Red Savage, C – DET (2% owned on Fantrax)
Savage, in a depth role, played very well for team USA with five points in six games. However, as everyone knows Savage will be either a bottom six NHL player, or a very good AHL player, when the dust settles. If you know a big Team USA fan who cannot get the big names on the squad, perhaps offer up Savage in a small roster upgrade. It could win you your pool.
David Spacek, D – MIN (2% owned on Fantrax)
Spacek is kind of in the same boat as Svozil but with less players in front of him for a scoring role. He is also not a large scorer in his own right, so I would not expect him to be a PPQB on any team in the future. He could likely develop in to a strong #3-#5 defenseman, yet if you can convince a fellow keeper GM that Spacek is the future of the Minnesota blue line then go ahead and flip that asset.
Thanks for reading, follow my twitter: @FHPQuinn
LATEST RADIO & DRAFTCASTS