Prospect Ramblings: Highlighting Rookies from the Atlantic Division
Curtis Rines
2022-12-17
There have been plenty of impactful rookies around the league this season. Each division is spoiled with young talent, and in this week's Prospect Ramblings, I wanted to highlight the Atlantic Division rookie class. 
Only some rookies or teams will be included in this list, but I wanted to give my quick thoughts on most of the top ones so far in the 2022/23 season. Teams like Buffalo, Ottawa, and Montreal have had multiple standouts, while Boston and Florida don't even have one. But, without further ado, let's take a look. 
—
Buffalo Sabres: Owen Power (LHD), Jack Quinn (RW), J.J. Peterka (LW)
Although Buffalo has tailed off after a hot start to the year, their rookie class has been outstanding thus far.
Owen Power, the 2021 first-overall pick, is playing 23:37 minutes a night, second on the team behind Rasmus Dahlin. He has been a minute muncher for the Sabres while being solid at both ends of the ice. His offense hasn't exploded in any way, but he is providing positive offensive impacts while he is on the ice.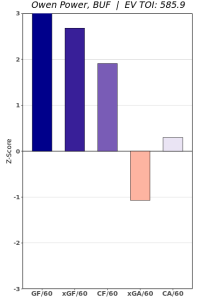 By looking at EvolvingHockey's table above, his defensive game still needs a bit of work, but for a rookie playing heavy minutes against tough competition, that is still very impressive. Power ranks first in xGF/60 (3.1) for Buffalo blueliners but sixth in xGA/60 (2.81). As he cleans up his game in his own end a bit, Power should become a two-way force on the Sabres' back end for years to come. 
Upfront, Buffalo has been able to inject two impactful wingers into their top six in the form of Jack Quinn and J.J. Peterka. 
Quinn, 21 years old, was a dominant junior scorer, scoring 52 goals in 62 games in his final season with the Ottawa 67's. After some doubt about his ceiling, he silenced many doubters after a 61-point season with the Rochester Americans in the AHL last year. As a former eighth-overall pick, Quinn has a lot of expectations surrounding him, and so far, he has been excellent.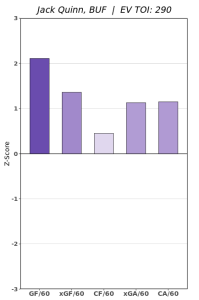 Quinn has been solid at both ends of the ice for the Sabres. With 17 points in 25 contests, he is producing at a 56-point pace while ranking fourth in xGA/60 (2.29) for Buffalo forwards. Quinn came out of the draft being seen as more of a trigger man by the general public, but his development into a much better two-way forward is more than the Buffalo front office and coaching staff is more than they probably expected of him. 
On the opposite side of the second line is the young German winger, John-Jason Peterka. The 2020 34th overall pick is a blast to watch for Sabres fans and neutral viewers around the league. He is a fluid skater with excellent puck-handling and playing abilities which means there is always fun to be seen when he is on the ice. 
He has found an outstanding level of chemistry alongside Quinn and Dylan Cozens on the Sabres second line. With 24 goals between the trio, they have scored 20.17% of the Sabres' 119 goals for so far this season. This is all while being an excellent line analytically wise with an xGF% of 60.70%. 
If Buffalo can slowly solve their depth issues over the next season or two, they will be a dangerous team with the young pieces they have in place. Their core of Power, Dahlin, Cozens, Quinn, Peterka, and Tage Thompson, is a scary one to watch now and for the future. 
—
Detroit Red Wings: Jonatan Berggren (LW/RW)
Even playing just under 13 minutes a night for the Red Wings, Berggren has been a solid secondary scorer in that forward group.
The 22-year-old Swedish winger has scored four goals and nine points in just 16 games of play this season. His development was a longer road than some had hoped for the 2018 33rd overall pick, but he has worked hard to improve his game.
His solid shot and refined playmaking skills give him the toolset to be an excellent complimentary winger in Detroit's top nine. Head Coach Derek Lalonde is even starting to give him a bit more to work with as Berggren earned a promotion to the team's first line. 
Berggren will be one rookie to watch as the season goes on to see how his production holds up down the stretch, but Red Wings fans have loved him so far, and they hope he can become a mainstay in the red and white. 
—
Montreal Canadiens: Kaiden Guhle (LHD), Jordan Harris (LHD), Arber Xhekaj (LHD)
It is difficult to talk about just one of Montreal's rookie blueliners when that has been a critical storyline for Le-Bleu-Blanc-Rouge in the 2022/23 season. 
After the departure of Jeff Petry and early season injuries to Michael Matheson, Joel Edmundson, and now David Savard, Head Coach Martin St. Louis had to turn to his young guns to pick up the slack. So far, it has gone about as well as you could've asked for. 
Kaiden Guhle, Jordan Harris and Arber "Wi-Fi" Xhekaj have all become regulars in the lineup for Les Canadiens and have looked solid doing so. 
Starting with Guhle, he is playing over 20 minutes a night on the Habs top-pair, even playing on his off-side to do so. He has struggled to generate chances at 5v5 with a low xGF/60 of 2.11, but when he is playing against other teams' top lines on most nights, his defensive game comes first. 
Harris has been a solid piece in Montreal's top-four so far. His advanced stats come back a bit better than Guhle's as well. This is influenced by playing lesser competition, but it is still a positive sight to behold for a rookie d-man playing 18 minutes a night.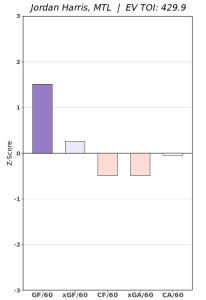 Unlike Guhle, Harris has been closer to the league average when driving offense at 5v5. His xGF/60 is 2.51, which ranks third out of the team's blueliners, and his xGA/60 of 2.64 is second. Although Guhle is arguably a more prominent name to most, Harris has been as solid as can be for the Habs through the first third of the season.
Finally, we have one of the most talked about rookies, Arber Xhekaj. The undrafted rookie has become a fan-favourite to the Montreal faithful due to his physical nature on the ice and his can't-miss personality. The 6'4" defenseman leads Montreal in hits with 89 (which also ranks 17th in the entire league.)
All three of these young defensemen have impacted a young Habs team in different ways, and they project to be the future of that blue line. Although Montreal has struggled at times this season, the influx of youth up and down the lineup has made them one of the most fun team's to watch in the entire NHL. 
—
Ottawa Senators: Jake Sanderson (LHD), Shane Pinto (C)
Ottawa has been underwhelming compared to their pre-season projections, but at least their rookies have exceeded expectations.
Jake Sanderson has already become a reliable blueliner in the Senators' top four. Playing 21 minutes a night, he is the second-most used defenseman on the team behind Thomas Chabot. Like Owen Power, Sanderson ranks fourth in xGF/60 (3.01) for all rookie defensemen but ranks close to the bottom in xGA/60. 
Due to the competition, he faces game to game, which makes sense. As he continues to mature as an NHLer, you should see his xGA creep down. It also does not help that Ottawa has been a bottom feeder, as previously mentioned.
Upfront, Shane Pinto has been thrust into the top six after the losses of Josh Norris and Tim Stutzle due to injury. With ten goals and 14 points through 29 games, Pinto is tied for eighth in rookie scoring. He has also been solid defensively with an xGA/60 of 2.51, good for fourth in forwards on the Senators.
Between Pinto and Sanderson, the Sens have got solid contributions from their rookie class, and as the team gets healthy, they will look a lot better from top to bottom. Although this season is a lost cause, the transition into 2023/24 should look much smoother. 
—
Thanks for reading! Follow me on Twitter @curtis_rines for Nashville Predators prospect content and more! (Thanks to EvolvingHockey for the charts used in this article!)
LATEST RADIO & DRAFTCASTS