September 32-in-32: Philadelphia Flyers
Pat Quinn
2022-09-27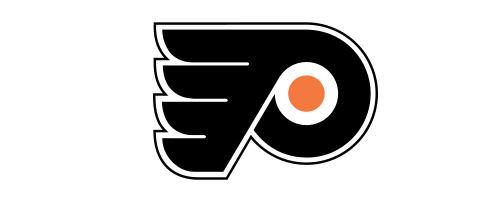 Welcome to the September 2022 edition of the DobberProspects 32-in-32 Series. This month, we are diving into the depth of each organization, looking at their recent graduates, risers, fallers and top-20 prospects. 
The Flyers are coming in to the 2021-22 season looking like they will be a team at the bottom of the standings with the uncertainty of top line centre Sean Couturier's back, top defenseman Ryan Ellis missing all of the season (and possibly his career), top young players Joel Farabee and Bobby Brink, and the team's inability to bring in help up front. The Flyers' big off-season moves were bringing in Tony DeAngelo and John Tortorella, the former will help on offense but not on defense and the latter will help with defense and will spread out the offense.
Additionally, the team is hoping Torts' system helps to fix what seems to be wrong with Carter Hart as they really did not bring in veteran help in case he faulters again. This team is highly-likely already not a playoff team as the top eight in the East from 2021-22 are not changing, in my opinion, but will they at least contend for the playoffs or faulter all year.
Graduates
Felix Sandström, G
Sandstrom signed a two-year deal, with the second year being one-way and is likely to be Carter Hart's back up after two seasons in the AHL, a season in the ECHL, and five NHL games in 2021-22. He has been an overlooked goaltending prospect for years while performing everywhere he has gone. This may be the worst season for him to attempt to become an NHL goalie as Philly may be very bad, but there is also an opportunity for him to shine and become the #1 Goalie.
Owen Tippett, RW
Traded for ex-captain Claude Giroux Tippett could never hold on to a permanent spot in Florida. In Philadelphia, he has a chance to stick just on the basis of him being the asset returned in the trade. Tippett is a good young player, but it wills till be a few seasons before we see the point totals impress for this young power forward.
Cam York, D
York started the year in the AHL, was called up in January, sent back in February, and then he was called back up in March and never left. It is pretty safe to say he will be in the NHL for the Flyers. The only knock will be that he will not get the prime #1PP minutes, unless DeAngelo gets hurt, which has happened before
Noah Cates, LW
Cates was signed by the Flyers in late March 2022 and played in 16 NHL games to end the season. After four seasons in the NCAA Cates will either be in the AHL or NHL.
Risers
Zayde Wisdom, C
Wisdom ended 2020-21 requiring shoulder surgery August 13, 2021, and came back November 27 to the OHL's Kingston Frontenacs. His year on paper did not look that great, with 38 points in 43 games, but a majority of his points coming from February onwards once he got back in to the rhythm. In 11 playoff games he had 15 points, but 11 of those were assists, and really he has not had a big goal scoring year since his only real one in 2019-20.
Yegor Zamula, D
The only thing that has been holding Zamula back from the NHL roster is that the Flyers keep putting large one-way contracts ahead of him. Not to mention York being a 1st round pick, and those usually get the extra push when it comes to it. There is still a chance Zamula can make it, but it would be in a bottom-pairing role if the Flyers decide Braun is the 7th defenseman. Expect him to make it full time later in the year. Why is he under "risers" though, because this kid is done with the AHL already, especially after registering 29 points in 58 games.
Bobby Brink, RW
Brink would be a graduate if not for an off-season injury. That injury being the hip, where the surgery and recovery time will hold him out until December/January at the latest. Brink dominated the NCAA with 57 points in 41 games for the University of Denver, and was able to play in the Flyers' final 10 games, registering just four assists. Despite his size, Brink has the upside of a top-six winger.
Fallers
Wade Allison, RW
Injuries. That pretty much sums up Allison as a prospect. He has not played more than 30 games since 2016-17. He needs a healthy season to have any chance to become a full-time NHLer. Until then he will stay firmly in this category.
Tyson Foerster, C
More is to be expected from Forester after being drafted in the first round (#23) in 2020 in his D+2 season, especially after he posted 17 points in 24 AHL games in 2020-21. Foerster started 2021-22 in the AHL but his shoulder was injured after nine games and he was out for a few months. When he came back he went to the OHL and posted 11 points in the team's remaining 13 games, adding four points in six playoff games. Obviously, coming back from injury the benefit of the doubt if needed but Foerster has not matched the hype of his draft year, especially as he took a back seat for Canada at the World Juniors. This will be a telling season for Foerster.
Prospect Depth Chart
(Combination of NHL readiness, the Philadelphia dobberprospects page, and upside)
Left Wing
Centre
Right Wing
Noah Cates

Isaac Ratcliffe

David Kase

Elliot Desnoyers

Alex Bump

Morgan Frost

Cutter Gauthier

Jay O'Brien

Jon-Randall Avon

Owen McLaughlin

Santeri Sulku

Alexis Gendron

Owen Tippett

Bobby Brink

Tyson Foerster

Zayde Wisdom

Wade Allison

Samu Tuomaala

Tanner Laczynski

Davin Kaplan

Linus Sandon

Bryce Brodzinski

Olle Lycksell

Connor McClennon
Left Defense
Right Defense
Cam York

Yegor Zamula

Emil Andrae

Adam Ginning

Mason Millman

Linus Hogberg

Brian Zanetti

Ty Muchison

Hunter McDonald

Ronnie Attard

Wyatte Wylie

Brennan Menell

Ethan Samson
Goaltender
Felix Sandstrom

Samuel Ersson

Ivan Fedotov

Alexei Kolosov

Matej Tomek
Top 20 Fantasy Prospects
This section is intended to paint a picture of the Philadelphia Flyers prospects whose current trajectory projects them making the most positive fantasy impact at the time that they reach the NHL. Arrival date and NHL certainty have been taken into consideration. However, a player's potential upside is the most important factor in determining this list.
Morgan Frost
Cutter Gauthier
Bobby Brink
Yegor Zamula
Owen Tippett
Cam York
Tyson Foerster
Emil Andrae
Felix Sandstrom
Zayde Wisdom
Samuel Ersson
Wade Allison
Ivan Fedotov
Alexei Kolosov
Elliot Desnoyers
Ronnie Attard
Noah Cates
Jay O'Brien
Wyatte Wylie
Isaac Ratcliffe
Thanks for reading, follow me on twitter: @FHPQuinn
Pat Quinn
LATEST RADIO & DRAFTCASTS